Are MP3 players obsolete? Instead of buying a HIFI player or MP3 music player from Sony, Apple, iRiver, and other hardware manufacturers, now we prefer to use one MP3 player app for the music playing.
Whether you are using a computer or mobile phone, you can easily access various classic and hot songs from some MP3 player and online music streaming service. Are you looking for a good music player app to enjoy different genres of songs online and offline? What is the best MP3 player?

MP3 Player
Generally speaking, we collectively call the music player an MP3 player. Besides the MP3 format, an MP3 player should support a wide range of audio formats including M4A, AAC, WAV, WMA, FLAC, and more. In addition, it'd better have both online music streaming and offline playback features. This post like to give you a full review of 10 best MP3 player apps.
NO.1 Best Free MP3 Player for Windows 10/8/7 PC and Mac - Blu-ray Player
Blu-ray Player is an all-featured Blu-ray/DVD movies, videos and audios playing tool that can help you play any music files with high sound quality. As an MP3 player, it highly supports the DTS-HD Master Audio, Dolby True HD, and Apple Lossless Audio Codec that can offer you the lossless audio and dramatic high-definition surround sound. That's why we recommend it for you as an MP3 music player.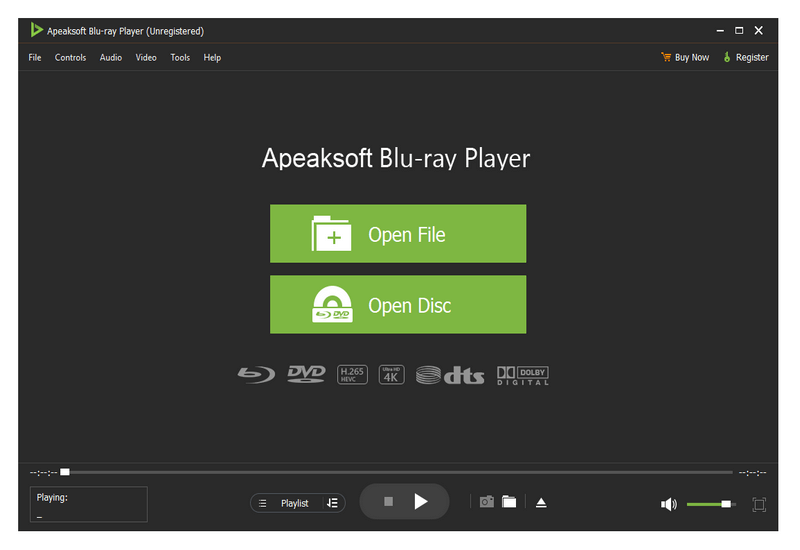 More than just an MP3 player, it is also compatible with other frequently-used audio formats including AAC, M4A, WAV, OGG, FLAC, APE, ALAC, AIFF, WMA, and more. This MP3 player is able to automatically enhance the audio quality you are playing.
This player also supports the high-quality playback of Blu-ray disc, DVD disc, folder, ISO files, and videos in MP4, MOV, FLV, AVI, MKV, MPEG, RMVB, WMV, ASF, and VOB, and so on. It is equipped with the advanced NVIDIA hardware acceleration to ensure you have a smooth visual experience, even for playing 8K, 5K, or 4K UHD movies.
Note that, Blu-ray Player is not a totally free playing tool. But it can work as a free music player to help you play songs in various lossless and lossy audio formats.
MP3 Music Player Download Free
To get the MP3 player download free, you should open your web browser and go to its official site. When you enter the Blu-ray Player page, you can click on the Free Download button to install it on your computer.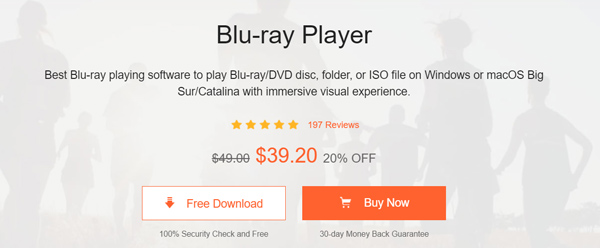 Here you can directly click on the download button below and then follow the instructions to free download it with ease.
How Use This MP3 Player
After you open this MP3 music player, you can click the Open File button to browse and add your MP3 audio file. Then it will automatically start the MP3 playing. The music playing feature is totally free.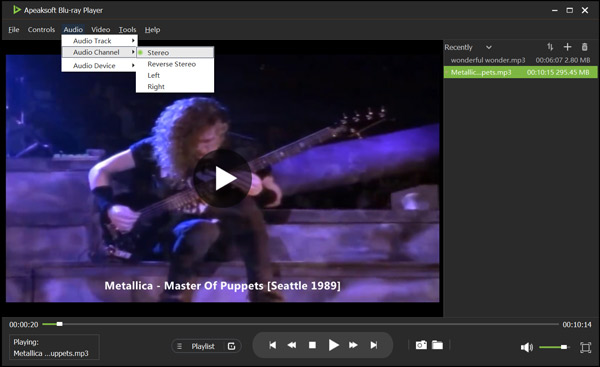 You can create and custom your own music playlist. You are given the full controls of the playback. Moreover, you can freely adjust various audio settings, such as volume, audio track, audio channel, audio device, and more. If you are playing a video or Blu-ray/DVD disc, you have more options to get a better visual experience.
No.2 MP3 Music Player and Downloader - Spotify
Spotify is a very popular music player app that allows you to enjoy all types of MP3 songs and podcasts on your iPhone, iPad, iPod touch and Android phone. Actually, this MP3 player is compatible with many platforms including Windows 10/8/7 PC, Mac, Linux, iOS, Android, PlayStation, Chromecast, TV, and more.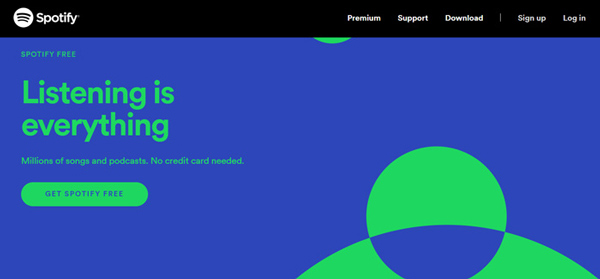 Spotify collects millions of songs, episodes and audio tracks for you to stream online. You can easily search for and access hot music from different genres, places, and decades. This MP3 music player allows you to manage and create your own playlists. Moreover, it offers a great share feature for you to share your favorite songs and playlist to others.
As a streaming music player, it will display lyrics while the song playing. Also, you can handily check the profile of the artist and related songs. For the offline music listening, you can choose to download songs from Spotify, or open local music files on computer and portable iOS/Android device. Note that, it can only play local audio files in MP3 format.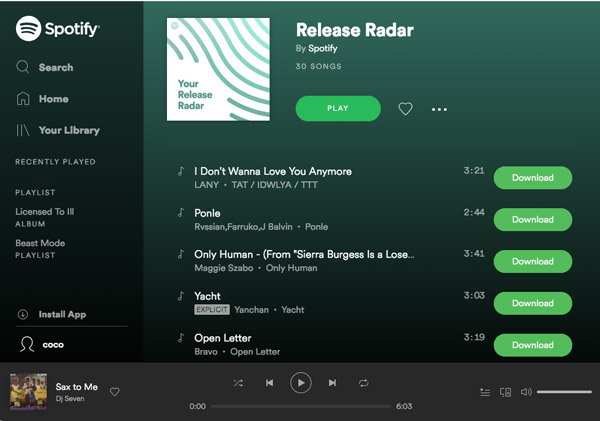 No.3 Music Player for Mac, iOS, Windows PC and Android - Apple Music
Apple Music is one of the most popular music apps. It allows you to stream over 75 million songs in lossless audio online and on your iOS/Android device. You can easily find the songs you like based on its recommendations. Moreover, you can browse by category, artist, top charts, and more.
As a new Apple Music user, you can get millions of songs free for 3 months. After that, Apple Music subscriptions cost $9.99 a month. You are allowed to download your favorite songs and play them offline.

Apple Music is the default and pre-installed music player app for macOS and iOS users. You can easily browse all kinds of songs and podcasts in this app. All provided music can be downloaded for offline playback while you have the Apple Music subscription. Besides the official Apple Music site and Apple Music app, you can also access it in iTunes.
You may also want to know how to convert M4A to MP3.
No.4 HI-RES Music Player for Mac and iPhone - VOX MP3 & FLAC Music Player
VOX MP3 & FLAC Music Player a premium MP3 music player that specially designed for Hi-Res music. You can rely on it to play any music files with ultimate sound quality. It supports Mac and iOS devices like iPhone, iPad, and Apple Watch. This music player allows you to play your personal iTunes music, SoundCloud/Spotify songs, and listen to 30.000+ radio stations.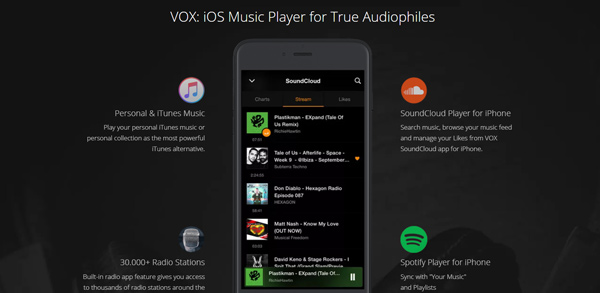 VOX MP3 and FLAC music player can play audio files in MP3, M4A, CUE, FLAC, ALAC, DSD, and PCM. This MP3 player can play Hi-Res Audio (HD Audio) with up to 24bit/192kHz and 5.1 multichannel audio. It is designed with a powerful Equalizer feature for you to get full freedom to experiment with the sound. It enables you to add local audio tracks from different sources. What's more, it supports CarPlay and SONOS.
No.5 Open Source MP3 Player and Converter - VLC Media Player
VLC Media Player is a free and open-source video and audio player that allows you to play music on your computer and smart phone. As a cross-platform MP3 player, it works well on Mac, Linux, Windows PC, iPhone, iPad and Android device. This music player highly supports most lossy and lossless audio formats, such as MP3, AAC, AC3, WMA, ALAC, FLAC, WAV, Raw Audio, TrueAudio, APE, Real Audio, AMR, MIDI, LPCM, ADPCM, QCELP, DV Audio, MACE, and more.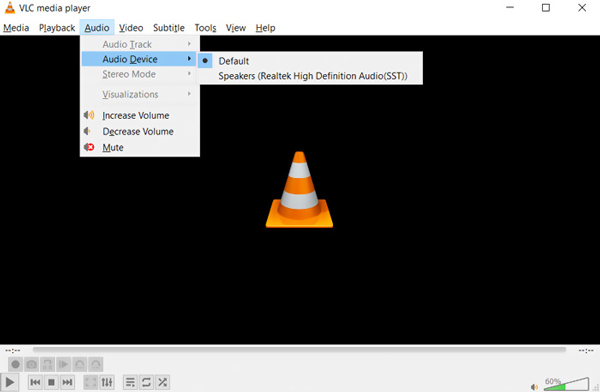 Besides the MP3 audio playback feature, VLC also allows you to play videos, convert video and audio file, capture screen, and do more operations. For the online streaming, VLC is able to open online contents through URL. What's more, it offers some popular channels like ESPN, National Geographic, and Reuters.
No.6 MP3 Player Download for Windows, Mac, iOS and Android - Winamp
Pandora is a music, radio and podcast streaming service. It can work as an MP3 music player for both computer and iOS/Android device. You can listen to all genres of songs and then create stations from your favorite music, artists or genres. Also, you can get recommended stations for your mood or activity with ease. This music player can give you the personalized listening experience that continually fits your tastes.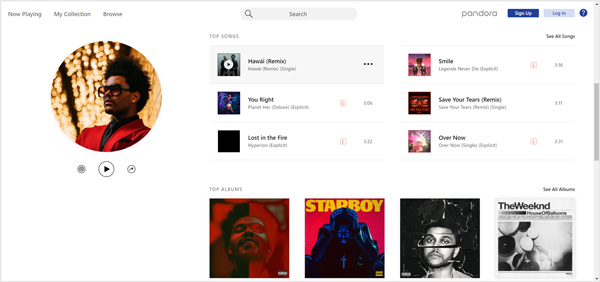 Pandora offers 3 versions for you to choose from, Free, Pandora Plus, and Pandora Premium. The Pandora Plus subscriptions cots $4.99 per month and Pandora Premium subscriptions are $9.99 per month. To use this MP3 player, you are required to sign up and then sign in a Pandora account.
No.7 Free MP3 Music Player and Downloader - RealPlayer
RealPlayer is an all-featured video and audio player. When it works as an MP3 player, it can help you play local music files. Apart from the MP3 format, it also supports other frequently-used audio formats including AAC, AIFF, M4A, ALAC, WMA, FLAC, and more. In addition, it enables you to view various videos in different formats.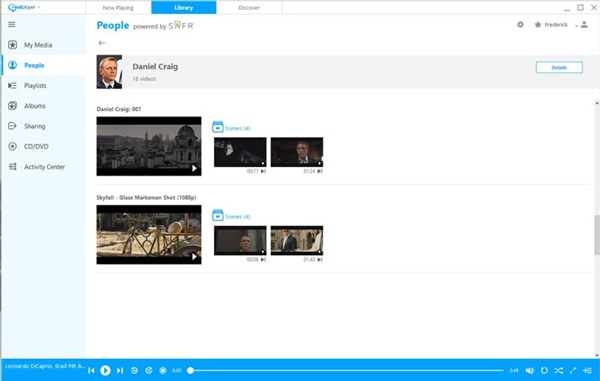 RealPlayer has the capability to download online videos from YouTube and other video sharing sites. Also, it can work as an MP3 music downloader for you to save audio tracks online. It is designed with many user-friendly features like lock-screen music playback and headphones controls.
This MP3 music player and downloader tool can help you better manage and organize your PC media collection. Moreover, it is able to deal with various video and audio conversions. You will see some ads while using a free version.
No.8 Free MP3 Player Converter - MediaMonkey
MediaMonkey is a digital media player and media library app that mainly designed for organizing and playing audio files on Windows PC and Android phone. This free MP3 player is able to sync songs and videos while keeping the original playlists and various file info like lyrics, play history, ratings, and more.
MediaMonkey offers a simple way to sync and manage music, audio books, podcasts, radios, videos, and more. As a music player, it supports the audio playback using MP3, AAC, WMA, FLAC, MPC, APE, and WAV. More than just an MP3 music player, MediaMonkey is equipped with the Audio CD ripping function to convert DVD to MP3 and other audio formats.
No.9 Free Music Player and Manager for Android - Pulsar Music Player
Pulsar Music Player is a free and offline audio player for Android users. It carries many necessary features to fulfill all of your musical needs like gapless playback, lyrics display, equalizer, audio balance, sleep timer, playing speed adjustment, tag editing, voice command, Android Auto, and more. This music player supports any standard music file format including MP3, AAC, FLAC, OGG, and WAV, and so on.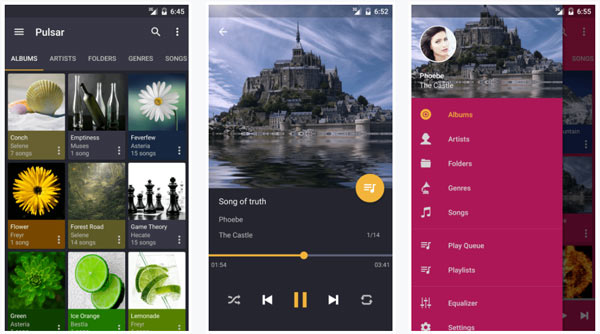 Pulsar Music Player help you browse various music by album, artist, genre and folder on your Android phone. It offers 15+ colorful themes for you to choose from. Moreover, this MP3 player gives 5-band equalizer with presets, bass boost and reverb settings. Pulsar can download missing album covers and artist images for you automatically. With a concise and user-friendly interface, you can better manage and enjoy your music.
No.10 Online MP3 Music Player - Wynk Music
Wynk Music is an online music streaming platform which enables you to directly access songs in different genres like Rock, DJ, Patriotic, Ghazals, Workout, Sufi, Sad, and more. You can use this MP3 player online free, on computer and iOS/Android device. One thing you should know first is that, this MP3 music player is only workable in India region.
Wynk Music provides you with different categories like Weekly Top 20, Wynk Top 100, Romance Top 40, and more. You can easily find the songs you like through them. It also gives you a download feature to save your favorite music for offline listening. You can easily access them from your playlists, liked songs, downloads, and recently played.
FAQs of MP3 Player Download
What is the disadvantage of MP3?
One big drawback of the MP3 format is the low audio quality. MP3 uses the lossy algorithm to deletes the lesser audible music content and reduce the file size. So generally speaking, MP3 has a smaller file size and lower audio quality.
How to sync your local music to Spotify?
Open Spotify and go to Menu, click Edit and then select the Preferences option. Now you should scroll down to find the Show Local Files option. Enable this feature and then check more songs from Downloads and Music Library folders. Here you can also choose to click the Add a Source button on the left to add local songs to Spotify.
How can I download free music from Amazon?
You should go to Amazon Free Digital Music page to free download songs. When you get there, just click on the Free button. During this step, you need to sign in your Amazon account. Then find the music you like to download, and click on the Download purchases button.
Conclusion
After reading this post, you can get 10 best MP3 music players and know key features of them. You can select your preferred one based on that. If you have any better MP3 music player recommendation, please share it with other readers in the comment.