Although more and more people are migrating to video streaming services to watch their favorite TV shows and movies, a multimedia player remains an indispensable utility on computer. As a long-standing media player, VLC Media Player is popular around the world. This article intends to share a complete introduction and review for the open-source project including the best alternative media players for Windows and Mac.

VLC Media Player Alternative
Part 1: What Is VLC Media Player
With VLC Media Player, you can do a lot of work including play movies and online streams, convert video files, record movies, etc. However, many users do not know what VLC can do exactly.
Key Features
1. Play a wide range of video and audio file formats without extra codec.
2. Support CDs, DVDs as well as Blu-ray discs.
3. Capture screen, digital videos and online streams.
4. Control video, audio track, and subtitle playback.
5. Adjust aspect ratio and deinterlace mode.
6. Take snapshots while playing videos or online media.
7. Convert video file to another format.
8. Edit video, such as trim, rotate and crop.
9. Add bookmarks to video and organize them.
10. Display media information, like metadata, ID3 tag, etc.
Brief Review of VLC Media Player
PROS

VLC Media Player includes plentiful of bonus functionalities.
All features can be controlled with shortcuts.
It contains a large package of codecs, so users do not need any extra codec.
It is compatible with Windows 10/8/7, Mac OS X, and Linux.
VLC is totally free of charge without any limit.
CONS

The interface is outdated and not customizable.
Features are hidden in the menu bar and difficult to find.
Some features still need to improve, like the video quality.
How to Install and Use VLC Media Player
Step 1Install VLC
Visit https://www.videolan.org/, which is the official website of VLC Media Player, click the downward icon next to the Download VLC button and select the proper version to download VLC for free. The web page cannot detect your system, so you have to do it manually. Don't download VLC from third-party websites.
Then double-click on the installer file and follow the onscreen instructions to install it on your hard disk. The full installation includes Mozilla, ActiveX plugins, and more elements, but you can modify the default install path. There is a portable edition of VLC. You can unpack it anywhere on internal or external drive.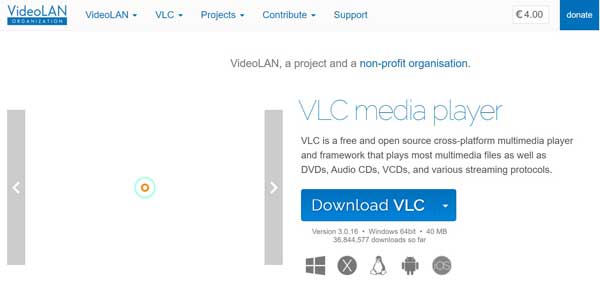 Step 2Use VLC
Once installation finishes, you can open VLC Media Player from your desktop on PC or Applications folder on Mac. Then you will see the top menu bar.
Go to the Media menu and you will see a list:
Open File: open a video or an audio file from your computer or USB flash.
Open Multiple Files: open several media files from hard drive.
Open Folder: open media files in a single folder.
Open Disc: scan and open video files from DVD or CD.
Open Network Stream: play online stream from a URL.
Open Capture Device: open the screen recording window.
Open Location from clipboard: play media file using the path from clipboard.
Open Recent Media: display the latest ten videos that have been displayed in multimedia player.
Save Playlist to File: save the playlist open in VLC with a proper name and location.
Convert/Save: open a video file and convert it to another format, like MP4, AVI, MP3, etc.
Stream: broadcast a network stream in VLC.
Quit at the end of playlist: close VLC when video playback finishes.
Quit: close VLC directly.
After opening a video, you can control the playback with the buttons at the bottom, the Playback menu and shortcuts. Moreover, you will find advanced features in Video, Audio, and Subtitle menu. The Tools menu offers video effects and filters. To change the player mode, you can go to the View menu.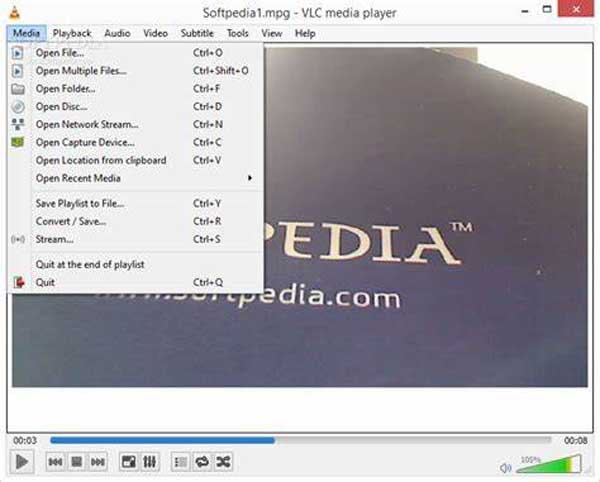 Part 2: Top 3 Alternatives to VLC Media Player
Top 1: Apeaksoft Blu-ray Player
Sometimes, the more the worse. Many users of VLC Media Player, for example, complained that they cannot find what they want in the interface at all. Apeaksoft Blu-ray Player, on the other hand, is the easiest alternative to VLC.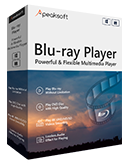 4,000,000+ Downloads
Play video and music files with a single click.
Compatible almost all multimedia formats including Blu-ray.
Support Ultra 4K and Full HD videos with the original resolution.
Available to Windows 10/8/7 and Mac OS X.
How to Play a Movie with VLC Alternative
Step 1Open a movie
Run the easiest alternative to VLC after you install it on your computer. Click the Open File button in the home interface, find the movie file and open it directly. To play a DVD or Blu-ray disc, put it in your ROM drive, click Open Disc and open the main movie on disc.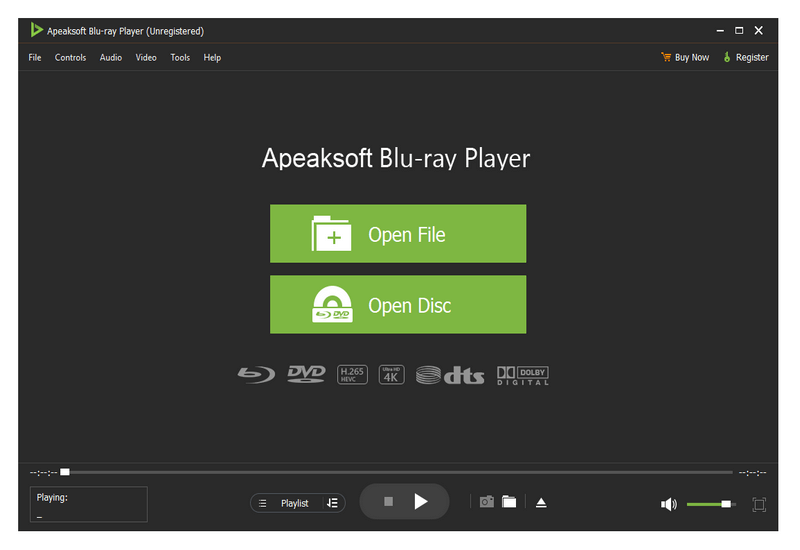 Step 2Control playback
Now, you can control the movie playback with the toolbar at the bottom, like fast-forward, rewind, pause, stop, volume, etc. At important moment, click the Camera icon to take a snapshot. The top menu options give experienced users advanced controls.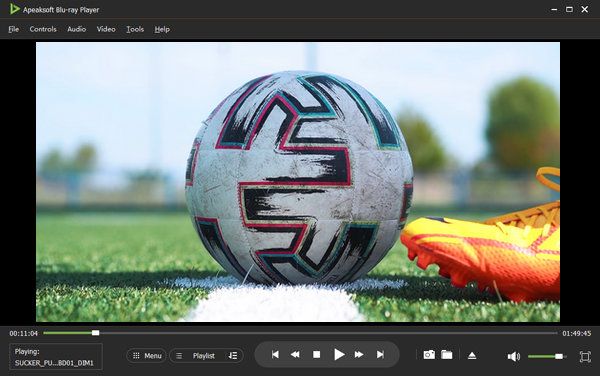 Top 2: MPC-HC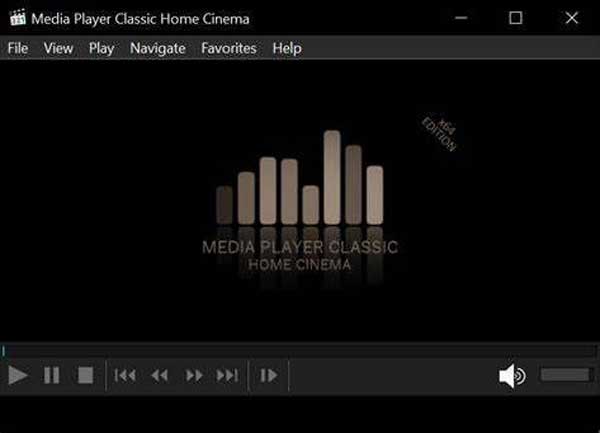 MPC-HC is a free media player and one of the best alternatives to VLC for Windows. The interface is identical to the last version of Windows Media Player, so PC users can learn it quickly. Sometimes, VLC skipped frames when playing 4K videos. That won't happen in MPC-HC partly because it does not use much source.
Key Features
1. Play plentiful video codecs including MPEG-1, DVD, etc.
2. Equip an intuitive interface.
3. Lightweight and work smoothly on Windows.
4. Support a large number of codecs.
Top 3: KMPlayer for Mac OS X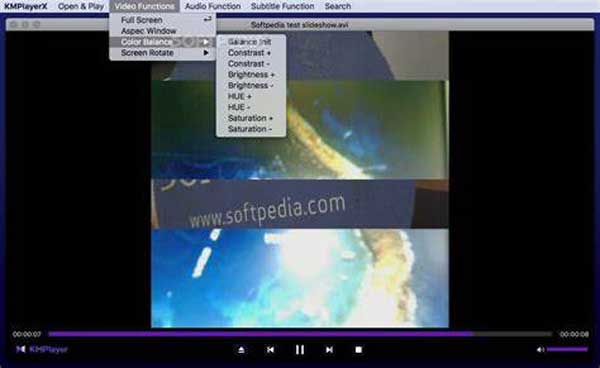 KMPlayer is the best alternative to VLC for Mac and Windows. It was released by a Korea software company. It is available to Mac OS X 10.6 and later. KMPlayer for Mac OS X includes all features related to video playback in VLC. It is able to play a variety of videos flawlessly including 4K.
Key Features
1. Control video playback with buttons and gestures.
2. Support playback adjustments including speed.
3. Provide cloud storage for each user.
4. Available in an array of languages.
Part 3: FAQs about VLC Media Player
Is VLC Media Player safe?
In general, the open source VLC Media Player is safe to run on your computer. However, it may contain virus if you download it from third-party websites.
Is VLC Media Player really free?
VLC is free since it is an open-source project. Everyone can use the media player without paying a penny. However, some plugins for VLC are not free.
Does VLC drain battery?
Since VLC uses ActiveX controls, it uses a large amount of battery. That is why it might lag and even crash during playing 4K videos.
Conclusion
Now, you should learn VLC Media Player in detail including the main features, advantages, disadvantages and best alternatives. It cannot be denied that VLC is an excellent multimedia player for Windows, Mac and Linux. For beginners, Apeaksoft Blu-ray Player is easier to learn than VLC. If you have more questions? Please leave a message below this post.