WAV, stands for Waveform Audio File Format, is the audio container and format developed by Microsoft and IBM. Now, it has become the standard PC audio file format and wide spread. Chances are that you downloaded some music files in WAV but your media player cannot open them. In result, you will need a WAV player available to your device. This article gives you a top list, so that you can enjoy your lossless music smoothly.
WAV Player
Part 1: Top 3 WAV Players on PC
Top 1: Apeaksoft Blu-ray Player
The best WAV player should give users advanced controls for music playback in addition to basic features. That is why Apeaksoft Blu-ray Player appears on the top of our list. More importantly, it is pretty easy to use.
Pros

Support almost all video and audio formats including WAV.
Play WAV files in a single click.
Provide excellent performance by hardware acceleration.
Include an advanced audio equalizer.
Supper easy to find what you want.
Cons

It may take a while to load the WAV file if it is very large.
How to Play WAV without Quality Loss
Step 1Open a WAV file
Run the best WAV player once you install it on your computer. It is compatible with Windows 10/8/7 and Mac OS X. Click the big Open File button, find the WAV file and select it, hit Open.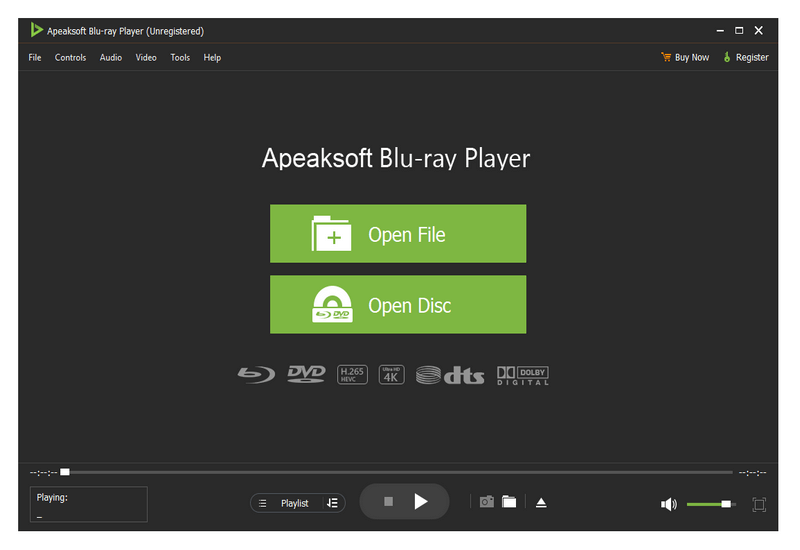 Step 2Control playback
After loading, the music file will begin playing and you will get the WAV player window. The buttons at the bottom enable you to control the audio playback, like pause, stop, fast-forward, rewind, and volume. You can also switch between WAV files from the Playlist panel. The audio equalizer can be found in the Audio menu on the top of the window.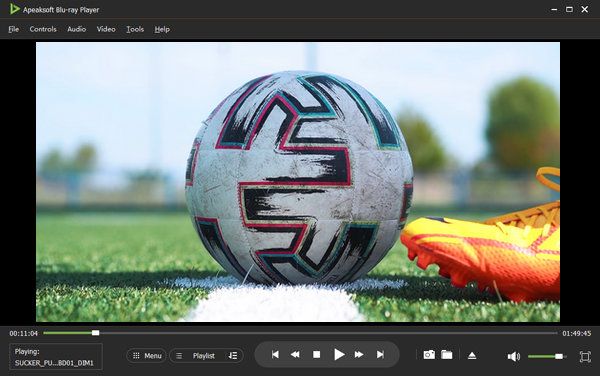 Top 2: MusicBee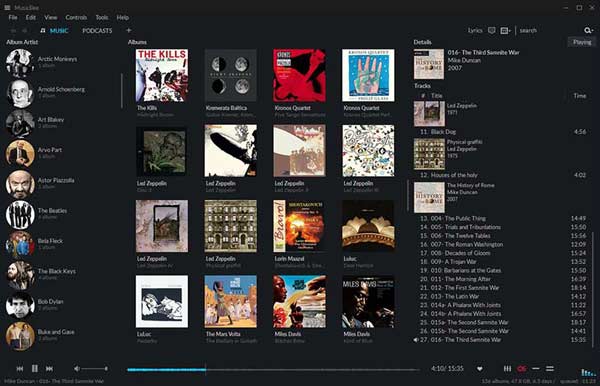 MusicBee is a free WAV player for Windows. The last update was released in January, 2020. Besides, MusicBee supports almost all popular audio formats. It will scan all music and playlists on your disk when you install and open it.
Pros

Open and paly WAV files on PCs.
Scan and manage music files automatically.
Customize interface based on your preference.
Autofill information for songs.
Cons

It is very large and crashes sometimes.
The art picture download feature needs improvement.
Top 3: Winamp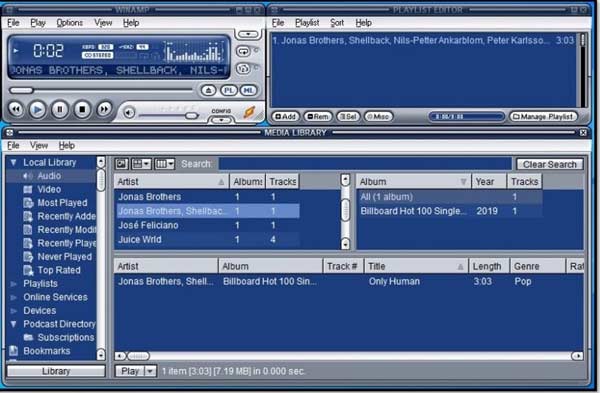 Winamp is another free WAV player for people to enjoy music on Windows, Mac, Linux and Android. There are plentiful skins and layouts for the GUI, so you can change it as you wish. Plus, it supports a lot of plugins, which allows you to add new functionalities. In addition to local files, it also available to podcasts, internet audio streams, RSS, etc.
Pros

Play WAV files crossing platforms.
Extendable with plugins.
Search and manage music in playlists.
Offer good sound quality.
Cons

The WAV player will become heavy as time goes by.
There are no major updates.
Part 2: Top 3 WAV Players on Android/iPhone
Top 1: VLC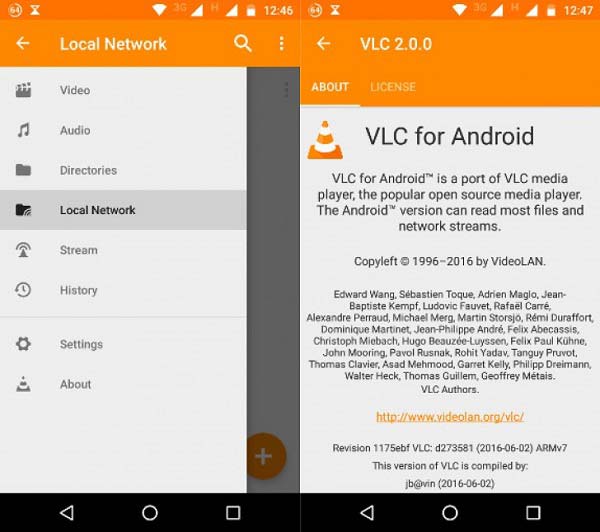 Platform: Android 6.0 and later, iOS 9.0 or later
Price: Free with ads
At first, VLC is an open-source WAV player for PCs. Now, the developer team released the mobile app for Android and iPhone. Although VLC for Android and iOS did not equip all features of the desktop version, it can meet your need on music playback.
Pros

Totally free of charge.
Include a huge codec package.
Stream online music files via URL.
Play WAV in the background.
Cons

The interface is not very easy to navigate.
The playlist feature is only available to Android.
Top 2: AIMP
Platform: Android 4.4 and up, iOS 9.0 or later
Price: Free
As a free WAV player for Android and iPhone, AIMP performs very well. Users can re-design the skin, create playlists, play music and internet audio, etc. It is able to search for and add lyrics, tags, album arts and more. The smart-playlist feature is convenient to play music one by one.
Pros

Include a wide range of features.
Play WAV files with widget.
Control music playback including speed.
Support an array of audio formats.
Cons

It is only available in English.
It has not been updated for years.
Top 3: jetAudio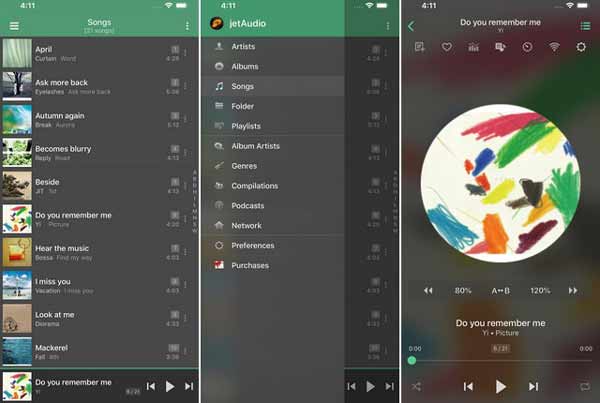 Platform: Android 4.1 and up, iOS 9.0 or later
Price: Free with ads and in-app purchase
If you are using an old handset and prefer to well-designed WAV players, jetAudio is an impressive option. It comes with 32 equalizer presets for users to get perfect experience. The Wi-Fi sharing feature enables you to play music through a network.
Pros

Play music on the background and lock screen.
Control speed accuracy.
Support MIDI playback.
Offer graphic equalizer presets.
Cons

The advanced features need subscription.
It cannot search for lyrics.
Part 3: FAQs about WAV Player
Which WAV bit is best?
For personal uses, a bit depth of 16 bits is perfectly fine. For professional use, you'd better use a bit depth of 24 bits. That ensures a good dynamic range and better precision for editing later.
Do MP3 players play WAV files?
Most MP3 players support several audio file formats except MP3, like WAV, WMA, OGG, AAC, etc. For specific device, you can copy and paste a WAV file to the player and check if it can play the audio file. If your MP3 player can't ply WAV files, you can convert WAV to MP3 format.
Can my phone play WAV?
Although most smartphones equip a music player, not all of them allow playing WAV files. If you cannot open WAV on your phone, try a third-party WAV player app instead. Read on How to Play WAV Files on iPhone to learn more details.
Conclusion
Now, you should learn top 6 best WAV players for Windows, Mac, Linux, Android and iOS. The next thing you can do is to download your favorite tool and just begin enjoying your favorite lossless music. To get the best experience, we suggest you to try Apeaksoft Blu-ray Player directly. More questions? Please leave your message in the comment area below this article.