Snagit is one of the most popular screen recording software. It provides a wide range of recording methods for users to capture images from a webpage and save them separately. However, Snagit is short of some video editing features for professional users, the Snagit Pro should be expensive for amateur users.

Is there any Snagit alternative to record screen of computer? The article introduces top 10 Snagit alternatives for Windows and Mac. You can learn more detailed information about the pros and cons of each application before make the final decision.
Part 1

: Top 5 alternatives to Snagit for Windows PC
Top 1: Apeaksoft Screen Recorder
Apeaksoft Screen Recorder should be one of best and most professional alternatives of Snagit. It is able to record all on-screen activities to make video tutorials, capture webcam video, record games and more in high quality. What is more, you can find multiple editing features and even take screenshots.
Annotate your screenshot and recording with a text box, highlight, arrow and more.
Set the video or screenshot recording area, full screen, custom region or fixed region.
Remember the settings previous made for recording video or screenshot.
Record screen activities, webcam, phone screen with high quality.
Capture online video as Snagit alternative without installing other plugs.
Record audio and video in popular format like MP4, MOV, MP3, WMA, AAC, M4A and more.
Audio recording is very smooth; it would not interpret your other desktop task.
Shortcut button to capture video and audio with keyboard only.
Download for Win
Download for Mac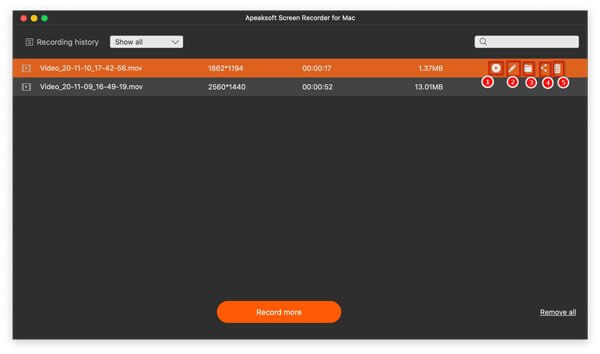 Top 2: FastStone Capture
FastStone Capture is a lightweight yet full featured Sngit alternative for Windows, which you can capture and annotate anything on the screen. What is more, you can also add external editor to further edit the captured video files.
Pros of this alternative to Snagit:
1. Capture screen for windows, rectangular area, fixed size area, full screen and etc.
2. Support basic image editing features to polish the recorded video or screenshot.
Cons:
1. Difficult to seek for help and support. When you meet some problem during using it, you can only contact the developer with E-mail.
2. The function of editing is limited when recording video or capturing screenshot.

Top 3: WinSnap
WinSnap is an easy-to-use Snagit alternative for screenshots taking and editing. It provides sufficient image editing capabilities for adding arrows, lines, shapes and even the pen tools to draw a smooth spline curve.
Pros of the Snagit alternative:
1. Change the effects between native and customs shadow after capturing. And using this software is able to add professional-looking shadows, reflections, highlights, outlines, watermarks and color effects.
2. All the screenshots can be saved with transparency. It may help you to use those images conveniently, such as copying and pasting images to a word document.
Cons:
1. All the screenshots can be saved with transparency. It may help you to use those images conveniently, such as copying and pasting images to a word document.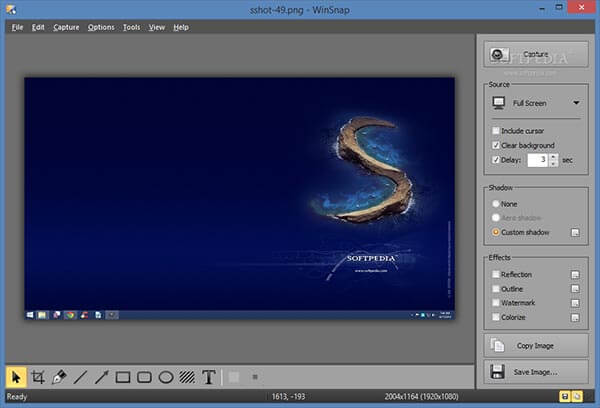 Top 4: Jing
Jing is a free Snagit alternative screen recorder to capture basic image or video on Windows with just one single click. Like such old free screen recorder as FlashBack Express Recorder, it is a screen recorder with limited features. It also enable user to share the files to social media website with easy process.
Pros this Snagit alternative:
1. Free of charge with the basic functions of Snagit.
2. It doesn't limit by the versions of Windows and can run on the older computer.
Cons:
1. Record video for 5 minutes limited, which is not suitable for recording long videos.
2. Lack of some features for recording and editing.
3. The Snagit alterative only has 2GB space, which would be not enough for most users.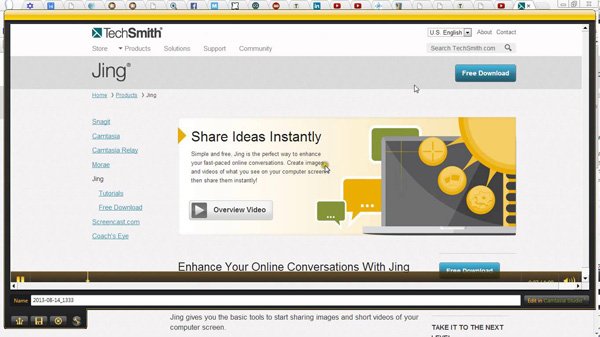 Top 5: Shutter
Shutter is a free, open source and rich featured Snagit alterative, which allow users to screenshot part of screen
Pros this Snagit alternative:
1. Multiple plugins to upload services that users can share their screenshots in fast speed.
2. Add text, hide private data, and add specific auto-increment shape for screenshots with built-in editor.
Cons:
Memory leak that causes the application to freeze.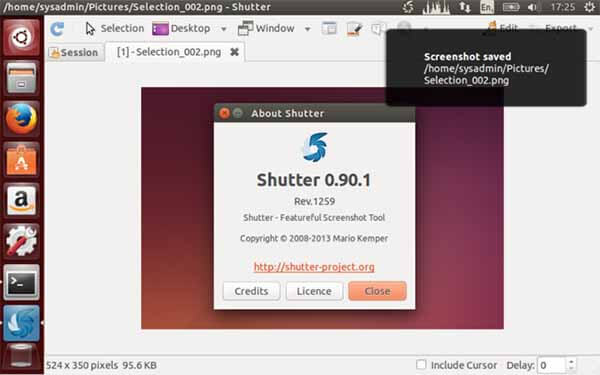 Part 2

: Top 5 SnagIt alternatives for Mac
Top 1: Grab
Grab is a simple and fast screenshot capture application as Snagit alternative for Mac. It should be easy to take screenshot for entire window, screen or only a portion of your screen with keyboard shortcuts.
Pros this Snagit alternative:
1. Take screenshot for different purpose with ease keyboard shortcut in easy process.
2. Free Snagit alternative that is available for Mac without extra downloading.
Cons:
1. The quality of the captured screenshot is not good enough.
2. Lack of some editing features for the screenshots.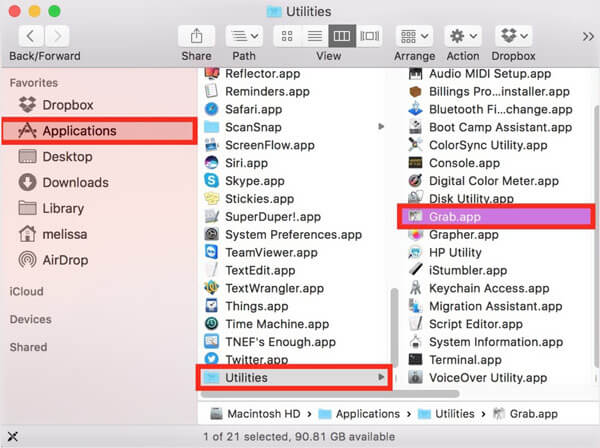 Top 2: Skitch
Skitch is another recommended Mac screen capture utility as the alternative of Snagit for capturing, editing and exporting screenshots. It allows you to snap picture directly from webcam.
Pros this Snagit alternative:
1. You need not pay any for using this software.
2. It's very easy to use this tool to annotate image, watermark, and resize features.
Cons:
1. Lack of erasing feature, which user has to be careful and have the high skill in order to get perfect drawing.
2. Do not support sharing image to EverNote, or record video files.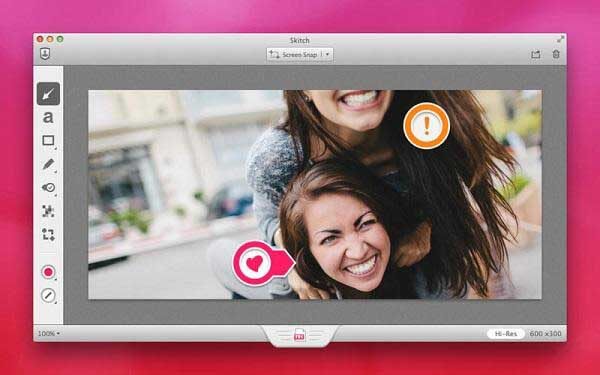 Top 3: Screenflow
Screenflow should be a favorite Snagit alterative to capture videos in high quality. Users can capture screen, record video from attached camera units and record audio with both in system compatibility and external devices.
Pros this Snagit alternative:
1. Satisfy for almost all recording requirements.
2. Well known for its high stability and quality.
Cons:
1. It should be a little high to get the full version. What is more, you need to pay to upgrade.
2. It has not built-in template and asset library system.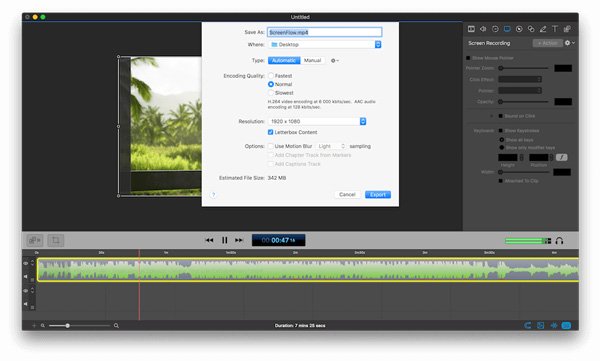 Top 4: Clarify
If you want to create screen recordings and messing with formatting in Word without costing much time. You can try to choose Clarify as the alternative of Snagit.
Pros this Snagit alternative:
1. Allow users to create a capture region in advance, and users can quickly capture multiple screenshots in the same size.
2. In addition to capturing new screenshots, users can also put the existing pictures onto the document of Clarify so that you can edit them together.
3. Compared with Snagit, this software has another wonderful capability to add the text to each part of document. This function is helpful for tutorial making.
Cons:
The screenshot of this software can only used as the visual aid, and you still need some visual support.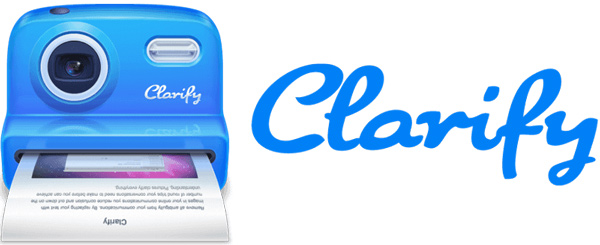 Top 5: Littlesnap
Littlesnap is well known for its timed snaps, multi-window snaps, web page element snapping and tagging. This program can drop the screen cap and web snap images into the proper category they should fall.
Pros this Snagit alternative:
1. Allow users to capture webpage without leaving browsers and it will save those screenshot automatically that you can edit them later.
2. It has rich feature that justifies the reasonability of its high price.
Cons:
Compared with other Snagit alternatives, this software seems a little expensive.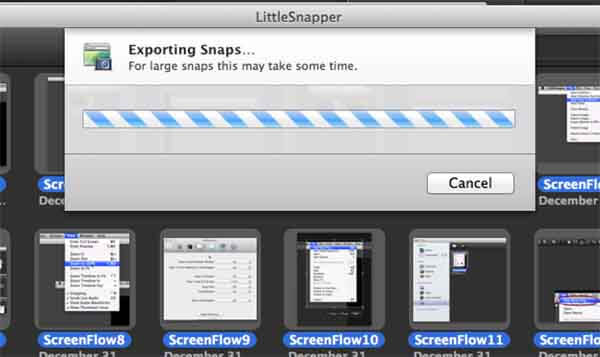 Conclusion
A great number of alternatives to Snagit can be found online. All of them have their excellent features to help you record screen on Mac and PC. All Snagit alternatives mentioned above are indeed great applications that worth trying.