Amazon launched its Skype competitor Amazon Chime in 2017. It lets you make group calling, send messages and collaborate for business. Also, it can make video calls for masses. Since released, it has attracted a lot of users including students partly due to the low price of $15 per users per month for up to 100 people. Plus, it offers many useful features, like screen sharing, meeting recording and more. This guide will tell you how to record Chime Meeting on Amazon.

Amazon Chime Record Meeting
Part 1: How to Record a Chime Meeting on Amazon [Default Way]
Here are several factors you should know about Chime meeting recording on Amazon:
1. Bear in mind that the meeting recording feature is only available to host or moderators.
2. It can only record audio and screen sharing, but not attendees.
3. The audio recording is saved as M4A and the file will be saved in MP4 if there was screen sharing during recording.
4. The attendees will get a notification when you record meeting.
5. This function is available on both desktop client and mobile app.
6. It can record a meeting for up to 12 hours.
How to Record a Meeting on Amazon Chime
If you are the host of a meeting, follow the steps below to record it on Amazon Chime.
Step 1 Open Amazon Chime client on your computer and sign in your account. Create a new meeting and invite participants.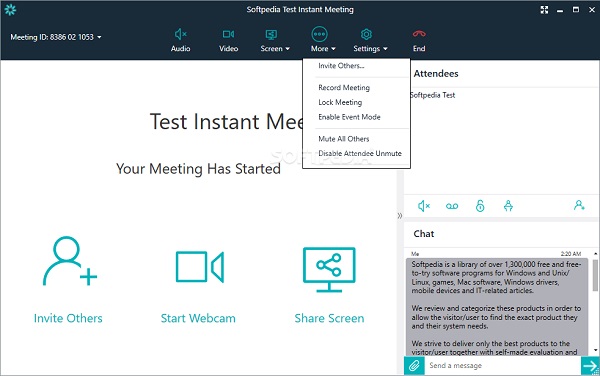 Step 2 Whenever you wish to record the meeting, click the More menu at the top ribbon and choose Record Meeting. In mobile app, choose Record Meeting in the options menu.
Step 3 To stop recording, go to More menu and choose Stop Recording. The Stop Recording is in the options menu on mobile.
Part 2: How to Record Amazon Chime Meeting without Any Limitation [Best Way]
As said previously, the built-in record function has several limitations. If you mind it, Apeaksoft Screen Recorder is the best alternative way to record Amazon Chime meetings.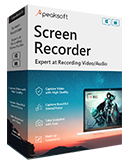 4,000,000+ Downloads
Record Amazon Chime meetings and video calls in videos.
Capture audio along video meetings.
Offer useful video editing tools.
Provide extensive custom options and presets.
How to Record Amazon Chime Meeting
Step 1 Get the best meeting recorder
Launch the meeting recorder after you install it to your PC. There is another version for Mac. When you need to record an Amazon Chime meeting, choose Video Recorder. To record the meeting in audio file, select Audio Recorder instead.

Step 2 Record Amazon Chime meeting
Run the Amazon Chime client and sign in your account. Switch to the recorder, turn on DISPLAY and set the recording region based on the client. Toggle on Webcam if you wish to add your face to meeting recording. Then enable System Sound and Microphone to capture audio along with the meeting.
Join a meeting or create a new meeting on Amazon Chime, and click the REC button to start recording it. To add comment or painting to recording, click the Edit icon. The Camera icon is used to take screenshots at important moment.

Tips :
For advanced users, click the
Settings
button to open the
Preferences
dialog.
When the meeting is done, click the Stop button to enter the preview window. View the video and cut the unwanted frames with Clip tool. Finally, hit the Save button and export the video to your computer.
Follow the way, and you can record meetings from GoToMeeting, WebEx, and more online meeting services.
Part 3: How to Record Amazon Chime Video Online
If you do not like to install software on your machine, Apeaksoft Free Online Screen Recorder is the best alternative solution.

Recommendation
1. Record meetings on Amazon Chime online.
2. Support both screen and webcam capture.
3. Totally free to use.
4. No watermark or recording length limit.
How to Record Amazon Chime Meeting Online
Step 1 When you join a meeting on Amazon Chime and wish to record it, visit https://www.apeaksoft.com/free-online-screen-recorder/ in a browser. Hit the Start Recording button to get the launcher.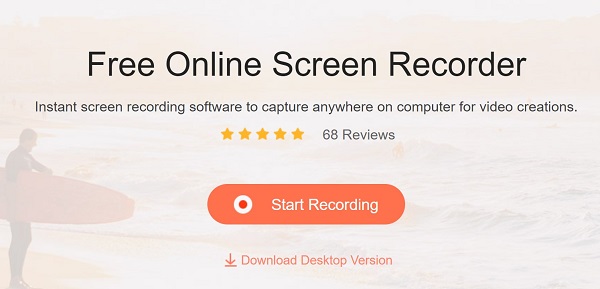 Step 2 There are four options on the launcher, Screen, Webcam, System audio and Microphone. You can decide to turn on or off. Here we toggle on all of them.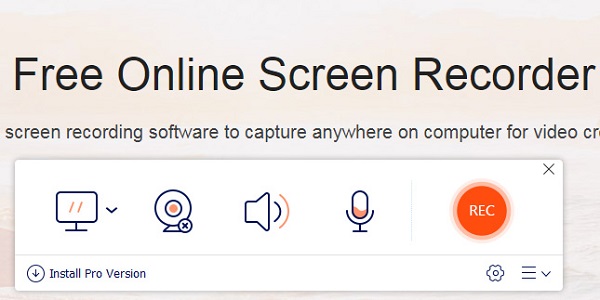 Step 3 Once click the REC button, it will record your Amazon Chime meeting immediately. When the meeting finished, click the Stop button and download the video.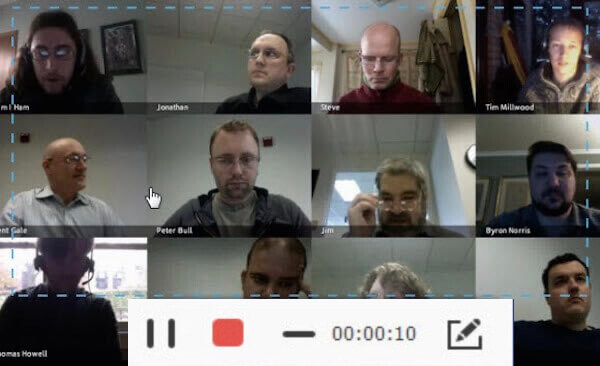 Part 4: FAQs of Amazon Chime Record Meeting
Does Amazon Chime use video?
If you share your screen when recording a meeting on Amazon Chime, it will be saved in video file. Otherwise, the meeting recording will be saved in audio file.
How do I block someone on Amazon Chime?
You can change the presence settings in the Settings screen on Amazon Chime to block others from seeing your status.
How to delete a message on Chime?
To remove a conversation message on Chime, use the RedactConversationMessage API operation. For chat room messages, use the RedactRoomMessage API operation.
Conclusion
If you have read this guide, you should understand how to record Amazon Chime meeting on your computer and mobile devices. Since the built-in record function has so many limitations, you'd better use a meeting recorder, such as Apeaksoft Screen Recorder. It is not only easy to use, but also able to produce high quality videos. More questions? Please leave a message below.