Android device has become much more popular and is a must-have device in our daily life. What should be the best programs to record Android screen?
Actually, it is difficult to find Android screen recorder instead of the other applications.
Why?
Because sometimes you have to root Android phone in order to install the program.

Imagine that you just hack your favorite mobile game, such as Clash of Clans, and you want to make a game video to share with your friends. When you need to record a tutorial, capture the video chat or even get the gameplay video, you should get a suitable Android screen recorder.
There are two major Android screen recorders, rooted screen recorder and the other ordinary one.
After rooting Android smartphone or tablet, you can enjoy a lot of custom functions. When you want to enjoy some favorite features, an Android screen recorder root app is necessary. Just as mentioned, it is difficult to find a screen recorder for Android from Google Play Store. Therefore, we are going to identify and share top 17 best screen recorders both for rooted Android phone and ordinary one. Just read on the article to get the detailed information.
Extended reading: iPhone users can visit here to learn more about iPhone screen Recorders.
Part 1

: Top 7 Android Screen Recorder without Root
Top 1: AZ Screen Recorder
AZ Screen Recorder is the one of the best Android screen recorders to record Android phone, without root access, no time limit, no watermark, no Ads and free to use. Apart from this, this app is highly customizable, so you can create your suitable videos based on this Android screen recorder with audio.
Pros:
1. Control recording without showing anything on screen with the Magic button.
2. Record face and emotion within a small overlay window.
3. Enable time countdown and time limit to stop recording when time out.
Cons:
1. Free version includes some Ads.
2. Limited features and drawbacks for the free version.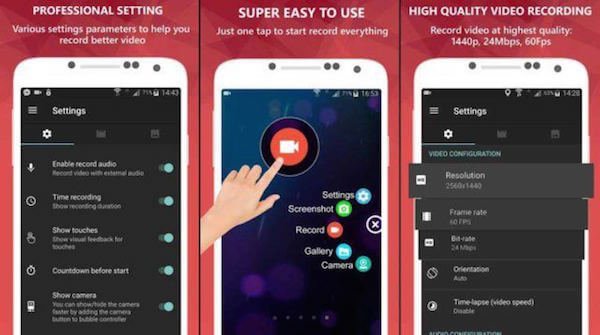 Top 2: Mobizen Screen Recorder
Mobizen Screen Recorder is a good screen recorder with no rooting starting from OS 4.4. It is a free screen recorder no root to access, which allows you to record, capture and edit any videos, games or apps on your devices. Also, it also provides multiple video editing features, with which you can create a high quality video.
Pros:
1. Add your favorite BGM and Intro & Outro video to make a personalized video.
2. Record a clean screen without a watermark for the output video.
3. Capture reactions freely while recording game sound and voice with Facecam.
Cons:
1. Does not recognize some external SD storage.
2. It does not have a good sound quality.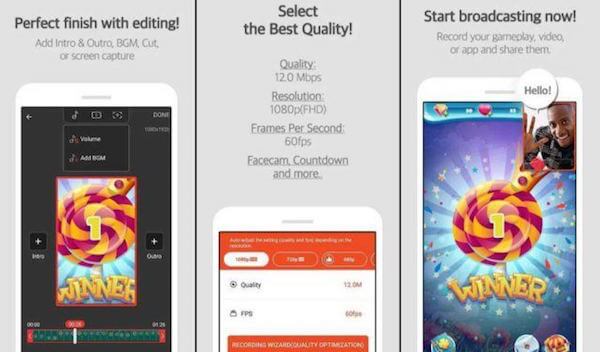 Top 3: Stream
Stream is a little different from other good screen recorders listed for you. Screen recorder is one of the functions provided. You can also broadcast your games, walk-throughs and do other more things with this software. Besides, Stream also lets you stream, watch and chat on live video.
Pros:
1. Search millions of YouTube videos with smart search with ease.
2. Access to different genres of music, which you can record within the program.
3. Schedule the recording with Sleep Timer feature.
Cons:
1. Basic functions to record Android screen with limited time.
2. It is not a MP3 downloader.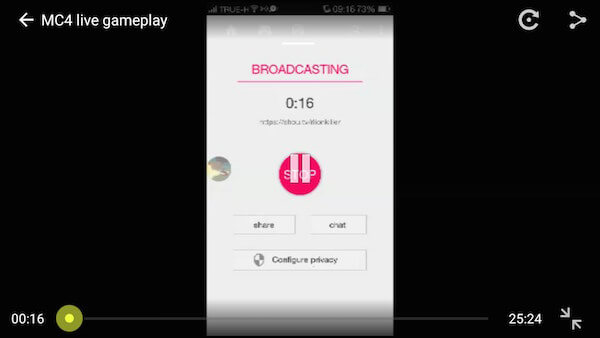 Top 4: Super Screen Recorder
Super Screen Recorder is an excellent screen recorder for Android no root. It comes with a user-friendly interface, as well as many impressive and powerful features. What is more, you can also get the Android screen with high quality.
Pros:
1. Support portrait, landscape and auto screen record mode.
2. Simple shakes the phone to stop recording Android screen.
3. Record the video with external drive for unlimited time.
Cons:
1. It is not a stable screen recorder for Android.
2. Advertisement for the free version program.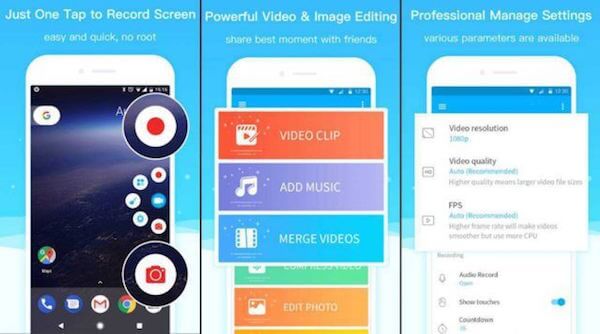 Top 5: DU Recorder
DU Recorder is one of the best Android screen recorders recommended. You can edit the video using the built-in editor after you finish the Android screen recording. Also, it requires no root access, and there is no time limit for recording.
Pros:
1. Capture screenshot, record video call and more at a click of a button.
2. Completely free to use and has no limits on the recording time.
3. Multiple effects to blur or combine several photos in the form of a collage.
Cons:
1. Pay attention to this software includes a watermark.
2. It does not work for some type of Android phones.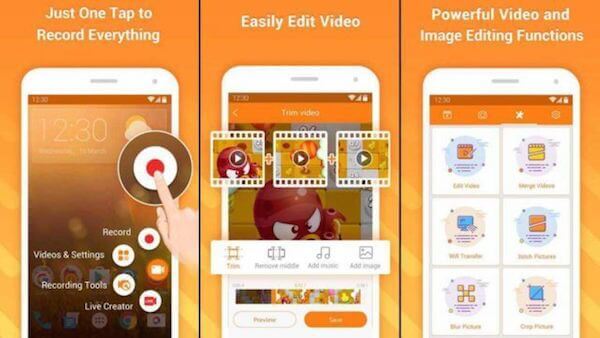 Top 6: Google Play Games
When you say Google Play Games, you may think it is just a hub for mobile gaming. Actually, it has built-in Android screen recording function, which works rather well. You can use it to record games, as well as record other things like apps, videos and more.
Pros:
1. Create and custom Game ID, earn XP, and level up as master games across Google Play.
2. Record and share best gameplay moments for the mobile.
3. Play PAC-MAN, Solitaire, Snake, Cricket and more when offline.
Cons:
1. It is available for some countries only.
2. Takes up a large space of Android phone.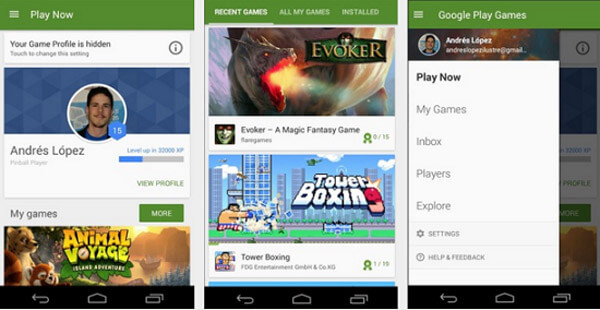 Top 7: iLos Screen Recorder
iLos Screen Recorder is also a free screen recorder no root to access. For those who attach more importance in resolution recording of your Android screen, it is more recommended to use iLos Screen Recorder compared to the other Android programs.
Pros:
1. It is not only a screen recorder without root, but also a video maker crossing platforms.
2. Enjoy a wide range of features on rooted Android devices.
3. Provide 1280×720 and 1920×1080 pixels at 30fps.
Cons:
1. The basic package is at $250 a month, though you can try the free trail first.
2. Limited features for the free version of Android screen recorder.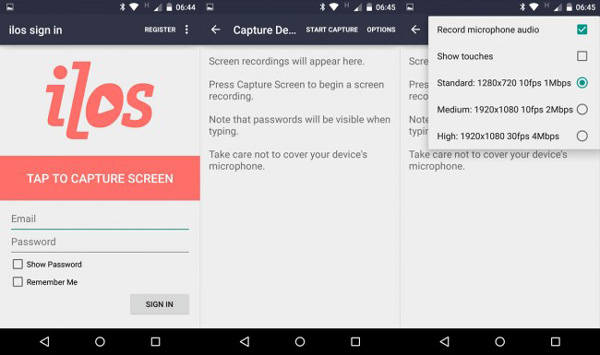 Part 2

: 7 best Android Screen Recorder Rooted
Top 1: Telecine
Telecine has won a high rate for its user-friendly interface and powerful functions of best Android screen recorder rooted. What is more, you can also set timers to count down recording time. Record HD videos with your game play, app how-to and more.
Pros:
1. This screen recorder root app is open source.
2. Users can enjoy it for free without viewing ads.
Cons:
1. It does not allow you to change resolution, bitrate or other parameters.
2. You needs a device running Android 5.0 or above.
3. Does not work with audio from the system.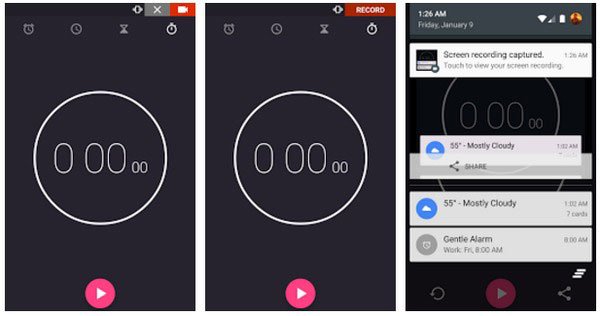 Top 2: Unlimited Screen Recorder
Unlimited Screen Recorder is a free Android screen recorder with audio. It is able to shoot video with a long time for Android screen. Besides, you don't worry about there appear the watermark in your video.
Pros:
1. This screen recorder root app is totally free.
2. You can find it in your Google Play Store.
3. It will not add watermark on your screen recording videos.
Cons:
1. It only works on devices running Android 5.0 and above.
2. Does not compatible with some Android device.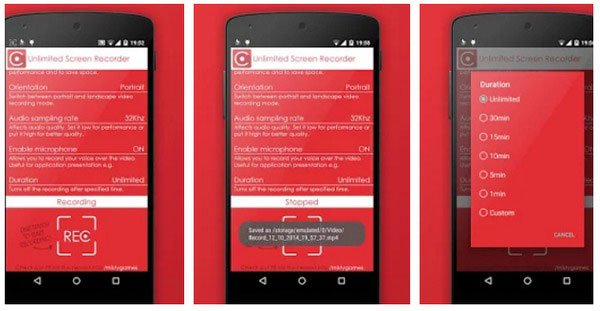 Top 3: Screen Recorder 5+
Screen Recorder 5+ is an excellent Android screen recorder to capture every activity on your screen with one touch. It supports both standard and advanced recording engines and customize video resolution, orientation, frame rate and other parameters.
Pros:
1. Make GIF animation images from your screencast videos free to use.
2. Multiple Built-in a video editor for changing the results.
3. You can use it on every rooted Android device.
Cons:
1. It is difficult to download and install the screen recorder for Android.
2. Cannot suspend the screencast video when interruption happens.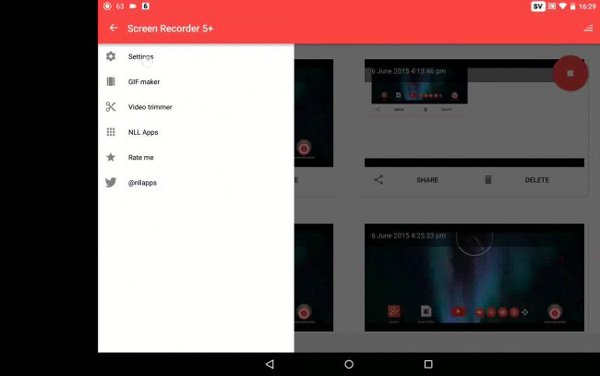 Top 4: Rec.
Rec. is an Android screen recorder that creates screen-recording videos on rooted Android devices. It is able to capture screencast videos without time limited, record your sound using the built-in mic and customize resolution, bitrate, frame rate, and other options.
Pros:
1. Record your reactions through front camera while making screen recording.
2. Set the length of the screencast videos.
Cons:
1. If you want to make a screencast video more than 5 minutes, you have to purchase the pro version.
2. It is available to Android 4.4 and later.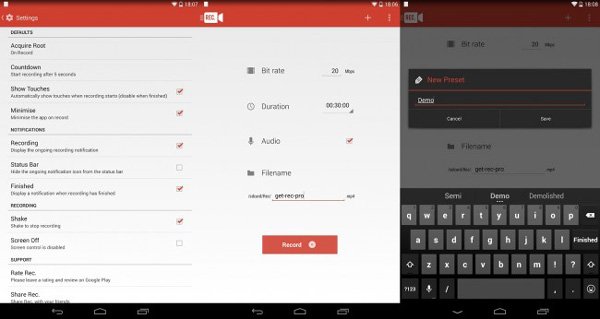 Top 5: Screen Recorder for the Android Kitkat
Screen Recorder for the Android Kitkat is one of the best screen recorders for Android to capture anything happens on your rooted Android device for 90 seconds. It shows off features of an app, playing of a game and other actions without PC.
Pros:
1. Set video resolution, recording time, bitrate and countdown time.
2. It is lightweight and does not slow down your device.
3. Save the results to internal memory or SD card directly.
Cons:
It is only supportive to Android 4.4 and later.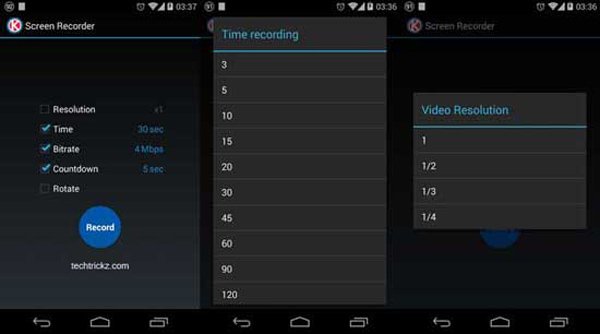 Top 6: SCR 5+ SCR Screen Recorder
In order to make Android screen in high quality or overlay your reactions via webcam, SCR Screen Recorder should be one of the best Android Screen Recorders you need to try. It saves videos from outside devices, like computer games.
Pros:
1. This screen recorder root app is free to get online.
2. Save the screencast videos in PNG, JPG, BMG, or GIF.
3. Record videos or music from any websites with excellent quality.
Cons:
Some features need to purchase in app, for example, you want to remove the watermark.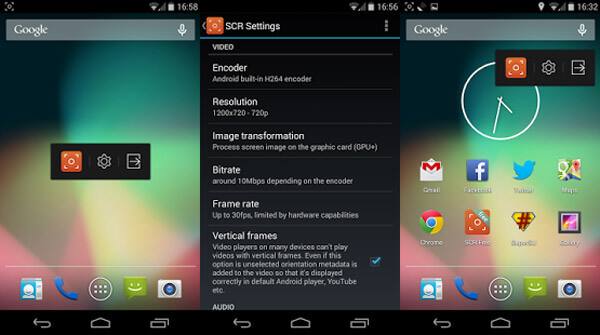 Top 7: Shou TV
Shou TV, similar to AirShou, is able to make screen recordings for video games and app tutorials. There is no limitation on length and size of screencast videos, share your screen recordings to the community and view screencast videos created by others.
Pros:
1. This screen recorder root is free of charge without ads.
2. It will add watermark or other logo on your videos.
3. Accelerate rending and encoding using hardware.
Cons:
1. The broadcast function is only available on rooted Android devices, though this app is available to non-rooted Lollipop 5.0 and above.
2. It is not supportive in Google Play Store.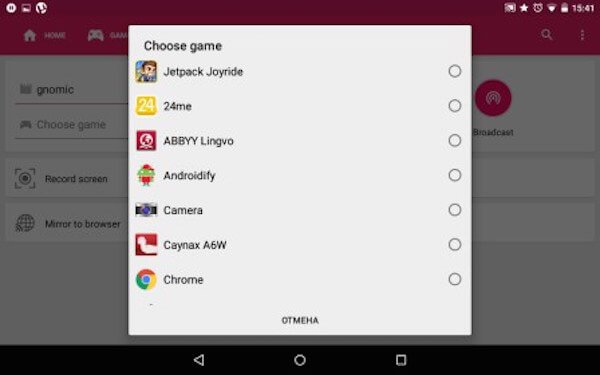 Part 3

: Best Android Screen Recorder Alternative

In order to record your Android screen in a more efficient way, you can choose the next software we strongly recommend to you. This software you can record your Android screen more professional is Apeaksoft Screen Recorder.

Although it is a desktop Android screen, it still provides you easier yet more comprehensive ways to get what you want. It is regarded as the best Android screen recorder, for it helps you to record video/audio from anywhere with high output video quality.

In addition, you can use it to capture window, video or other items you want.

Now you can follow the next steps to record your Android device with this good screen recorder.

Step 1: Download Screen Recorder

Choose the suitable version of Apeaksoft Screen Recorder and download it on your computer from its official website. Then you are able to finish the installation.

Step 2: Mirror Android screen

To record Android screen with a desktop good screen recorder, you need to project your phone's screen onto your computer firstly.

If you don't know how to do it, you can search the Internet according to your Android and computer versions.

Step 3: Choose Video Recorder

When you launch Apeaksoft Screen Recorder, you can see there are several different modes you can choose. Here it is advised to choose Video Recorder.

Step 4: Adjust recording settings
Now you need to adjust the recording area to suit your Android screen. You can also make audio settings according your needs.

Step 5: Begin recording Android screen
When you have done these steps, you can begin recording Android screen by clicking on REC button. During the recording, you are able to make drawing or add annotations based on your need. After the process finished, you can preview and then save it.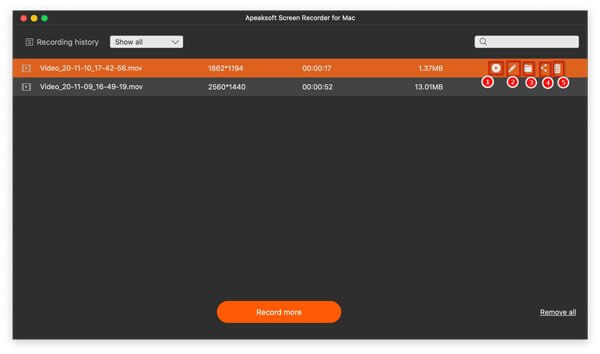 Besides, this recorder is also a great HD screen recorder that can help you capture any videos with the best quality.
Conclusion
If you want to find a good screen recorder to record your Android screen, you can read and refer to this article. As you can see, we have listed 14 wonderful Android screen recorders in this article for you. You can choose the most suitable one based on your needs.