Android voice recorder is one of the most useful applications, which is widely used by many users.

Just like the name called, you can use this app to record some voice, such as meetings, speeches as more. Therefore, Android voice recorder is becoming one of the most important software in Android device. If you want to know the best Android voice recorder, you are come the right place.
In this place, we have list top 10 Android voice recorders for you, as well as the features and functions. Just begin to read the top 10 Android voice recorder.
Do not miss the best Android video recorder.
Top 1: Audio Recorder – A Simple Android Voice Recorder
The first Android voice recorder we want to recommend to you is one of the simpler voice recorder apps called Audio Recorder. Although it is an easy tool you can use, it's still a pretty fun little recorder.
Its big draw is that it supports a couple of actual microphone, which can help you record some pretty decent audio. Apart from the reliable hardware support, it also supports you to record, save and upload your file to various platforms.
Luckily, this app is free to download and use.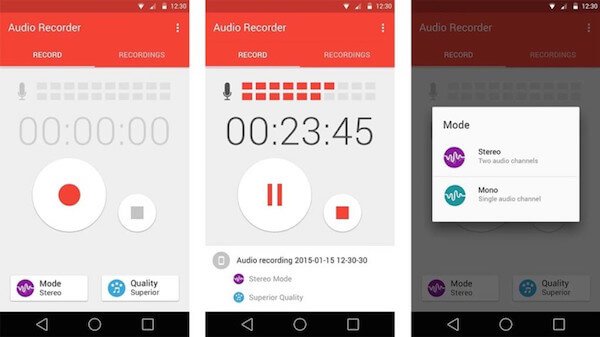 Top 2: Smart Voice Recorder – Best Android Voice Recorder for Long-form Recorder
Smart Voice Recorder is one of the niche android voice recorder, which is more suitable for long-form recorder, especially when you want to record something like speeches, lectures, music practice sessions and long stuff like that.
Considering it was created for recording long stuff, Smart Voice Recorder provides a silence removal option, which can automatically detect periods of silence and wipe them. You can even get a timeline on how much longer you can record relative to your remaining storage availability. It is possible to free download and use the best Android voice recorder.
Of course, you can pick up the paid version for $1.49 to use it more enjoyable.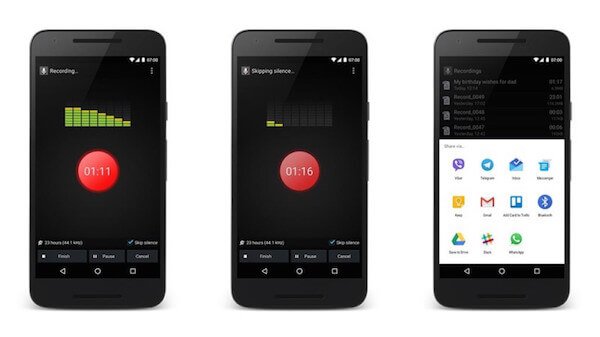 Top 3: Samsung Voice Recorder – A Friendly Android Voice Recorder
If you are a Samsung user, you can simply use Samsung Voice Recorder, for it is Android built-in voice recorder for Samsung device. If you are using other brands of Android device but want to download Samsung Voice Recorder, fortunately, it is available to get this app in application store.
Samsung is one of the few manufacturers that offers its apps for all Android users.
Besides, the interview mode and text-to-speech feature are quite nice. You can try this Android voice recorder to record what you want.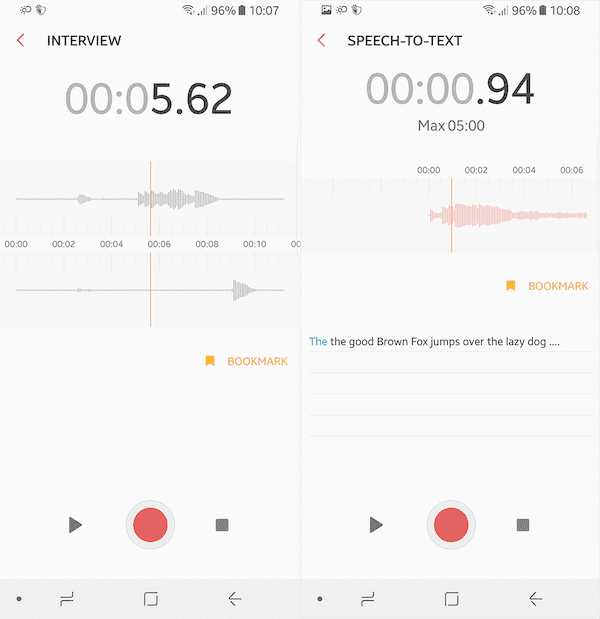 Top 4: Voice Recorder HD – An Android Voice Recorder in High Quality
If you want to find an Android Voice Recorder which allows you customize audio quality, Voice Recorder HD is exactly what you need. Voice Recorder HD is highly reputed in voice recording circles, and it supports for playback on all major operating systems.
In order to let you save and get your audio file more conveniently, this application comes with built-in support for Dropbox and other cloud based storage options. The other feature, which is favored by users, is you open another app without interrupting your recording process.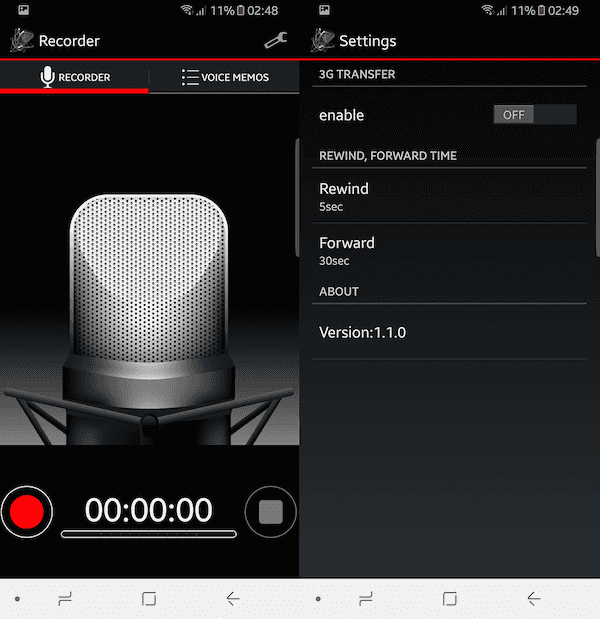 Top 5: Call Recorder – A Android Phone Call Recorder
Different from other Android voice recorders, Call Recorder is used much more in recording phone calls. It also is one of the most popular voice recorder apps, but it is not great for general use.
In this application, you can record incoming and outgoing calls, as well as white and black lists operation and more. Except advertisements, there are no big difference in free and pro version.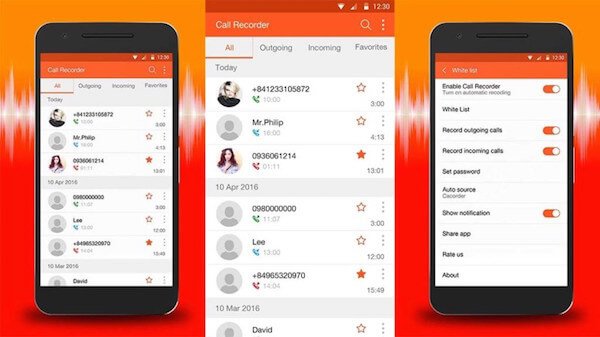 Top 6: Recorder – QuickRec – A Popular Android Voice Recorder
Recorder – QuickRec is really a popular Android voice recorder, which has over 100 million downloads all over the world. It is the attractive and functional software. It plays an efficient role in voice recording.
You can load a profile which lets you automatically load preferences for recordings. Beside, this software also can turn on Enable Fight Mode by itself, which can block calls from interrupting a recording.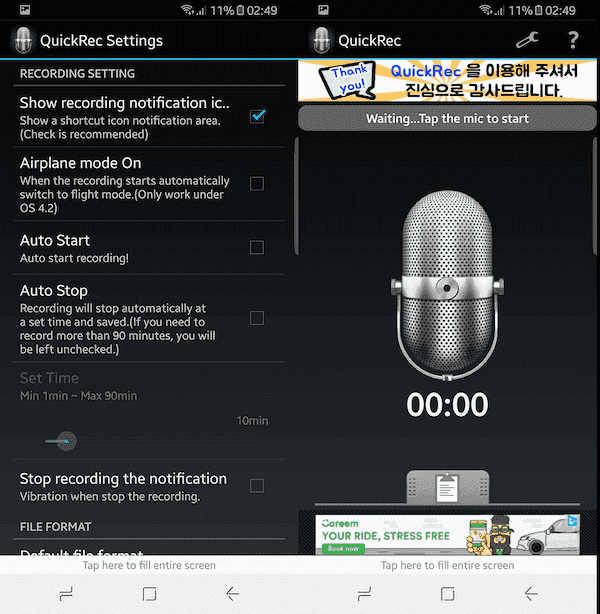 Top 7: Hi-Q MP3 Voice Recorder – A Powerful Android Voice Recorder
The seventh Android record audio application is called Hi-Q MP3 Voice Recorder, is one of the most powerful Android voice recorder you can't miss. It can compatible with nearly all sound files, for it records in MP3. Along with that, it provides you the function with uploading the file to Dropbox automatically once the recording is finished.
It also comes with other new features in paid version.
The only disadvantage is that it can't support phone call recording.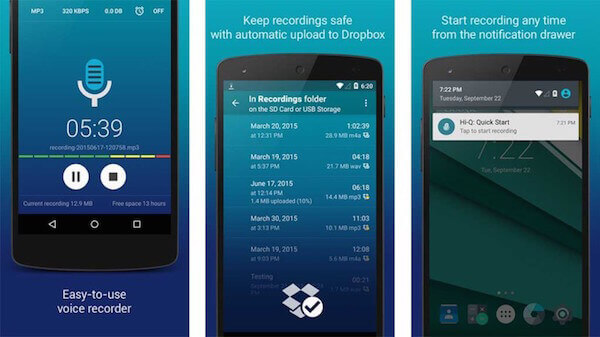 Top 8: Parrot – An All-in-one Android Voice Recorder
Parrot is one of best Android voice recorders, which also support call record. It is an all-in-one app which features material design, call recording capabilities, scheduled recordings, cloud storage support, Android Wear support and more.
Compared to personal use, Parrot is more suitable for business use, such as recording meeting or phone calls with clients. Parrot is really the best Android voice recorder although the price can get a little expensive.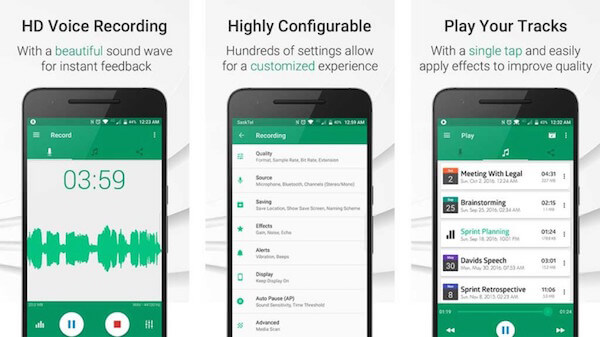 Top 9: RecForgt II – A Professional Android Voice Recorder
RecForgt II is a the most powerful voice recorder among the world, and it is especially for advanced users. It is intended for those who are into music, as they can record their band rehearsals and use it for music learning.
It has a plethora of features, such as pitch control, tempo control and other adjustment. It also comes with a simple sound editor, so users can clip and edit your recordings as you like. However, there is a limitation of three minutes for all file formats, except WAV. The only way to remove this limitation is buying the Pro version.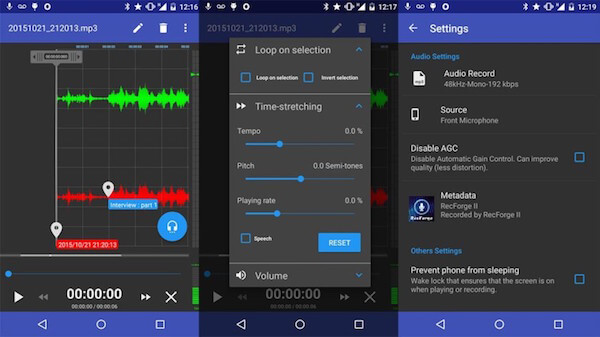 Top 10: Snipback – A Helpful Android Voice Recorder
Snipback looks like most Android voice recorder, and it can perform nearly all the basics. For example, you can record stuff, upload to your account, as well as manage them.
It also provides other functions like audio quality selections, recording duration selections, and a noise reduction filter. The most unique place is that it can recapture up to 20 seconds of audio from before you started your recording.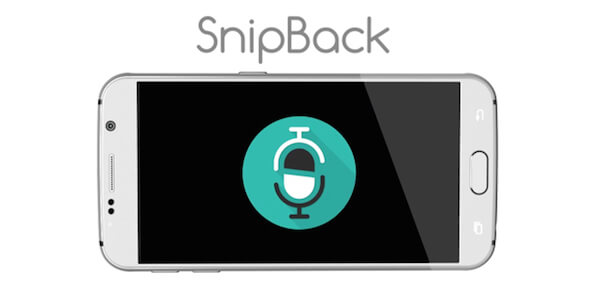 Conclusion
All the Android voice recorder provide a professional yet easy way to help you record audio on Android device. After you read this article, you must know the features about these Android voice recorders. You can choose the most suitable one and begin to record voice. If you also want to know how to capture audio on iPhone, you can check this post. Hope you can gain something useful.