PUBG: BATTLEGROUNDS is a free battle royale game you can play on iPhone, iPad, Android phones, and Windows computers. While PUBG is playing, you will land in different strategic locations. You need to loot weapons and supplies to survive to become the last team standing across various and diverse battlegrounds. Are you looking for a screen recorder for PUBG?
This post introduces you to the three best recording programs for PUBG. Whether you want to capture your PUBG gameplay on your iOS/Android device or record the PUBG game playing on a Windows 10/8/7 PC, you can use the related game recorder to do that.

How to Record PUBG
Part 1. Best PUBG Recorder App to Capture PUBG Gameplay on Android
Google Play Games can be the best PUBG game recorder app for Android users. With it, you can easily explore and access various mobile games, play games without installation, save your current playing progress, create a custom gamer ID, unlock achievements, and more. It also offers a convenient way to record the PUBG gameplay on an Android device.
Step 1 Before you capture your PUBG Mobile gameplay, you should free install and open this Google Play Games app on your Android phone first. You can go to Google Play Store to install it.
Step 2 Open this PUBG screen recording app and tap on the three horizontal lines icon in the upper-left corner. Now you can tap the My Games option to locate the game you want to record.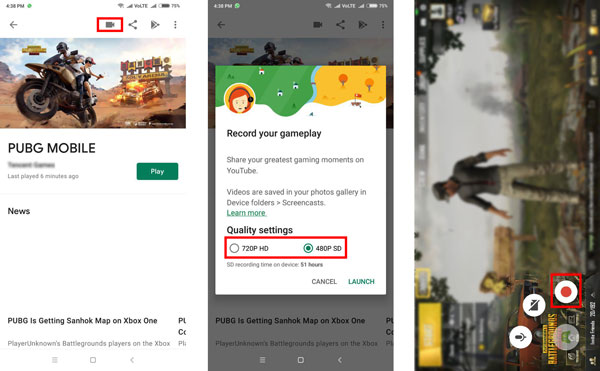 Step 3 When you find the PUBG Mobile game, you can tap on the Record button to start the PUBG recording. You are allowed to record PUBG gameplay in 480p SD or 720p HD based on your device's available storage space. You need to tap Next and then Launch to confirm your operation.
Step 4 While the PUBG game recording, you can freely customize the recording settings. It allows you to record yourself. You can directly edit the recorded PUBG video and then share it on YouTube or another platform.
Part 2. Best PUBG Replay Recorder App for iPhone and iPad
iOS has a built-in screen recorder to help you capture activities, including the PUBG game playing displayed on the iPhone/iPad screen. It can be the best PUBG replay recorder app for iOS users. You can use it to capture your game playing on PUBG with high quality.
Step 1 First, you must check if the screen recording feature has been added to your Control Center. If not, you should go to the Settings app, choose Control Center, and then tap Customize Controls to add the Screen Recording option.
Step 2 When you play PUBG Mobile on your iPhone or iPad and want to capture your game playing, you can display the Control Center and then use its screen recorder to start the game recording.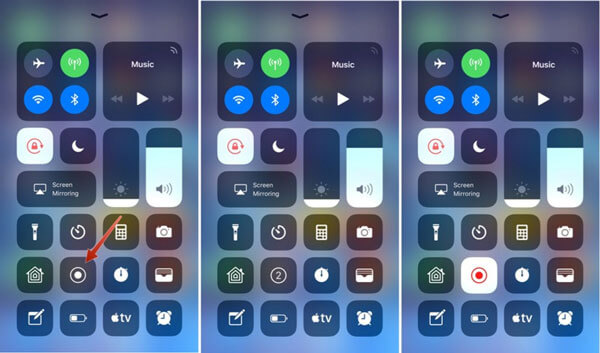 Part 3. Get The Best PUBG Recording Software for Windows 10/11
If you are playing PUBG on a computer and want to record your game playing, you can rely on the powerful game recording software for PUBG, Screen Recorder. The latest accelerated technology enables you to capture high-quality videos with low CPU, GPU, and RAM. The game recording won't affect your game experience.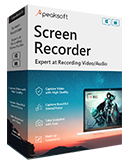 4,000,000+ Downloads
Record high-quality PUBG gameplay with full screen or customized region.
Capture PUBG in up to 4K UHD 60 FPS with webcam, voice chat, and others.
Add annotation, draw on the PUBG recording and add your watermark.
Check, edit, manage, share, or delete the PUBG game recordings freely.
Step 1 Free install and launch the best PUBG recording software on your computer. Select the Video Recorder feature to record your gameplay.

Step 2 Before the PUBG game recording, you can customize screen and audio recording settings according to your need. You can turn on Webcam to add your face to the gameplay recording during this step. This PUBG recorder allows you to capture audio from system sound, microphone, or both.

Step 3 While playing PUBG, you can simply click on the REC button to start recording your game playing. This PUBG screen recording program allows you to add arrows, text, lines, rectangles, ellipses, and more annotations to your recorded video.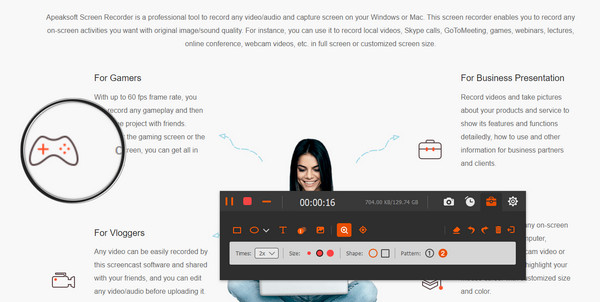 Step 4 When the PUBG recording is finished, you can directly check the captured gameplay video and edit it. After that, you can click the Save button to store it on your computer in MP4, AVI, MOV, FLV, or another format you need.
This recommended screen recorder can also record your PUBG game playing on an iPhone and Android phone. It has a Phone Recorder feature to help you cast your iOS/Android screen to a PC/Mac and then make the recording.

Don't miss:
4 Ultimate Solution to Record Gameplay Videos on Your iPad with Ease
How to Record Game Clip on Windows 10/8/7
Part 4. FAQs of PUBG Gameplay Recording
Question 1. Is it possible to play PUBG on a Mac?
You should know that PUBG doesn't offer a macOS version. So when you want to play PUBG on a Mac, you have to switch to a Windows system and then download the game for playing.
Question 2. How to remove PUBG from Google Play Games?
Open the Google Play Games app on your Android phone. Tap More at the top of the screen, and then go to Settings. Now you need to choose Delete Play Games Account & Data from the drop-down menu. Find the PUBG game and then tap Delete on it.
Question 3. How to fix the iOS screen recording audio not working issue?
You need to ensure that the Microphone Audio is turned on while the screen is recording on your iOS device. In some cases, this audio not working issue is related to the limitations of recording iTunes and other DRM-protected stuff and some hardware issues. You can try rebooting your device and try recording again. Also, you can try using another recorder app to test the audio recording.
Conclusion
This post shares three solutions to help you record PUBG gameplay on Android phones, iPhone, iPad, and computers. You can use the related PUBG recording software to capture the game playing on your device.