Due to the development of screen recording demand, more and more screen recorders programs are available in the market. What should be the best screen recorder for different device and different platform? It is frustrated when the free screen recorder you find in Windows can't support Mac system. And it can be tired to find one screen recorder for all different platforms. If you want to get a conclusion of best screen recorders for different platforms, you are coming the right place. In this article, we list 4 best screen recorder for 4 different platforms, including Windows, Mac, iOS and Android.

Part 1

: Apeaksoft Screen Recorder – The Best Screen Recorder for Windows

In Windows platform, Apeaksoft Screen Recorder is regarded as the most professional way to record your screen, audio or capture screen. It makes your recording process more enjoyable.

Features:
Best screen recorder for Windows 10 and other platform.
A flexible video recorder to get all you want in high qualities.
Record video like webinar, gameplay, video call, and audio like SoundCloud music, YouTube music, etc.
A great desktop recorder which can customize recording area, make audio settings as you want.
It is not a free screen recorder for Windows.
To use Apeaksoft Screen Recorder in Windows platform, you need to download and install it firstly. Then you can read and follow the next steps to use this software.
How to record screen:
Step 1: Choose Video Recorder
When you launch this software on Windows, you can see Video Recorder in the main interface. You need to click on it to begin screen recording with this best screen recorder.

Step 2: Make record settings
Now you need to choose the recording area according your needs. It lets you choose the full screen or customize the size by entering the length and width or drag the mouse manually. Then you need to make audio settings. You are able to choose system sound, microphone or both of them.

Step 3: Record computer screen
When you have done all settings, you can click on REC to record screen with this best screen recorder, and you can preview it after it is finished. You are also supported to share it on social platforms.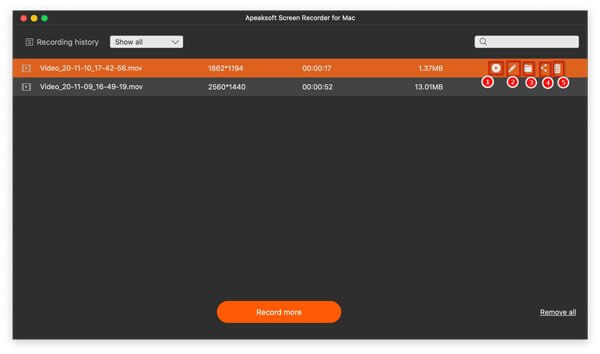 How to record audio:
Step 1: Choose audio recorder
Different from screen recorder, if you want to record audio with this best screen recorder, you need to select audio recorder firstly.

Step 2: Start audio recording
Now you need to choose system audio or microphone you want to record based on your needs. Then begin your recording with this software.

How to capture screen:
Step 1: Choose capture
Choose the option, Snapshot, from the main interface. Then you can capture whatever you want to snapshot on the computer.

Step 2: Adjust capture
This best screen recorder allows you to draw and annotate the capture with the lines, arrows, text and more. You can adjust your captured files as you like.
Besides, this recorder is also a great HD screen recorder that can help you capture any videos with the best quality.
Part 2

: QuickTime Player – The Most Useful Screen Recorder for Mac

If you are using Mac, it is strongly recommended QuickTime Player for you to record your screen or audio. For many Mac users, QuickTime Player is a built-in software when you bought your Mac. So it is a free screen recorder you can easily use to finish your recording task. Click here to get top 10 screen recorders for Mac.

Features:
Easy to access in your Mac and easy to use.
A free screen recorder which has powerful recording features.
Allows you to choose your recording files' qualities.
Can be used as a media player.
How to use:
Step 1: Open QuickTime in your mac. (If you don't have this software, download it firstly.)
Step 2: Set up your recording settings and begin to record.
Step 3: Stop and save when it finished.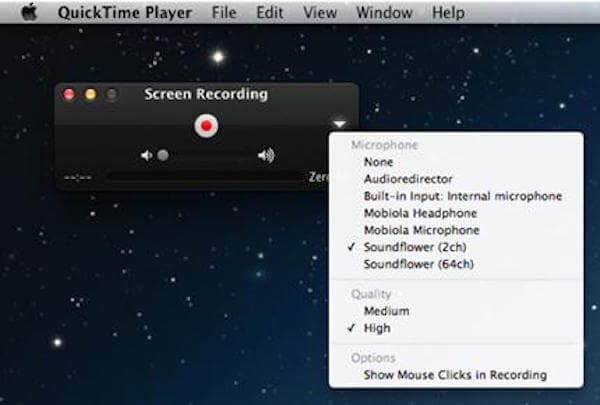 Part 3

: Screen Recording – A Wonderful Screen Recording Tool in iOS

In iOS 11 and above, iOS Screen Recording is supported to record your iPhone's screen with no jailbreak or computer needed. It is the official way to record your iPhone or other iOS devices' screen, and you can access this free screen recorder without download.

Features:
The best free screen recorder you can record your iOS screen easily.
An official and native screen recording tool to record iOS screen.
Allows you recording of both the video of your iPhone's screen, and the audio/voiceovers.
No risks and no ads.
How to use:
Step 1: Go to Settings > Control Center > Customize Controls > Screen Recording. And then Screen Recording shortcut will be added.
Step 2: Swipe up from the bottom of your screen. Find and tap on screen recording, and then choose Start Recording. You have 3 seconds before the screen recording actually start.
Step 3: Tap on the red recording indicator in the status bar and then tap Stop to finish it.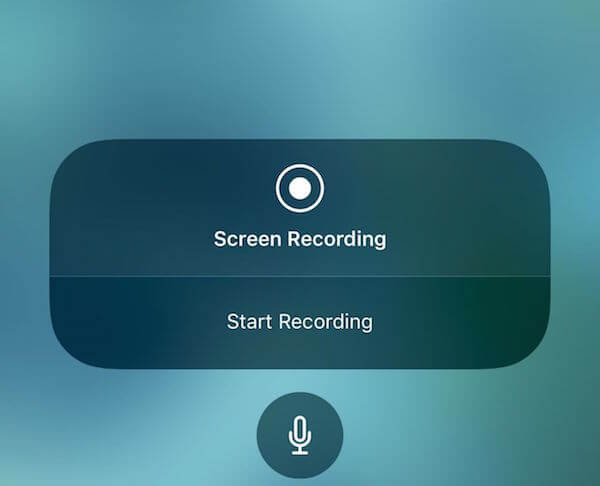 You may also want to know: How to record your iPad screen in iOS 11/12
Part 4

: AZ Screen Recorder – A Professional Screen Recorder for Android

For Android users, AZ Screen Recorder is the best screen recorder you can't miss. It has very high comments, such as it is the gold standard for screen recorder apps. Apart from its powerful functions, it also is a light, easy and accessible screen recorder for Android.

Features:
Provides an overlay button which won't interfere with the recorded content.
Offers a small video editor built-in.
Doesn't require root.
Has no watermarks, no time limit and more.
It provides a free version, and this free screen recorder can satisfy your most needs.
The Pro version is cheap to get, only $2.99.
How to use:
Step 1: Download AZ Screen Recorder and then launch it.
Step 2: Set up everything including all settings and then click on record button.
Step 3: Begin recording what you want. Stop it when finished.
Step 4: Export the recorded file to gallery.

For more Android screen recorders, please visit Android screen recorder here.
Part 5

: FAQs of Screen Recorders

1. Can screen recorder record gameplay on Windows?

Usually, screen recorders are able to record the gameplay. However, if you want record games on Windows without lag, you can choose a professional game recorder, like Apeaksoft Screen Recorder to help you capture the game videos smoothly.

2. How do I record my incoming calls from Android?

You can try call recording apps to record your incoming call on Android. Call Recorder – ACR, Cube Call Recorder ACR, or Automatic Call Recorder are great choices for recording all your outgoing and incoming calls.

3. Is there a free screen recorder for Mac?

QuickTime Player is the default and free screen recorder for Mac, which allows you to record videos that flash on your screen without installing extra programs on your MacBook.

4. Can I record screen with QuickTime?

Yes, you can use QuickTime's built-in feature to record the screen activity on your Mac.
Conclusion
You can know the 4 best screen recorder in this article, some of them are free screen recorders which you can access easily. Whatever the platform screen recorder based on, you can find a suitable one in this article, such as desktop recorder and more. If you any best screen recorder else to add, just share with us.