If you want to capture screen of your computer, CamStudio is a free screen recorder with a series of key features. It is able to capture video or still image, and record audio from your computer. Moreover, you can also add annotation, export videos to AVI format and edit the videos in a high quality. Would you download this software to have a try? Where can you download CamStudio for Windows or Mac? What are the special features for the screen recorder? Just learn more details from the CamStudio review from the article before making a decision.
Part 1: Review of CamStudio Screen Recorder
In order to learn more details about CamStudio screen recorder, you'd better download the program on your Windows or Mac beforehand. After that, you can follow the review to take full advantage of the program.
PROS

Open source screen recorder to record screen without time limitation.
Simple user interface to download and use the software for recording.
Customize the CamStudio with extensions or direct edits to the code.
CONS

Without the base editing capabilities the software is really stripped down.
Provide the limited CamStudio video output formatting SWF and AVI.
Limited to Windows only and have not been updated for a period of time.
Download extension for the program might be infected with Trojan viruses.
Besides the basic screen recording features, what are the special features of CamStudio? In order to distinguish between CamStudio and the other screen recorders, you have to find more details from the CamStudio review.
CamStudio Video and Audio Options
When you want to record screen with a high quality, you should take the video codec and compression into consideration. The default output of CamStudio video option is AVI format. Of course, you can also convert the recording into SWF before clicking the recording button.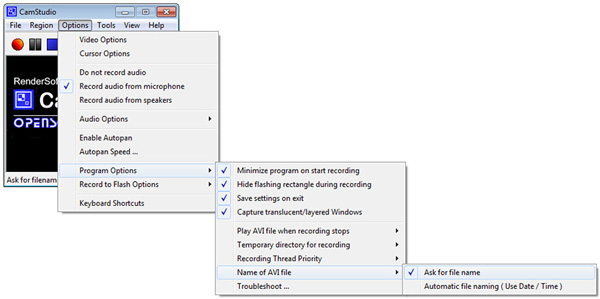 Special Features of CamStudio
CamStudio also provides a video compression method that helps with editing, high-quality recording option and webcam movie screen capture solution. Moreover, you can also take advantage of the mouse cursor option to hide or show the cursor while the screen is being recorded.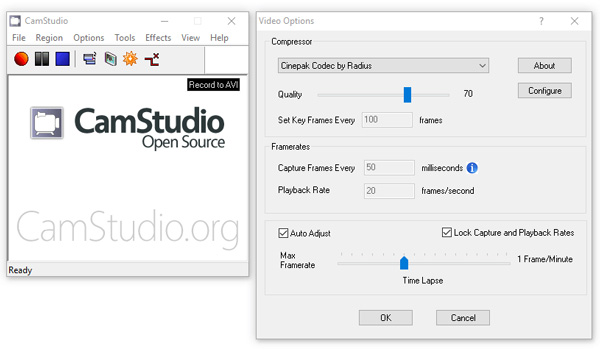 Download CamStudio for Windows/Mac
CamStudio is an open source screen recorder for Windows, which is available for SourceForge. When you want to download CamStudio for Windows 10/8/7 without Ads or virus, here is the official URLs (https://camstudio.org/) you can download the program. You can find the latest build as CamStudio 2.7 with 11.4MB, which is released on 18th May 2015.
How about CamStudio for Mac? When you want to record the screen of your MacBook, it is a pity that the Mac version is not available. As for the case, you need to find an alternative program instead.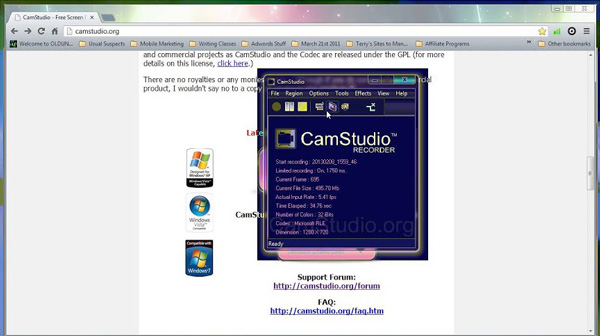 How to Capture Screen via CamStudio
Step 1 Download and install two different files, including the program and the Camcorder codec. Once you have set both the files and installed the program, you can launch the program on your computer.
Step 2 Launch CamStudio and click on the record button to start recording your screen in AVI format. After that, you can choose and tweak the area of the screen that you want to record.
Step 3 Besides, you can also add the webcam, mouse click option and even select the final resolution from the Option menu of the program. After that, you can start recording with CamStudio.
Step 4 When you are done with the recording, you can make use of the drop-down menu to hit the Stop button. Once the recording stops, you can save the video in a desired location.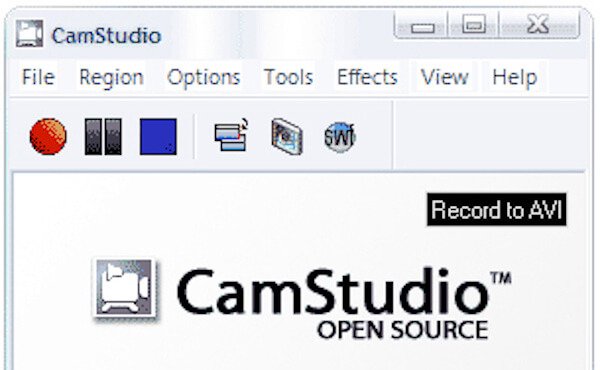 Part 2: FAQs of CamStudio
Is CamStudio free?
Yes. CamStudio is a 100% free screen recorder tool for Windows. It can be used for personal and commercial projects.
Is CamStudio safe?
No. It is not trustworthy. In 2013, Google-run websites claimed that CamStudio contains malware. And most anit0-virus software also detects Artemis Trojan in its installer file.
Is there a Mac version for CamStudio?
Currently, there is no official version for CamStudio for Mac. But you can use Apeasksoft Screen Recorder to capture screen on Mac as the best alternative.
Part 3: Best Alternative to CamStudio
What should you do if you need to record a gameplay with a high quality on Mac? The video codec of CamStudio might not suitable for gameplay and more other scenarios. Moreover, the CamStudio audio or compressor error should be a headache problem you have to take into consideration.
Apeaksoft Screen Recorder is a versatile and professional screen recorder as CamStudio alternative to capture screen, record audio and take snapshot on both Windows and Mac. Moreover, you can save the video in multiple formats, capture audio from both system audio and microphone, and set scheduled task according to your requirement.
Capture video, record audio file and take snapshot of onscreen activities on Mac and Windows.
Save video to WMV, MP4, AVI, GIF, MOV, and more other than CamStudio.
Record screen with 60FPS in a high quality.
Real-time editing feature to draw, annotation, zoom in recording, add images/elements in your projects.
Record various windows for webcam, games, and phone screen.
Download for Win
Download for Mac
Step 1 Download and install the CamStudio alternative. Launch the program on your computer and choose the Video Recorder option. You can select the size of the recording area by dragging the red point on the side. Moreover, it enables you to choose from the fixed region.

Step 2 Click on the System Sound option to enable the sound from your Mac or Windows. You can also enable the Microphone or other connected professional device. Of course, you can add the webcam video to your recording file accordingly.

Step 3 If you need to save to MP4 or WMV with a high quality, you can click the gear icon to choose the Output menu. You can save the different vide and audio formats. Different from CamStudio, you can tweak the video codec, video quality, frame rate and more.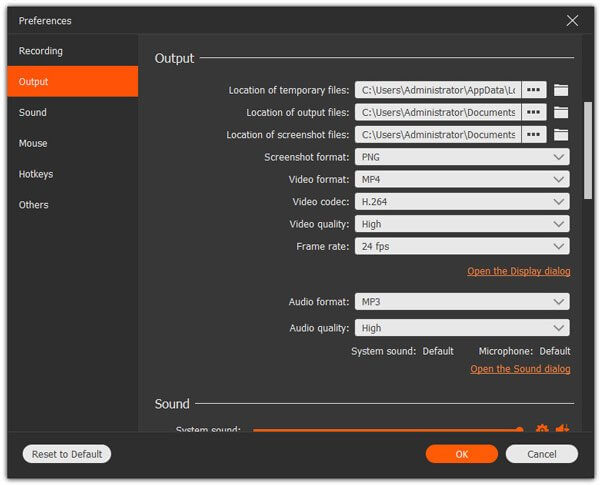 Step 4 After that, you can click on the REC button to record the onscreen activities. You can control over the recording directly with hotkeys. During the recording, the program enables you to make drawing or add annotations based on your requirement. Moreover, the editing tools lets you add images, and more elements in the recording file

Step 5 Once the recording is done, you can preview the recorded file, and optionally use the clip feature to trim the recording file, and save it on your computer.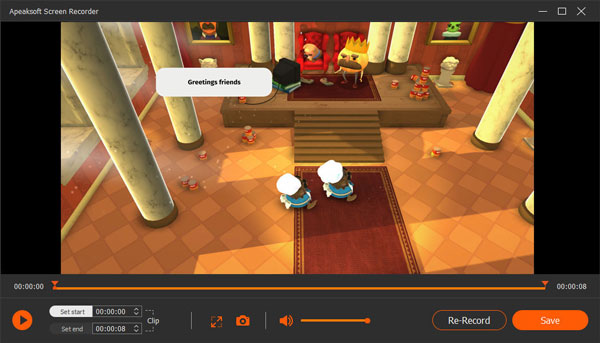 Conclusion
When you want to record screen on your Windows for free, CamStudio is a nice option. But if you need to record screen on your Mac, or save to desired video formats, Apeaksoft Screen Recorder is the best CamStudio alternative to get the onscreen activities with the best quality. Also, you can find the free CamStudio alternatives to start a free screen recording.