TechSmith Camtasia allows vloggers, developers, brand owners, and other people to make video tutorials, record presentations, and more. This post will show you an unbiased review of Camtasia, including what Camtasia Screen Recorder is, how to record screen in Camtasia, and the best Camtasia alternative.

Camtasia Screen Recorder
Part 1: What Is Camtasia?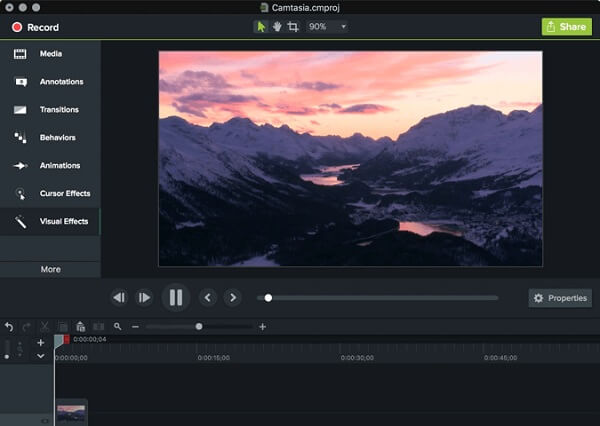 Firstly, you may wonder what Camtasia is. It is a powerful video solution available to both Windows and macOS. Users are able to enjoy an impressive degree of control over the videos creating and editing. In another word, It puts two products in one program.
Screen recording functionality. Camtasia has everything you need for capturing video and audio on your computer. So, it is a powerful tool to make video tutorial. In addition to screen, it is also able to capture through webcam, camera and microphone.
Video editing functionality. Camtasia does not stop on screen recording but offer a video editor. It means that you can record your screen and edit it with the same program. The editing tools include:
1. Split video and remove unwanted footages.
2. Add background music, text, and subtitles.
3. Built-in hundreds of icons and stickers.
4. Insert engagement items, such as questions and pop-up tips.
Camtasia Review
PROS

Camtasia comes with a set of library assets including templates, images, motion graphics, and audio files.
The interface is intuitive and user friendly.
Compared to Adobe Premiere, Camtasia lets users produce high quality videos without much skills.
It supports a wide range of video formats, including 4K videos.
It integrates social sharing after screen recording like Filmora Scrn.
CONS

Camtasia Screen Recorder price is high, a single user license costs $199.00, and the upgrade needs $99.00.
The ability to manipulate the video with motion or rotation is slightly limited in Camtasia.
The system requirement is much high, so you cannot use it on old computers.
If you want to access more templates, you must pay more.
Not compatible with mobile phone. So, there is no Camtasia Screen Recorder for Android or iOS. So, there is no Camtasia Screen Recorder for Android or iOS. (Check here to get more iPhone screen recorders.)
Part 2: How to Use Camtasia
If you are looking for Camtasia tutorial, the steps below give you the detail on how to use Camtasia Screen Recorder to record screen and edit the captured video simply.
Step 1 Capture your screen
Open Camtasia, and select Record at the top left corner to activate the screen recorder feature. Under Select area, you can decide to either record Full screen or Custom region. If you want to record webcam, turn it on under Recorded inputs. Then select the audio input from the Audio option. Now, hit the rec button to start capturing your screen.

Step 2 Edit screen recording
After recording, it will be saved on the campus, and you can open it in the video editor window. You can find the video editing tools on the left-hand column, like Annotations, Transitions, and more. Moreover, the basic tools are available above the timeline, such as Split, Trim, etc.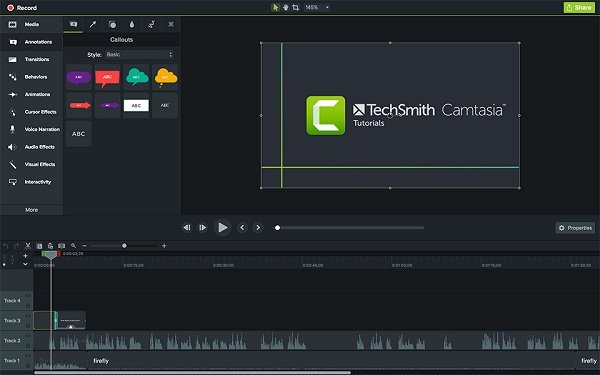 Step 3 Export and share videos
Click the Share menu on the top ribbon and select Local File to trigger the profile dialog. Enter a filename in the Export As field, set the destination folder and other options. Click Export button to save the screen recording in Camtasia. Alternatively, you can share it to YouTube or upload to Google Drive.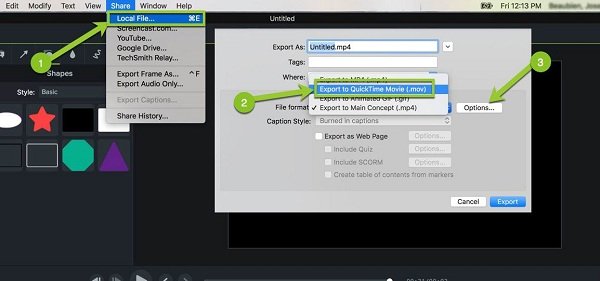 Part 3: Best Alternative to Camtasia
Some users believe that the video editor in Camtasia is redundant. It also makes the screen recorder bit pricy. From this point, we recommend Apeaksoft Screen Recorder, which is more cost-effective. It is your best screen resolution for Camtasia recording, especially when Camtasia Screen Recorder not working.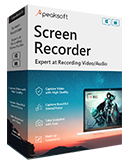 4,000,000+ Downloads
Capture your screen with video and audio simply and losslessly.
Make reaction videos when recording via webcam and microphone.
Preview screen recordings with the built-in media player.
Support almost all video and audio formats.
Offer extensive tools for screen recording, such as schedule.
How to Record Screen without Camtasia
Step 1 Install Screen Recorder
Launch the best alternative to Camtasia after you installed it on your computer. Select Video Recorder to open the screen recording window.

Step 2 Capture your screen
Turn on Display and set the recording area. Enable System Sound and adjust the volume. If you want to capture your face and voice, turn on Webcam and Microphone; otherwise, disable them. Click the gear icon to open Preferences dialog and set custom options. Next, hit the REC button and initiate screen recording.

Step 3 Preview and save screen recording
When screen recording is done, click the Stop icon to open it in the preview window. View the recording and click Save if you are satisfied.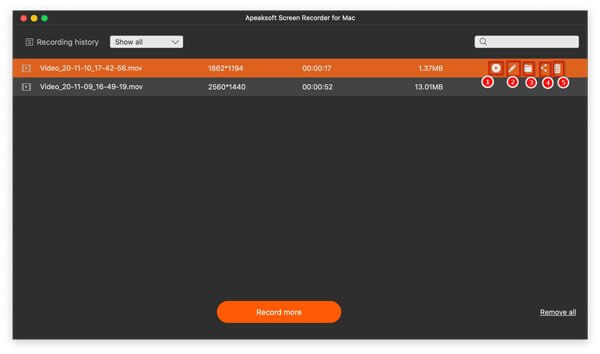 You May Also be Interested:
[Top 5] Best Camtasia Alternatives for Windows PC and Mac
What Should be Your Choice for Screen Recording, Snagit or Camtasia
Part 4: FAQs of Camtasia
Is Camtasia easy to use?
The answer is depending on your situation. Generally speaking, you must have some technical skill to use Camtasia, but it is easier than Adobe Premiere and other professional software.
What is the current version of Camtasia?
The current version is Camtasia 2022. The update added many new assets and elements to the library and a new home interface on start-up. Beside new video templates/effects, you can also enjoy more cursor effects.
Is Camtasia worth?
Camtasia is not free software. You can get 30 days for Camtasia free trial before making your purchase decision. During free trial, you can access full features. However, the output will be watermarked if it is longer than 2 minutes.
Conclusion
Now, you should understand what Camtasia Screen Recorder is, whether it is worth to use, and how to use it to capture screen and edit video. We hope that our review and tutorial can help you make a good decision. Even if you do not like Camtasia, you can try the best alternative, Apeaksoft Screen Recorder. It is much easier to use and more compact on-screen recording. If you have other questions, please leave your message below the post.