How to select best Chrome screen recorder?

Google Chrome is one of the most popular web browser. It provides a fast, secure, and free surfing experience. When you find some interesting files on Google Chrome, you might capture video and audio files. For example, record game play, capture a video tutorial or create screenshots in your Chrome.
Chrome screen recorders become necessary for us. Is there any way to record Chrome videos and audios? What should be the best Chrome screen recorder? This article introduces five best Chrome screen recorders and one best alternative. You can learn more detailed information about pros and cons of each Chrome screen recorder to choose the recorder you want.
Part 1

: 5 best Chrome screen recorders for recording videos and audios
Top 1: Loom
Loom is a Chrome screen recording extension to help you to create, capture, narrate and share your videos or audios instantly. It is also a new kind of work communication tool that you can get or send messages with shareable videos.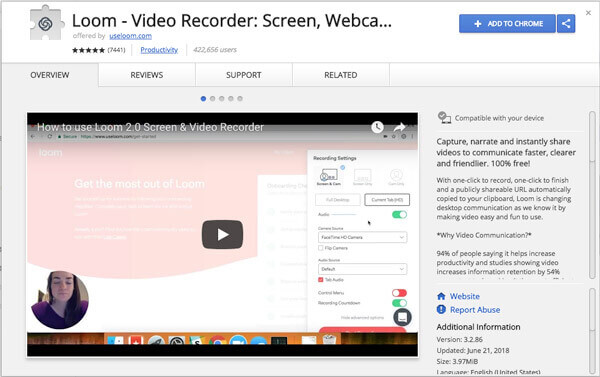 Pros
1. Absolutely free.
2. Install from Google Chrome Web Store directly and easily.
3. A full Gmail integration that allows you to embed videos in your emails.
4. Protect your videos with password.
Cons
1. Work only in Google Chrome.
2. It cannot record video without an Internet connection.
Top 2: Nimbus
Nimbus is an excellent Chrome screen recorder that allows you to capture shots in five different formats: entire screen, blank shots, selected area, entire page and any visible portion of screen.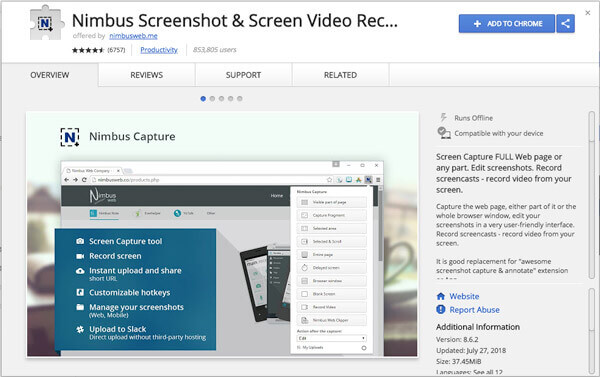 Pros
1. Be available for Explorer, FireFox and Google Chrome users.
2. Customize screen shots with much finer details.
3. Keyboard shortcuts can be used.
4. Screenshot collection for developing tutorials.
Cons
1. Easy to cash to loss data during video recording.
2. Waste lots of time when saving recorded files to your computer.
3. The recording feature is accessible to Chrome only.
Top 3: Screencastify
Screencastify is one of the most trusted Chrome screen recorder that millions of people use for capturing video screens. It allows you to set the audio input you prefer for the videos.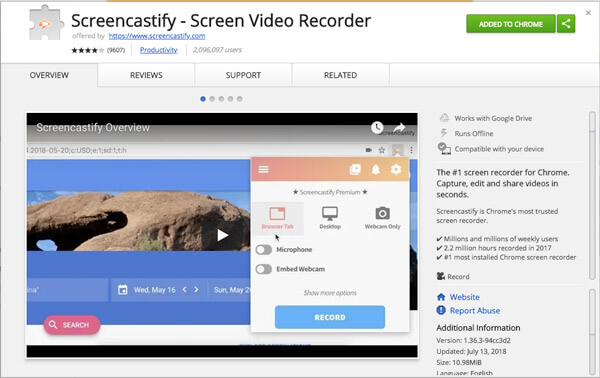 Pros
1. Recording offline is permissible.
2. Provide a free version.
3. Be able to use in teaching presentation.
4. Easy to share with others.
Cons
1. $24 per year is needed for full features.
2. 10 minutes limited in the free version for recording videos.
3. Only works in Google Chrome devices and browsers.
Top 4: MakeGIF Video Capture
Another Chrome screen recorder is MakeGIF Video Capture that enables you to create a screen recording by saving it as GIF.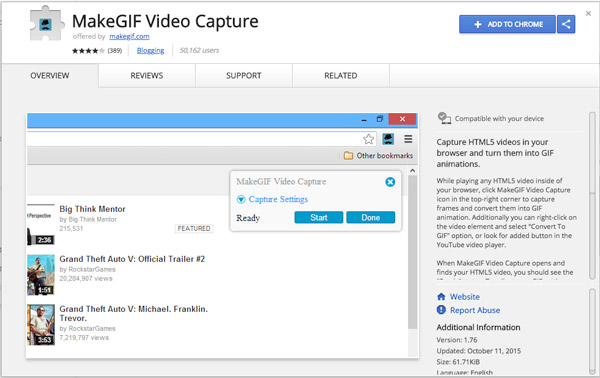 Pros
1. Capture HTML5 videos to convert to GIF format easily.
2. Editing and adjusting file easily.
Cons
1. Saving on local disk and sharing video online are not allowed.
2. Be going to delete uploaded videos one month later without informing up loaders.
3. Do not support for sharing video online directly.
Top 5: ViewEdit
ViewEdit is a free Chrome screen recorder that allows you to capture videos from webcam, tab and screen within several seconds.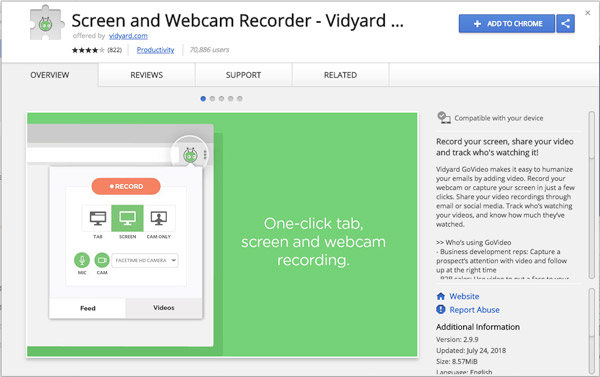 Pros
1. Support for recording video call.
2. Free for all features.
Cons
1. Few features cannot be satisfied with professional editing.
2. The length of video is limited to one hour.
3. Do not allow pausing during your recording. You can only edit or share your video after stopping recording.
Don't Miss: Top 10 Screen Recorders for Mac
Part 2

: Best alternative to Chrome screen recorder

In addition to many wonderful Chrome screen recorders, it also has many professional alternatives to Chrome screen recorder. We recommend one of best alternatives to Chrome screen recorder in the next part. Just reading it, you can learn more details about it.

Apeaksoft screen recorder should be one of the best and most professional Chrome screen recorder alternative. It is able to record all on-screen activities to make video tutorials, capture webcam video, record games and more in high quality. What is more, you can find multiple editing features and even take screenshots.
Record screen with locked window.
Capture online video as Chrome screen recorder alternative without installing other plugs.
Record audio and video in different formats, MP3, WMA, AAC, M4A and more.
Audio recording is very smooth; it would not interpret your other desktop task.
Shortcut button to capture video and audio with keyboard only.
Annotate your screenshot and recording with a text box, highlight, arrow and more.
Set the video or screenshot recording area, full screen, custom region or fixed region.
Download for Win
Download for Mac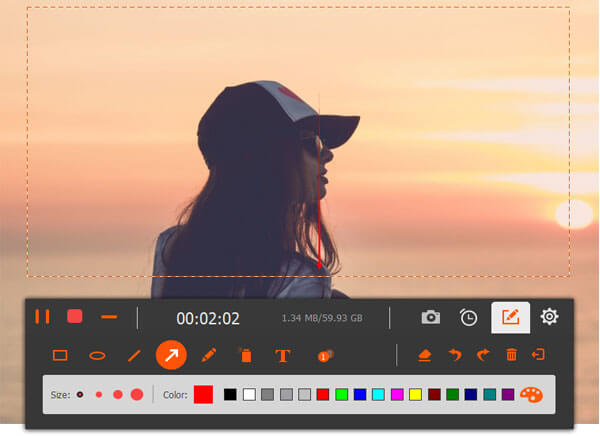 How to use Apeaksoft Screen Recorder to capture videos and audios in Chrome
Step 1: Download and install the latest version of Apeaksoft Screen Recorder with the download button above. Choose "Audio Recorder", "Video Recorder" or "Snapshot" options as you need.

Step 2: We recommend you to figure some settings before recording. For example, if you want to record video, you should set the recording area at first. Then, open the system audio to adjust it in the right volume. If you are going to record audio, you can only adjust the system audio.

Step 3: After setting the recording area and audio, click "REC" in the right to begin recording. Once everything is done, you are able to click "Stop" to save your recording on your computer. Before saving recording, you can preview your videos or audios to make sure everything is OK.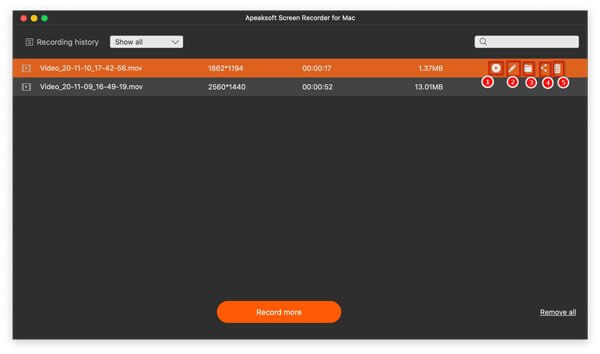 Conclusion
A great number of Chrome screen recorder and its alternatives can be found online. All of them have their own excellent features that are worth trying. We hope that this tutorial can help you. If you have any question, you can write it in the comment.