Go without saying that game consoles like Sony PS4, Microsoft Xbox, and Nintendo Switch are on the rise. But there are still a large number of gamers rely on PCs for the gaming needs. You may get used to play video games on your computer. What's more, compared with other consoles, computer can give you more convenient gaming experience. Do you have the need to share your gameplay with friends and other players worldwide?

To capture screen and share your gameplay, you will need a good game recorder. However, there are lots of game recording software offered on the market. Which game screen recorder you should choose? We have tested and ranked the 10 best game recorders for you to capture game playing on your computer.
NO.1

Best Game Recorder - Apeaksoft Screen Recorder

Different game recorders offer many differing features, can save recordings in different formats, capture screen from external sources like webcam, or carry different editing functions. So you should select the game recorder depending on what you intend to do with it. Here at the first part, we like to show you the best game recording software, Apeaksoft Screen Recorder.

Screen Recorder - Best Game Recorder
Easy capture any video gameplay on computer with 4K/HD quality.
Record computer screen/webcam, capture audio and take screenshots.
Capture 2D/3D gaming and camera screen with up to 60 fps frame rate.
Edit recorded video, adjust volume, make drawings and add annotations.
Latest hardware acceleration technology to capture with low CPU, GPU and RAM.
Download for Win
Download for Mac
This game screen recorder has the capability to record any gameplay on your Windows 10/8/7/XP/Vista PC or Mac. It enables you to capture single game rushing record, Snake game world record, or record KH3, NCAA, army navy, and more with high image and sound quality. With the adoption of the latest hardware acceleration technology, it guarantees you can have a smooth and stable gaming and recording experience.

You are allowed to record your video gameplay with full screen, window or selected area. In addition, it enable you to capture from monitor, webcam, system sound card and microphone. It ensure you can capture all useful content during the gaming. After recording, you can edit the captured video and then save it on your computer with your preferred output format like MP4, MOV, FLV, or AVI. As it mentioned above, it also allows you to record video calls, online videos/meetings, eLearning tutorials and other activities on your computer. Just free download it to record your video gaming with ease.
NO.2

Best PC Game Recording Software - OBS Studio

OBS Studio is one very popular game recording software which can help you record video games with high quality. It has the capability to handle a wide variety of formats and systems. When you are looking for an all-in-one solution for recording gameplay, OBS Studio can be a good choice.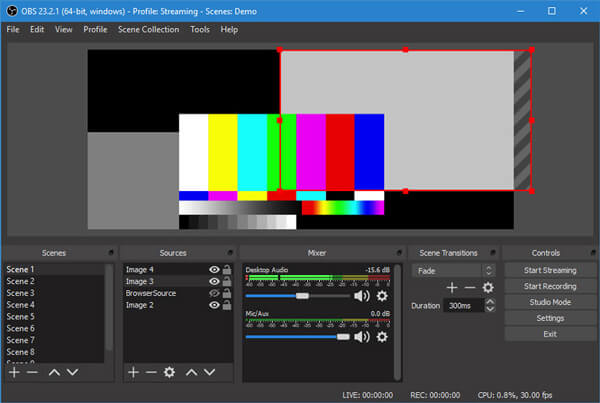 OBS Studio is able to capture video and audio from webcam and microphone. This free game recorder enables you to record any 2D/3D video games without any file size or time limits. Actually, it is also a popular live streaming tool. It can live stream your gameplay and show you various options when it comes to transitions and tools. After the game recording, you can easily share it to Twitch, YouTube or Facebook Live.
NO.3

Free Game Recorder for Windows 10 - Xbox Game Bar

Xbox Game Bar can be the best PC video game recording software for Windows 10 users. It offers a simple and convenient way to take full control of the gaming activities while playing on your computer. Xbox Game Bar is the customizable built-in gaming overlay in Windows 10. It makes your computer more and more like an Xbox.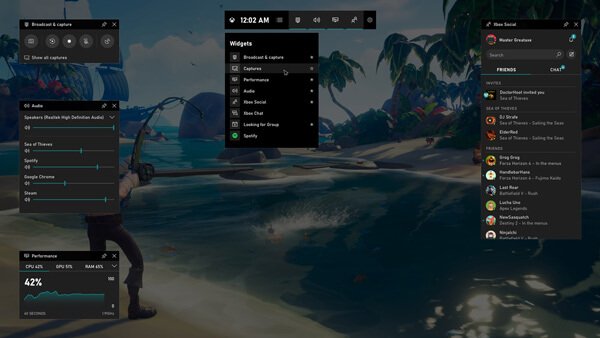 Xbox Game Bar highly supports almost all PC video games. You can easily find new teammates with LFG, chat with friends across Xbox console, mobile, and PC. What's more, it can work as a great game recorder to capture and share screen. You can easily call up Xbox Game Bar by pressing Win + G on your keyboard. After that, you can choose Overlay menu > Capture to start the game recording. It enables you to capture video game in HD or 4K. Here you may also like to record Xbox gameplay.
NO.4

Free Game Recorder for Mac - QuickTime Player

QuickTime Player is the best screen recording software for Mac users. This built-in media player and video audio recorder can help you capture anything displayed on your Mac monitor with high quality. There is no watermark or any limits of file size or recording time. You can easily get a stable gameplay recording experience. However, QuickTime Player can't capture audio from system sound.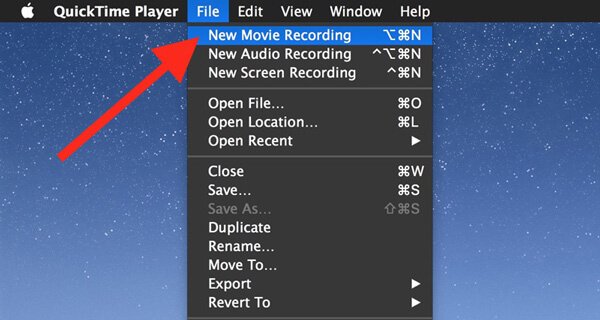 QuickTime Player enables you to capture game video with entire screen or selected region. After capturing, you can also edit and custom the recorded content. For instance, you can cut/crop/rotate video according to your need. You can save the recorded video in MOV or MP4. Moreover, this screen recorder for Mac provides you with a convenient way to directly share your recording to YouTube, AirDrop or other platforms.
NO.5

Free Game Recorder for Mac - Action!

Action! Game Recorder is the easy-to-use game recording software which can give you smooth HD game recording up to 120fps. It carries many must-have tools and features for your gameplay recording. This game recorder is compatible with all versions of windows like Windows 10, Windows 8, Windows 7 and more. It allows you to stream and real-time record in HD video quality.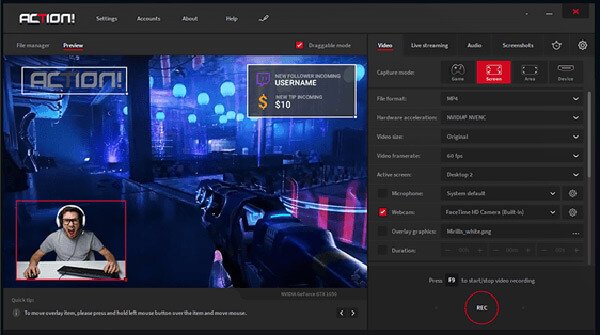 Besides capturing gaming screen, it enables you to stream your gameplay, web player videos, capture your favorite music, take screenshots, and more with ease. With the adoption of the cutting-edge game recording engine, this game video recorder can record your gameplay in a smaller file with less CPU and GPU usage. It is able to directly capture game video to MP4 (H.264/AVC) file. Action! Game Recorder provides users with 30-day free trial. After that, you need to pay $29.95 for home use or $59.95 for commercial use.
NO.6

Free Game Recorder for Mac - QuickTime Player

Bandicam is one famous gameplay recording software which can help you capture any activities on your computer. It enables you to record game videos up to 120 FPS. The game recorder offers 3 recording modes, Recording screen, Game recording mode, and Device Recording mode. It can capture webcam videos. Actually, it has the capability to capture screen with 4K Ultra HD resolution.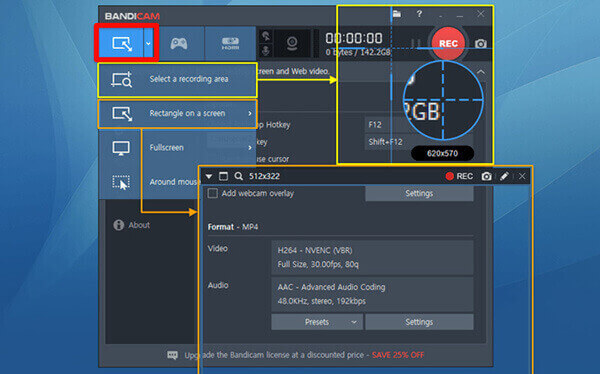 Thanks to its built-in compression feature, Bandicam game recorder allows you to record high quality video with a small file size. You can adjust the recording area for gaming or other activities happened on your computer.
NO.7

Free Game Recorder - XSplit Broadcaster

XSplit Broadcaster is a popular screen recording tool which mainly designed for high-quality video recording. It can capture video and audio from a number of sources. In addition, it is able to combine them during a live stream. Broadcaster offers a version called XSplit Gamecaster designed for games.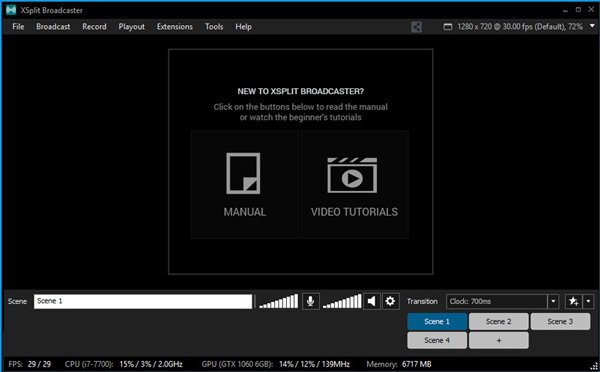 One great advantage of this game video recorder is that, you can add various custom plugins to increase its functionality. XSplit provides you with both free and paid versions for the recording. The free version will be limited to record video quality as 720p at 60fps. There will be added a watermark in the 1080p HD videos. You have to upgrade to paid version if you want to remove the watermark or capture 4K video.
NO.8

Ultimate Game Recording Software - Movavi Game Capture

Movavi Game Capture is one all-featured video game recording software which can help you save the most memorable moments of your gaming and share them online with ease. It claims that it can give you a great recording experience. It has tested Gecata with all the major titles, from Minecraft to Battlefield 4, and from Roblox to World of Warcraft.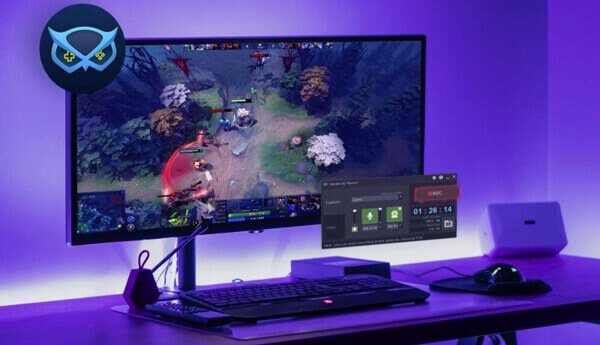 One cool feature of this game recorder is that, it enables you to start capturing with one click. During the gaming, you can use hotkeys to control the screen recording without leaving the game. It also offers in-game sound effects, music, and dialogue to immerse viewers while the game playing. Movavi Game Capture is not a free game recorder. You have to pay at least $19.9 for it.
NO.9

Free Game Recorder for Windows 10 - Game DVR

Game DVR is the built-in feature of Windows Game Bar which can help you record gameplay videos on your Windows 10 PC. You can press the shortcut (Win + G) to open the Game Bar. Or you can easily start the game video recording by pressing the shortcut of Win + Alt + R. You can easily make the 30 fps or 60 fps as well as standard (720p) or high (1080p) quality gameplay recording.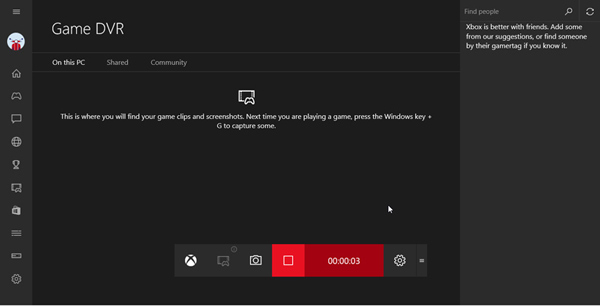 Game DVR is totally free and it won't place any watermark to the recorded video. But this free game recorder only allows you to the screen activity of an active program. You are not allowed to record game in a selected region, capture from webcam or add any annotations. What's more, you can't use it in Windows 8 and Windows 7.
NO.10

Free Game Video Recorder - Nvidia GeForce Experience

Nvidia GeForce Experience is the game screen recorder for Nvidia users. If you are using an Nvidia GPU, you can install the GeForce Experience on your computer for the gaming recording. It provides you with the Shadowplay feature to capture your computer screen with ease. The cool feature of ShadowPlay is that, it uses the GPU (Nvenc) to make the video encoding. In that case, you can record your gameplay smoothly with low CPU power.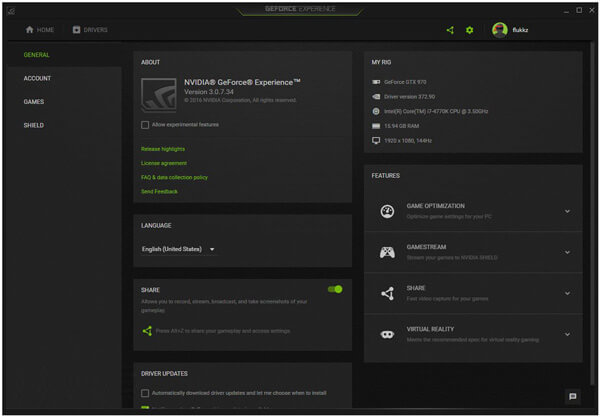 This free game recorder has the capability to capture screen with exactly the same resolution as your display. That means you can handily record HD or even 4K UHD game recordings when you have a 4K panel. It offers a simple and straightforward way to do some basic gameplay recordings. One thing you should concern is that, this free game video recorder only works with Nvidia GPUs.
There are a large number of video game recording software available on the market. If you are looking for the best game recorder, you can select one from the 10 recommendations above. You can get the basic features of each game screen recorder and then pick your preferred one to start your gameplay recording.