For pro gamers on PCs, you may be experiencing those problems right now: Are you still bothered by the limited functions on your mouse control and device settings when recording your gameplay? Do you feel overburdened by countless subscription ads to choose a suitable recorder? Are you still compromising the video quality in exchange of a smoother process during playing?

To capture the ideal moments on your screen easily and share the HD videos with your fellows is always a wonderful experience for many gamers when playing on the computer. To tackle those annoying but crucial problems for you, we would like to offer you a cost-effective selection and best take care of your every need. Here are top 10 free game recorders we have tested to use with little effort.
Part 1. Best Screen Recorders for Gaming
1. Apeaksoft Screen Recorder
As we know different recorders for gaming work with diversified features. If you want to save game recordings in different formats without quality loss or capture screens from external sources like Web Cam, then you had better take this powerful software that supports comprehensive functions. Here we offer you the perfect option to record your game videos: Apeaksoft Screen Recorder.
Screen Recorder - Best Game Recorder
Easily capture any video gameplay on computer with 4K/HD quality
Record PC screen/ WebCam /Phone and more and support picture-in-picture recording
Capture 2D/3D gaming and camera screen with up to 60 fps frame rate
Edit recorded videos on length, segment, audio, format, annotations, drawings and more
Set preferences on recording, output, sound, camera, mouse and keystroke, etc. for use
Latest hardware acceleration technology to capture with low CPU, GPU and RAM
Download for Win
Download for Mac
This game screen recorder has the capability to record any gameplay on your Windows 11/10/8/7/XP/Vista PC or Mac. With its help, you are free to capture moments in the world of hot and popular game. Whether it's for single gamers in Hades, Genshin Impact or multi-player games like Minecraft, ROBLOX, KH3 and more, you will never miss your records in high image and sound quality. With the adoption of the latest hardware acceleration technology, it guarantees you can have a smooth and stable gaming and recording experience.
If you are a LOL player, it would also be the easiest way to record League of Legends moments. You are allowed to record your gameplay with a full screen, specific window or selected area. In addition, it enables you to capture video and audio from monitor, webcam, system sound card and microphone for all useful content. After recording, you can edit the captured file with built-in functions and select preferred output format for screenshot, video and audio. Video calls, online videos/meetings, e-learning tutorials and other activities.
Just free download it to record your video gaming with ease.
How to Record Game Screens with Apeaksoft Screen Recorder
Step 1Open the software and choose Game Recorder to get ready.

Step 2 Click Select the Game button to choose the recording source. After that, you are free to decide whether to turn on your webcam, system sound and microphone.

Step 3Reach Rec button and start recording your game moments. When your wanted part gets done, click the Square icon or use hotkey to stop your recording. Then you are free to edit your recording in the pop-up window.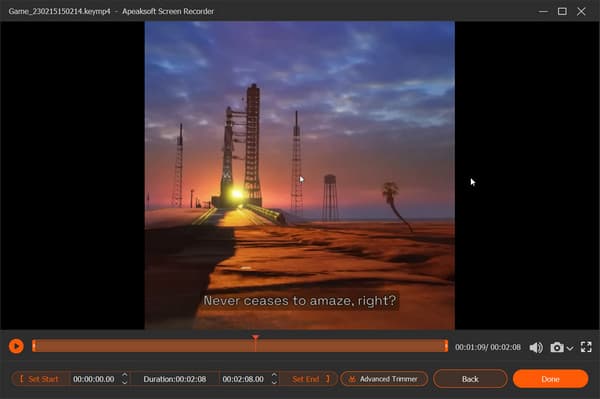 Note: During game recording, you can click the Gear icon to adjust the mode of recording area including Fixed Mode, Around or Follow Mouse, audio, zoom content and windows to your favored one. And you can click it again to fold.

Step 4When gratified with all content, you can save your works by Done button.
Cutting function and videos more than 3 minutes are not available in the trial version So you are encouraged to register to unlock all functions.
And don't feel concerned about recording VR gameplays on PC or your mobile device for this software supports most to best meet your requirements.
2. OBS Studio
OBS Studio is one very popular game recording software which can help you record video games with high quality. It has the capability to handle a wide variety of formats and systems. When you are looking for an all-in-one solution for recording gameplay, OBS Studio can be a good choice.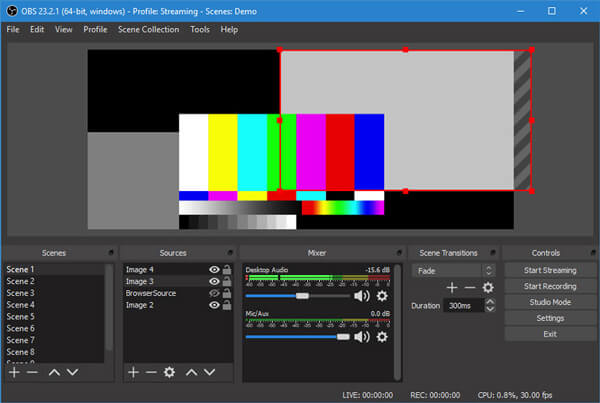 PROS

Capture video and audio from webcam and microphone for free
Record 2D/3D video games without file size or time limitation
Stream gameplay and provide multiple transitions and tools
CONS

No obvious sign to tell whether the program is running or not
Frequently updated
Not enough support for many sources at the same time
3. Xbox Game Bar
Xbox Game Bar can be the best PC video game recording software for Windows 10 users. It offers a simple and convenient way to take full control of the gaming activities while playing on your computer. Xbox Game Bar is the customizable built-in gaming overlay in Windows 10. It makes your computer more and more like an Xbox. You can easily call up Xbox Game Bar by pressing Win + G on your keyboard. After that, you can choose Overlay menu > Capture to start the game recording. It enables you to capture video game in HD or 4K. Here you may also like to record Xbox gameplay.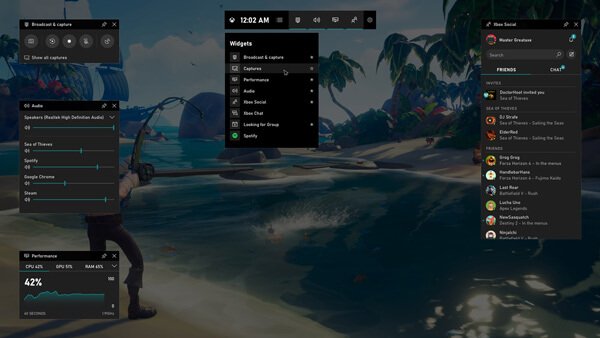 PROS

Highly support almost all PC video games
Connect to new teammates with LFG and communicate with Xbox console
Provide editing function for more convenience
CONS

Record game clips with limited time
A little time-wasting for players for the direct recording result
4. QuickTime Player
For Mac users, selecting a screen recorder for free on Mac is not as easy as it sounds. QuickTime Player is the best screen recording software for you. This built-in media player and video audio recorder can help you capture anything displayed on your Mac monitor with high quality. There is no watermark or any limits of file size or recording time. You can easily get a stable gameplay recording experience. However, QuickTime Player can't capture audio from system sound.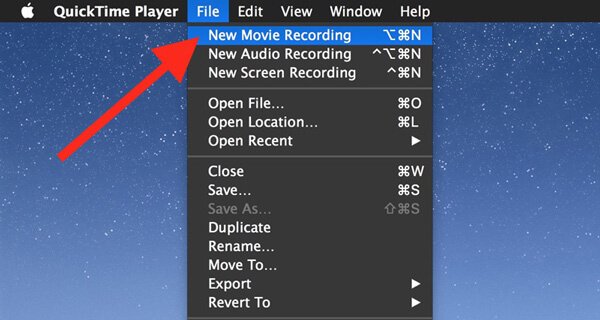 PROS

Widely available and supported for Mac users.
Focused and simple design for use
Equipped with Security flaws for better privacy
CONS

No support for dual recording
Limited choices for video quality and format for output
Audio channel for recording is not connected to system sound
5. Action!
Action! Game Recorder is the easy-to-use game recording software for Mac which can give you smooth HD game recording up to 120fps. It carries many must-have tools and features for your gameplay recording. This game recorder is compatible with all versions of windows like Windows 10, Windows 8, Windows 7 and more. It allows you to stream and real-time record in HD video quality.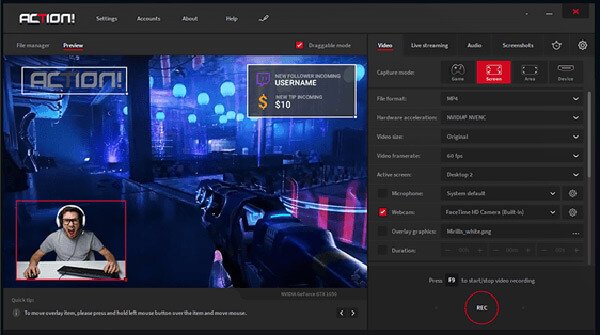 PROS

Enable players to stream gameplay and web player videos
Record your r gameplay in a smaller file with less CPU and GPU usage
Directly capture game video to MP4 (H.264/AVC) file
CONS

A paid plan for long-term use on this software
Custom frame rate and video bitrates are set inflexible to adjust
6. Bandicam
Bandicam is one famous gameplay recording software which can help you capture any activities on your computer. It enables you to record game videos up to 120 FPS. The game recorder offers 3 recording modes, Recording screen, Game recording mode, and Device Recording mode. It can capture webcam videos. Actually, it has the capability to capture screen with 4K Ultra HD resolution.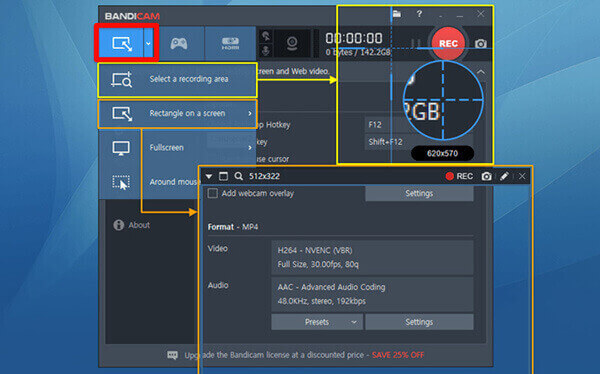 PROS

Record HD videos with a small file size
Free to adjust the recording area for gaming or other activities
CONS

10 minutes limited for each recording process
Watermarks will appear on displaying of your recorded videos
Only support Windows system
7. XSplit Broadcaster
XSplit Broadcaster is a popular screen recording tool which mainly designed for high-quality video recording. It can capture video and audio from a number of sources. In addition, it is able to combine them during a live stream. Broadcaster offers a version called XSplit Gamecaster designed for games.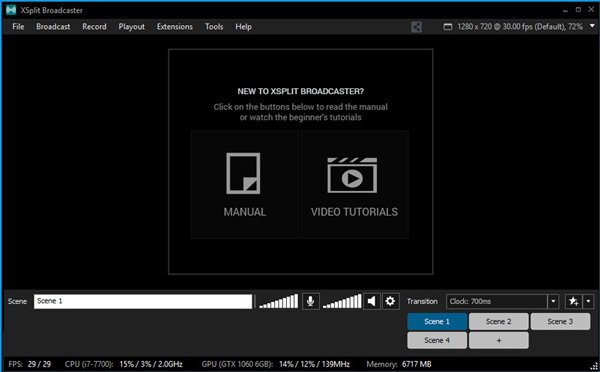 PROS

Various custom plugins are provided to increase
Both free and paid versions for the recording
Supported functions to integrate recording files for use
CONS

Watermarks are automatically affiliated to the recorded file
May cause major slowdown in the gaming process
Have to upgrade to paid version if you want to remove the watermark or capture 4K video.
8. Movavi Game Capture
Movavi Game Capture is one all-featured video game recording software which can help you save the most memorable moments of your gaming and share them online with ease. It claims that it can give you a great recording experience. It has tested Gecata with all the major titles, from Minecraft to Battlefield 4, and from Roblox to World of Warcraft.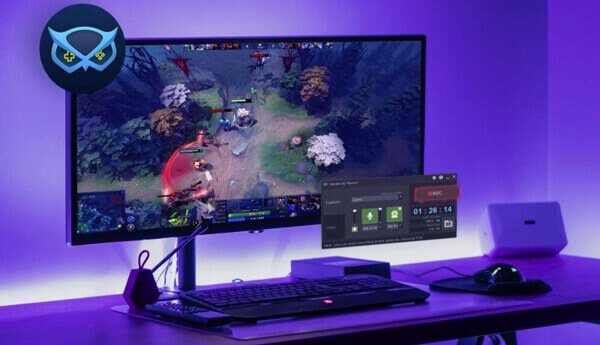 PROS

Enables you to start capturing with one click
Hotkeys are supported to control the screen recording
Offers in-game sound effects, music, and dialogue to immerse viewers
CONS

Watermarks will stay with the final result
Videos are protected for further editing before you share it on YouTube
9. Game DVR
Game DVR is the built-in feature of Windows Game Bar which can help you record gameplay videos on your Windows 10 PC. You can press the shortcut (Win + G) to open the Game Bar. Or you can easily start the game video recording by pressing the shortcut of Win + Alt + R. You can easily make the 30 fps or 60 fps as well as standard (720p) or high (1080p) quality gameplay recording.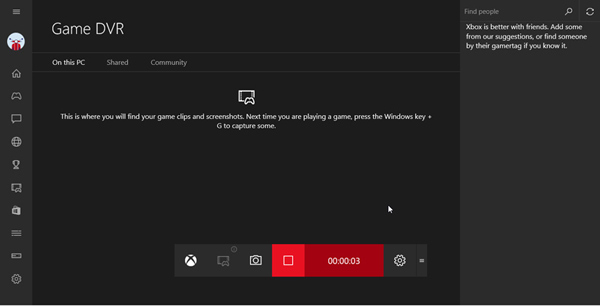 PROS

Free to use and no affiliated watermarks for trouble
Support HD videos for better experience
CONS

Only support the screen activity of an active program
No choice for selecting a specific region to record games
10. Nvidia GeForce Experience
Nvidia GeForce Experience is the game screen recorder for Nvidia users. If you are using an Nvidia GPU, you can install the GeForce Experience on your computer for the gaming recording. It provides you with the Shadowplay feature to capture your computer screen with ease. The cool feature of ShadowPlay is that, it uses the GPU (Nvenc) to make the video encoding. In that case, you can record your gameplay smoothly with low CPU power.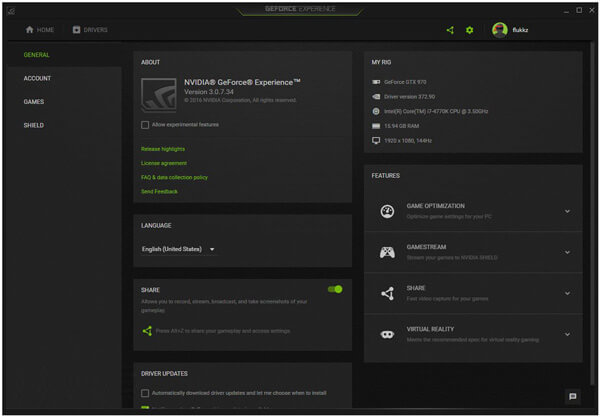 PROS

Capability to capture screen with the same resolution as your display
Record HD or even 4K UHD game recordings with a 4K panel
Offers a simple and straightforward design for basic gameplay recordings
CONS

Only work with Nvidia GPUs
Part 2. FAQs on Game Recording
1. How big is a one-hour 1080p video for gaming?
Here is a list of video size for you to refer to: 480p: 562.5MB/h, 720p: 1.86GB/h, 1080p: 3.04GB/h, 2160p: 15.98GB/h.
2. Does Windows 11 have screen recorders?
Now Windows 11/10 are both equipped with built-in Xbox tool bar as we have introduced as above. You can use it for game recording or other use on your PC.
3. Can I record my game on mobile devices?
The answer is yes for sure. This post has introduced software for HD game recording on PCs, but it's worthwhile noticing diverse game recorder apps like Apeaksoft iOS Screen Recorder on your mobile devices are also supported to record video games if you like.
Conclusion
A quick-to-use gameplay recorder for free is to pro gamers what rare but priceless treasure is to explorers. After you read this post, we hold the sincere wish that you will select a favorable game recorder and capture the important moments to share with your mates on skills, strategies and the stories behind every trip. Enjoy your time with easy steps.