The podcast has become the most prevalent entertainment today. According to a recent survey, almost everyone has listened to or is listening to podcast at home, in their car or other location. Sometimes, you may wonder whether you can listen to your favorite podcast when it is convenient. The answer is no since there is no option to save or download a podcast show. Fortunately, you can learn four ways to record a podcast on Windows, Mac, iPhone and Android from this single guide.

How to Record a Podcast
Part 1: Best Software to Record a Podcast on PC/Mac
When recording a podcast, a proper podcast recorder almost determines the result. Apeaksoft Screen Recorder, for example, is the best audio recorder for podcast, partly because it is able to produce high quality audio files.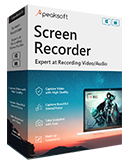 4,000,000+ Downloads
Record podcast on Windows and Mac in one click.
Make schedules to avoid missing important podcasts.
Optimize audio quality using advanced technology.
Pre-listen to podcast recording with built-in media player.
How to Record a Podcast with No Quality Loss
Step 1 Install best podcast recorder
There are two versions of the best podcast recorder, one for PC and the other for Mac. Get the proper version and install it to your PC. Then launch it and choose Audio Recorder to move on.

Step 2 Record a podcast
To record a podcast, turn on System Sound and turn off Microphone as the same time. If you wish to add your comment to the podcast recording, enable both.
Click the Gear icon to open the Preferences dialog. Go to the Output tab, set Audio format, Audio quality, and other options. Click OK to confirm it.
Press the REC button and play the podcast you wish to record.

Tips :
If you want to record a podcast in schedule, click
Take Schedule
and hit
Add new task
, name it and set
Start time
and other options. Click
OK
and the podcast recorder will work automatically.
Step 3 Save podcast to computer
When your podcast playback finished, click the Stop button to enter the preview window. Now, you can pre-listen to the podcast recording and click the Save button if you are satisfied. The Clip tool is used to remove redundant parts.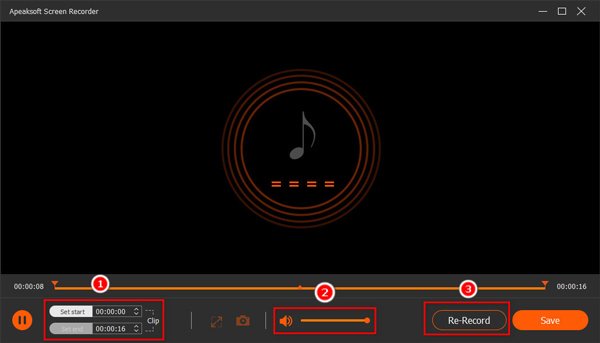 Moreover, it can be the music video recorder to capture the scene with the audio files.
Part 2: How to Record Podcast with Audacity
Audacity is another best app to record podcasts. It is completely free and also open-source. But it may not be very friendly to some new users. Anyway, here's how you can get a podcast recording with Audacity.
Step 1 Download Audacity from its official website and connect your mic and headphone to the computer.
Step 2 After you make sure your equipment is well-recognized and the current audio level is satisfying, you can hit the red button to start recording.
Step 3 If you finish recording, you can press the Stop button or the Space bar directly. After that, you can even edit the recording with Audacity.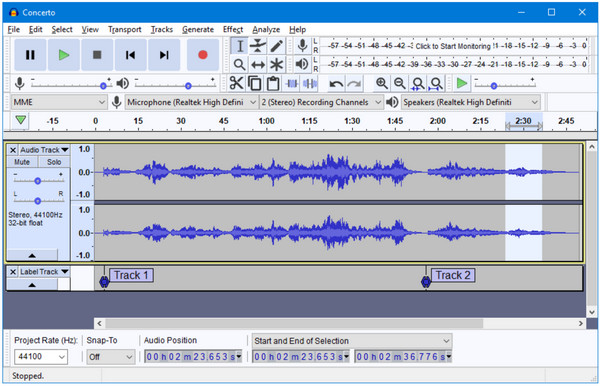 Part 3: How to Record a Podcast Online
Web podcast recorder, such as Apeaksoft Free Online Audio Recorder, is another choice to record a podcast occasionally. The biggest benefit is to do the job without installation. Plus, it can record podcast free.
1. Record a podcast online without installing any software.
2. Save podcasts in MP3 audio files.
3. Totally free to use with no limit.
4. Available to almost all major browsers, like Chrome, IE, Firefox, etc.
How to Record a Podcast Online
Step 1 When you find a podcast show you want to listen to later, open https://www.apeaksoft.com/free-online-audio-recorder/ in a browser. Click Start Recording to get the launcher.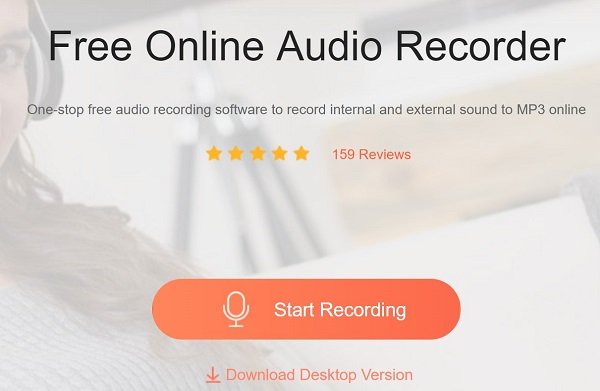 Step 2 Enable System Audio and adjust the volume. Then disable Microphone unless you wish to add your comment to the podcast recording.

Step 3 Once the podcast show starts, click the REC button to begin recording it. When the show completes, hit the Stop button and download the MP3 file.

Part 4: How to Record a Podcast on iPhone/Android
For mobile-first, it is not hard to record a podcast on iPhone or Android phone if you follow the steps below.
How to Record a Podcast on iPhone
The built-in Voice Memos app is the easiest way to record a podcast on iPhone. You'd better do it in a small and quiet room.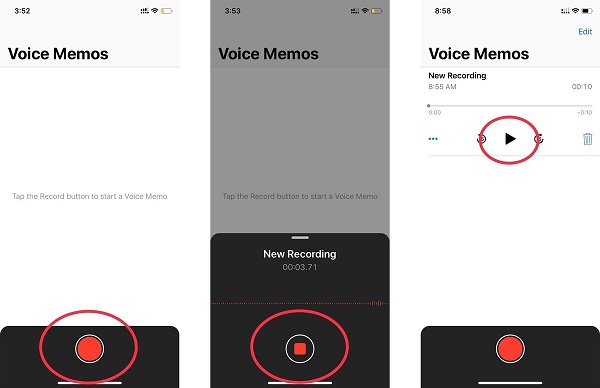 Step 1 Open Safari app or a podcast app, and play the desired podcast show in the background.
Step 2 Run Voice Memos app, tap the Record button with a red circle icon to start recording the podcast.
Step 3 Tap the Stop button when the podcast is done. Then it will be saved as a new recording. You can rename it, edit or play the podcast in Voice Memos app.
For more voice recorder on iPhone for podcast, you can find them here.
How to Record a Podcast on Android Phone
Since Android 7.0, Google has disabled the ability for apps to record your internal audio. It means that you have to record a podcast on Android via microphone. For older systems, you can enjoy some internal audio recorder apps. We use AZ Screen Recorder as the example.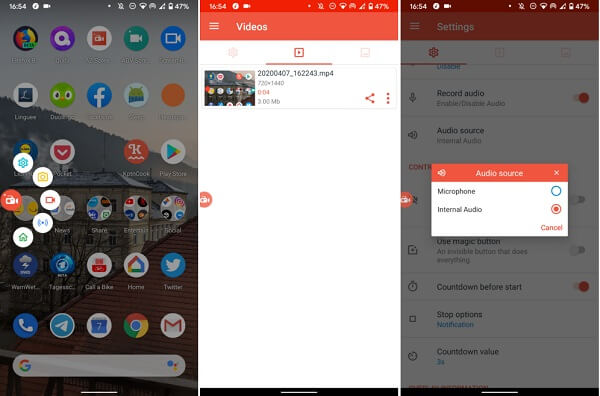 Step 1 Install the podcast recorder app and then you will get a floating button on your screen.
Step 2 Tap the floating button, and select Settings icon. Then select Internal Audio for Audio source on Android 6 and earlier. On Android 7 and later, select Microphone instead.
Step 3 When the podcast show begins, tap the floating button and press Record to begin recording podcast on Android.
Step 4 Go to the quick setting panel, find the podcast recorder and tap Stop button when you want to stop recording.
Jump it here to get more audio recorder on Android to create your podcast.
People Also Ask:
Part 5: FAQs of Recording Podcast
Can you record a podcast on Zoom?
Yes, you can record a podcast on Zoom. Moreover, Zoom app offers the recording function. You can go to the Zoom Settings and click Recording. Once the podcast is closed, you will have a folder with three files, an audio, a video and a chat transcript.
How do I start a podcast on my phone?
Firstly, prepare the necessary hardware, such as a powerful external microphone. Then outline what you want to broadcast in your podcast. Download a podcast app, sign up an account. Now, you can start it.
Can you record a podcast in two locations?
There are some methods that you can use to record a podcast in two locations. Skype, for example, is a simple and a reliable method that delivers good audio quality.
Conclusion
This guide has shared four ways to record a podcast on computer or mobile device. It is amazing to enjoy your favorite podcast shows here and there. However, the internet connection is a big problem. So, you may need to record the podcasts for listening later. Apeaksoft Screen Recorder, for example, can help you do it on both PC and Mac easily. More questions? Please write them down below this post.