"I want to record a lecture on my iPhone 14 with more than 40 minutes, but I do not know how long my voice memo can be recorded on it. So here comes my key issue: how to record audio like voice memos on iPhone?"
Voice Memos app of iPhone allows you to record voice, a speech or any other ambient audio file within the built-in microphone. If you have no idea about how to record voice memos on iPhone, you can find the detailed process in the article. Moreover, you can also get detailed information about the time limitation and best alternative methods here.

How to Record a Voice Memo on iPhone
Part 1: Record Your Voice Memos on iPhone without Any Downloading
Without any doubt, the easiest and best way to record audio on iPhone is to use Voice Memos app affiliated with iOS devices. When you need to record voice memos on iPhone as a message, it only takes several tapping through the Record icon. If you want to save the voice memos or further edit the files, you can also turn to the Edit Recording setting on this feature.
How to Record Sound Using Voice Memos on iPhone
Step 1Open Voice Memos app on your iPhone or ask Siri to activate it.
Step 2In Voice Memos, you can see All Recordings on the following screen. Tap the Red icon at the bottom to start recording a voice memo.
Step 3You can control the recording by tapping the sound wave area. Or you can drag the screen border and unfold the interface to pause or resume the process.
Step 4When you get the desired voice memo file, you can tap on the Red button again or click Done button in the last step to save it.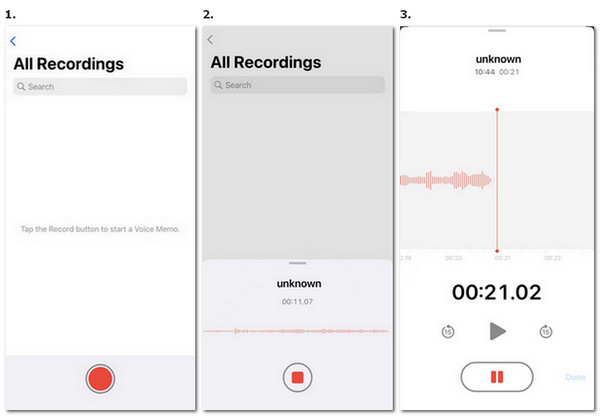 Tip: Time for recording is only limited to your iPhone's storage space. So please make sure there is enough internal storage room for a satisfying voice file.
How to Edit Voice Memos on iPhone
To enhance the audio effect or adjust your voice recording on iPhone, you can edit the voice memos with the following steps.
Step 1When you get the recorded voice memo on iPhone, you can listen to the audio file with the Play button anytime you want.
Step 2You can edit your voice memos through the Dots button on the right corner of your audio file and enter Edit Recording to get ready. Or you can stay in the controlling interface when you record your audio and select the options to adjust your file.
Step 3In the editing screen, you can choose Setting button on the left corner above to set the playback speed, silence mode and enhance effect as you want. You can also select Crop button on the other side and trim your audio to fit.
Note: For those who want to record any parts of a voice recording, move the bar to the targeted place and click Replace button to change.
Step 4With all set, click Done to save your audio file. Now you are free to share it with others or email your voice memo as you want.
Part 2: Best Alternative to Do Voice-memo Recording on iPhone
Not mentioning the time limitation, the audio quality of the voice memos and other interruptions should be the major restriction for recording voice memos on iPhone. What should be the best alternative to recording a voice memo on iPhone?
Apeaksoft iOS Screen Recorder is a high-powered software for iPhone record audio on Windows. It not only ensures the HD quality on both audio and videos, but also guarantees a stable process of mirroring without any alerts during recording for every user. The highlight is that you are able to do voice recording of iPhone without any restriction on time, file formats and more even when you record phone calls on iPhone. Even if you are a Mac user, you can also learn how to record voice memo on MacBook Pro and Air.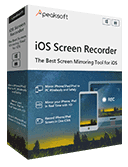 4,000,000+ Downloads
Mirror iPhone to computer wirelessly and safely without USB cable.
Stream and record voice memos, videos and other data from iPhone.
Record voice memos on iPhone without time and size limitation.
Support iPhone 14/13/12/11/XS/XR/X/8/7 with the latest iOS 16.
Step 1Launch the iPhone recorder on PC
Download and install the Apeaksoft iOS Screen Recorder. Launch the iPhone recorder on your computer. It is the Wi-Fi network mirroring software with AirPlay or Screen Mirroring feature.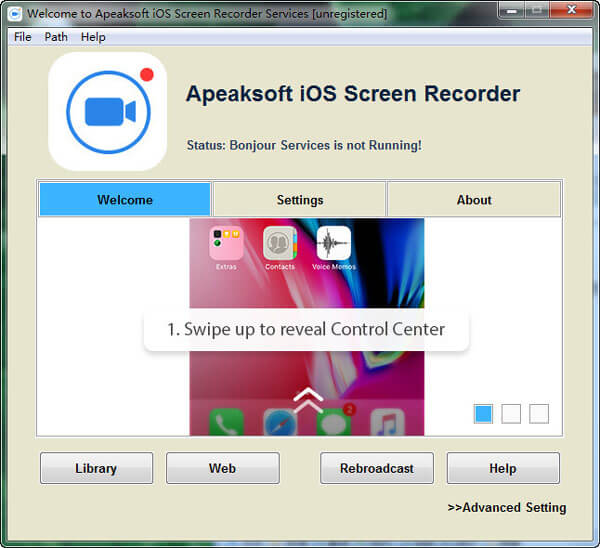 Step 2Enable Airplay or Screen Mirroring
Swipe down from the upper-right corner of the screen to open "Control Center" on iPhone, you can tap on the "Screen Mirroring" and select the "Apeaksoft iOS Screen Recorder" to enable the mirror feature.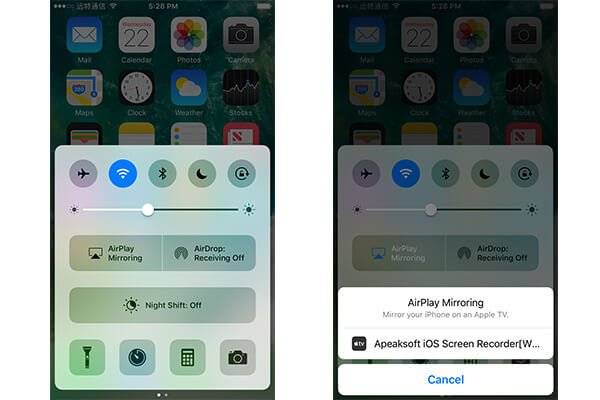 Step 3Tweak the recording settings for audio
Choose the "Settings" option, you can record the videos with 1920x1080 Full HD, or even use the password to stop others from connection iPhone. You can record the whole computer screen or iPhone screen only.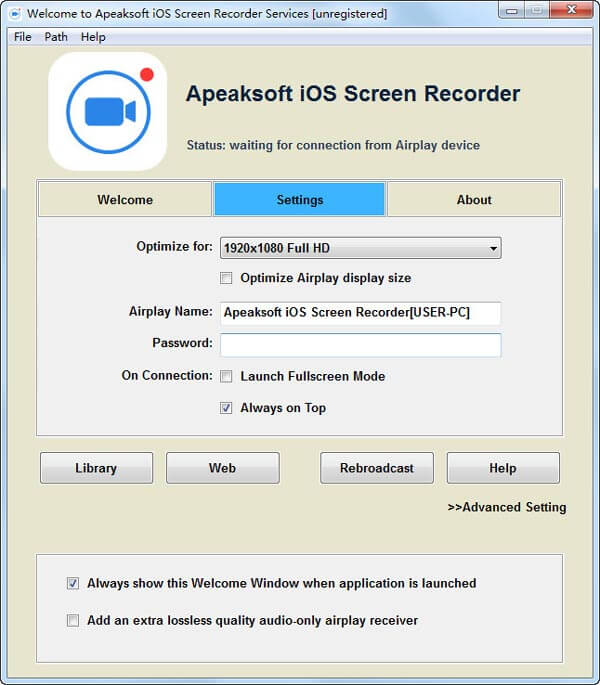 Step 4Record a voice memo on iPhone
Once you mirror iPhone to computer, you can click the right circle button to record a voice memo. You can adjust the volume, pause and resume the recording, turn off/on the microphone, adjust the size of the recording window.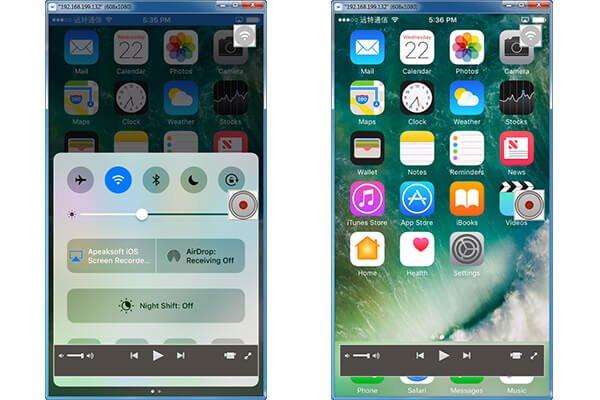 Step 5Save the voice memo file on computer
You can check out the saved voice memos in the Output folder. Just preview the files and click the "Start Export" button to save the recorded voice memo files on your computer as MP4 format.
After recording a voice memo, you may want to make the voice memo into a ringtone.
A Recommended Way to Record a Voice Message from iPhone on PCs
The methods listed above show you how to do voice recording on iPhone and Windows PC. But great chances are that you would like to record your voice memos on your Mac with the same rights enjoyed by Windows users. However, you can still find a reliable phone recorder with powerful recording and editing functions here. Then we suggest you to try Apeaksoft Screen Recorder which is friendly to both Windows and Mac users.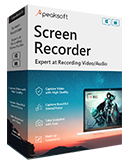 4,000,000+ Downloads
Record Voice messages, memos and other audio files in high quality.
Offer bonus functions for audio editing to meet your needs.
Support Windows and Mac PCs to match your devices best.
Capture activities without disruption when you are recording files.
Open channels as a phone recorder with less limitations on file size, format,etc.
Part 3: FAQs of Audio Recording on iPhone
How long will a voice memo be recorded on iPhone?
The memos are in MPEG-4 file format by the file extension M4A. As a compressed file format, it requires roughly a megabyte of storage space, 500KB storage space per minute for voice memo recording. If you mind the file size or audio length, you can try to edit the voice memos.
FYI: Pay attention to the capacity of iPhone and use the airplane mode, especially for a long lecture or meeting on iPhone.
Where are voice memos stored on iPhone?
You can go to Voice Memos and check your recordings in the list on the screen. If you haven't uses it before, enter Setting and open iCloud to see more through Voice Memos.
How to use Voice Memos on iPhone?
You can follow the post on part 1 and get detailed steps to use Voice Memos for recording and editing as you want.
Conclusion
When seeking how to voice record on iPhone or have simple editing, it can be an easy process. In order to record a long lecture or even further edit the files, Apeaksoft iOS Screen Recorder is the ultimate solution you can take into consideration. Moreover, you can learn more about the maximum length for the recorded voice memo files here.