What should you do if you need to make some video tutorial about iMovie for video editing? Recording video in iMovie is a convenient and effective way to create some tutorial videos. iMovie is a video editing program for Mac and iOS devices that allows you to create the Hollywood style trailer and stunning 4K-resolution movies easily.

You are able to edit photos and videos, add themes and titles. After editing, it is very easy to share your tutorial videos with your friends or social media. But recording videos in iMovie is not an easy thing like eating or drinking for everyone. So how can we make video recording in iMovie? Just reading this article to get more detailed information about how to record videos in iMovie.
Part 1

: How to make video recording in iMovie

iMovie allows you to browse video library, share favorite moments, create beautiful movies, and watch them on all your devices in iMovie Theater. As one of the most popular video editing tools, iMovie has rich features to afford its fame.

1. iMovie for Mac OS and iMovies for iOS can work together. It means that you can start your video recording or editing on iPhone or iPad, after that further edit videos on your Mac.

2. Enable you to publish videos directly to Facebook, Vimeo, YouTube and more with one click in the upper right of the interface.

3. Change the speed of the action shots to make a better effect. Or put your characters in exotic location by using green-screen effects.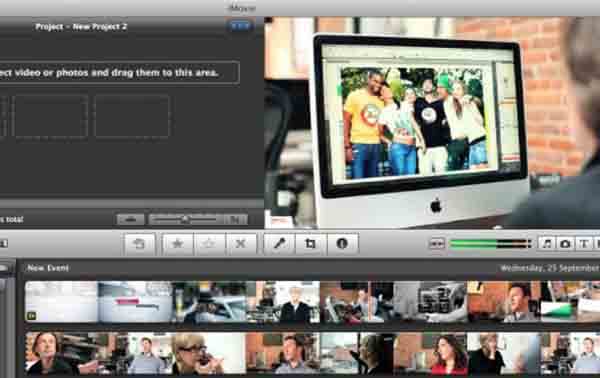 How to record videos in iMovie with iOS device
Step 1: Download and install iMovie in your iOS devices. Then, launch the program to set your camera. If you use the external iSight camera, you need to connect the external camera to your Mac device by FireWire cable. If you use the internal camera, just click the camera icon in the bottom left corner to install your camera.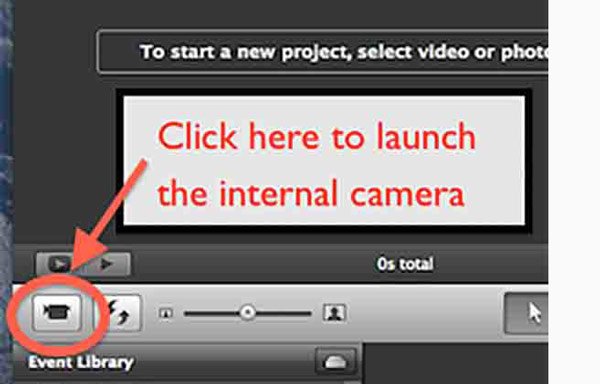 Step 2: Making sure everything is ready, then, click the "Record" button to start recording videos in iMovie. Once everything is done, you can just click the "Done" button to finish your recording.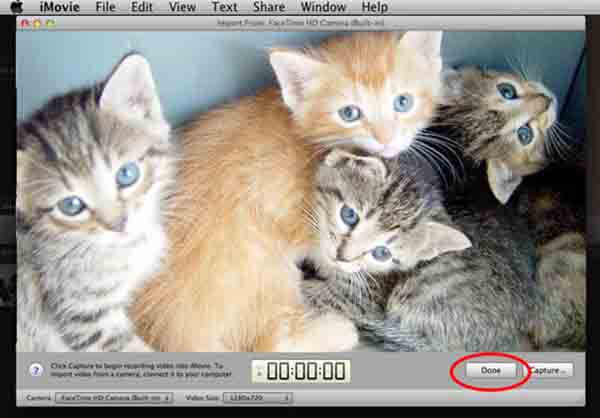 Step 3: After clicking the "Done" button, iMovie will create a new "Event". You are able to edit your video recording in iMovie directly. Once you complete the whole process, share the video to social media websites within the program.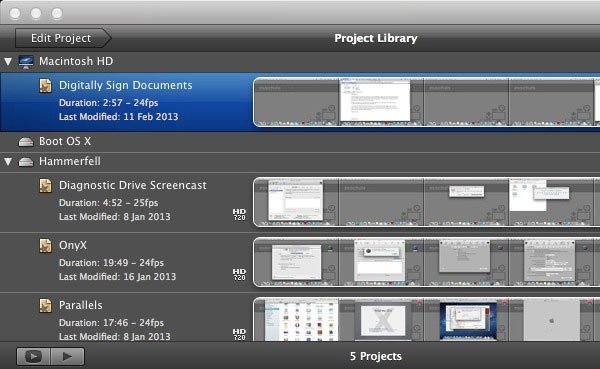 Part 2

: iMovie alternative method to record video

Though it is very convenient to record and edit videos in iMovie directly, iMovie still has its insurmountable shortages that cannot satisfy all requirements. For example, it can only record the webcam. Moreover, iMovie is built-in on Mac, not Windows. (Learn more about iMovie for Windows.)

There are no options to modify the recording setting before recording your videos in iMovie. We need other alternatives to get better videos. Apeaksoft Screen Recorder should be the best iMovie alternative to record any video/audio you need.
Record all on-screen activities, make video tutorials, capture webcam video, record games and more in high quality.
Customize recording area, make the audio setting, preview video recording before saving your videos.
You are able to annotate your recording with a text box, arrow, highlight and more. So you need not install another program to edit your videos.
Make the setting you prefer in advance, and you are able to record videos using these setting next time.
Apart from recording videos in iMovie, it supports for capturing audio only. It enables you to record almost all kinds of music, radios or online audios instead of downloading them.
Download for Win
Download for Mac
How to record videos with Apeaksoft Screen Recorder
Step 1: Download and install the latest version of Apeaksoft Screen Recorder. After that, launch it to record videos. Before you start your recording, you'd better test your software to make sure everything work well for you.
Step 2: Choose the "Record Video" button in the main interface. Before you start to record videos in iMovie, we recommend you to make some settings. Set your recording area. You can choose to record on-screen activities with full screen, custom area or preset region as you need.

Step 3: Set the system sound and microphone. Choose to open the "System Sound" only and adjust the parameters to get the best result. If you want to record your own voice, you can open both the "System Sound" and "Microphone".

Step 4: After setting the area and audio of recording, click the "REC" button to start your recording. Once everything is done, click the "Stop" button to quit. Before saving your recording, you are able to preview your recording to make sure everything is well done.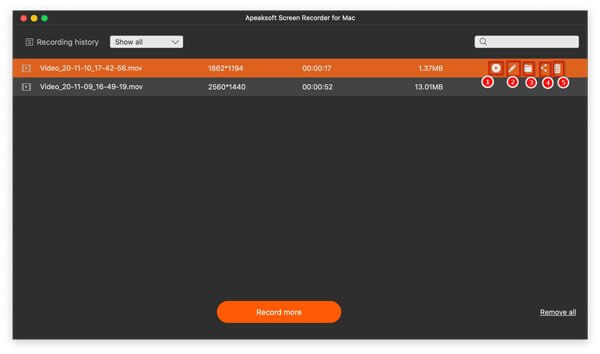 In order to get the higher quality of videos, there are some tips you should notice when recording your videos in iMovie. Check your computer to make sure the software can perform normally. If you want a better quality recorder video, you'd better close some applications you needn't. If those unnecessary applications make some noise, you will not hear the voice from online video clearly.
Conclusion
After reading this article, you can know how to record video in iMovie directly. We also introduce one of the best and most professional alternatives to iMovie to record videos. Apeaksoft Screen Recorder is an All-rounded screen recorder that enables you to record videos and audios, capture screenshot, edit videos and more. When you need to capture some video tutorial for iMovie or so, you can follow the above solutions to have a try. If you have any questions, you can write in the comment or contact us. It is our pleasure to help you solve your problem.