To record video and audio in iMovie is a convenient and effective way to create some tutorial videos. With this tool, you are able to record video with audio, edit photos and videos, add themes and titles.

After editing, you can share your tutorial videos with your friends or on social media platforms. But recording videos in iMovie is not easy. So how can we make a video recording in iMovie? Is there a better way to complete the target? Just read this article to get more detailed information about how to record videos in iMovie.
Part 1: How to Make Video Recording in iMovie
iMovie allows you to browse video library, share favorite moments, create beautiful movies, and watch them on all your devices in iMovie Theater. As one of the most popular video editing tools, iMovie has rich features to afford its fame.
Features:
1. iMovie for Mac OS and iMovie for iOS can work together. It means that you can start your video recording or editing on iPhone or iPad and further edit videos on your Mac.
2. Enable you to publish videos directly to Facebook, Vimeo, YouTube and more with one click in the upper right of the interface.
3. iOS-user friendly only. You have to switch to iMovie for Windows options as a Windows user. And the recording source on iMovie is limited to webcam and prohibited internal audio recording is noticed with little space for more creative works.
How to record videos in iMovie with iOS device
Step 1Run iMovie on your Mac first. Then select Create New option and press on Movie button. In the Project Media section on the left side of the pop-up window, go with the My Movie and click Import Media to continue.
To use the built-in camera feature on your Mac, open the Cameras selection and click on the live video window in red to start recording. If you want an external camera to record videos, just connect it to the Mac PC with a FireWire cable.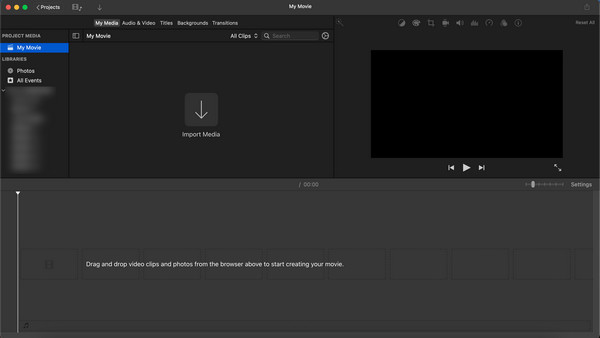 Step 2Before you start recording officially, change the settings for the recorded target after you enter FaceTime HD Camera as the built-in camera option. Move your bar to the Import to box and click it to unfold the available events. You can choose an existing event, an open project or just create a new one if you like.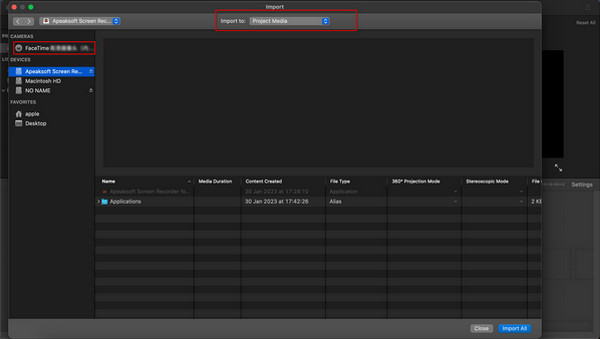 Step 3After you have made the settings, click the Record button right below the video to start recording. Click it again to complete the recording process. You can repeat this step based on the video clips you desire.
With all set, move back to the main interface and click Close button to finish the video-recording.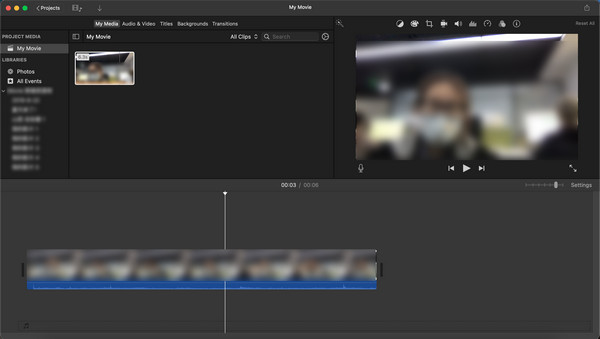 In order to get a higher- quality video, there are some tips you should notice when recording your videos in iMovie.
1. Check your computer to make sure the software can perform normally.
2. If you want a better-quality recorder video, you'd better close some applications you needn't. If those unnecessary applications make some noise, you will not hear the voice from online videos clearly.
3. To enhance your video effect, you can take iMovie as both a video editor and screen recorder for Mac. You can change the speed of the action shots to make a better effect. Or put your characters in exotic locations by using green-screen effects.
Part 2: iMovie Alternative Method to Record Video
Though it is very convenient to record and edit videos in iMovie directly, iMovie still has insurmountable shortages like that cannot satisfy all requirements. Limited PC option, recording area as well as the customized setting would be barriers to an enjoyable video-recording experience.
Thus, we need other alternatives to get better videos. Apeaksoft Screen Recorder should be the best iMovie alternative.
Record all on-screen activities, make video tutorials, capture webcam video, record games and more in high quality.
Customize recording area, make the audio setting, preview video recording before saving your videos.
You are able to annotate your recording with a text box, arrow, highlight and more. So you need not install another program to edit your videos.
Make the setting you prefer in advance, and you are able to record videos using these setting next time.
Apart from recording videos in iMovie, it also functions as a desktop audio recorder. It enables you to record almost all kinds of music, radio or meetings with few limitations.
Download for Win
Download for Mac
How to Record Videos with Apeaksoft Screen Recorder
Step 1Download and install this software on your Mac. Enter Video Recorder. Then enter the Video Recorder section.

Step 2Go through the settings in the following screen. You can customize the recorded area, camera and the audio setting. Turn on the Camera if you want yourself recorded in the video, and the System Sound when you want to capture all the sound from your Mac. With the need of recording what you are going to say, you can turn on the Microphone. After that, Click the REC button to start recording.

Step 3After recording your ideal part, you can click the Stop icon and then preview the video effect. Continue with the Save button.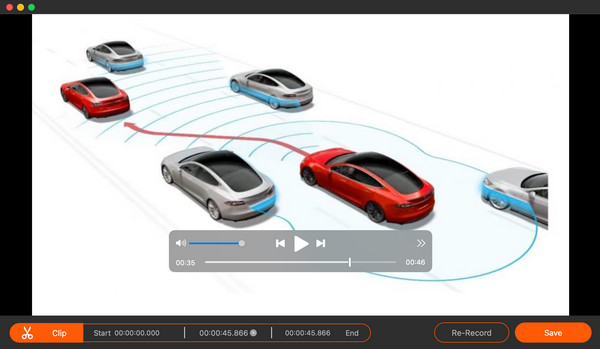 Step 4Now you can see the recording list in the following window. Here you can choose to play the recorded video, rename the file and change the file folder for saving or share it to other platforms.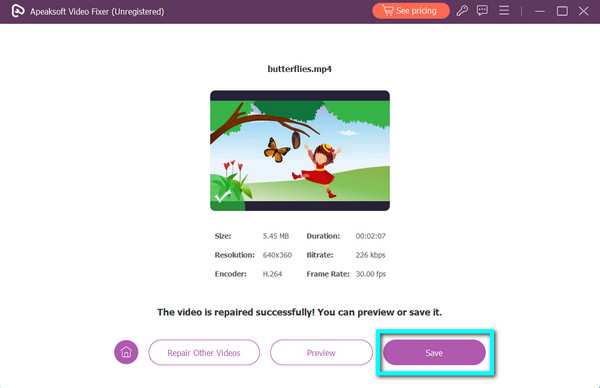 Part 3: FAQs of Video Recording in iMovie
Can I record directly in iMovie with an external camera?
I'm afraid not. iMovie only supports the built-in camera on your devices and offers no connection to other new webcams or audio recorders.
How do I record a video of myself in iMovie on my Mac?
After you launch this software, make sure you have turned on FaceTime HD Video option in the camera selection. Then you are able to record yourself in the video on your Mac.
How to add an external microphone to iMovie?
You need to plug in your microphone to connect your Mac first. Then you can check on the System Preferences> Sound> Input that your device has been detected. Choose it and run iMovie then you can turn on your microphone icon on the left list of the screen.
How to use iMovie to record audio and video on my Mac?
To record any video and audio on Mac, you can launch iMovie and Create New section and prepare to import new media. Then turn on the FaceTime HD Camera as you like and click the Record icon. After completing the recording process, you can click the Plus button to add an audio note additionally.
Conclusion
After reading this article, you can learn about video recording in iMovie directly. We also introduce one of the best and most professional alternatives to iMovie to record videos. Apeaksoft Screen Recorder is an all-rounded screen recorder that enables you to record videos and audios, capture screenshots, edit videos and more. When you need to capture some video tutorials for iMovie or more, you can follow the above solutions to have a try. If you have any questions, you can write in the comment or contact us. It is our pleasure to help you solve your problem.