Fortnite, developed by Epic Games, is a popular online multiplayer video game, which has over 350 million registered players as of last month (May 2020). You also may have heard that recently the Fortnite concurrent player count record was broken, thanks to Travis Scott. More than 12.3 million concurrent players participated live in the event of Travis Scott concert.
So what is so fascinating about Fortnite? Clearly, the game is fun to play. You can enjoy the game with your friends, or even make new friends through the game. Besides that, players can also get a sense of achievement when they win the game. To achieve that goal, you definitely need to improve your game skills. You can't just rely on pure luck to survive till the end.
Watching replays and summing up experience is actually a good way to improve yourself in a short time. You can also learn from others while reviewing your performance.
So today we are going to show you how to watch and save replays on Fortnite.

Part 1. Watch Your Past Matches on Fortnite
Fortnite has a replay system that allows you to watch your past matches. Therefore, you can use it to review your incredible performances or figure out how you died so quickly during last battle. It also helps you to create your own epic highlight videos. If you want to know how to use the Fortnite replay mode, please follow below steps.
Step 1 Login the game and open the main menu. Then click the Career tab and you'll find the Replays icon on the right.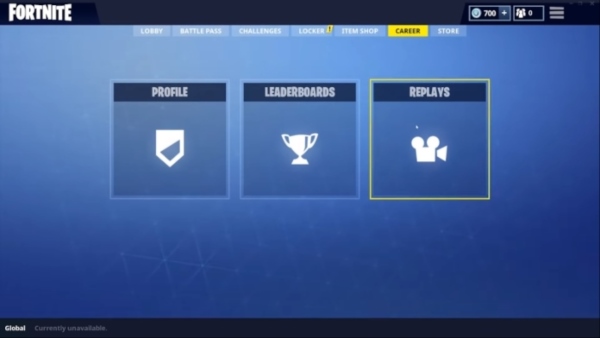 Step 2 Just select Replays, and you'll see the video list of all your previous matches. They are recorded and stored automatically by Fortnite.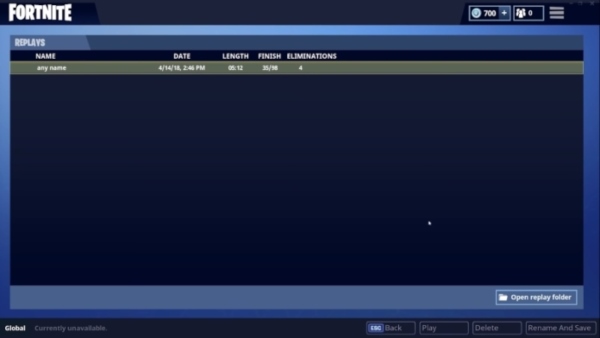 Step 3 Choose the match you want to watch and double click it to play.
Step 4 While reviewing your game, you have a lot of tools to help you. As you can see, they are at the bottom of the video. The eye icon on the left can hide the HUD if you want to have a full view of video. And the camera icon helps you to adjust the camera's parameters and add different gameplay elements like name plates and player outlines. You can adjust the aperture to change the feel of your scene, adjust the balance of lightness and darkness, zoom in the picture and automatically adjust the focus of your scene.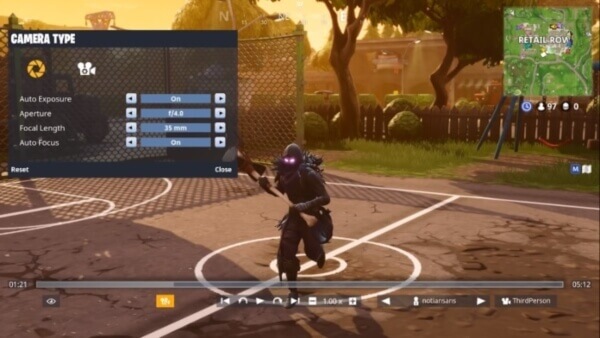 Step 5 You can find several buttons right in the middle. The arrow icons are used to jump to the time of your death. And the curved arrows help you jump backward or forward 15 seconds. The number aside is to adjust the speed of video. By the way, the M represents for the map, you can open your it to find out where you are exactly during the game. If you need to change the camera angles, just open the options on the right-most side of the screen and choose the best mode for your video. To watch other players' performances, please click the buttons next to the camera angles to shift players.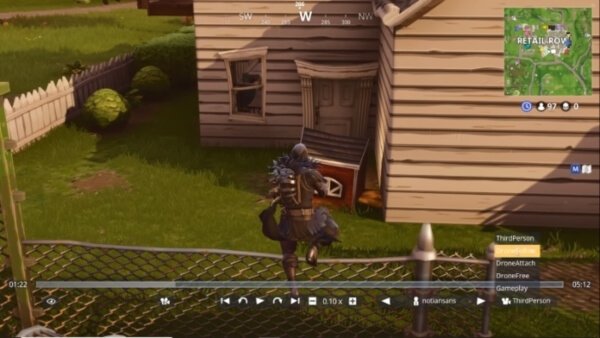 Part 2. How to Save a Replay on Fortnite
We have said that Fortnite records all the games you play automatically, so that you can review the matches without missing a moment. However, these recordings are temporary files on Fortnite, which means you may lose your replays if you don't save it manually.
Just click Rename And Save in the lower right corner of the replay list, then your replay will be saved after your confirmation.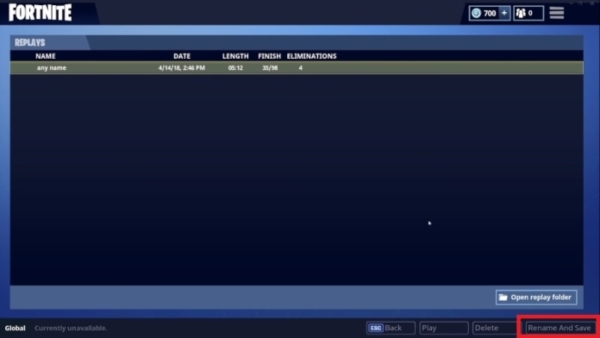 But you should know that Fortnite doesn't offer the option for users to export their replays out of the game. So I highly recommend you to use a game recorder to record your game, especially the best games you ever played. Otherwise if Fortnite's replay system is changed by its developers, you will lose all your videos.
Part 3. Save Your Replays on Fortnite with a Professional Screen Recorder
If you want to record HD Fortnite videos, you can trust on Apeaksoft Screen Recorder. It can help you record any gameplay with original image/sound quality and then share the project with friends on Twitch, YouTube or Facebook.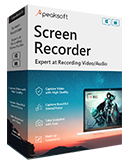 4,000,000+ Downloads
Record any gameplay with high image and sound quality.
Record gaming screen or camera screen as you like.
Support capturing pictures from screen.
Record videos/audio in any length automatically and periodically by setting scheduled task.
Step 1 Download and install Apeaksoft Screen Recorder above. Launch the recorder on your computer and choose Video Recorder.

Step 2 Set video recording area, audio source, and other settings.


Step 3 Click REC to capture screen. Then play the video that you want to record on Fortnite. While recording, you can make drawings or add annotations. Once you stop recording, the preview window will pop up. You can edit your video here.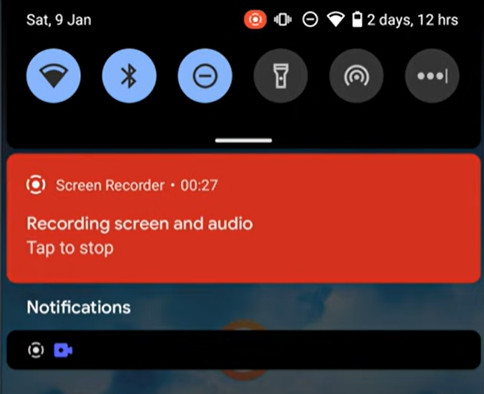 Click here to learn how to record on Steam.
Part 4. FAQs of Watching Replays on Fortnite
How can I control the camera with my keyboard when playing Fortnite?
You can use W, S, A, D to move your camera, use Q, E to adjust the height of camera and use "+", "-" to control the moving speed of camera. When you hold L, you can look around through clicking and dragging.
Can I watch Fortnite replays on my iPhone?
Unfortunately the answer is no. The replay system of Fortnite for mobile is not available yet. May be you need to use other tools to record the screen of your iPhone.
Conclusion
Now you have a better understanding on how to watch replays on Fortnite. I believe that after fully analyzing your strength and weakness, you can survive longer and even win the battle next time.