Many users have the demand to record their Windows screen.
When you have a similar demand, you may need the help of some screen recorders. There are so many different kinds of screen recorders in application market you can choose. If you don't know how to choose the suitable one, you can try to Microsoft Expression Encoder, which is a traditional Microsoft screen recorder.

If you are looking for how to use Microsoft screen recorder, or alternative way to record screen, then you have come to the right place.
Just begin to read this article and know more about this Microsoft screen capture now!
Part 1

: Introduce Microsoft Screen Recorder Microsoft Expression Screen Capture

Microsoft screen recorder is also called Microsoft Expression Encoder 4, is a traditional screen recorder which can be used in Windows platform.

It is a famous screen recorder used by many users, and a large amount of them set it as their default screen capture software. This Microsoft screen capture provides enough customized space for video recording. So users can record both screen and audio into one screenshot video simultaneously. What's more, this Microsoft screen capture is also popular for its clear recording functions and interface.

But this Microsoft screen recorder also has some shortages.

1. The first disadvantage of this traditional Microsoft screen capture is that it isn't free to download and use. You can download the free version to try, but you only have ten minutes to experience this Microsoft screen recorder, unless you pay $199.95 to have it permanently.

2. Moreover, the format of the output file is XESC. It is not familiar by many users, let alone being supported by most media players.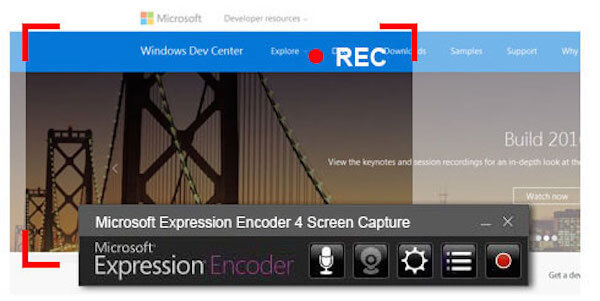 If you are in such a situation, you need to convert the XESC file to other usual formats.
Don't Miss: Top 10 Screen Recorders for Mac
Part 2

: How to Use Microsoft Screen Recorder with Microsoft Expression Screen Capture

Step 1: Download Microsoft Screen Recorder

Firstly, you need to install and run Microsoft Expression Encoder 4 from official Microsoft website. Before you start to capture your screen, you have to enable the camera and microphone options and other options.

This software can run in Windows 7/Vista/XP. Make sure your Windows system supports this Microsoft screen capture. You also should make sure your computer has over 2 GB available hard disk space and 1 GB of RAM, and the desktop resolution needs to be 1024x768 with 24-bit color or higher.

Step 2: Adjust recording area

Once you have set all things, you are ready to begin this process by clicking on Record button, which is the red button in Microsoft Expression Screen Capture's main interface. Then select region by your mouse or fill the Width and Height blanks.

You can also drag the anchor in the middle of that area if you wish to move the whole region.

Step 3: Stop when finished

Once you have done all things, you can click on Record button. At this point, you need to perform all the on-screen actions that you want. Once it is finished, just click on Stop button to stop the recording process.

If you can't find Stop button, you may hide the recording toolbar. You can click the Expression Screen Recorder menu, and find Stop button in taskbar.

Step 4: Preview your recordings

The Capture Manager window will appear once the capture has loaded completely. Here you can see all your recordings you record with Microsoft screen recorder. The first recording in the list is the file you record just now. You can open it to preview.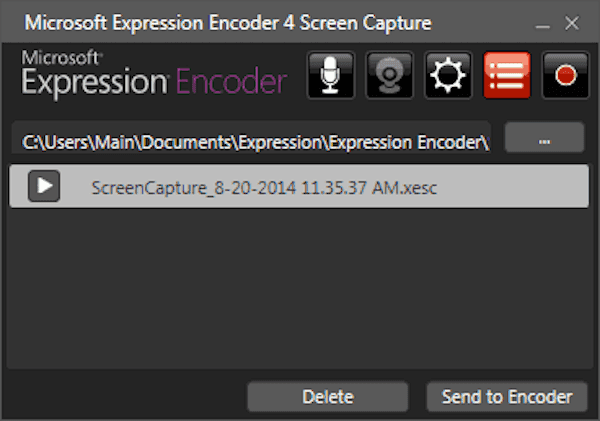 Part 3

: Alternative Method to Capture Screen of Microsoft Screen Recorder

The best alternative to Microsoft screen recorder is Apeaksoft Screen Recorder.

It is the most professional way to record streaming audio and video, so that it is strongly recommended to users who have the demands of recording or capture screen. Apeaksoft Screen Recorder is a wonderful recorder which can record smoothly and never interrupt your other desktop tasks.

What's more, it also promises the quality of the file you record.

To use Apeaksoft Screen Recorder, you need to download it from Apeaksoft official website firstly. After you install this desktop recorder on your computer, you are allowed to launch it. You will see the main interface like below. In what follows, we will introduce how to record screen and capture screen with this alternative of Microsoft screen recorder.

To Record Screen:
Step 1: Choose Video Recorder
Here you can see Video Recorder option, just click on it. Then you need to select the recording area at first. You can record on-screen activities with full screen, or adjust the size according your needs.

Step 2: Adjust audio settings
You can also set the audio settings based on your needs. This software provides you two options, including system sound and microphone. You can choose one of them or select both of them.

Step 3: Start recording screen
Now you are able to click on REC button, which is on the right side of this video screen recorder to begin your screen recording. When it is finished, you can preview the project before saving it. You can also share it to all kinds of social platform.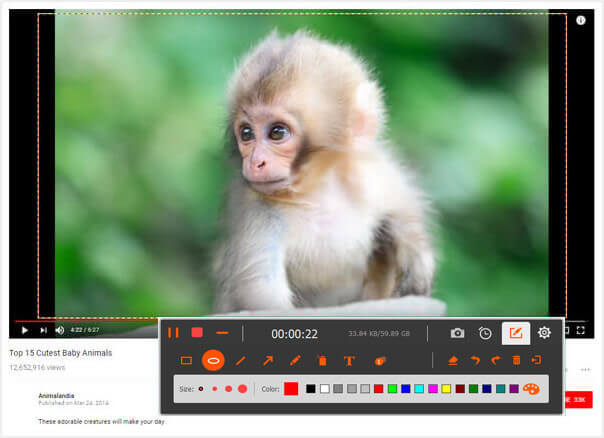 To Capture Screen:
Step 1: Choose screen capture
In the main interface, you need to choose Snapshot, which is the third option you can click.

Step 2: Capture screen and edit
Now you can select the part of your screen and capture it with this software. Currently, you can draw and annotate the capture with the lines, arrows, step tools and more.
Conclusion
After reading this article, you must know more about Microsoft screen recorder, including the way of how to use it to capture screen. Besides, we also recommend the best alternative to this Microsoft screen capture to you. Apeaksoft Screen Recorder is similar to Microsoft Expression Encoder 4 in some respects. Both of them are developed in order to help users to record their screen. Hope these software can help you.