The smartphone has already taken place of the digital camera to record videos and take the desired files. Is there an online camera recorder to capture a video online directly? You can take advantage of the webcam of your PC or Mac to record files online. Just learn more about the 5 best web camera online video recording software from the article.

Online Camera Recorder
Top 1: Free Online Screen Recorder
Apeaksoft Free Online Screen Recorder is an instant online camera recorder that capture anywhere on your computer for video creations. It enables you to record video and audio with the original quality, including all the onscreen activities, webcam recording, microphone and system audio, and more others with ease.
1. Record all onscreen activities, webcam recording and even audio files.
2. Export the videos to different video formats and quality options with ease.
3. Enable webcam recording on the computer screen with picture-in-picture.
4. Keep and locate all the recording history of the online camera recorder.
5. Select the desired audio channels to record, or even video with audio files.
6. Capture the webcam recording and the onscreen activities without limitation.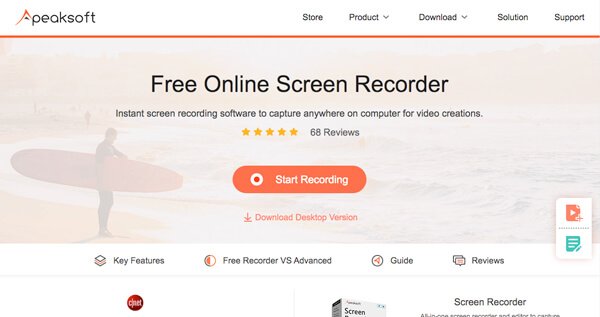 Top 2: Fotofriend Video Booth
Fotofriend Video Booth is an online video camera recorder free with effects. When you use the online camera recorder to record the video files, you can choose and apply a desired video filter with ease.
PROS

1. More than 55 video recording effects you can use without any charge.
2. Get high quality screen captures and videos by no download online.
3. It is easy to share and upload recorded screen capture videos.
CONS

1. Cannot save the recorded videos with a high video quality with ease.
2. The online camera recorder is used for some private purpose only.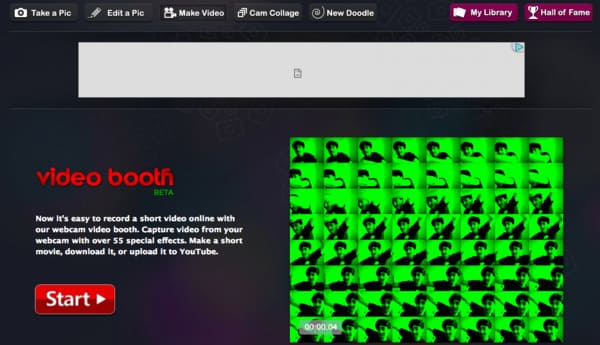 Top 3: Clipchamp Online Webcam Recorder
Clipchamp online webcam recorder is another recommended camera recorder online that record video instantly in your browser to share, compress and even edit with ease.
PROS

1. Record and save the recording files with a variety of resolutions.
2. Built-in webcam and mic, USB webcam, external microphone, etc.
3. Compress the videos to a smaller size without losing original quality.
CONS

1. It only exports the recorded video files to 480P for the free version.
2. Require subscribing the Premium plan to use the video recorder.
Top 4: Video Recorder from 123APPS
When you need another online camera recorder to capture and edit the video files with ease, Video Recorder from 123APPS is the desired one with video cutter, video converter and more tools.
PROS

1. Record video and take pictures right in your browser with ease.
2. Choose the quality, switch on mirror mode or make it full screen.
3. Save the recorded files on your computer or in Google Drive.
CONS

1. Require a stable Internet environment to record screen as a camera.
2. Does not provide a good video quality for the online camera recorder.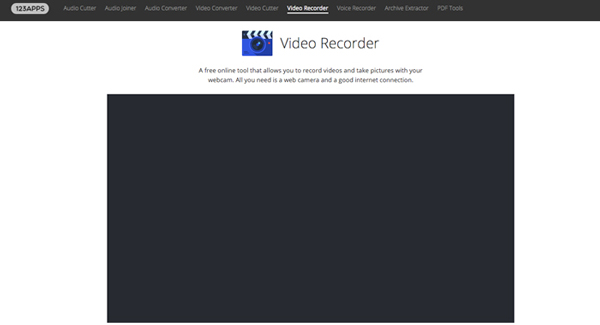 Top 5: Toolster Online Webcam Video Recorder
Different from the other online camera recorders, Toolster is an online webcam video recorder that requires Adobe Flash Player.
PROS

1. The output videos can be saved in FLV files for online streaming.
2. Tweak the different FPS in order to record a high quality video file.
3. Record online videos, view the recording file and download it to PC.
CONS

1. Limited to record the desired online videos within 2 minutes only.
2. Permit the Adobe Flash Player to run the online camera recorder.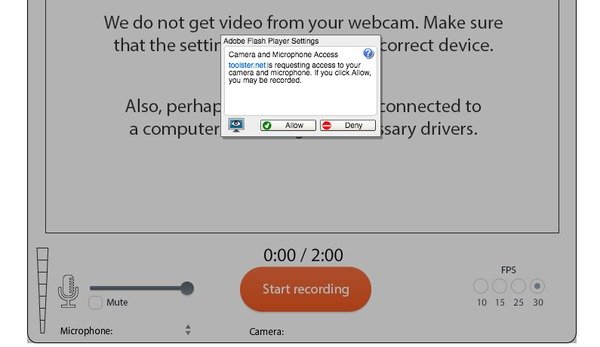 Check how to download online videos
3 Tips about Online Camera Recorders
How to Enable Webcam as Online Camera Recorder?
When you need to use the online camera recorder, you might also need to enable the camera on your Windows as below. Go to Settings icon from the Start menu in Windows 10. Choose the Privacy option and select the Camera option in the left menu to turn on the Let apps use my camera option to use the online camera recorders.
Can You Record from External Webcam Online?
In order to record the video online with some professional webcam, you can also set up the webcam as the default solution. After that, you can check whether you can record videos with the external webcam. If possible, enable the settings with the online camera recorder to choose the default camera accordingly.
How to Capture Online Camera Recorder with 60FPS?
Most of the online camera recorders do not support 60FPS. You have to choose 30FPS in order to capture the desired files. Of course, you can also use the professional Tipard Screen Capture on your Windows and Mac to capture a high quality video with ease.
Conclusion
When you want to record and take a desired file with online camera recorders, you can learn more about the 5 best online programs from the article. Free Online Screen Recorder is a versatile solution that enables you to record the desired video with audio, and even saves them with a high quality. If you have any query, you can feel free to let me know.