This article intends to talk about how to record Vonage calls on desktop and mobile. Vonage is a cloud-based communication system. Once you purchase the service, you will get a hardware receiver for your phone and an account for accessing the mobile app and website. Then you can set up contact center and call recording. As a paid communication service, you'd better learn this guide before opening your wallet to pay for Vonage.

Record Vonage Call
Part 1: Vonage Call Recording Introduction
Vonage will record your calls covering company-wide or on-demand once you set it up. Moreover, after recording, you can manage them on the website too.
How to Create a Rule for Vonage Call Recording
Step 1 Visit Vonage website and sign into the Admin Portal with an admin or super user account. Go to Phone System, choose Company Recordings from the left sidebar, and head to Recording Rules tab.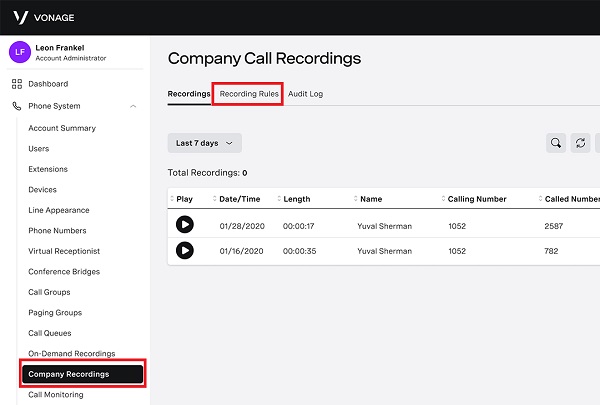 Step 2 Click Add Rule and you will get the options. Enter a rule name, percentage of calls to record and call direction, and click Next. Then set the parties and call length, and click Next. Mark a disclaimer option and hit Next again. Finally, set the schedule and hit Finish. Review the Vonage call recording rule and click Finish to confirm it.
Step 3 Now, Vonage will record the phone calls according to the rule.
How to Manage Vonage Call Recordings
In Admin Portal:
Step 1 Sign into the Admin Portal, click Phone System and choose Company Recordings.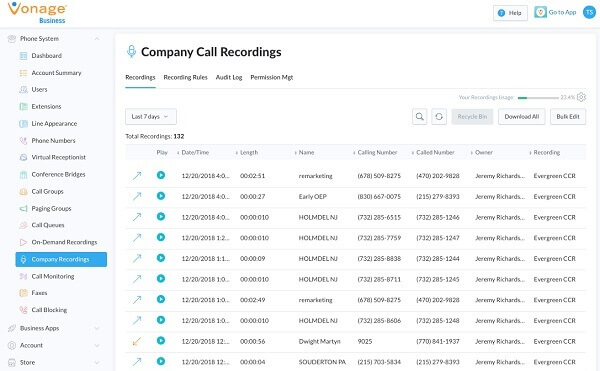 Step 2 Go to the Recordings tab, and hover over the desired recording. Then you will have several options:
Click the Play button to listen to the Vonage call recording.
Click the Trash icon to delete it.
Hit the Down Arrow icon to download one or more recordings.
Press the Right Arrow icon to share your call recording via email.
Click View button to see details of the call.
In Desktop App: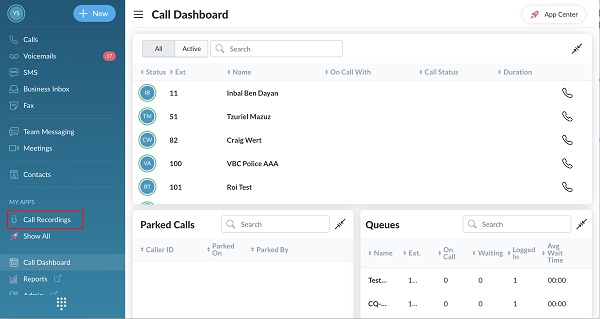 Step 1 Log in the Vonage desktop app and click Call Recordings to get all of them.
Step 2 Here you can only play or delete the call recording. The Phone button lets you call the number again.
If you want to record an iPhone call from your carrier, instead of the Vonage service, just learn it here.
Part 2: Best Alternative to Vonage Call Recording
Even if you do not have an admin or supper user account, you can record phone calls on Vonage or other service. The only thing you need is a powerful phone recorder, such as Apeaksoft Screen Recorder.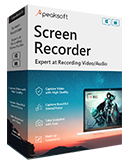 4,000,000+ Downloads
Record phone call and VoIP on desktop or mobile device easily.
Optimize audio quality automatic using advance technology.
Pre-listen to the call recording with built-in media player.
Compatible with Windows 10/8/7 and macOS 11.
In brief, it is the best option to record important calls on your desktop.
How to Record Phone Call on Desktop
Step 1 Install the best call recorder
Launch the call recorder once you install it to your PC. There is a specific version for Mac. Choose Audio Recorder to open the main window. To record a video call, choose Video Recorder instead. If you want to record phone call on smartphone, cast the screen to the same machine.

Step 2 Record a phone call
Turn on the System Sound option and adjust the volume. To add your voice to the audio recording, toggle on Microphone; otherwise, keep it disabled. If you wish to change custom options, click the Settings icon to open the Preferences dialog. Press the REC button once the phone call begins.

Step 3 Save a call to computer
When your phone call is done, click the Stop button to open it in the preview window. Check the phone recording and click the Save button to export it to your hard drive. The Clip tool is used to cut the call recording and remove unwanted parts.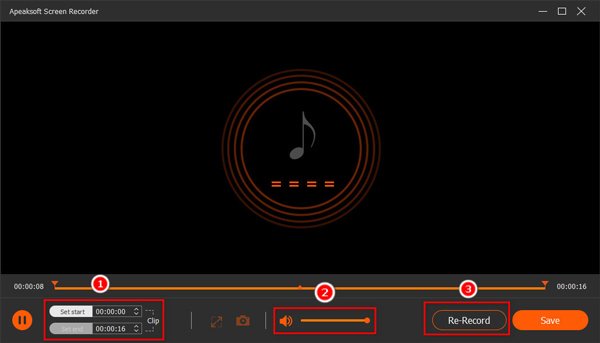 Follow this way, and you can easily record video call from Skype, Viber, Hangouts, and more.
People Also Ask:
Part 3: FAQs of Vonage Call Recording
How much does Vonage Call Recording cost?
Vonage begins at $9.99 per month with unlimited call to landlines and mobiles for the first year. After that, it costs $24.99 per month. However, the desktop app requires extra payment.
Can you remotely record phone call on Vonage?
Once you set up the call recording rule on Vonage, it will record your phone calls on receiver, mobile phone app and desktop app.
What is the advantage of Vonage?
The biggest advantage of Vonage is the automatic call recording function. Compared to other communication systems, Vonage offers a full set of call recording.
Conclusion
This article has shared you how to record Vonage calls. This cloud-based service will record your phone calls based on your rule and save them to cloud storage. You can simply access call recordings in browser, mobile app or desktop app. If you do not have an admin account, Apeaksoft Screen Recorder can help you record calls on Vonage and another platform easily. More problems? Please write them down below this post.