If you want to have video meeting with teams, Cisco WebEx is a good communicate service. You can join the WebEx meeting on any device with HD quality audio and video. What's more, WebEx allows users to share the screen and connect with anyone freely.

Then here comes the question, how to record WebEx meeting as participant? You had better record important business meetings and other serious callings in case of unexpected situations.
Here this article introduces useful methods to record WebEx session on computer and smart phone.
Let's read together to figure out complete steps.
Part 1

: The Default Method to Record WebEx Meeting

Some people hold the question that "Can WebEx record video and audio?". Well, the answer is "Yes".

You can record WebEx meeting locally on your computer. However, if you want to record WebEx video with audio on PC, you need to purchase an extra service, like DynaMetric Adapter and more.

Step 1: Run WebEx meeting

Run Cisco and start a WebEx meeting as usual. The accurate option depends on which service you use.

Therefore, you may choose "Meeting", "Event" or "Session" to start the process.

Well, you can also head to "Recorder Settings" to check if "Record on This Computer" is selected.

Step 2: Manage WebEx recording settings

Later, go back to the menu, and then select "Start Recording" option. A new window named "Save Recorded Meeting As" pops up. You need to enter the new name and output folder for your WebEx video or audio recording file. Then choose "Save" to move on.

Step 3: Record WebEx meeting on computer

To record WebEx meeting as attendee, you need to enable the "Record PC Audio" feature. As a result, you can capture voices from presenters and participants.

Now you can click the red "REC" icon in the recorder panel. Well, it is supported to pause or stop recording with no time limit.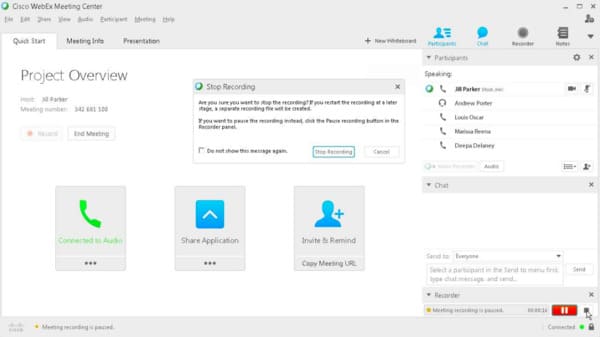 The moment you stop WebEx recording, the output file will be saved to the destination folder you set before automatically. Be aware that the local WebEx recorder creates WebEx recorded files in WRF format.
Part 2

: How to Record WebEx Meeting on Computer

But what if WebEx recording disabled?

There are many questions raised in forums about WebEx record meeting greyed out, WebEx recording no sound and more. If you want to bypass those questions, you can get an easier solution to record WebEx meeting.

Actually, Apeaksoft Screen Recorder is exactly the best software to record WebEx session you are looking for.
Main Features of the Best WebEx Recorder Software
Record Skype chatting, WebEx session, GoToMeeting, and any on-screen activity on Windows or Mac computer with no lag.
Capture system sound and microphone voice selectively or both.
Offer various editing tools like changeable cursor, step tools, drawing panels and more.
Manage video, audio and screenshot settings before recording.
Steps to Record WebEx Meeting as a Participant with Audio
Step 1: Launch the WebEx recorder
Get the WebEx recorder download free on your Windows or Mac. Then launch Apeaksoft Screen Recorder after the installation. To record a WebEx meeting, you need to choose "Video Recorder" and enter into the related section.

Step 2: Manage screen recording area
You can record WebEx meeting with full screen, custom region or preset region with your mouse freely. Moreover, if you want to record WebEx meeting as host, you need to trigger both "System Sound" and "Microphone" to the "On" state. Move the slider below to adjust the input volume if necessary.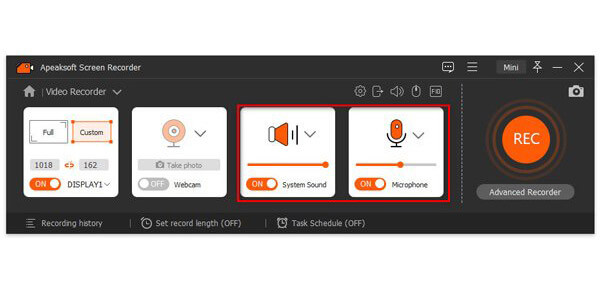 Step 3: Customize the WebEx recording settings (optional)
Click "More settings" option on the top. Later, you can change the output video format, video quality, frame rate and other preferences. There are several section including "Recording", "Mouse", "Hotkeys", "Output" and "Others" you can get. Then click "OK" on the lower right corner to save your change.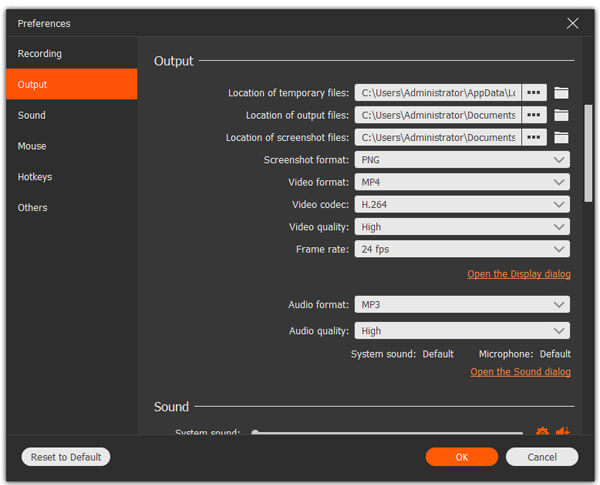 Step 4: Record WebEx meeting as participant with audio
After all preparations, click "REC" to start to record WebEx meeting. It's OK to pause, restart and stop recording whenever you want.
After screen recording, a preview window pops up. Choose "Save" if everything goes well. Later, click "Next" to move on.
You can download WebEx meeting to hard disk directly. Share it to YouTube or other sites by one click if necessary.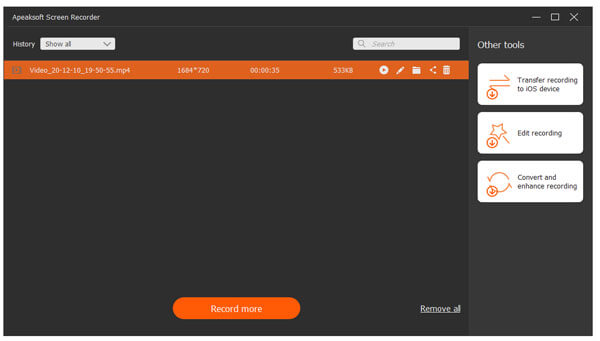 You May Also Interested in:
Ultimate Guide to Record Google Hangouts Video and Audio
How to Record CyberLink U Meetings on Windows 10/8/7 and Mac OS X/11
Part 3

: How to Record WebEx Meeting on iOS with Default Screen Recorder

If you use iPhone, iPad or iPod Touch to have a WebEx meeting, then you do not need to install any other WebEx recorder app. Just make sure you are running iOS 11 and later version. Because Apple releases the built-in iOS screen recording feature in the iOS 11 update.

iPhone users who is running the lower version of iOS 11, just get the iPhone screen recorders to record on-screen activity.

Step 1: Add the screen recording feature

If it is the first time you record iPhone screen, you need to enable the Apple screen recording feature manually. So locate the "Settings" app. Head to "Control Center" and choose the green add icon before "Screen Recording".

As a result, next time you want to record WebEx meeting on iPhone, you do not need to repeat the process.

Step 2: Record WebEx session on iPhone

Go back to your Home screen. Swipe from the bottom of your iOS screen to access "Control Center". Find and click "Record" icon. Later, you need to tap "Microphone" button at the bottom to turns it to red. It means you can record WebEx meeting with audio. After that, you can start WebEx recording on iOS 11.

Step 3: Stop video recording

When you want to stop the process, just head to the status bar on the top. Click "Stop" when you are prompted with "Stop screen recording". Later, swipe up from bottom and click the "Stop" icon in the "Control Center" to stop iPhone screen recording completely.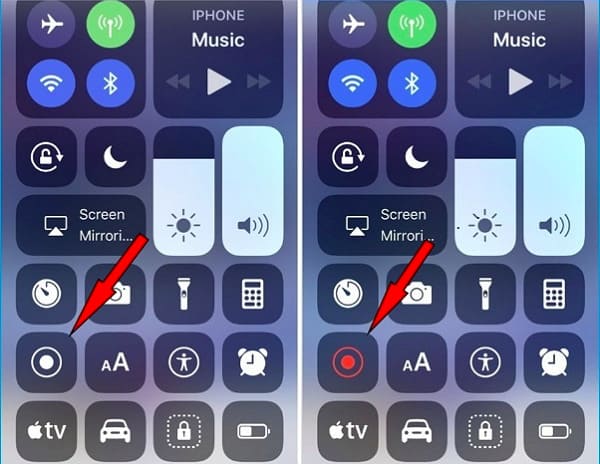 That's all you need about how to record WebEx meeting video with audio. What's more, you can get your best WebEx recorder here too.
Please don't hesitate to contact us if you have any other good solutions or tips about WebEx recording.