Recording videos becomes more and more popular in the world. It can be used to education, social contact and entertainment. And with the need of recording videos and editing videos, there are also many video-recording software in the market.
When it comes to best screen recorder software, you will not miss ScreenFlow. ScreenFlow is just one of powerful and popular video recording software. It can easily help you make and edit videos. But ScreenFlow is a Mac-exclusive recording and editing application. If you are finding a video recording software for Windows, here are top 5 best Windows screen recorder programs for you to choose from.

Screenflow For Windows
Part 1: Best Video Recording Alternative to ScreenFlow for Windows
To find a much easier and powerful solution to record screen on Windows computer, Apeaksoft Screen recorder will give you the answer.
Apeaksoft Screen Recorder is a professional video recording software. It is burn with multiple practical functions. With it, you can get a really good video recording file. It can record video smoothly with its 60 fps frame rate and capture screen in PNG/JPG format. And you can save the recorded videos in various formats, like WMV, MP4, VOB, AVI, FLV and others. What's more? It also has powerful video editing functions. You can clip, make drawings and add annotations.

Recommendation
Record and save image or audio in popular formats.
Capture internal sound or microphone voice with high quality.
Edit video while recording and trim recordings easily.
Step 1: Download and install Apeaksoft Screen Recorder. Double click the program to launch it.

Step 2: Choose the "Video Recorder" option to record in full screen, custom region or preset region. It also allows you to record any window you want.

Step 3: If you want to add the voice or game streamers, you can turn on the "System Sound" as well as the "Microphone". After that you can adjust the parameters for the audio and video audio.

Step 4: Click the Red "REC" on the right side of this video screen recorder to start recording. During the recording, you are able to make drawing or add annotations according to your need.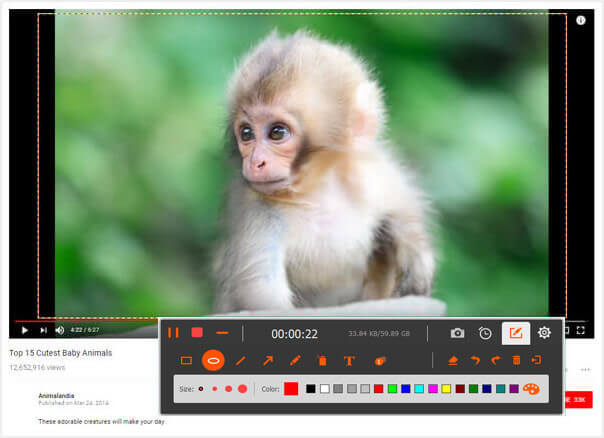 What is more, you also can choose the "Snapshot" button to capture important scenes.
Step 5: if you want to stop recording, click the red square on the top left corner to finish recording. It will show the video you record. And you can preview it and do many things in the following.
You can clip the video by input the number in bars.
Click the camera icon to take screenshot.
Adjust the volume
Re-record and save the video.
Download for Win
Download for Mac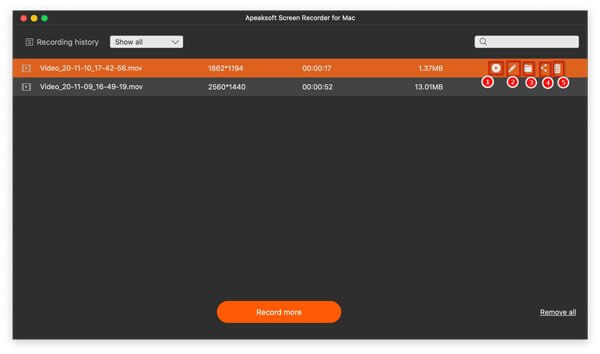 Step 6: Click Save to save the video on your Windows computer. Then it will remind you to select the save path. Make sure the path you want and click Next.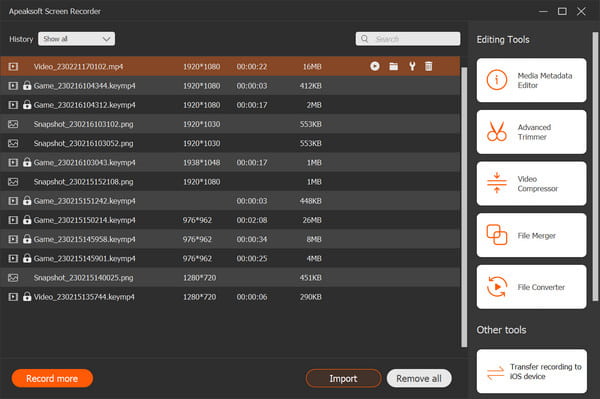 Part 2: Other 4 Popular Alternatives to ScreenFlow for Windows
Top 2: Camtasia
Camtasia Studio is an all-in-one screen and webcam recording program for Windows. It makes it easy to record video on your computer screen whether from games, websites or video calls. Furthermore, you can edit the recordings separately after the recorder load the video, system sound, microphone sound, cursor onto their own tracks.
Pros

Capture video and audio from desktop or from webcam.
Offer a set of capture and editing tools.
Add titles, annotations, effects to make your video perfect.
Cons

Does not support free upgrade and too expensive.
Require a higher system performance. You can't run it with old systems.
camtasia-screenflow-for-windows
Top 3: Screencast-O-Matic
Screencast-O-Matic is screencasting software with many features that can help you record video easily and flexibly. Screencast-O-Matic offers Java applet launching which means you do not have to install the software to use it and thus makes it even better to work with.
Pros

It is intuitive and easy-to-use for beginners without installation.
Record screen and webcam simultaneously.
Allow to test the audio feed device is crucial as it reduces chances of generation of any unwanted
Cons

The maximum time for recording is 15 minutes in the free version.
The free version is limited in some functions.
screencast-o-matic-screenflow-for-windows
Top 4: CamStudio
As a great alternative to ScreenFlow for Windows, CamStudio is a free and useful screen recorder for Windows PC. This screen recording tool is able to record any region on the screen with audio captured at the same time.
Pros

Easy to use making it friendly for many beginners trying to record video.
Open-source nature ensures that some extensions and options.
Cons

The output file format is only limited in SWF and AVI.
No base editing capabilities in the software.
camstudio-recording-software-screenflow
Top 5: ShareX
ShareX is a free and open source program for Windows that allows you to record video on your screen. It also works well as a file sharing tool. You can upload images, text or other files to over 80 supported destinations.
Pros

All features like recording, editing, sharing, etc. are absolutely free.
Capture screen, video, etc. with annotation and automation.
Cons

It is complicated for beginners to use with various options displayed.
share-x-screenflow-for-windows
Conclusion
This article shows the full features and using details of top 5 alternatives to ScreenFlow for Windows. Hope it works for you. If you need to record screen or edit videos, just give a try to Apeaksoft Screen Recorder. It will make you satisfied with the result. Have a nice day!