There are a lot of voice recording apps for Android smartphones and tablets. If you search for voice recorder in Play Store, you will get a very long list. Unlike the Voice Memos on iPhone, you cannot get pre-installed voice recorder app on Android. That is why so many developers released voice recorder apps for Android devices. Smart Recorder is one of such voice recorder app on Android. Before you download it, read our unbiased review below.

Smart Recorder APP
Part 1: Smart Recorder App Introduction and Review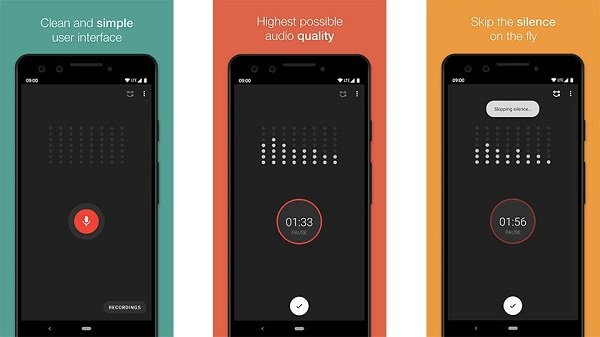 As its name indicated, Smart Recorder is a valuable voice recorder app for journalists, musicians and anyone who wish to record information or voice memos. Its main features include:
Record Voice on Android
No matter you need to record brief voice memos or hours of lecture, Smart Recorder can do it easily. Moreover, it works in the background, so you can still use your device when recording. However, it cannot record phone calls or audio chats due to privacy and legal reasons.
Learn it here to record Android phone calls.
Full Control Voice Recording
When recording voice, users can pause, resume or cancel the task at any time. Moreover, Smart Recorder is able to automatic or manually skip silence mode.
Encode Voice in Wave or PCM
It lets you adjust sample rate quality from 8 kHz to 44.1 kHz. So, you can produce high quality voice recordings on Android.
No Limit on Recording Length
The recording time limited only by available space on your storage. With 1 GB of free space and a sample rate of 8kHz, for example, you can record almost 20 hours. However, it cannot save voice recordings to SD card.
Manage Voice Recordings
After recording, users can organize audio files within Smart Recorder app. Moreover, the built-in media player lets you play any recordings anytime and anywhere. Plus, you can post a voice recording to social media or cloud storage directly, if you have installed the target platform on your phone.
Bottom Line
Smart Recorder sets a good example for voice recording apps on Android devices. The compact design and user-friendly interface make it pretty easy to use. Though it is not perfect and has some downsides, like lack of audio editing and limited output formats, it strikes a good balance between features and usability.
Part 2: Best Alternative to Smart Recorder App
Considering Smart Recorder has some unavoidable shortcomings, you may look for an alternative. Apeaksoft Screen Recorder is the best replacement to record audio on desktop.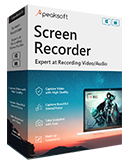 4,000,000+ Downloads
Record audio from your system and microphone in one click.
Produce high quality voice recordings automatically.
Save audio files in MP3, WMA, M4A, AAC, etc.
Pre-listen to audio recordings and cut clips.
In brief, it is the best alternative to Smart Recorder to record voice on Windows and Mac.
How to Record Voice with the Best Alternative to Smart Recorder
Step 1 Install Smart Recorder alternative
Start the best alternative to Smart Recorder app to your PC. There is another version for Mac. Then choose Audio Recorder from the home interface. If you wish to record voice on smartphone, mirror the screen to your computer.

Step 2 Record voice on PC
There are two options in the interface, System Sound and Microphone. The former is used to record audio from your system and the latter capture your voice via microphone. Enable or disable each of them according to your need. Plus, you can make schedule by hitting Take Schedule.
Click the Settings icon to open the Preferences dialog. Here you can customize options related to output, hotkey and more. When you are ready on voice recording, click on the REC button to initiate it.

Step 3 Pre-listen to recording
Click the Stop button if you want to stop recording manually. Play the voice recording on the preview window and cut unwanted parts with the Clip tool. Finally, hit Save button to save it to your hard drive.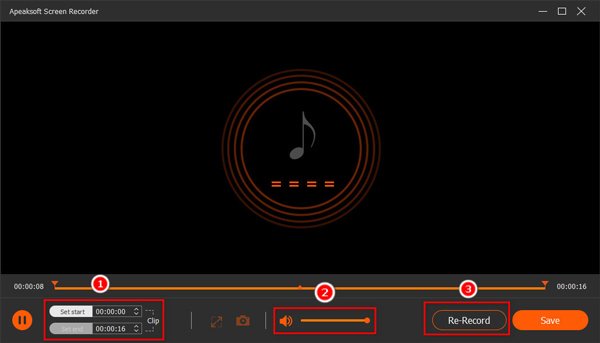 Part 3: FAQs of Smart Recorder App
Is there a voice activated recorder app on Android?
There is an Android app called Voice Activated Recorder. It is able to automatically record when the sound intensity exceeds a set threshold. Get more voice recorders for Android here.
Can I use my iPhone as a tape recorder?
Yes, the pre-installed Voice Memos app lets you record voice on iPhone and turn your iOS device into a tape recorder.
Is Smart Recorder really free?
The basic features in Smart Recorder app are free to use if you view ads. If you do not like ads or want to get full features, you have to pay for it.
Conclusion
This article has introduced and review one of the best voice recorder apps for Android users, Smart Recorder. It can meet your basic need on voice recording on Android phone or tablet. If you feel it is too simple, Apeaksoft Screen Recorder is worth you to try. It is not only easy to use, but also able to generate high quality recordings. More questions? Please leave a message below.