This article will share everything you need about Snagit screen recorder. Today, taking a screen recording requires nothing more than hitting your Print Screen button. Windows 10 and Mac OS X/11 even have pre-installed screen capture tools. You may wonder why you still need to spend money on screen capture software. Snagit may be the answer, which provides more powerful tools than the built-in screen capture features. This review wishes to help you learn the software in detail.

Snagit screen recorder
Part 1: Snagit Review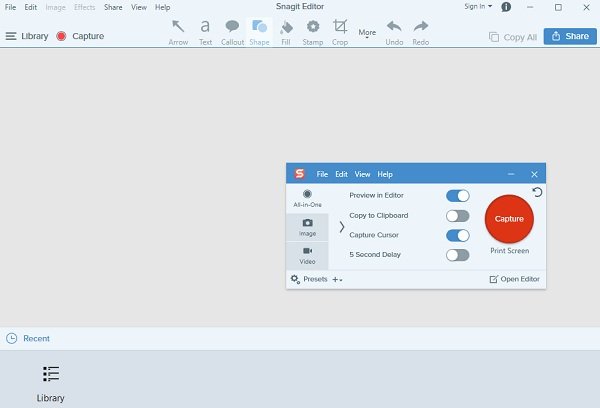 First of all, what is Snagit? It is more than a screen capture utility. With it, you are in control of everything you capture. In short, it is an all-in-one screen capture program for PCs.
Overview of Snagit Features
1. Capture full or any part of screen on Windows and Mac.
2. Record audio calls of Google Hangout, Skype and more.
3. Save screen recording in still images or video files.
4. Make webcam recording to capture your face and voice.
5. Download entire webpages as PDF documents.
6. Offer basic editing tools, like special effects, text, and video trim.
Moreover, the developer keeps introducing new features into Snagit.
Snagit Review
PROS

1. It is flexible and powerful since it contains a wide range of tools.
2. There is a GIF maker to convert your recording to animated image files.
3. It supports panoramic scrolling capture.
4. You can get several borders, effects and more.
5. It is able to export recordings to cloud storage.
CONS

1. Snagit is more expensive than similar software.
2. There are some bugs, like users reported Snagit 2019 not recording audio or microphone.
Apparently, Snagit is not a free screen capture program, but how much does Snagit cost? It does provide a free-trial with some restrictions. There are several plans, starting from $49.95 for 1 license.
Part 2: How to Use Snagit
Though Snagit has a wide range of features, the primary use is to capture screen. Therefore, we share a detailed guide on how to use Snagit to record screen.
Step 1 Open Snagit and go to the All-in-One tab from the left-hand column in the Capture window.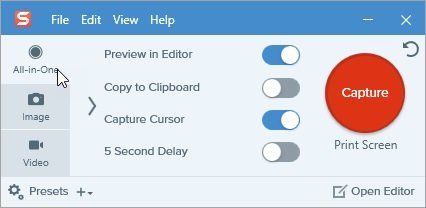 Step 2 Click the Capture button to display the orange crosshairs. Click and drag to select the area, window or region to record on your screen. When set recording area, hold Ctrl or Ctrl + Shift to lock the aspect ratio at 16:9 or 4:3.
Step 3 After area selection, you will see the screen recorder toolbar. Here you can decide to capture microphone audio or system audio along screen recording. The icons are a bit small and you need to be careful.

Tip : You can switch between webcam capture and screen recording, but they cannot work at the same time.
Step 4 Once click the Record button, the countdown will start, and you can do what you want to record. When screen recording is done, click the Stop button. The recording will be saved to AutoSave folder as a MPEG-4 file.

Part 3: The Best Alternative to Snagit
It cannot be denied that Snagit is a good screen recorder, but it is not perfect software. For instance, it cannot overlay your face to screen recordings. From this point, we recommend Apeaksoft Screen Recorder.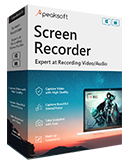 4,000,000+ Downloads
Capture everything on your screen including online videos.
Add your reaction through webcam while recording screen.
Record system audio and microphone independently or together.
Offer extensive custom options for advanced users.
Provide bonus tools, such as audio recorder, screenshot, etc.
How to Use the Best Alternative to Snagit
Step 1 Install Screen Recorder
If you do not like Snagit or it is not working for you, install the best alternative software on your computer. Then launch it and select Video Recorder. If you want to make screenshots or audio recordings, select Screen Capture or Audio Recorder.

Step 2 Capture your screen
Firstly, turn on Display and set the recording area. The Full option will capture entire screen or click Custom to capture a specific area. The Webcam section is used to capture your face view webcam, System Sound can record system audio, and Microphone is able to record your voice through microphone. You can enable or disable them based on your need. To get custom options, click the Settings icon to open the preferences dialog.
Once setup is ready, click the REC button to start recording your screen without Snagit. During the process, you can draw on the recording with the Pen tool.

Step 3 Preview and save screen recording
Click the Stop icon when screen recording is done. Then it will be opened in Preview window. Here you can view or clip the recording. Finally, click the Save button to export it to computer.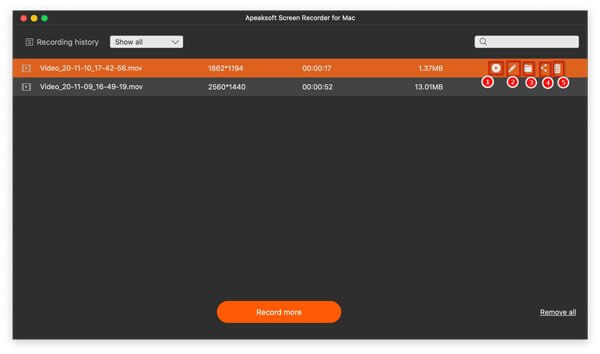 Part 4: FAQs of Snagit
Why is my Snagit not working?
If Snagit is not working on your computer, there may be a problem with the software or your operating system. Uninstall the screen recorder and reinstall Snagit again. If it still works abnormally, use another screen record directly.
What is the difference between Snagit and snipping tool?
Snagit offers more features than the built-in snipping tool on PC. For instance, Snagit integrates more image editing functionalities. However, snipping tool is totally free to use.
How long can Snagit record?
According to the developer, there is no limitation on how long to record with Snagit. However, it is recommended to keep recording to one hour or less per time. Snagit may fail screen capture as recording longer time.
Conclusion
This guide has reviewed the one of the best screen recording software on market, Snagit. Now, you should understand whether it is worth to use. Whenever you find Snagit stops working or not recording microphone, you can use the best alternative software, Apeaksoft Screen Recorder, which is more cost-effective and easier to use. If you have other recommendations, please leave a message below this post.