"Hey, I try to restore my iPad for personal reasons. But it just hung near the end of the progress bar for a long time. Even though I disconnect iPad for a second try, the same issue happens again! I just can't restore iPad. Can anybody help?"
"I try to update my iPhone to iOS 17 but only get the error 9. It just said 'The iPhone could not be restored, an unknown error occurred (9).'. Does anyone know where go from there?"
Many people complain that they can't restore iPad or iPhone with many errors like error 3194, error 1639, etc. Also, some Apple users report their iPhone won't go into recovery mode or even stuck in recovery mode.
To solve the iPhone or iPad cannot be restored problem, you can follow 5 solutions below to get detailed information.

Way 1. Restore and update iPad with best alternative to iTunes
This way with iOS System Recovery is highly recommended when you are tired to use iTunes to restore or update iPad.
Even if you forgot iPad password, or without Apple ID, you could perform the iPad restore easily with this software.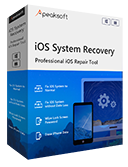 4,000,000+ Downloads
Restore iPad to factory settings and update to the latest iOS version.
Fix system problems on iPad like Apple logo, headphone mode, white screen, etc.
Unjailbreak your iPad from jailbroken situation.
Work on iPad Pro, Air 5/4/3/2/1, mini 6/5/4/3/2/1, etc.
Step 1. Connect iPad to computer
Run iOS System Recovery and connect your iPad to the computer with a USB cable. Select "iOS System Recovery" and select "Start" button.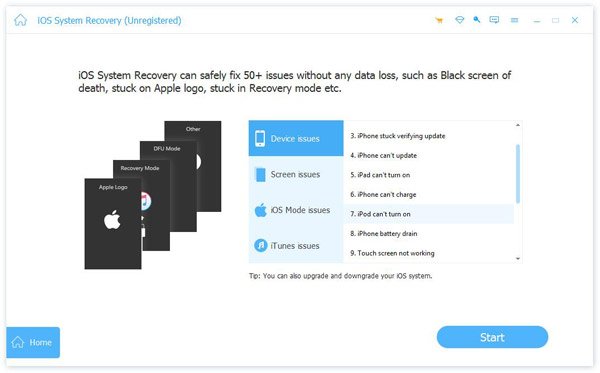 Step 2. Put iPad into Recovery/DFU mode
In the pop-up interface, you will note that this software detects your iPad is normal and you need to click the question mark to get you iPad into recovery mode or DFU mode manually.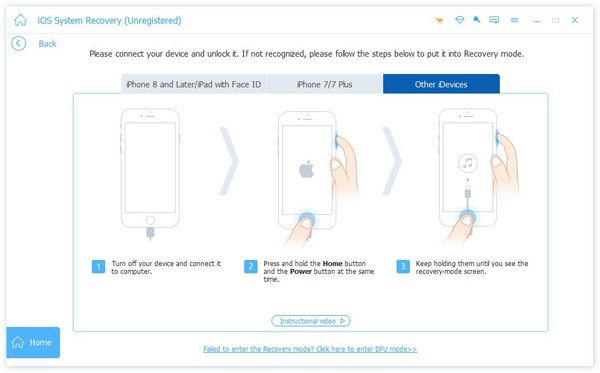 Step 3. Reset iPad
After getting iPad into the DFU or Recovery mode, you will see you are going to the model information checking interface.
Just click the "Back" option and select "Advanced Mode" and "Confirm" button to start to download the firmware and restore your iPad to factory settings.
Moreover, this software also can help you the following issues:
Way 2. Perform a Force Restart When You Can't Restore iPad
Unknown errors occurs, which let your iPad cannot restore successfully. Just as above has mentioned, sometimes you can only receive an unknown error message like iTunes error 21, error 9006, etc. Actually, these iPhone or iPad errors also represent different meanings.
Step 1. Press and hold Home button and Power button at the same time.
Step 2. Continue holding two buttons until the Apple logo appears.
Step 3. Wait and reboot your iPad successfully.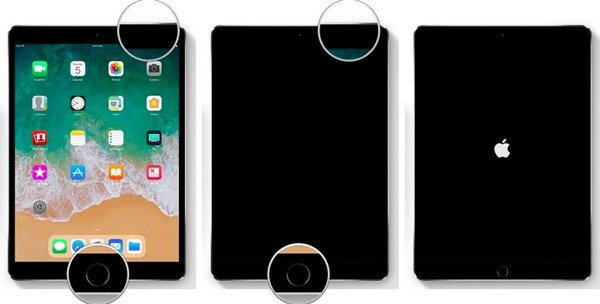 Way 3. Check Wi-Fi Condition or Reset Network Settings to Fix an iPad That Can't Connect to Wi-Fi
Poor Wi-Fi network may lead to the problem. Some people get the notification saying that "This iPhone is currently being restored and will automatically back up when it is done". However, it never ends so you can't restore or update your iPad.
Step 1. Open "Settings" app on iPhone.
Step 2. Choose "Wi-Fi" and turn on "Ask to Join Networks" below.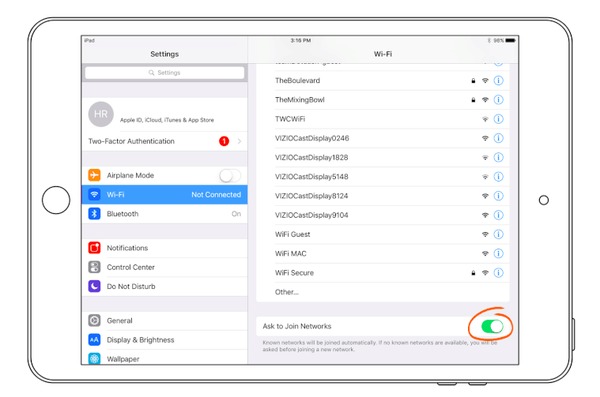 Step 3. Click "General" and "Reset" under iPad Settings.
Step 4. Tap "Reset Network Settings" and reconnect to a strong wireless network.
After that, you can try to restore iPad to factory settings directly.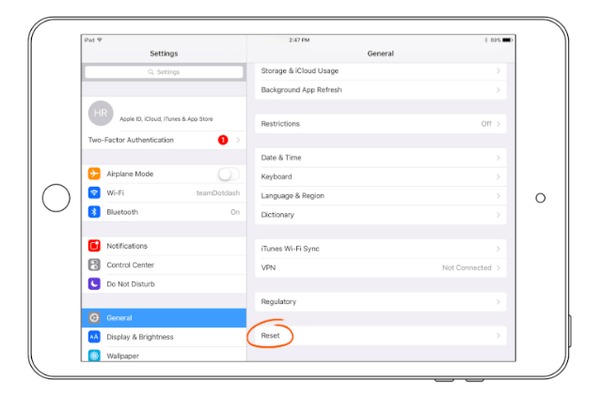 Way 4. Make Sure You Are Using the Latest iTunes Version
The iTunes you use is outdated. If you do not update iTunes to the latest version before restoring, things will happen that your iPad won't restore or update with iTunes.
Step 1. Run iTunes on your Windows computer.
Step 2. Tap iTunes on the top.
Step 3. Select "Check for Update" from the iTunes drop-down menu.
Note: Mac users can open App Store and click "Updates" on the top to update iTunes.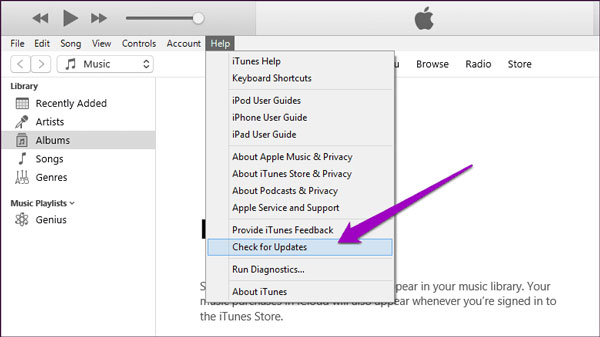 Way 5. Put iPad in Recovery Mode and Set It Up Again
Step 1. Connect iPad to iTunes
Use a lightning USB cable to plug in iPhone to your computer. Run iTunes and confirm to trust this computer if you have not synced iPhone/iPad with iTunes on this computer before. (iPad cannot be recognized by iTunes?)
Step 2. Set up iPad and restore iPad
Hold and press Home button and Power button simultaneously. Do not release them until you see the connect to iTunes screen. Then there will be a notification asking if you want to restore or update. If you can't restore iPad with iTunes, you can tap "Update" to install iOS without data loss. Set up your iOS device and then put your iPad into recovery mode again to restore.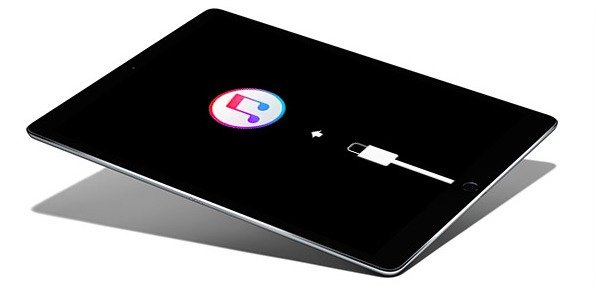 FAQs of iPad restore and update errors
How do I fix iPad stuck on update?
When your iPad stuck on update, you can force restart your iPad by pressing and hold Home button and Power button simultaneously. Keep holding two buttons for about 10 seconds, and then release them until you see the Apple logo.
Is there any way to fix iPhone update problems?
Apeaksoft iOS System Recovery is the professional tool to fix iPad, or iPhone stuck on update, restore, headphone, Apple logo, DFU mode, recovery mode and other abnormal situations. You can free download this application to your computer and follow the steps mentioned in the Way 1 section to fix this issue.
Why does the "iPhone Software Update Server Could Not Be Contacted" happen?
Network connection, Apple server, incorrect configuration settings or other unknown errors and bugs will lead to software update failure.
Conclusion
This page collects the best 5 solutions to help you fix the issue that iPad cannot restore or update. You can follow the common solutions to troubleshoot the problem one by one. Still, you can also get an alternative way to restore iPad and update to the latest iOS with the iOS System Recovery easily.