Summary
AppData is hidden for you. However, once the AppData is missing or deleted, some applications on your Windows fail to work. To perform normally on the computer, restoring AppData files or folders with Apeaksoft Data Recovery is the solution.
Free Download
Free Download
AppData is a folder that contains settings, files, and specific data to the applications on your Windows PC. It is hidden by default. However, once your accidentally deleted data manually or automatically with some third-party cleaner software, your programs will not work.
Yes, that is why you are coming to this place.
You need to find and restore the deleted or missing AppData folder or files right now.

Find Deleted Missing AppData
Now: Read and get the way to get back the AppData in this post.
Part 1. Where Is AppData?
Where has my AppData Gone?
Though AppData is not visible for users, it still can be accessed on Windows computers.
The AppData folder is C:\Users\YourUserName\AppData.

Then you can see 3 folders in the AppData folder, Local, LocalLow, and Roaming.
Local: It holds data that cannot be moved, e.g. the temporary files of Excel, web browsers.
LocalLow: It contains data that cannot be moved, e.g. web browser data in a safe mode.
Roaming: It contains data that can be moved with your user profile, e.g. web browser favourites or bookmarks.
After opening the AppData subfolder, you must have found some of the subfolders are blank. Are the files are missing?
Find the answer in the next part.
Part 2. How to Show Missing AppData
Even if you find the AppData, but the detailed files are not showing up. Are they deleted?
Not exactly.
Sometimes, the files in the AppData folder are hidden. To show them, you just unhide the files.
Here's how to show the missing AppData folder.
1. Click the Start button, select Search, and then type Control Panel to open Control Panel.
2. Select File Explorer Options.

3. Switch to the View tab, scroll down to find Hidden files and folders under Advanced settings.
4. Click the square check box before Show hidden files, folders, and drives.
5. Finally, click Apply and then all of your hidden files and folders including the AppData folders and the files will be shown on your computer.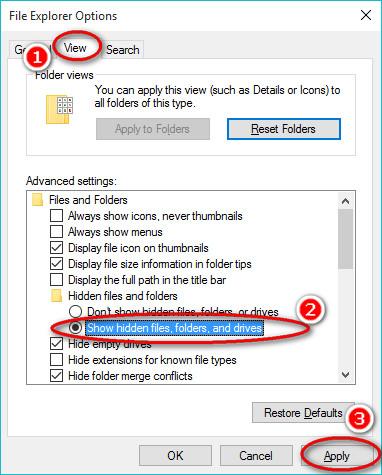 Now, you can open and see the AppData folder and files.
Still cannot find the AppData filers?
That is where part 3 comes into play.
Part 3. How to Recover Deleted or Lost AppData
Even if you show all the hidden files and access the AppData folder, you still find nothing in the AppData subfolder.
Why have your AppData folders gone?
A large reason your AppData folder or files are missing is that you accidentally deleted them manually, or some third-party cleaner software on Windows may delete the AppData folder.
Is it possible to recover the deleted AppData folder?
Yes.
To restore the deleted AppData files, no special tech knowledge is required. The process starts with an AppData recovery tool.
Apeaksoft Data Recovery is an AppData recovery program. It retrieves data from Windows 11/10/8/7 computers. Without any complicated settings, it is easy to use to scan and recover deleted files in 3 steps. Whether your AppData is missing or deleted due to system crash, accidental deletion, corruption, etc., this software can undelete AppData folders effortlessly.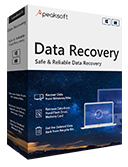 4,000,000+ Downloads
Recover system files like AppData, DLL, Temp files, and more.
Recover photos, videos, emails, documents, and more on PC and Mac.
Support deep and quick scan modes according to your needs.
Save scanning results as a project file for further use.
The steps of recovering deleted or lost AppData are incredibly convenient with Apeaksoft Data Recovery.
Step 1Run AppData recovery software
Free download Apeaksoft Data Recovery on your computer. Follow the on-screen instructions to install this program and launch it.
For avoiding any data overwriting, you should install this software in other drives, instead of the C drive.
This software has a Mac version, which can perform data recovery on Mac, if you download a Mac version.
Step 2Scan Windows computer
In the main interface, what you need to do is to select the data types that you want to recover from images, videos, audio, email, documents, etc., by checking mark the square box before them.
Next, select the hard disk drive where you lost data. Generally speaking, the AppData folders are in C drive.
Now, just click Scan to start scanning your computer.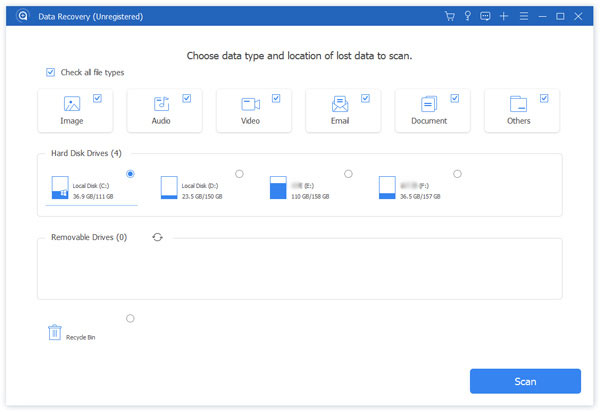 Step 3Recover deleted or missing AppData
Now, this software will scan your selection. You can check the scanning progress in the upper side.
When the scanning process is complete, all the scanned data will be categorized as Type by default, and you can change it by Path.
Click the folder to open it and all the files will be shown in this software.
Checkmark the files you want to restore, and click Recover to retrieve the lost AppData on your computer.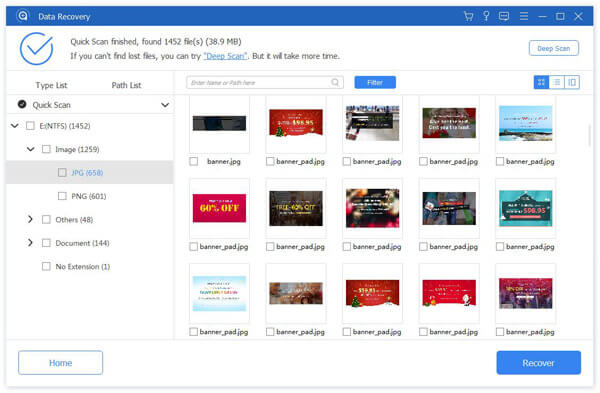 After that, you can get back the recovered AppData in the AppData folder, so that the problematic application work normally.
Part 4. FAQs of Finding AppData
Question 1: How to open AppData?
Though AppData is unseen for you, you could still open it.
1. Press Win + R at the same time to open Run.
2. Type %appdata% and press Enter.
Then you can get to the AppData Roaming subfolder directly.
Question 2: What if AppData folder is deleted?
AppData stores some important information that connects your applications undoubtedly. If you deleted the important files from AppData, the application may not work normally. However, AppData is a large folder, and you can wipe up a hard drive by deleting useless files from it.
Question 3: Can you retrieve deleted data?
Yes. Commonly, the delete button on your computer will put the delete items into the Unallocated area from the Allocated area, but you cannot see or search them. To recover the deleted items from the Unallocated area, you need a data recovery tool.
To guarantee a high success rate, you should remember that do not make new operations on the computer to avoid any data overwritten.
Conclusion
Missing AppData on Windows computers may lead to an application crash. This page tells where is AppData and how to recover the missing AppData on Windows 11/10/8/7.
Now I'd like to hear what you have to say:
Have you found problems with AppData?
Let me know by leaving your comments below.