Incognito mode helps you browse the web on your iPhone privately without any session traces. This post covers what the incognito mode is, how to turn it on and go to the incognito mode, and a way to see incognito history on an iPhone.

How to See Incognito History on iPhone
Part 1. What Is Incognito Mode on iPhone
Incognito mode is a private browsing feature of a browser like Safari, Chrome, or Edge that helps users to surf the internet without any trace. You can go incognito mode on an iPhone to protect privacy securely. When you turn on incognito mode on an iPhone, you can stay hidden and leave no trace of your browsing content to anyone.
Incognito mode also can be referred to as private browsing or in-private mode. It is mainly used to prevent your browser and device from storing your browsing history. When browsing in incognito mode, cookies, website login info, and other user data and temporary files won't be saved.
Part 2. How to Turn On and Go Incognito Mode on an iPhone
iPhone offers a simple way to enable incognito mode and use its Private Browsing quickly. This part tells how to go into incognito mode on its default browser app, Safari.
Step 1On your iPhone, you should enter the Safari app and select the Tabs button in the bottom-right corner.
Step 2Tap [number] Tabs or Start Page in the central part of the bottom screen to display the Tab Groups list. Now you can choose the Private option to go incognito mode on an iPhone. Tap Done to confirm your operation. Now you can tap the + button in the bottom-left corner to use Safari and browse on the internet in a private browsing mode. All the details of your browsing won't be saved and tracked.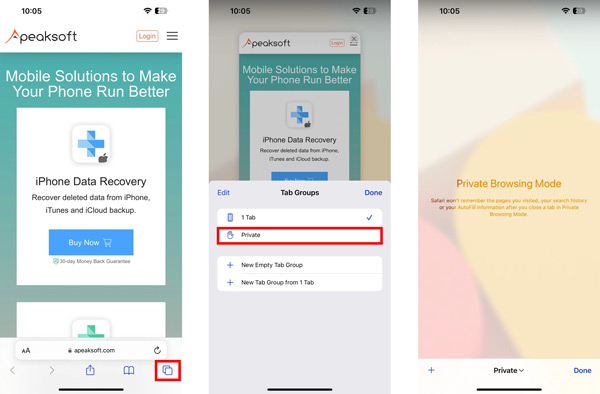 Part 3. How to Check/See Incognito History on Your iPhone
Is it possible to view private browsing history on iPhone?
As mentioned above, your browsing data won't be saved in incognito mode. That means you can't see incognito history on an iPhone directly. But the traces of your activity will still hang around after your session ends. You can rely on a third-party app to check or recover your iPhone incognito history. Here we strongly recommend the all-featured iPhone Data Recovery to see incognito history on iPhone.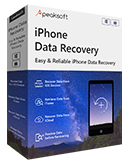 4,000,000+ Downloads
Check incognito history on iPhone and recover private browsing history.
Restore Safari browsing data, deleted contacts, call history, photos, and more.
View and recover incognito history from iPhone, iCloud backup, and iTunes backup.
Support all iPhone models like iPhone 14/13/12/11/X/XR/SE/8 and iOS versions.
Step 1You can free download this iPhone Data Recovery on your Mac or Windows PC to view your private browsing history or see the deleted history. Launch it and connect your iPhone via a USB cable, as it prompts.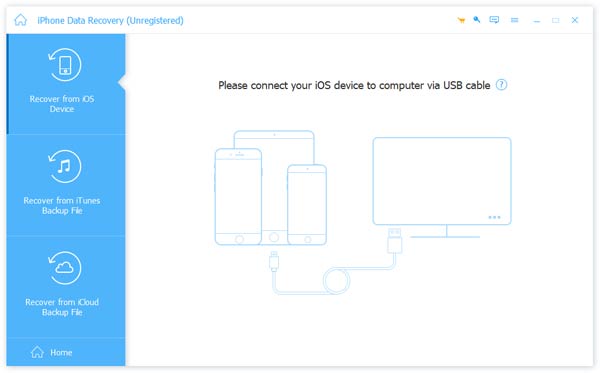 Step 2You should first try checking the incognito history on your iPhone from the iOS device. Ensure you are using the Recover from iOS Device feature. After your iPhone is connected successfully, click the Next button to move on.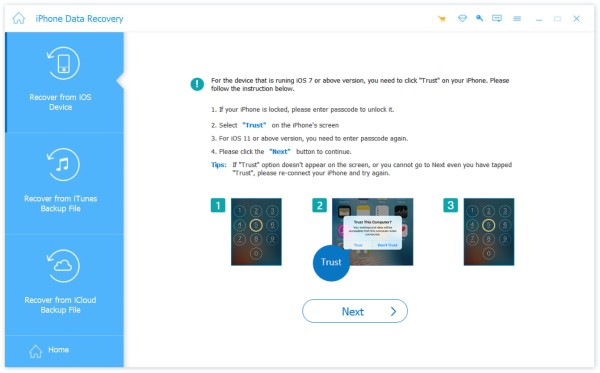 Step 3When your iPhone model and name appear on the screen, click the Start Scan button to analyze all types of iOS files on this iPhone. Completing the data scanning and analyzing will take a long time if you have many files saved on your iPhone.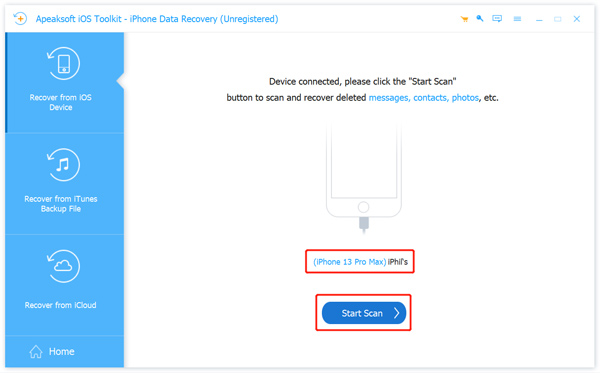 Step 4When the iPhone data scanning is finished, you can click Safari History under the Memos & Others section to display all your browsing history on Safari. You can check Safari history in incognito mode and normal mode in detail. If you want to recover incognito history on your iPhone, you can select them and click the Recover button.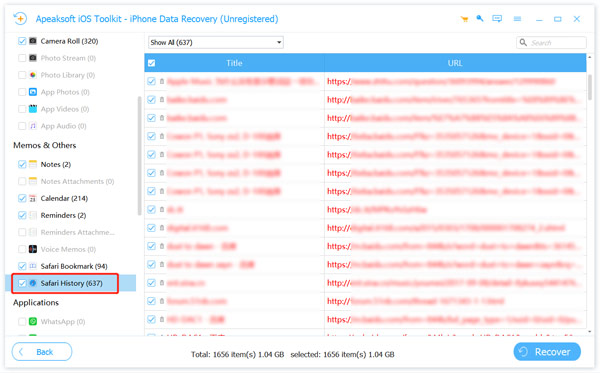 Part 4. FAQs of How to View Private Browsing History on iPhone
Question 1. How can I turn off incognito mode on my iPhone?
When you want to turn off Private Browsing on your iPhone, you can open the Safari app, tap the Tabs button in the bottom-right corner, and then tap on Private. Under the Tab Groups list, you can choose [number] Tabs to turn off incognito mode with ease.
Question 2. How do you clear your browsing history on Safari?
You can run Settings on your iPhone, scroll down to tap the Safari option, and then use the Clear History feature to remove all your browsing data from this iPhone quickly.
Question 3. Where to check my browsing history on an iPhone?
Enter the Settings app on your iPhone, and slide down to choose Safari from the list. Scroll down to the bottom part of the Safari interface and tap the Advanced option. Select the first Website Data option to check all the browsing history on Safari.
Question 4. How to turn on the incognito mode on your Mac?
Launch Safari on your Mac, click on the top File menu and select the New Private Window option from its dropdown. Now you can start your private browsing on the Mac.
Conclusion
Incognito mode on iPhone gives you a convenient way to browse websites securely. You won't worry about your browsing content and personal data getting tracked. We have mainly talked about iPhone incognito mode and related private browsing history in this post. You can learn what incognito mode is and how to see incognito history on an iPhone. If you still have questions, you can message us in the comment section below.