"I have transfered some JPEG pictures from smartphone to computer; however, they cannot be opened in my image viewing, even Photoshop cannot read the pictures, how to repair corrupted JPEG files? Please help."

People prefer to save photos in JPEG, partly because it is smaller and takes less space. The problem is that JPEG photos are easier to corrupt than lossless picture formats. Fortunately, there are at least two methods to repair and recover JPG, repair corrupted JPEG by recovering the original picture files, or use JPEG repair software to fix JPEG pictures.
Part 1

: What is JPEG?

JPEG, also known as JPG, is a commonly used container of lossy compression for digital images, particularly for those pictures produced by digital cameras and smartphones. Possible causes of JPEG corruption include:

1. The JPEG pictures are written partly. Sudden interruptions during transferring or saving could cause parts of the picture missing.

2. JPEG files are fragmented due to virus, malware, or Trojan attack.

3. The sector that stored the JPEG files is bad, which makes the pictures are not readable.
Part 2

: Best JPEG Recovery

If you are looking for the best JPEG recovery software, we will recommend Apeaksoft JPEG Recovery. Its key features include:

1. Easy to use. This JPEG recovery tool is able to get back the original JPEG files from your internal and external hard drive in one click, so even beginners could grasp it in a few seconds.

2. JPEG recovery in various situations. It could get back JPEG pictures when they are corrupted due to mistake operation, virus attack, file software crash, or bad sectors.

3. Support a variety of data types and formats. In addition to JPEG, it covers all image formats, like ICO, PNG, BMP, GIF, PSD, TIFF, RAW, etc.

4. Lossless recovery. With the best JPEG recovery application, you can restore your picture files in original format and quality.

5. Preview for selectively recovery. After scanning, you can look at all pictures organized by formats and decide to recover all of them or several specific ones.

6. Quicker and lighter. It is lightweight and could restore corrupted picture files quickly and safely. You do not need to worry about privacy leakage.

7. Moreover, JPEG Recovery is available to 10/8.1/8/Vista/XP, and a variety of file systems, like NTFS, FAT16, FAT32, exFAT, EXT, etc.

In short, it is the best way to recover JPG files on computer.
Part 3

: How to repair corrupted JPEG

Step 1. Scan entire disk to look for pictures.

If your pictures stored on a portable device originally, connect it to your computer. Launch the best JPEG recovery software when you find your pictures are corrupted. There are two parts on the home window, data types and locations. Locate to the data type section, and select the "Image" option. Then head to the locations area, and select where you stored the pictures, such as hard disk or removable drive. Click on the "Scan" button at bottom right corner to trigger the JPEG recovery process.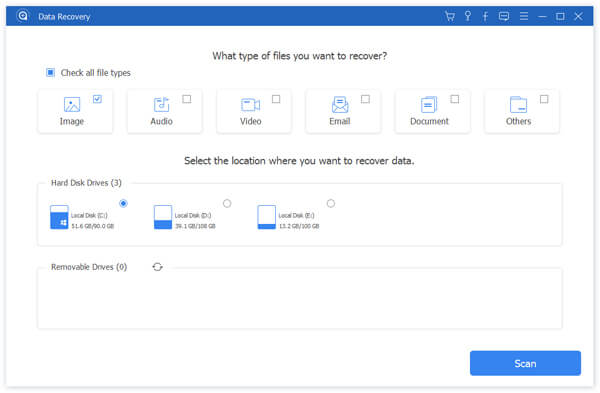 Step 2. Preview JPEG before making recovery.
When going into the result window after standard scan, click on the "Image" option again on left hand column. Next, you will see several folders titled with commonly used picture formats, like JPG, ICO, PNG, GIF, etc. Go to the JPG folder, you will be presented all JPEG pictures recoverable. Preview the thumbnail and find the JPEG that you want to get back. If there are too many pictures, type key words related to the corrupted JPEG in the top search bar and choose the Filter button. It could locate the picture quickly.
If you cannot find the desired JPEG file, click on the "Deep Scan" button at upper right corner to scan the hard drive deeply and find more recoverable data.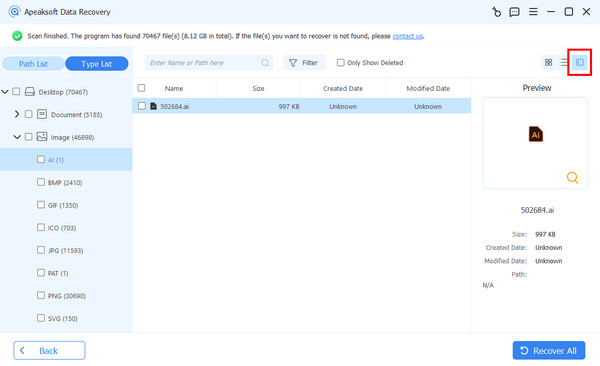 Step 3. Make JPEG recovery in one click.
Select all desired JPEG files and check the corresponding boxes, or you can select entire JPG folder. Once click the "Recover" button, JPEG Recovery will restore the selected files to your computer. A few minutes later when it is done, click on Open Folder button to redirect to the location and now you can view, edit and transfer JPEG normally.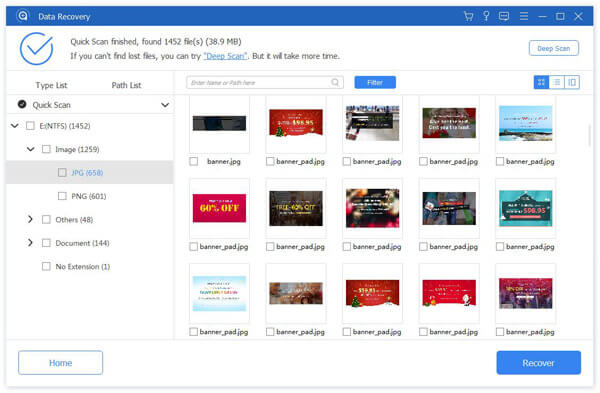 JPEG Recovery is not only able to recover JPG files, but also available to all picture formats. Plus, it does not have limitations on how many pictures are recovered.
Part 4

: Online JPEG repair software to repair corrupted JPEG

If you do not want to install software on your computer, online JPEG repair software, such as Online.Officerecovery and EZGIF, is another option to meet your demands. We use Online.Officerecovery as the example to show you the procedure.
How to make JPG file repair online
Step 1. PConnect your computer to a Wi-Fi network, input online.officerecovery.com/pixrecovery into the address bar of your browser and press Enter key to open the online JPEG repair software.
Step 2. Click on the "Browse" button, navigate to the corrupted JPEG and click "Open" button. Then click on the "Secure Upload and Repair" button to start uploading the picture.
Step 3. After loaded, the online repair tool will repair corrupted JPEG picture automatically. It will take a while to complete the process. Finally, you can download the result to your computer and check if it is repaired successfully.
The online picture repair software is only able to fix a picture at one time. And according to our testing, the success rate of JPG file repair is much lower than desktop software.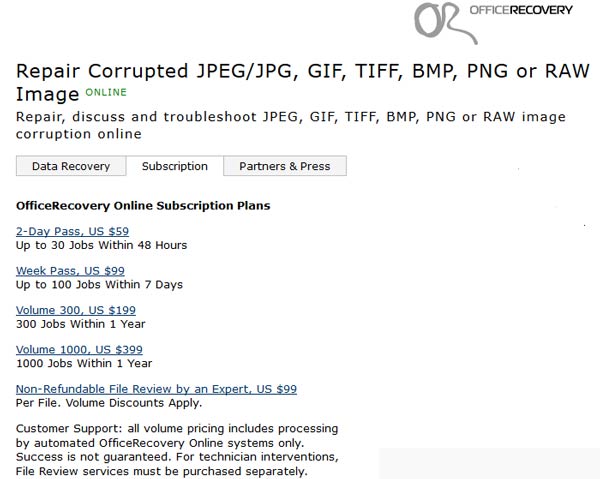 You may also want to know: How to repair Lexar usb driver and rcover data
Conclusion
In this tutorial, we have talked about how to make JPEG repair. Most digital cameras and smartphones allow users to compress photos to JPEG directly. That could save more space for storing more pictures. However, as a lossy picture format, JPEG are easy to corrupt. That makes JPEG repair a necessary skill among photograph enthusiasts and smartphone users. If you just have a single corrupted JPEG picture, online JPEG repair software may be a good option. To recover hundreds of JPEG files, you'd better pick a professional JPEG recovery tool, such as Apeaksoft JPEG Recovery. We hope that our guides and suggestions are helpful to you. And if you have more questions related to JPEG repair, please leave a message below this post.