"I have stored a lot of pictures, music and some movies on my hard drive, but yesterday I delete the media folders accidentally when I organized the disk, is there any way to make media recovery? Please help."

In this digital world, entertainment is available to more people at any point than ever before. We listen to music, watch movies and TV shows, and edit photos on local or external hard drives. Media files usually take up much storage and are easy to disappear by accident deletion, virus attack or other reasons. Digital data recovery from hard drive, media card, flash drive and other storage devices is possible and is not a crazy thing to try to do. In this tutorial, we are going to tell you the best way to make media recovery.
The best media recovery software
Apeaksoft Media Recovery is the best digital data recovery software. Its key features include:
1. Easy to use. This media recovery tool is able to get back lost media files from your internal and external hard drive in one click, so even novices could grasp it in a few seconds.
2. File recovery in various situations. It could get back media files easily; no matter your media files are lost due to mistake operation, accidental deletion, virus attack, file software corrupt, or disk format.
3. Support a variety of data types and formats. It covers all image, video, and audio formats, like JPG, ICO, PNG, BMP, GIF, PSD, TIFF, RAW, MP4, MP3, WAV, AVI, etc.
4. Lossless recovery. With the best digital data recovery application, you can restore deleted media files in original format and quality.
5. Preview for selectively recovery. After scanning, you can look at all lost media files organized by types and formats and decide to recover all of them or several specific items.
6.Quicker and lighter. This media recovery tool is lightweight and could restore lost media files quickly and safely. You do not need to worry about privacy leakage.
7. Moreover, Media Recovery is available to 10/8.1/8/Vista/XP, and a variety of file systems, like NTFS, FAT16, FAT32, exFAT, EXT, etc.
In short, the best media recovery software almost equips all features you are looking for.
How to recover deleted media files with Media Recovery
First of all, you may wonder whether it is possible to recover media files like videos. Media files that get deleted are not usually really removed from the storage media but are instead just hidden and waiting to be overwritten by new data. That gives us chances to recover deleted media files. However, without professional software, we cannot see the deleted media files. That is why Apeaksoft Media Recovery is necessary for media recovery.
On the other hand, the lost media files are recoverable before they are overwritten. So, stop what you are doing once you discover that media files are gone. And go to the desktop on your computer to check if they go to the Recycle Bin. If not, download the latest version of Media Recovery and follow the onscreen assistant to install it on your PC. Our step-by-step guide below could help you to make media recovery within a few minutes.
Step 1. Scan entire disk to look for deleted media files.
If your media files stored on an external storage device, connect it to your computer. Start the best digital data recovery software when you found media files were deleted. There are two sections on the home page, data types and locations. Locate to the data types section, and tick the checkboxes on Image, Audio and Video. Then go to the locations area, and select where you saved these deleted media files originally, such as hard disks or removable drives. Media Recovery will work as soon as you click on the "Scan" button at bottom right corner.
If computer does not detect the external device, update the Windows drivers, change the file system and drive letter and try again.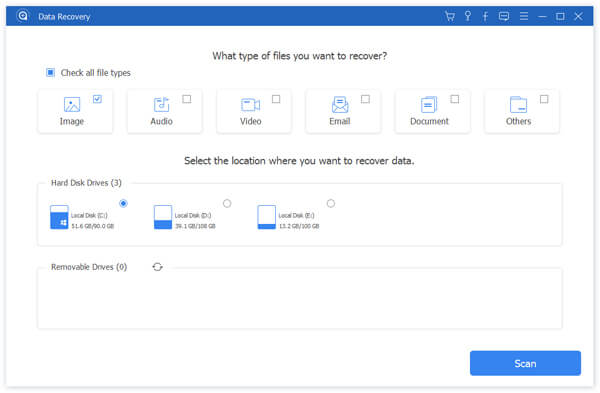 Step 2. Preview files before memory recovery.
After quick scanning, you will be brought to the result window. And the recoverable media files will be organized by formats. For example, click on the Video option on left side ribbon, and you will get several folders named AVI, MOV, MP4, 3GP, WMV, FLV, etc. If go to the Audio tab from left sidebar, you can see MP3, WMA, WAV, and other folders depending on what media files stored on your device. Moreover, the "Filter" feature at very top ribbon could help you to find the media file that you want to recover quickly. All you need to do is to enter the key words related to the deleted files and press the "Enter" key to search for it.
If you cannot find the desired data, click on the "Deep Scan" button at upper right corner. It will take more time to scan the hard drive deeply and find more recoverable media data.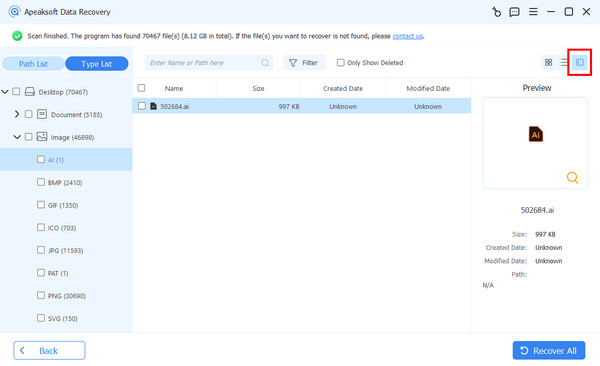 Step 3. Make media recovery in one click.
To recover media files from hard drive, select all desired files by ticking the corresponding checkboxes, or you can select entire folders. Click on the "Recover" button to start media recovery. Wait for the process to finish, your media files will be saved to another location, hit the "Open Folder" button on Recovery Finished window to open the location. Then you can view, copy and paste, or edit your media files as usual.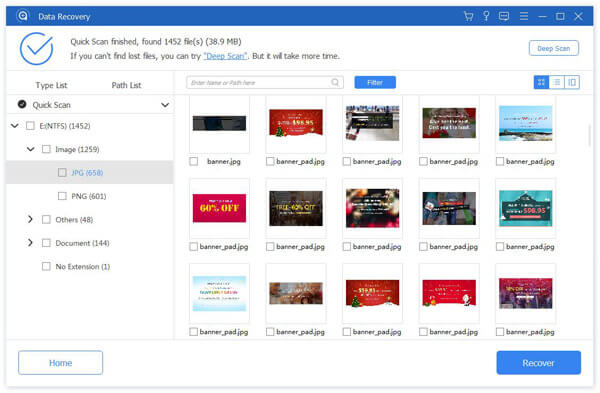 Media Recovery is not only able to recover media files, but also available to emails, documents and other files recovery. Plus, it does not have limitations on how much data recover. And the ability to only recover media files makes Media Recovery faster than other data recovery software.
Conclusion
It is annoying that delete your favorite music, photos or movies by accident. Luckily, there is an easy to use digital data recovery, Apeaksoft Media Recovery. Though it offers a lot of professional features on media recovery, the process is rather simple. According to our lab testing, it could get back almost all media files. Of course, the success rate of media recovery depends on how long ago the files were deleted. So, we suggest you to try Media Recovery as soon as you find the media files disappeared. That could enhance the data recovery rate and get back as many files as possible.