"I have a digital camera, and I usually take photos with it; however, recently I encountered a problem. I took several photos at best friend's birthday party, but I pressed the delete button by mistake and removed important photos, how to restore memory card of digital camera? Please help."
Though we use memory every day, most people are not familiar with this conception. It is a general term for a class of tools, which is used to keep important files, precious photos, and other recordings for our valuable memories. There are a variety of types of memory cards on current market. Digital camera memory cards, Micro SD cards, USB flash drives, and TF cards are some common types. And we can see and use them almost everywhere in this information age.

As memory card penetration growing, more and more people have encountered the problem of accidentally deleting important files from memory. But don't worry! Developers have realized such problem and developed professional memory card recovery software.
In this tutorial, we are going to talk about the knowledge related to how to restore memory card. If you are a photography enthusiast or using memory card every day, it is worth to spend a few minutes to grasp this useful skill.
Part 1

: The Best memory card recovery software

There are many memory card recover tools on market and it is difficult to discover the best one. We have tested most popular memory card data recovery software in our lab in order to identify the best one. According to our testing and hundreds of users' report, Apeaksoft Data Recovery is the best memory card recovery software.

Its key features include:
1. Easy to use. This memory recovery tool is able to get back lost files from your memory card in one click, so even novices could grasp it in a few seconds.
2. File recovery in various situations. No matter your files lost due to mistake operation, accidental deletion, virus attack, software corrupt, or memory format, it could recover them easily.
3. Support a variety of data types and formats. It works for all images, videos, audios, documents, and archive formats, like JPG, PNG, BMP, GIF, PSD, TIFF, RAW, MP4, MP3, WAV, AVI, DOC, ZIP, etc.
4. Lossless recovery. With the best memory recovery application, you can restore deleted files in original conditions, including format and quality.
5. Preview for selectively recovery. After quickly scanning, you can look at all lost files organized by categories and formats and decide to recover all of them or several specific ones.
6. Quicker and lighter. This memory recovery tool is lightweight and could restore lost files quickly and safely. You do not need to worry about privacy leakage.
7. Moreover, Data Recovery is available to 10/8.1/8/Vista/XP, and the file system NTFS, FAT16, FAT32, exFAT, EXT, etc.

In short, the best memory recovery software almost equips all features you are looking for about restoring memory.
Part 2

: What happens when you delete a file?

Memory card is a kind of storage medium. But many people are not sure whether they can recover files once they were deleted. I mean that deleted files will go to the Recycle Bin on computer, but memory card does not have such feature. So, what happens when we delete a file on memory card? Is it possible to get deleted files back?

The memory card keeps track of where files locate through index. Each file and folder on your memory card has an index to tell where the file's data begins and ends. When you delete a file, your memory card removes the pointer and marks the space containing the file as empty. From the view of file system, the file is no longer present on your memory card and the space is waiting for new data.

Why memory card does not erase the deleted files immediately? The answer is pretty simple. Deleting the index and marking the space empty is faster. In contrast, erasing the data of a file on memory card spends longer.

On the other hand, that also gives you chances to recover deleted files from memory card.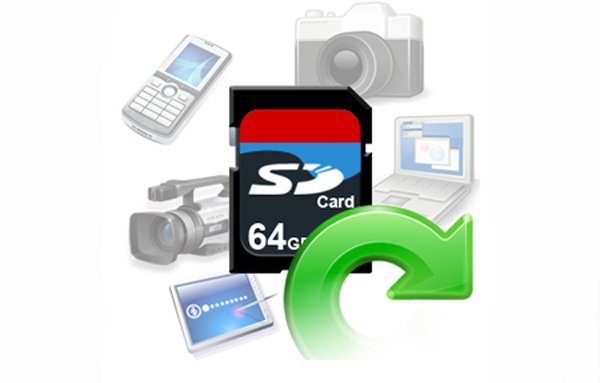 Don't Miss: How to recover Photoshop file
Part 3

: Tips to enhance the chances to recover deleted files from memory card

In addition to use the best memory recovery software, there are several tips could help you increase the chances of card recovery, such as:

1. As mentioned, you can recover memory before the files are overwritten. So, stop what you are doing when you discover that your files have been gone from memory card. That could prevent deleted files from being overwritten.

2. If you use your memory card on computer and delete your files, go to the Recycle Bin to check whether they stay in there.

3. Always follow the professional guides to restore memory card and get back deleted files.
Part 4

: How to recover data from memory

In this part, we will show you how to recover various data from memory card. And we use photos as the example to introduce the workflow.

Step 1. Scan entire memory card to look for deleted photos

Download the latest version of Data Recovery and install it on your computer. And plug your memory card into your computer as well. Launch the best memory recovery software when you found important files disappeared. On the home interface, you will get two parts, data types and locations. Firstly, navigate to the data type area, and tick the checkboxes in front of the "Image" option. Then go to the location area and select the memory card in "Removable Devices" section. Data Recovery will work as soon as you click on the "Scan" button.

If you cannot find your memory card in Data Recovery, there are several ways to fix it.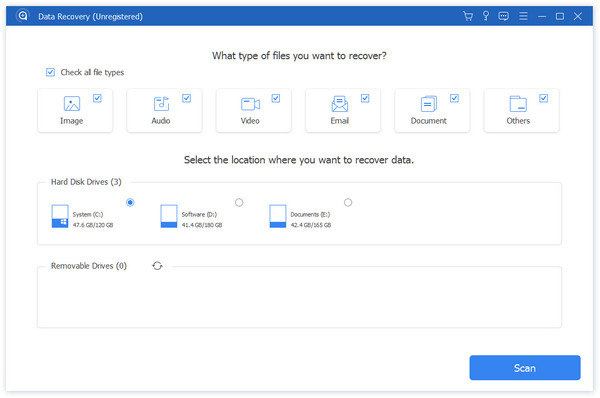 Step 2. Preview photos before memory recovery
After quick scanning, you will be brought to the result window. And the recoverable photos will be organized by formats. For example, click on the "Image" option on left hand column; you will get several folders titled JPG, ICO, PNG, GIF, etc. You can open each folder and preview photos. Moreover, the "Filter" feature at top ribbon could help you to find the photos that you want to recover quickly. Enter the key words related to the deleted photos and press the Enter key to search for it.
If you cannot find the desired photos, click on the "Deep Scan" button at upper right corner. It will take more time to scan the system deeply and find more recoverable data.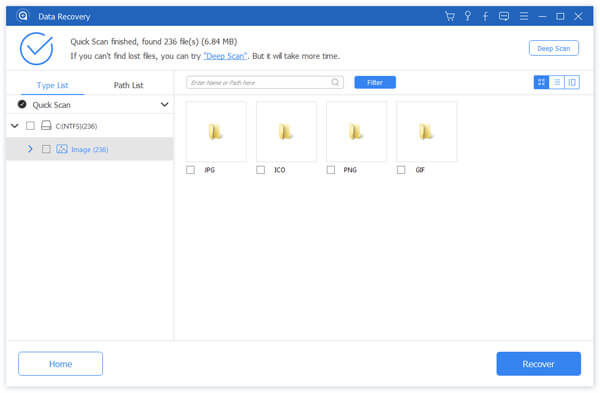 Step 3. Recover photos from memory card in one click
To restore deleted photos, you can check the box in front of the title of each desired photo or select entire folder. Click on the "Recover" button to start restoring memory card. When it is done, hit the "Open Folder" button on Recovery Finished window to open the destination. Then you can browse, copy and paste, or edit your photos as usual.
Besides photo recovery from memory card, Data Recovery is available to get back videos, documents, archives and other files from memory card.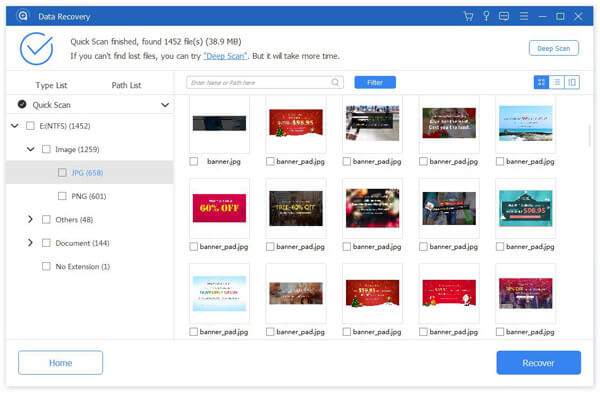 How to fix memory card not showing up
There are several reasons why memory card not showing up, such as drivers are outdated, memory card corrupts. Follow the guides below to get rid of this problem:
1. Remove the memory card from your computer and try it again. If you use the memory card reader, try another. Poor contact is one of the most common factors causes memory recovery failure.
2. When a memory card drive is outdated, your computer will not recognize it. At this time, insert your memory card into your computer, right click on My Computer on your desktop and select System Properties. Find and unfold device manager in the taskbar and hit the plus icon next to the USB controller option. If it marked a yellow warning icon, right click on it, choose update driver software and then hit automatically search for driver software online. After up driver to date, try memory recovery again.
3. To fix the memory card error, put the card into your computer, open the Start menu and go to Control Panel. Click Administrative Tools and then hit Computer Management. Go to Disk Management when the window opens, and then find your memory card in the drive viewer. Hold Win + R to open, enter cmd in the box and hit Enter to open command window. Input chkdsk D: / f and press Enter key. Then you can access your memory card normally.
Part 5

: Common causes of data loss on memory card

As you can see, though it is not as hard as to recover files from memory card, it is worth to understand what causes data loss.
1. Delete files by accident. Similar to hard drives, many people have encountered the problem of data loss on memory card due to delete accidentally. Luckily, these lost files can be restored by the best memory recovery software.
2. Physical or electronic component damage. Though memory cards do not have moving parts, but the components are easily damaged from use over time, by moist and impacts.
3. Bad sectors. As a digital device, material detects can be affected by the reliability of a memory card. The common failure points on a bad sector could cause data loss on memory card as well.
4. Data loss caused by format.
5. File corruption generated by software or memory card errors. Malware, virus, bugs in your memory card and other software issues could cause file loss on memory card too.
These problems are unexpected and could happen at any time, so we suggest you to back up your files on the memory card to external storage devices, cloud services, or system images regularly.
It cannot be denied that memory card is convenient and could save a lot of files, like photos, videos and documents, but it is not a reliable storage. Many experts suggest that people should back up the data on memory card. And there are several backup options:
1. System images or File History. Microsoft has introduced the system image feature into Windows 7. File History is the alternative of system image feature on Windows 10/8/8.1. With these features, you do not need to install any third party tools on your computer. And it is convenient to do memory card recovery from the backup.
2. Cloud services. There are many cloud services on market provide free storage capacity, like Google Drive, One Drive, Dropbox, and more. They do not take up any space on your computer, and you can access lost files on computer and Smartphone at anytime and anywhere.
3. External storage. If you have an SSD drive, it is a good place to back up your memory card. Compared to USB flash drive, Micro flash card and other memory storage, SSD drives are more reliable. Besides, DVD disks are available to create memory backup.
If you are using memory card for digital camera, transferring data, and more, it is time to make a backup for it.
Conclusion:
Based on the tutorial above, you might understand if you can recover memory card, how to restore memory, what you should do to prevent from data loss on memory card. To be honest, memory card is a popular storage device in our daily life and workplace. When taking photos with a digital camera, the memory card allows you to save thousands of photos. It is also a convenient medium to transfer data between different computers. Plus, most car audios supports memory card too. So, file loss on memory card could cause many problems, like lose important information. Fortunately, it is possible to get back lost files from memory card, if you use the right tool. We have shared the best memory card data recovery software in this post, Apeaksoft Data Recovery. Any time when your files are wiped from your memory card, follow our guides to restore it effectively and quickly. If you have more questions about memory data recovery, feel free to leave a message below.