When you downloaded some PDF files online, which turns out to be corrupted or damaged. It should be important to know how to repair PDF files as for the case. Any file can be corrupted, so is PDF. And if you do not back up your data, finding out something corrupted can be a nightmare. Most people do not back up PDF files, partly because they are not changeable. In this tutorial, we are going to look specifically at PDF recovery.

Part 1

: What is a PDF file?

PDF, stands for Portable Document Format, is a file extension developed by Adobe Systems. It can contain not only text and pictures, but also interactive elements, hyperlinks, embedded video and more.

PDF can be used in product manuals, eBooks, scanned documents, and other files. Since PDF files do not rely on the software, operating system and hardware created them, they are available to all devices and file systems and look the same.

Word, Excel, PowerPoint and a lot of programs support to save files in PDF. And most people use Adobe Acrobat Reader to open a PDF. Actually, most web browsers, such as Chrome and Firefox, can load PDFs as well.

A lot of facts could lead to corrupt PDF file, the most common ones include:

1. Sudden interruptions during download or transfer PDF files, like power off, system crash and more.

2. Virus attack. If the PDFs are infected by virus or malware, they may be damaged or erased.

3. Bad sectors. After you download a PDF and then save it on a bad sector, you cannot open the file normally.
Part 2

: Online PDF repair tool to repair corrupted PDF

When your PDF file is corrupted or damaged, the online PDF repair tool is an option to get back your data.
Top 5 online PDF repair tools
Sejda PDF Repair
Key features:
1. Have both online and desktop program version.
2. Repair PDF file up to 200 pages less than 50MB.
3. Fix 3 PDFs every hour for free.
4. Upload PDF from computer, Dropbox and URL.
PDFResizer's PDF Repair
Main features:
1. Upload PDF from local hard drives.
2. Support a wider range of file formats.
3. Repair corrupt PDF up to 100MB (Learn how to compress PDF file size here.).
4. Offer a variety of tools to fix PDF.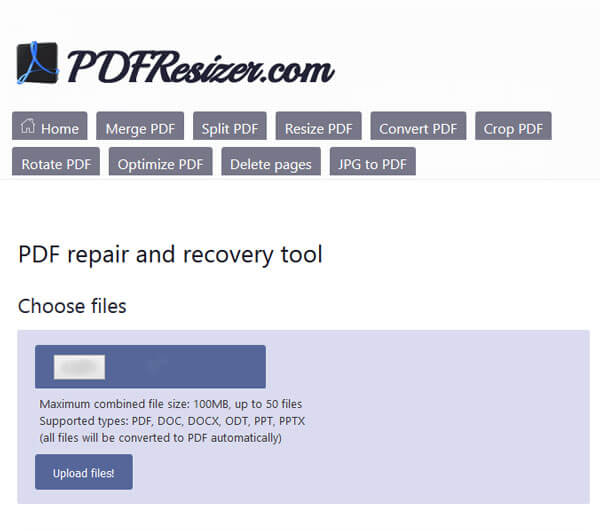 PDF-online.com's PDF Repair Tool
Basic features:
1. Repair damaged PDF online for free.
2. Analyze corrupted PDF separately.
3. Recover entire PDF or several pages.
4. Rebuild the streams or fonts.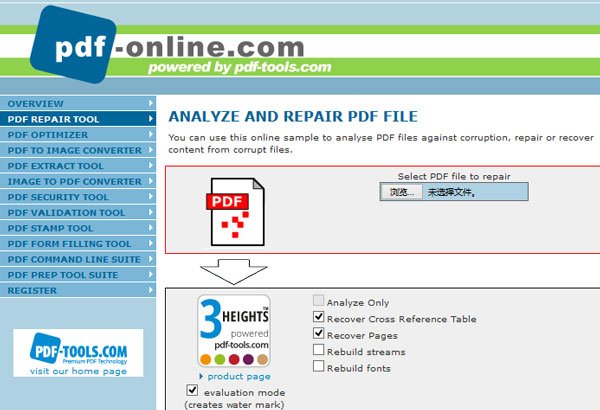 PDF2GO
Principal features:
1. Repair corrupt PDF from local hard drive, URL, cloud services.
2. Remove the PDF from server after repaired.
3. Support large PDF files.
4. Free of charge.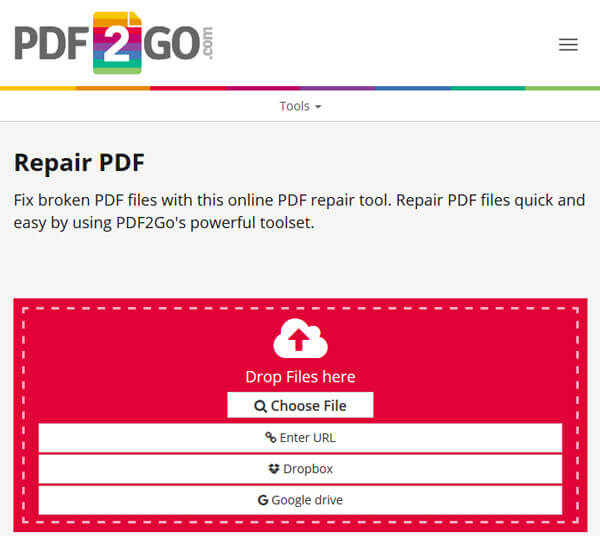 Online.Officerecovery's PDF Repair
Key features:
1. Fix corrupt PDF online for free.
2. One-click repair.
3. Offer paid options.
4. Work on large PDF files.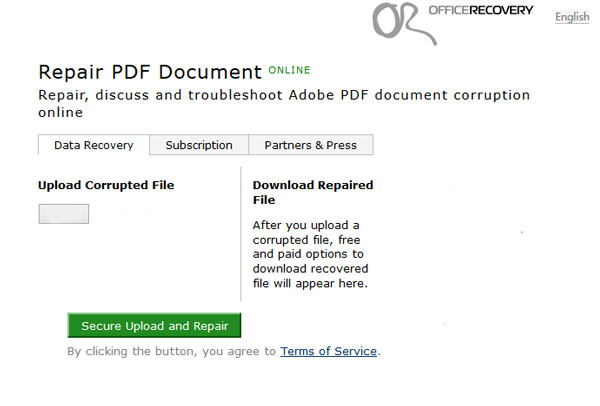 How to repair corrupt PDF online
We use Sejda PDF Repair to show you how to fix corrupted PDF online.
Step 1: Type www.sejda.com/repair-pdf in the address bar of your browser and click on the "Upload PDF files" button. If you want to repair PDF from URL or cloud services, expand the "downward" icon next to the button.
Step 2: On the Explorer, locate to the corrupted PDF, select it and click "Open" to upload it.
Step 3: Then click on the "Repair PDF" button to initiate repairing. When finished, click on the "Download" button to save the result.
Part 3

: How to recover PDF file

According to our testing, online PDF repair tools are not always fix corrupt PDF successfully. From this point, we recommend Apeaksoft Data Recovery. It is the best PDF recovery software with a lot of advantages:

1. Easy to use. This PDF recovery tool is able to recover damaged PDF files from local and external hard drives in one click.

2. Damaged PDF recovery in various situations, such as mistake operation, accidental deletion, virus attack, software crash, or hard drive format.

3. Support a variety of file formats. In addition to PDF, also works for all image, video, audio, document, email and archive formats.

4. With the best digital data recovery application, you can recover damaged PDF files in original format and quality.

5. Preview for all PDF files organized and decide to recover all of them or several specific ones.

6. Quicker and lighter. This PDF recovery tool is lightweight and could restore PDF files quickly and safely.

7. Moreover, Data Recovery is available to 10/8.1/8/Vista/XP, and the file systems, like NTFS, FAT16, FAT32, exFAT, EXT, etc.
How to recover PDF file
Step 1: Scan entire hard drive to look for PDFs
Download the best PDF recovery tool and install it on your PC. If the corrupted PDF is saved on an external storage, connect it to your computer.Start Data Recovery when you want to recover damaged PDF files. There are two parts on the home window, data type and location. Locate to the data type section and check the box of "Document" option. Then go to the location section and select where you save the PDFs. Click on the Scan button to let Data Recovery work.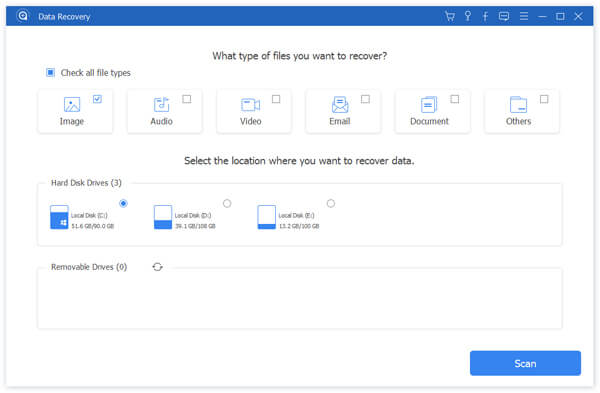 Step 2: Preview files before PDF recovery
After standard scanning, you will be brought to the result window. Go to the Document tab from left side bar, you will see several folders labeled PDF, DOC, HTML, PPT, etc. Open the PDF folder; you can look at all recoverable PDFs. If there are too many files, use the "Filter" feature at top ribbon to find the PDF file that you want to recover quickly. Plus, the "Deep Scan" feature could scan the drive deeply and find more recoverable data.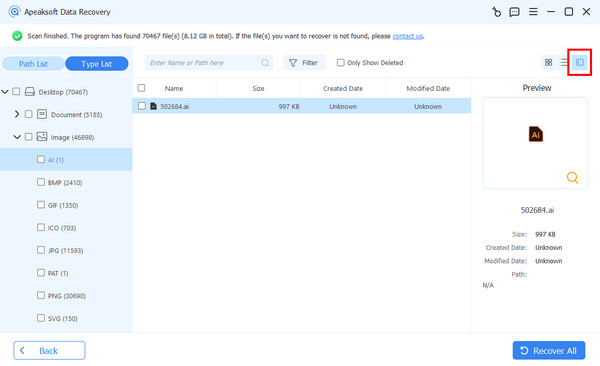 Step 3: Repair corrupt PDF in one click
Select all the PDF files to get back or the entire PDF folder, and click on the Recover button to start repairing corrupt PDF and recover your data. Then you can open your file normally.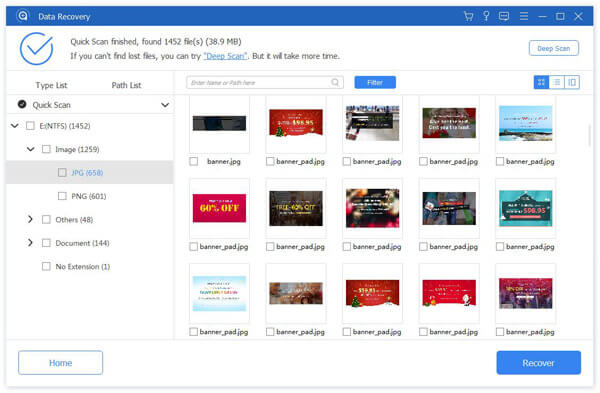 You may also want to know: How to repair Lexar usb driver and rcover data
Conclusion
Generally speaking, it may be possible to completely repair the entire PDF file and restore it to original condition, or you may be only able to extract a part of elements, depending on what you use. We have shared the best PDF recovery tools, like Apeaksoft Data Recovery. You can select your favorite one and repair damaged PDF easily.