Nowadays, you store various information and moments in Android devices, such as meeting records, heartfelt family outings, or beautiful pictures of relatives and so on. However, the Android phone sometimes goes wrong no matter how deeply you depend on it. Maybe your phone will lose data all in a sudden. It must be a great loss if you did not back up them in advanced. If you have already backed your data up regularly, what should you do to make a phone data recovery? Here come the specific solutions on phone data recovery.

Part 1

: Best phone data recovery tool - Apeaksoft Android Data Recovery

A reliable and professional program is never too late to be adopted. Apeaksoft Android Data Recovery is a recommended phone data recovery tool to help you successfully make a phone data recovery. Android Data Recovery, without doubt, is the best Android Data Recovery software, which aims to recovering deleted phone data from Android phone or SD card on Windows 10/8/7/Vista/XP and numerous systems. What's more, it enables you back up Android data including the deleted to computer.

Free Download Free Download

Key features:

1. Have multiple functions: recover deleted data, retrieve lost photos, music, videos and WhatsApp file and so on.

2. Support various devices and models: it can restore deleted data from Samsung, HTC, LG, Huawei, Sony and so on.

3. Forever preservation: once you back up Android data to PC or Mac, you are free from worrying about they might be lost again.

4. Easy operation: simply get your data back with just a few clicks.

5. Brief and beautiful UI design helps you locate what you want directly.

With so many advantages, Apeaksoft Android Data Recovery enjoys a large popularity among Android users.
Part 2

: How to recover Android data with this best Phone Data Recovery

Then, want to recover phone data with simplest methods? How to recover phone data, especially recover Android data with Apeaksoft Android Data Recovery? Follow the steps below by using Apeaksoft Android Data Recovery to clarify your confusions.

Step 1. Download and launch this best Phone Data Recovery

Download Android Data Recovery, and install this excellent phone data recovery tool step by step as its introduction says. After you are done with installing this software, it will automatically launch itself immediately on your computer.

Step 2. Connect phone to computer and scan

Plug the Android smartphone to your Windows or Mac PC by using a workable USB cable.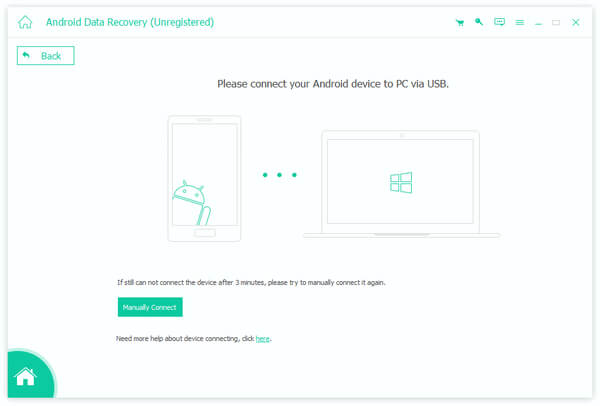 Step 3. Choose data to recover
Then prepare to recover the phone data you want such as pictures, videos, messages, contacts and more other data. Click Next button to begin to scan the phone.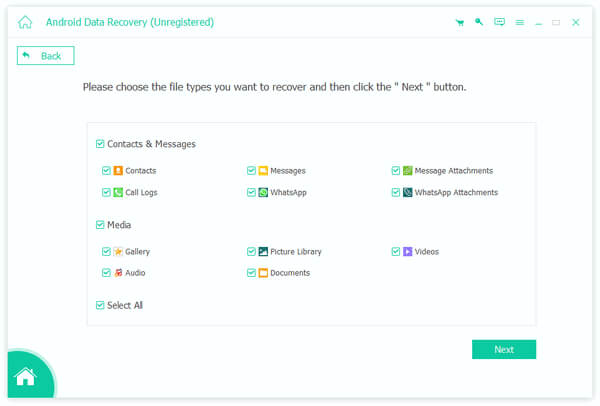 Step 4. Further selections and recover
When you have already scanned the data present on the device, remember to select the specific data type you want to recover. What's more, you are able to view the details of those contents and choose the exact items you want to retrieve from the phone. Click Recover to save and recover the phone data in your phone to PC.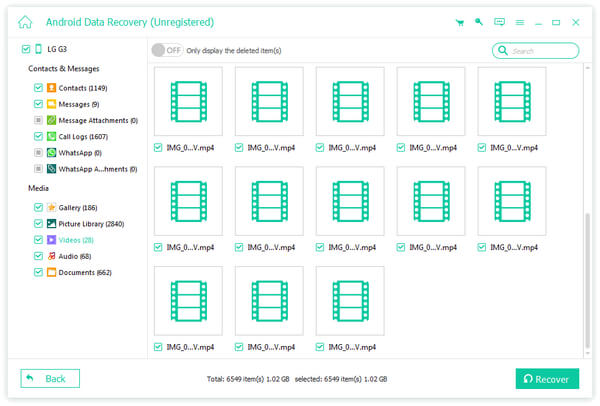 This powerful Android Data Recovery can also enables you to backup Android contacts with ease.
Part 3

: Top 5 phone data recovery software

If you are seeking for other phone data recovery methods, here we also list some other phone data recovery programs you can take into consideration. The article lists 5 of the most popular and efficient phone data recovery, you can choose the one that is the most suitable for you.
1. Undelete 360
Undelete 360 is the one to use for the recovery of phone data. No matter where you make a storage of your data, smart phones, cameras, memory cards or else. This software can regain data from almost all of the storage locations.
Key features:
1. It can support the recovery of both folders and files.
2. It also improves the speed of phone data recovery process from memory card by using a modern algorithm.
Pros:
1. Free and fast.
2. It can achieve file wiping which is an added feature of it.
3. It can search filters in an awesome way.
Cons:
In some complex situations, Undelete 360 may not find some data as you wish.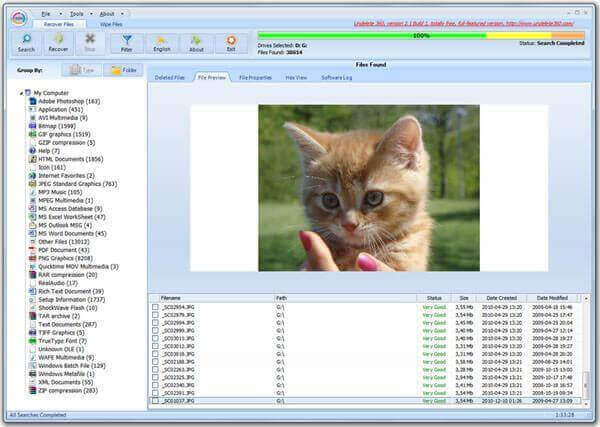 2. Wondershare Dr.fone for Android
Wondershare Dr.fone for Android, another efficient phone data recovery software in the software market, has brief interface and easy to use operation in order to make it a reality for anyone to recover contacts, photos and some other data from Android phones within the shortest time possible.
Key features:
1. Large platform: it is compatible with many versions of Android phones, HTC and LG.
2. It can recover deleted data like messages and contacts with just a few clicks.
Pros:
1. It is compatible with many phone brands.
2. Its fast recovery plays a role in recovering the majority of the contents.
Cons:
1. Some of its older versions failed to be compatible with new Android versions perfectly.
2. Limited operating systems: it can only apply to Windows 10/8.1/8/7/Vista/XP, which is insufficient compared to other phone data recovery software.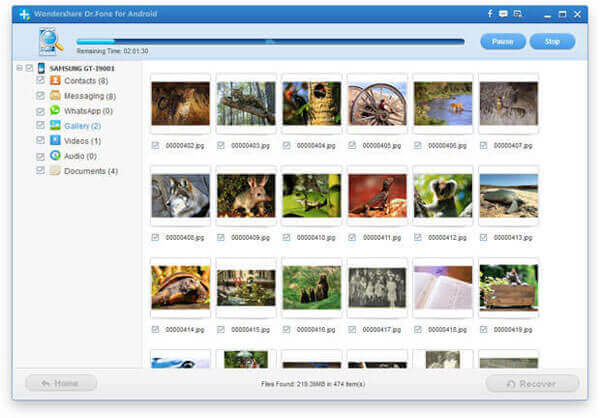 3. Cardrecovery
Cardrecovery is one of the leading useful apps in recovery of phone data, such as photos from phones or memory cards in digital cameras.
Key features:
1. Safety ensured: it performs read-only tasks and that make no negative influences on your memory cards.
2. Various supports: it supports a variety of memory cards including SD Card and many others.
3. Available in many operating systems: such as from Windows 98/2000/2003/XP/ to Windows 7/8.
Pros:
1. Simply restore data from any corrupt SD cards.
2. Recover photos of any format you want.
Cons:
1. If you want to use its full edition, you need to pay for it, but it is quite expensive.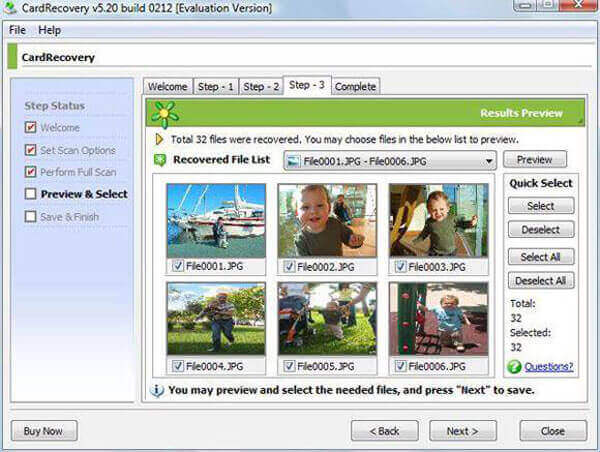 4. Recover My Files
It is a simple-to-use phone data recovery software which can recover most of the data. What's more, it can also retrieve data, including photo, image files and so on, from hard drives, digital cameras.
Key features:
1. Fast, stable, easy to use, and you are not required to have any prior technical skills before you use it.
2. There is no requirement for operating systems.
Pros:
1. Restore all types of data without hinderance.
2. It also has the ability to conduct a deeper search than others.
Cons:
1. The search is allowed in limited options which may have an impact on the users' experience.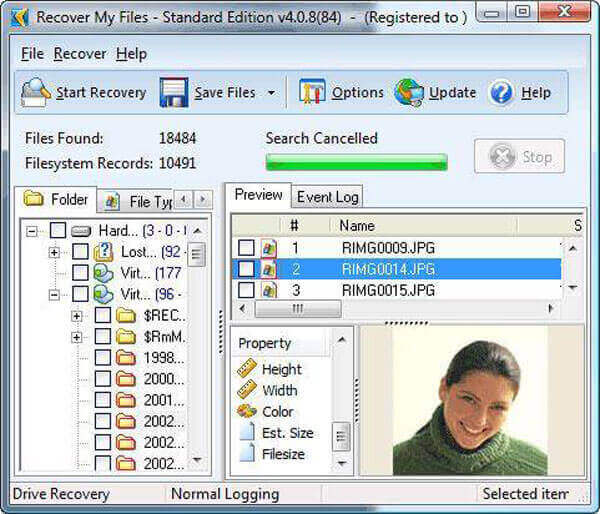 5. Aiseesoft Android Data Recovery
This effective software is designed in the recovery of phone data, such as deleted mails, photos, videos, audio files and so on. Wondershare Data Recovery is user-friendly, because you do not need to learn other skills before using this software. This phone data recovery software is able to restore 500 and more different formats of file consisting that exist in your Android phone.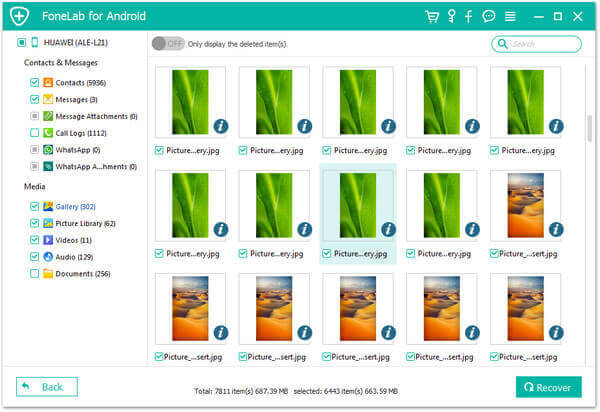 Key features:
1. Recover from any storage device effectively, completely and safely.
2. Supports data recovery from memory card, recycle bin, hard drive, flash drive and so on.
3. Available in numerous different situations: have the ability to recover phone data for sudden deletion, hard drive corruption, virus attack, system crash, etc.
Pros:
1. Better service compared to that of other phone data recovery software.
2. User-friendliness: easy and simple interface and operations.
3. Reliable to use.
Cons:
1. Somtimes rooting may fail.
If you are using an iPhone and want to restore recently deleted photos on iPhone, just check this post.
Conclusion
When you need to recover data for Android phone, Apeaksoft Android Data Recovery should always be the best solution. And you can also find some phone data recovery tools from the article to retrieve the data back from iPhone without backup. If you have any other query about the best phone data recovery, you can feel free to share more information in the comments.