"I just updated Windows 10 on my laptop, but after rebooting the NTFS partition showed up as RAW and asked me to format it, how to recover RAW partition? Please help."
One of the most common issues that happen on Windows PC is the storage device itself. Once the primary hard drive is corrupted, attacked by virus or Trojan, damaged by incorrect operations, the partitions may turn to RAW. What's worse is that you cannot change the partition from RAW to NTFS and keep all the data intact. Luckily, it is possible to recover data from a RAW partition with professional software. And in this tutorial, we are going to tell you the best way of RAW partition recovery.

Part 1. What is RAW Hard Drive
By default, RAW is the file system of CD-ROM. It sounds ok, right? However, it is well-known that Windows is compatible with the file systems, such as FAT and NTFS, but not RAW. Once the hard drive turns to RAW file system, it means that the file system of hard drive is no longer recognized by Windows. All file system drivers are unable to mount the file system as a drive and you cannot access the data on your hard drive. That is why people need RAW Drive Recovery.
The symptoms that partition turns to RAW include:
1. The disk is not formatted and you are asked to format it before use it.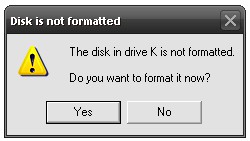 2. The hard drive is not accessible or the file system is not recognized.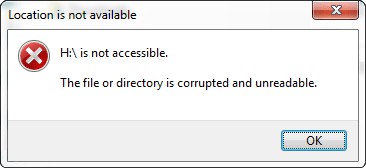 Part 2. Possible Causes for a partition to become RAW
1. Hardware damage. If there is something wrong in the key area of hard drive, the partition may be corrupted and become RAW.
2. Install operating system incorrectly. Many people reported that they encountered partition become RAW after updating or re-installing Windows operating system.
3. Virus attack. Our computer is reliable storage device; however, the virus, malicious programs and Trojan could destroy it easily. And that a partition becomes RAW is just one of the results.
4. Hard drives and partitions conflict. If you use too many hard drives and partitions in a single computer at the same time, the RAW partition problem may happen too.
Part 3. How to recover RAW partition with Apeaksoft Data Recovery
As mentioned before, without professional software, you cannot recover RAW partition. That is why we recommend Apeaksoft Data Recovery, which is the best RAW partition recovery software with many useful features, such as:
1. Easy to use. This RAW partition recovery tool is able to get back files from RAW partition in one click, so even novices could grasp it in a few seconsds.
2. File Recovery in various situations. No matter your partition turns to RAW due to mistake operation, virus attack, or file system corrupt, it could recover files easily.
3. Support a variety of data types and formats. It works for all image, video, audio, document, email and archive formats, like JPG, ICO, PNG, BMP, GIF, PSD, TIFF, RAW, MP4, MP3, WAV, AVI, DOC, ZIP, etc.
4. Lossless recovery. With the best RAW partition recovery application, you can restore files in original conditions, including format and quality.
5. Preview for selectively recovery. After quickly scanning, you can look at all files on the RAW partition organized by categories and formats and decide to recover all of them or several specific items.
6. Quicker and lighter. This RAW partition recovery tool is lightweight and could restore lost files quickly and safely.
7.Moreover, Data Recovery is available to Windows 10/8.1/8/Vista/XP.
In short, the best RAW partition recovery software almost equips all features you are looking for.
How to recover RAW partition with the best data recovery tool
In this part, we will show you how to recover various data from a RAW partition. And we use pictures as the example to introduce the workflow.
Step 1. Scan entire partition to look for pictures
Follow the onscreen instructions to install Data Recovery on your PC. When you found a partition turned to RAW, open the best RAW partition recovery software. You can see two parts on the home interface, file types and locations. Go to the file type area, select what you want to recover from the RAW partition, such as "Image". Then navigate to the locations area and choose the corresponding disk. Once click on the Scan button, Data Recovery will work automatically.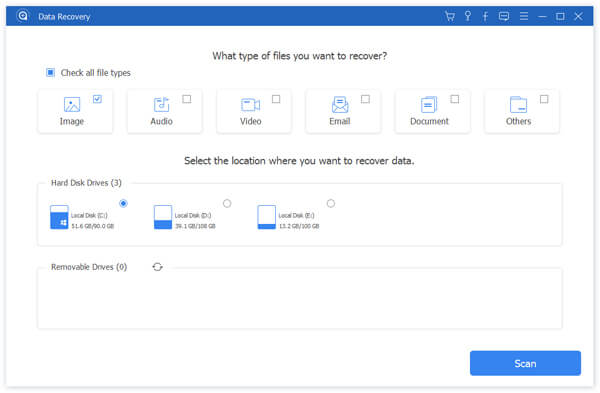 Step 2. Preview pictures before RAW partition recovery
You will be presented the result window when scanning is complete. All recoverable pictures are organized by formats. Click on the Image option from left hand side, you will see several folders on right panel titled JPG, ICO, PNG, GIF, etc. Open each folder and preview the pictures. Plus, the "Filter" feature at very top ribbon could help you to locate the pictures that you want to recover quickly by searching key words.
If you cannot find the desired pictures, click on the "Deep Scan" button at upper right corner. It will scan the partition deeply and find more recoverable data. Bear in mind that a deep scan will take longer time than standard scan.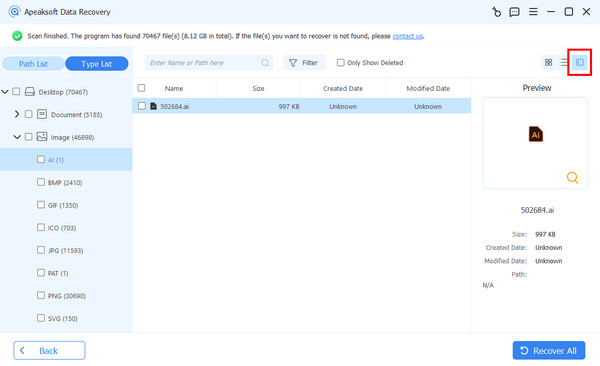 Step 3. Recover RAW partition in one click
To recover files from a RAW partition, select all files by ticking the checkboxes or you can select entire folder. Click on the "Recover" button to start RAW partition recovery. When it is done, your files will be saved to another hard drive, hit the "Open Folder" button on Recovery Finished window to open the destination. Then you can browse, copy and paste, or edit your files as usual.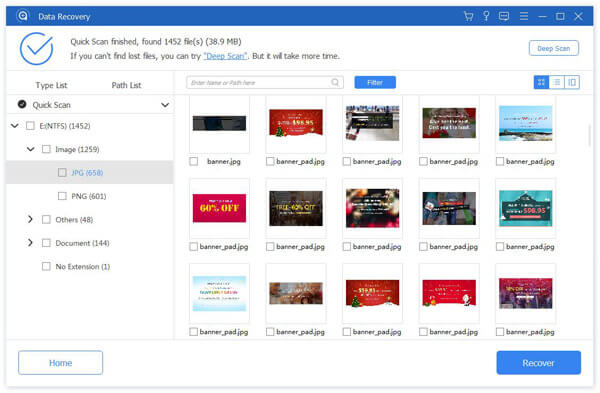 You may also want to know: Best Hitachi hard drive data recovery
Conclusion
Based on the introductions above, you might understand what is RAW, why your partition becomes RAW, and how to recover RAW partition professionally. According to our research, RAW partition is one of the most common issues on Windows PC. And the causes for a partition to become RAW vary a lot. The only way to turn a RAW partition to NTF, the file system supported by Windows, is format the partition. Before that, you'd better recover RAW partition with Apeaksoft Data Recovery to another hard disk. Then you can feel free to format the partition. If you have more questions related to RAW partition, leave a message below this article.