Avast Antivirus is one of the most popular antivirus programs that is committed to protecting the computer from attacks by malicious software, Trojan, or terrible viruses. It blocks most of the external intrusion; however, it sometimes quarantines or deletes "dangerous" files by accident. That's why many people looking for a way to retrieve files deleted by Avast.
There are several workable ways to recover Avast deleted files, regardless of the circumstances in which they were deleted. You can restore deleted files by Avast from the Virus Chest, or recover lost files with file recovery software that works even the files have been permanently removed without any backup. Read on to see how-to details.

Recover Avast Deleted Files
Method 1. Restore Avast Quarantined Files from the Virus Chest
In most cases, if a predefined Avast Antivirus scan detects a suspicious file or an active Avast Antivirus shield detects a suspicious file, the files will be moved to the Virus Chest, an isolated place where you can safely store potentially dangerous files. So, when you found your files are deleted by Avast, you can go to the Avast Virus Chest to have a check. If your deleted files are there, Avast allows you to restore them to their original location on your computer.
Note: Restoring files from the Virus Chest involves a certain amount of risk. Make sure that the file you want to recover is safe from malware.
Here's how to do it:
Step 1
Open Avast Antivirus, go to Protection, then click Virus Chest.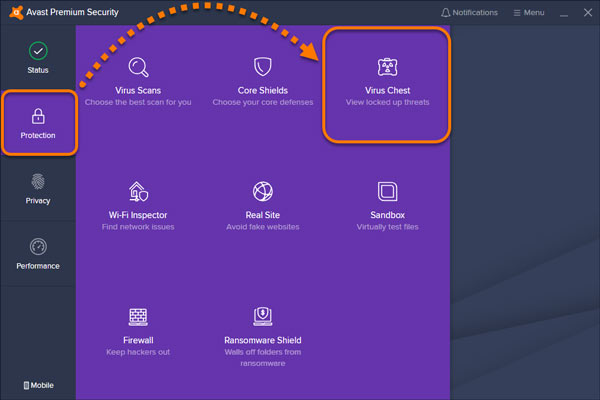 Step 2
Find the file you want to recover and tick the box next to it in Virus Chest.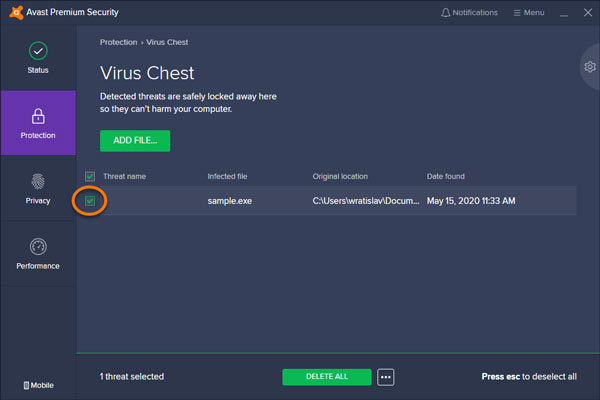 Step 3
Click the … (three dots) icon, then choose Restore.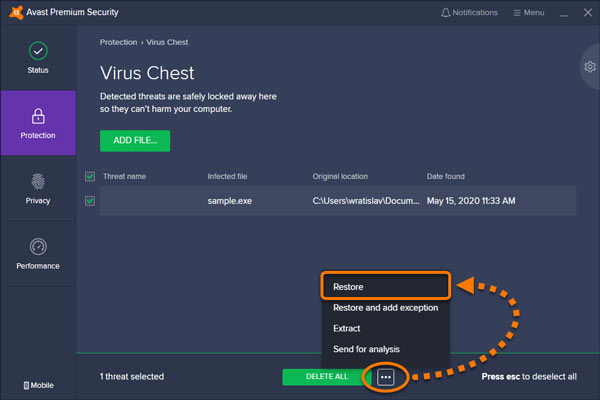 If you want to add the retrieved file to exceptions, just choose the Restore and add exception option.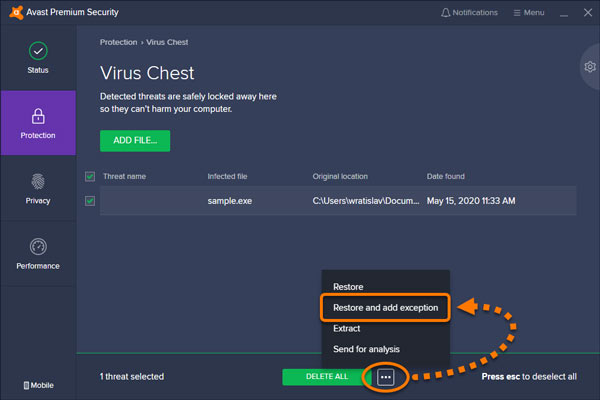 Step 4
In the end, just click CLOSE in the confirmation dialog that appears.

If the file deleted by Avast is not in the Virus Chest, then follow the other method, which is described below.
Method 2. Recover Avast Deleted Files with Professional File Recovery Software
You can retrieve deleted files from Avast Antivirus with an all-inclusive file recovery tool – Data Recovery. It is a trustworthy program specially designed for users to recover accidentally deleted files by antivirus programs like Avast, Norton, McAfee, etc. Here are some of its main features.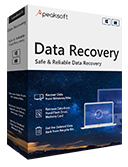 4,000,000+ Downloads
Recover files deleted by Avast, McAfee without missing even a single file.
Retrieve deleted files of any type, including photos, music, audio, videos, emails and more.
Recover data from the recycle bin, hard drive, flash drive, memory car, camera, etc.
Deep scan feature can find all hidden files no matter where they are.
Works on both Mac and Windows 10/8/7.
Step 1
Launch Data Recovery, then select the file types and the location where you have lost files after using Avast Antivirus. Click Scan to begin the procedure.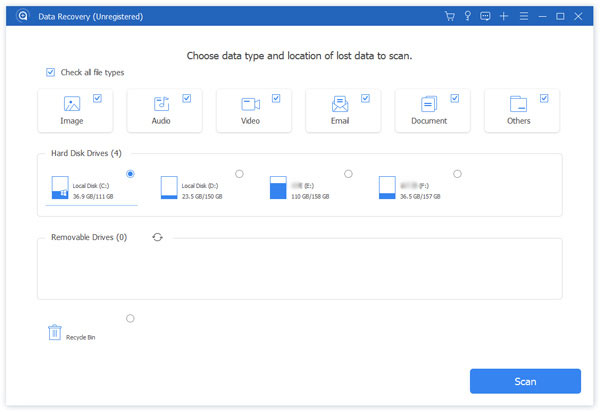 Step 2
Wait for a while, the scanning results appear. You can find the data from the Type List or Path List on the left panel.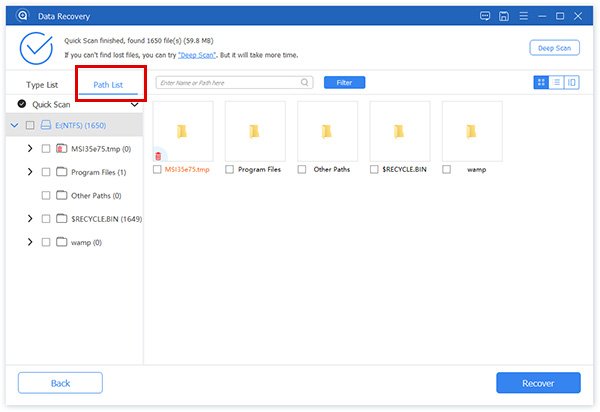 Note: If you fail to find the deleted files, you can make a deep scanning for your computer by hitting on Deep Scan in the top-right corner.
Step 3
Tick the box next to the file you want to recover, then click Recover to get back your Avast deleted files to your computer.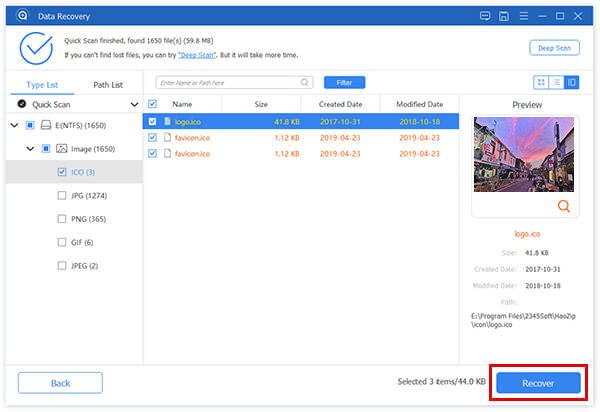 In a couple of minutes, you will have your files back. On top of that, you can also use this data recovery software to recover deleted files from Kaspersky or other antivirus applications.
FAQs of Recovering Avast Deleted Files
Does Avast automatically delete infected files?
If Avast 2015 detects an infected or suspicious file, it will try to repair it at first. Unfortunately, some files cannot be repaired so Avast will try to move the file to the Virus Chest. If the infected file refuses to move to the Virus Chest, it will be automatically deleted from your computer.
What is the Virus Chest?
The Virus Chest is a quarantined space. Files in the Virus Chest cannot run or access your system and data, so any malicious code contained within a file is unable to harm your PC.
Is it safe to restore files from Avast Virus Chest?
If you make sure that the file won't pose a high security risk to your computer, you can restore it from the Virus Chest. Or you can send files to Avast Threat Labs for further analysis, just in case.
To Sum up
After reading this tutorial, we believe that you have learned effective methods on how to recover Avast deleted files on your computer. Avast deleted files aren't necessarily gone permanently, but they can't be easily recovered unless you have professional data recovery software. If you can't find the Avast deleted files in the Virus Chest, download and use Apeaksoft Data Recovery to scan your hard drive for deleted files and restore lost data without much effort. You can also use it to recover files deleted by Norton, McAfee, or any other Antivirus applications.