When I found that my laptop hard drive was dead, I thought that I was about to pass out. Because all my photos were in that drive. And I didn't make a backup before. I have tried many methods, but none of them worked. Can anybody help me to get them back?
Are you facing the same problem? Do you want to recover your data from a dead hard drive? If so, please read this post carefully. We will help you analyze whether your hard drive is physically damaged and retrieve your precious data in the most reliable way.

Recover Data from a Dead Hard Drive
Part 1. How to Restore the Lost Data from a Dead Hard Drive
As long as your hard drive is not physically damaged, you still have a chance to recover your data from the dead hard drive. Here we sincerely recommend you try the most powerful hard drive recovery software, Apeaksoft Data Recovery, to get data off a dead hard drive. You can use it to rescue your important files like images, songs, documents, emails, videos, etc. with ease.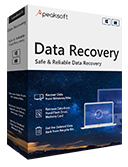 4,000,000+ Downloads
Recover data loss caused by a crashed/damaged/corrupted hard drive.
Restore lost files in original conditions, including format and quality.
Offer a preview list for selectively recovery after scanning.
Compatible with both Mac and Windows computers.
Step 1
Download & Install Apeaksoft Data Recovery
Free Download and install the latest version of Apeaksoft Data Recovery on your computer. Launch the software after the installation.
Step 2
Select File Type & Hard Drive
You will see all the file types and the hard disk drives (HDD) of your computer or laptop in the home interface. Tick the file types you want to retrieve and the hard drive you want to recover. Then click the Scan button.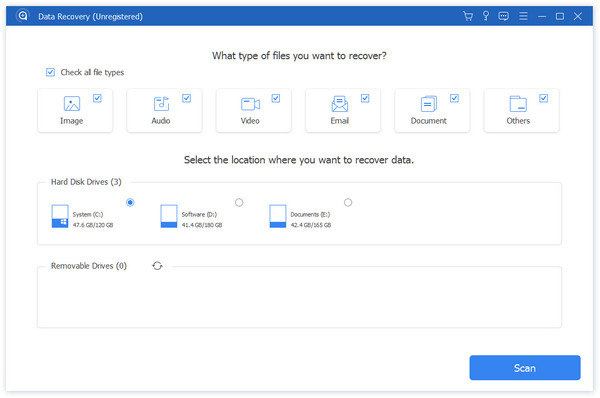 Step 3
Select Scan Mode
The first time of scanning is Quick Scan. If you cannot find the file you need, please select Deep Scan to scan your hard drive more thoroughly.
Step 4
Find the File You Want
After scanning, you will see a Type List which contains all the data that we have detected in your hard drive. Find the file you are looking for. If you cannot memorize the name of your file, you can click the Information to see the detailed info of the file.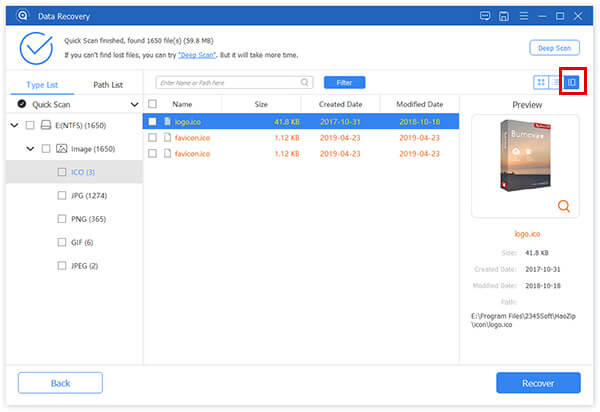 Step 5
Recover the Data
Select all the files you want to recover, and then click Recover. After that, choose a save path in the pop-up window. After recovering, the program will open the path automatically. You will see the recovered data there.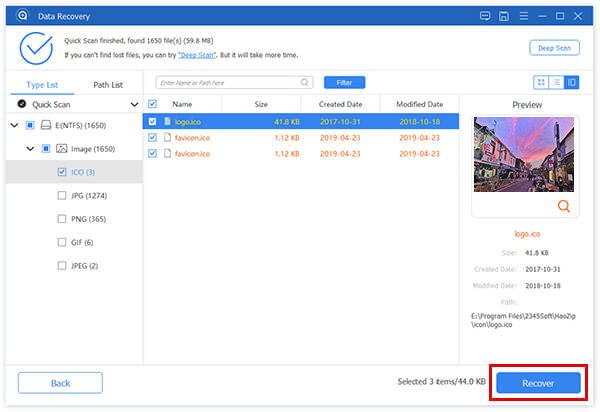 Apeaksoft Data Recovery can do more than restore files from a dead hard drive. You can also retrieve data from a formatted drive or repair your flash drive with this professional software.
Part 2. How to Know Whether a Hard Drive is Dead
Normally, when you find your hard drive not working, you may simply consider it dead. But sometimes, it could be a false alarm. So, you'd better check your hard drive before making another move.
1. Check the Connections
If it is your external hard drive that stops working, there may be something wrong with the interface or the cable. Please connect the drive to other ports on your computer. Or find a new cable and replace the original one with it.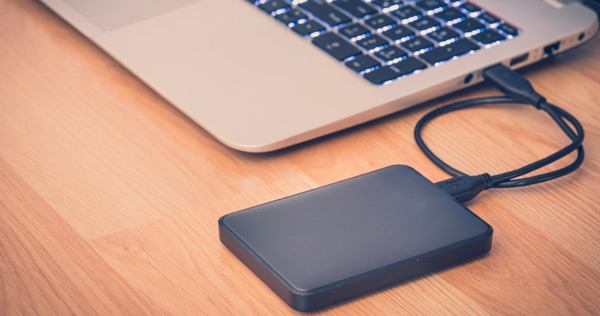 Like an external hard drive, the cables may interfere with the connection between the internal hard drive and the computer's motherboard. For example, if you drop your laptop accidentally, then you may find the hard drive cannot be detected anymore.
In this case, you'd better check the data and power cables. But before you start, you should shut down your computer and unplug the power cord. Be aware that hard drives are sensitive to static electricity, which means it can cause serious damage to your hard drive. That is absolutely the last thing you want. So, please do ground yourself to eliminate the static electricity.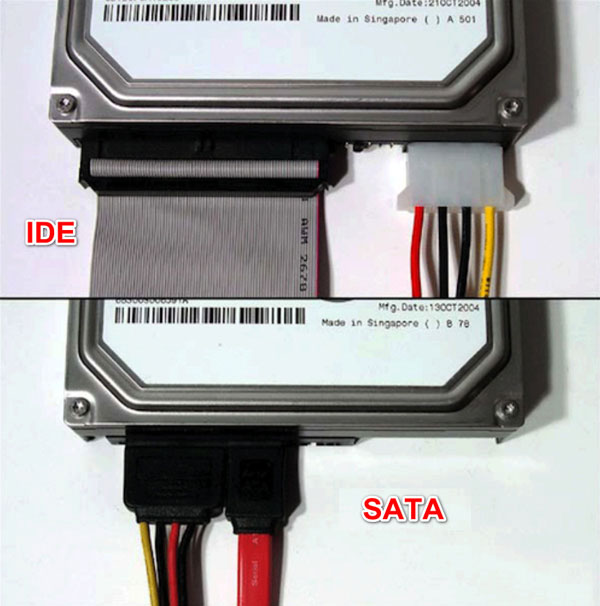 Then after you open the computer case, find your hard drive. As you can see in the picture above, there are usually 2 types of connections – one is called IDE, and the other is SATA. No matter which one you are using, just check the cables and make sure they are tightly connected on both ends. If the connections are fine, boot your computer again.
2. Listen to the Sound
Please listen to the sound that your hard drive makes while running. Some typical sounds, like thrashing, clicking, knocking, beeping, scratching, grinding, or other strange noises, indicate that your hard drive is in danger. It can be either internal or external damage.
Tips
If your hard drive makes those noises and thankfully your files are still be accessed, please
backup your data
immediately.
3. Pay Attention to Other Symptoms
When you try to access files on your hard drive, your computer is suddenly frozen for a long time. Or you find that some of your files missing, not readable, or their names change for no reason. Sometimes, you may receive a message saying that Sector cannot be found when you open the hard drive.
All of these could be signs of a dying hard drive. If you don't pay attention, your hard drive may be dead soon.
Part 3. FAQs of Recovering Data from a Dead Hard Drive
1. Can I recover data from a hard drive which is not detecting?
After checking the connections or accessing the drive with another computer, if your hard drive still cannot be detected, then it is hard to recover your data with any data recovery software. We recommend you contact a specialist for data recovery.
2. Does putting a hard drive in the freezer really work?
No, it doesn't. This is called "freezer trick" - stick the drive in a waterproof plastic bag and place it into the freezer. It was one of the popular home remedies to revive a failed hard drive decades ago. But if you employ this method now, you probably may make the problem worse.
3. Can I move my old hard drive to a new computer?
Of course. If the interfaces are compatible, you can install it internally. If the interfaces are not compatible, you may need to use an adapter.
Conclusion
In this tutorial, we have talked about how to recover data from a dead hard drive. If your drive is still detectable, you can use Apeaksoft Data Recovery to get your data back. However, if you find your drive is completely dead, then you'd better hire someone professional to do the job.
And please stay away from the weird tricks that you can find on the Internet, such as shaking the hard drive, hitting it onto the table, and placing it into your freezer, unless you want to destroy the hard drive permanently.
If you have any further questions, feel free to contact us.