If you just reinstalled Windows operating system on computer, in result, all the files were gone from hard drives, is there any way to recover deleted files Windows 10?
There are many factors could cause file deleted on PCs. In addition to operating system reinstallation, other common reasons include delete by accident and virus.

When something unlucky happens, ordinary people usually do not have effective solutions except headache. However, this is completely unnecessary since there are many ways to restore deleted files on Windows PCs.
First of all, your files are not gone if you just deleted them by mistake. They stay in your Recycle Bin until you remove them manually. This is the easiest way of deleted file recovery on Windows PCs, and it is feasible on all versions of Windows, including Windows 10. Microsoft has integrated the backup feature into latest Windows operating systems, so you can restore data from the backup image if you have made a backup for your computer.
In this tutorial, we are going to show you how to undelete files with Windows built-in features, and you can learn more options on how to recover deleted files on PCs.
Part 1

: Best Data Recovery for Windows 10/8/7/XP/Vista

If you are looking for the best data recovery software, Apeaksoft Data Recovery is the answer. Its main features include:

1. Easy to use. This data recovery application is able to get back lost files in one click, so even novices could grasp it in a few seconds.

2. File recovery in various situations. Whether your files are lost due to mistake operation, accidental deletion, virus attack, system crash, or hard drive format, it could recover them easily.

3. Support a variety of data types and formats. It works well for files recovery of videos, images, audio, documents, email and archive formats, like JPG, ICO, PNG, BMP, GIF, PSD, TIFF, RAW, MP4, MP3, WAV, AVI, DOC, ZIP, etc.

4. Lossless recovery. With the best data recovery application, you can restore deleted files in original conditions, including format and quality.

5. Not only hard drive retrieval, you can also get RAW drive recovery, flash drive recovery, memory card recovery, and more recovery easily.

6. Preview for selectively recovery. After quick scanning, you can look at all lost files organized by categories and formats and decide to recover all of them or several specific files.

7. Quicker and lighter. This hard drive recovery tool is lightweight and could restore lost files quickly and safely. You do not need to worry about privacy leakage.

8. Moreover, Data Recovery is not only a windows 7 file recovery tool, but also available to 10/8.1/8/Vista/XP, and available to do Windows undelete with the file system NTFS, FAT16, FAT32, exFAT, EXT, and more on HDD, SSD and other storage medium.

In short, the data recovery software almost equipped all features you are looking for about finding deleted files.
Part 2

: Recover deleted files from Windows Recycle Bin

As mentioned before, if you just deleted your files on Windows computer accidentally, they will go to your Recycle Bin and you can undo delete them immediately.

For example, once you delete a file from a folder, it will come back once you press Ctrl + Z on your keyboard. If you have done other actions after delete the files, you have to go to the Recycle Bin and restore deleted files Windows 10/8/7/XP and Vista.

This way is valid on Windows PCs with HDD and SSD hard drives. For Mac users, just recover Trash on Mac.
How to undelete files Windows 7 from Recycle Bin
We use Windows 7 to show you the workflow, as do other versions of Windows operating system.
Step 1: When you discover that your files are deleted, go to your desktop and double click on the Recycle Bin to open it. Then you can browse all the files deleted from your computer. Bear in mind that you can only browse the information of the files, such as titles, size, format, and more, but not open any of them or access the content.
Step 2: Select the file that you want to restore. If you want to recover multiple files, hold down the "Ctrl" key and select desired files. To select all files in Recycle Bin, use the "Ctrl + A" shortcut.
Step 3: Next, right click on the selected files to show up the menu bar and select "Restore" to undelete files Windows 7. Finally, you can navigate to the original destination to check if your files are restored successfully.
This way needs several prerequisites: for example, the original hard drive still works since the files will restore to original location. And if your files are deleted due to virus, software corrupt, or system crash, you cannot find your files in Recycle Bin.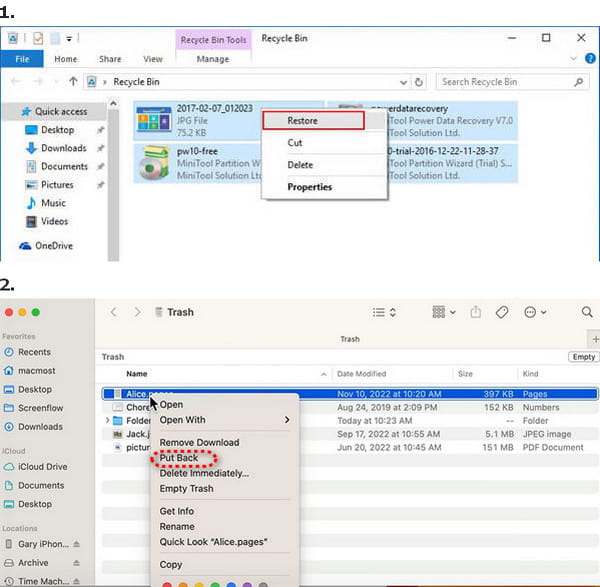 Part 3

: Restore deleted files from backup

Apart from backing up computer to iCloud, Microsoft has integrated the backup feature into Windows operating system. Though it works in different ways on Windows 7 and Windows 10, you can get file recovery Windows 10/8/7 simply with our guides below.

Make sure that you have to habit of backup computer regularly.
How to restore deleted files from backup on Windows 10
Step 1: To recover permanently deleted files Windows 10, click on the Start button at bottom left corner of your desktop, select the "Settings" option with a gear icon, and then click "Update & security".
Step 2: Then click "Backup" on the left hand column, locate to the right panel and choose the "More options" link to open the Backup Options window. Scroll down and click on "Restore files from a current backup".
Step 3: Next, you will be taken to the "File History" window. Input the file name into the search bar and press the "Enter" key to look for the file you want to get back. Select the desired file on the result window and click on the "Restore" button at bottom to retrieve it to original location.
This way is available to recover deleted files Windows 8.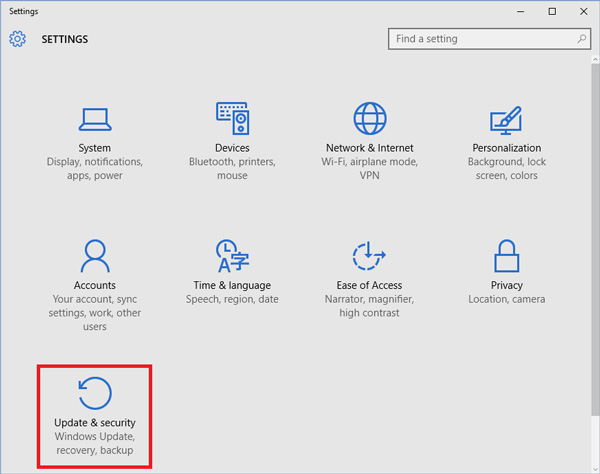 How to restore deleted files from backup on Windows 7
On Windows 7, users could back up hard disk by creating a system image. Any time when lost important files, you can get them back from the image.
Step 1: To recover permanently deleted files Windows 7, you have to mount the latest system image first. Open the "Start" menu, search for "Disk Management" and open it. Unfold the "Action" menu on Disk Management window and select "Attach VHD".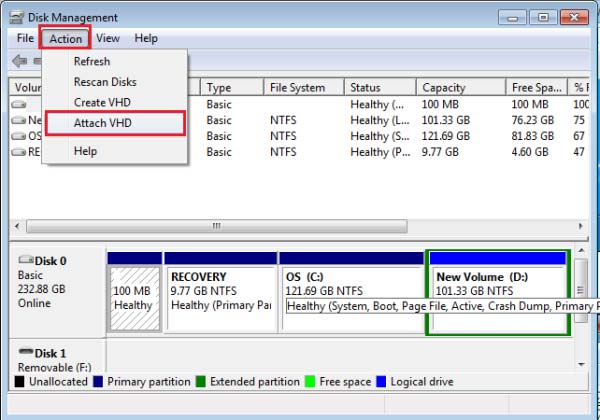 Step 2: Click the "Browse" button on the popup dialog and locate the system image file, which is usually ended with .vhd. By default, system image files are saved in [Drive Letter]\WindowsImageBackup\[Computer Name]\Backup [year-month-day] [hours-minutes-seconds].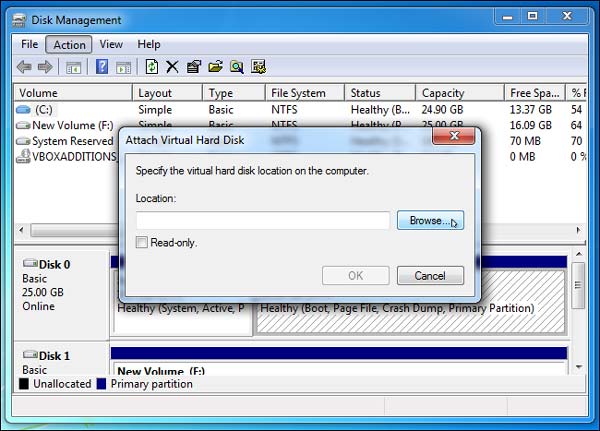 Step 3: Once click on the "Open" button. The system image will pop up the "AutoPlay" window with several options. Select "Open folder to view files" option, then you can browse the files in your system image as if it were another hard drive on your computer. Find the files you want to retrieve and drag and drop them to your desktop.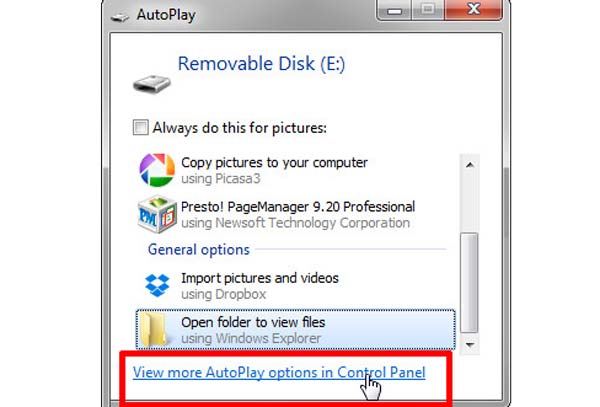 Step 4: After you have recovered deleted files from PC, right-click the Disk that contains the system image in the Disk Management window, and choose "Detach VHD". On the confirming window, uncheck the "Delete the virtual hard disk file after removing the disk" option and click on "OK" to unmount the system backup image.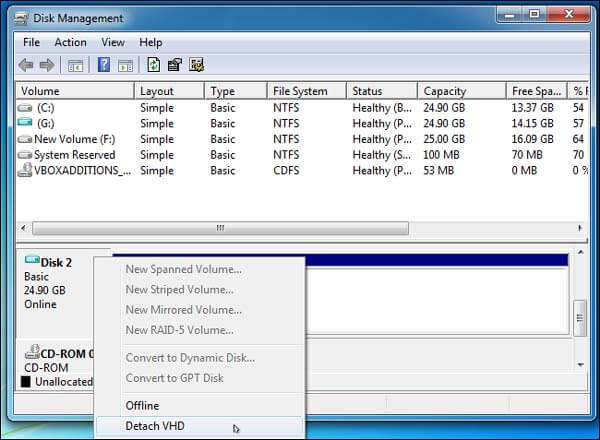 How to use Windows 7 file recovery in Windows 8
If you upgraded to Windows 8/8.1 and lost Windows 7 files, there is a built-in feature called Windows 7 File Recovery allow you to recover deleted files Windows 8, if you have backed up Windows 8.1 files with this feature before.
Step 1: Open your "Control Panel" on Windows 8/8.1, head to "System and Security" > "File History" and the click on Windows 7 File Recovery" at bottom left corner.
Step 2: Then you will be brought to the Windows 7 File Recovery window. Navigate to the "Restore" section and click on the "Restore my files" button. Wait for the process to done, all your files will be restored to original destination.
Windows 7 File Recovery feature is an all-or-nothing proposition. You cannot extract an individual file from the backup like what you do on Windows 7.
Part 4

: Professional way to recover deleted files windows 10/8/7 PC

As you can see, the common way to undelete files Windows 10/8/7 PCs is various. If you did not back up your computer, it is invalid.

That is why we want to recommend the professional undelete program, Apeaksoft Data Recovery. You may want to know whether this program is worth to trust and how could it undelete files on PCs.

Briefly, Windows utilizes pointers to track your files on a hard drive. When a file or all files are erased, Windows removes the pointers and marks the sectors saving the files as empty and waiting for new data.

From the point of file system, the files are no longer on your hard drive. However, until the pointers are written by new data, the files are still existing on your hard drive and recoverable.

Of course, without professional programs, you cannot browse deleted files even though they are here. So, when you discover your files are gone, stop what you are doing. That could prevent your lost files from being overwritten by new data.

The steps below could help you to recover deleted files in Windows 10/8/7/XP quickly.
How to recover deleted files in Windows 10/8/7/XP with Data Recovery
Step 1: Scan entire hard drive to look for deleted files
Download and install the latest version of Data Recovery on your computer. Launch the best recovery software for Windows 10/8/7/XP when you found important files disappeared. On the home interface, you will be showed two sections, data types and locations. Navigate to the data type area, tick the checkboxes in front of the corresponding file types, such as "Image", "Video", "Audio", "Document", etc.
Then go to the location area and select the hard drive or portable drive where your files stored originally. Data Recovery will work as soon as you click on the "Scan" button.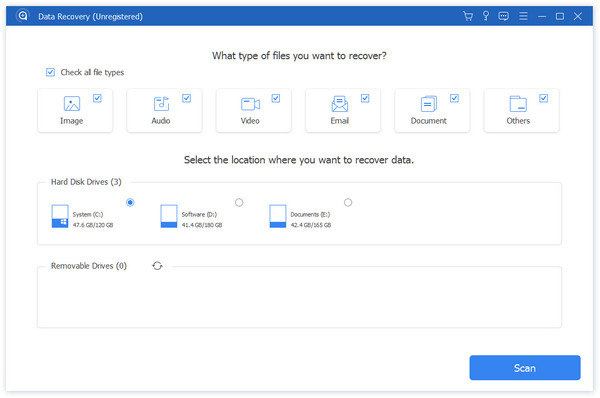 Step 2: Preview before unerase files
After performing standard scanning, you will be taken to the result window. You can find recoverable files in different types and formats. For example, click on the "Document" option on left hand column to recover an unsaved document file; you will get several folders titled DOC, XLS, PPT, PDF, HTML, etc. If you are not sure, go to each folder and preview the files. Moreover, the "Filter" feature at top ribbon could help you to find the files that you want to recover quickly by entering the keywords related to title and other information.
If you cannot find deleted files, click on the "Deep Scan" button at upper right corner. It will take more time to scan the system deeply and find more recoverable data.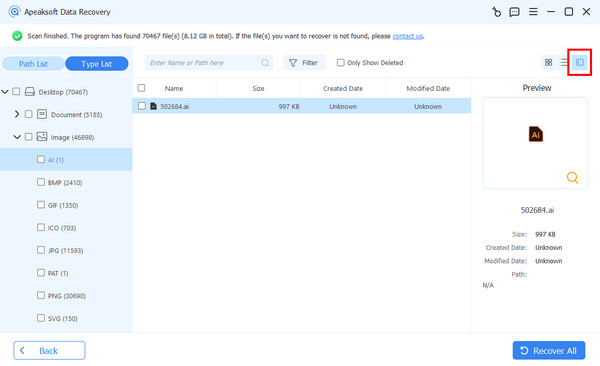 Step 3: Undelete files in Windows in one click
To restore deleted files, you can check the box in front of the title of each desired file or select entire folder. Click on the "Recover" button to start the process. When it is done, click the "Open Folder" button on Recovery Finished window to open the folder stored these files. Then you can browse, copy and paste, or edit your files as usual.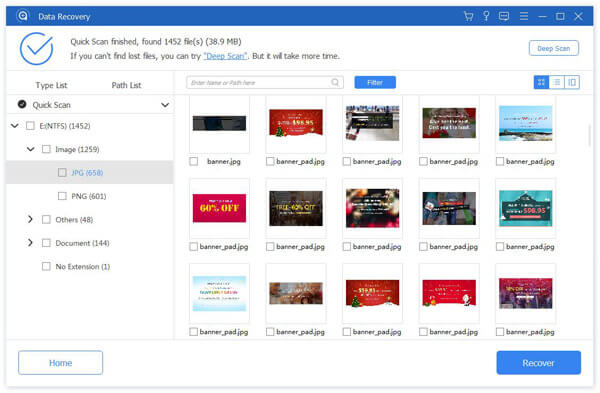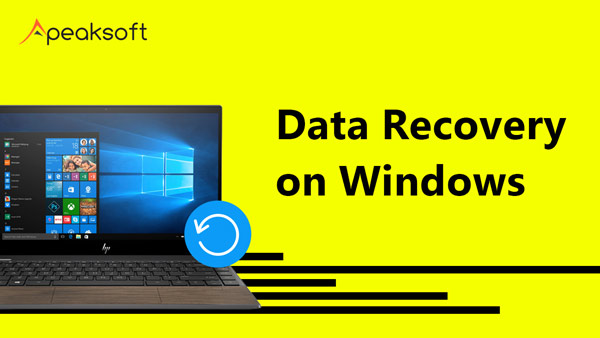 Conclusion
In digital world, we save almost everything in digit, from pictures to videos, from homework to papers, from contracts to business data. It is true that we can access and edit them in various files; however, we always face the risk of file loss due to a variety of factors.
In this tutorial, we have told you how to recover deleted files from Windows 10/8/7/XP/Vista. The easiest way to undo delete is your Recycle Bin, which is pre-installed on all Windows. The common ways to recover permanently deleted files Windows 10/8/7 are File History and System Image.
If you did not back up your computer, the best undelete software, Apeaksoft Data Recovery, is a good option to get back lost files. It is not only easy to use, but also able to take a close look at your hard drives to restore deleted files.