Nowadays, we should all have a lot of different files stored on our phones that need to be organized from time to time. In organizing them, there may be cases where videos are deleted by mistake. This may cause some trouble. After the initial panic, you may wonder if you can recover deleted videos from your iPhone.
To help you with this problem, we will list four methods in this article, including one of the best data recovery tools, to help you recover your videos. With these methods, you can recover lost videos in time.

Recover Deleted Video on iPhone
Part 1. Recover Deleted Videos on iPhone With Your Phone
Recover Deleted Videos from Recently Deleted Folder
If you didn't set permanent deletion when you deleted your videos on iPhone, or if you didn't delete your video completely in the Deleted Folder (also can be called Recently Deleted Albums), then you can recover the deleted video directly from the Photos App on your phone. This is the easiest and most basic method.
Generally, deleted videos can be saved in the Recently Deleted Albums for 30 days, and you can restore them at any time within 30 days; after 30 days, the system will automatically erase your files.
Here are the detailed steps to guide you.
Step 1 Open the Photos App on your iPhone.
Step 2 Tap Albums at the bottom bar. Then scroll down to come to Recently Deleted.
Step 3 Find the files you want to recover, and select them. Then tap Recover All to retrieve your videos on your iPhone.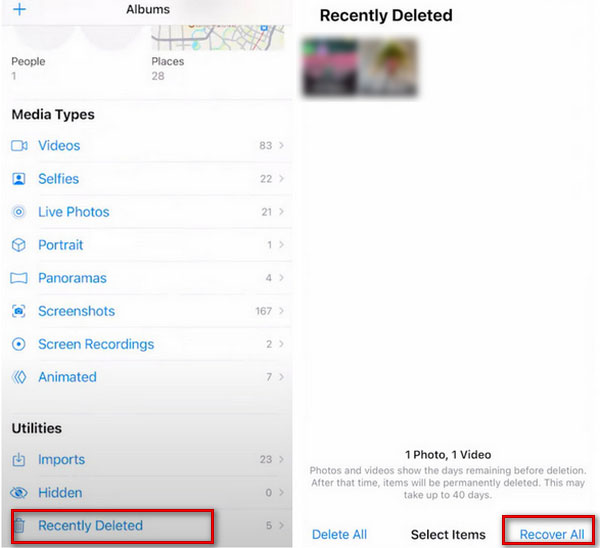 Then your deleted videos will be saved to the location where it was originally in.
Part 2. Recover Deleted Videos on iPhone Without Backup
If you have permanently deleted your videos and have not backed them up, you may need to resort to some tools to help you recover them. We recommend one of the best recovery tools to help you fix the issue of how to recover deleted videos on your iPhone. Apeaksoft iPhone Data Recovery is a powerful tool that can recover deleted or lost data from iOS devices and backups in iTunes or iCloud. Also, you are allowed to preview deleted and existing files before recovery.
Here are our instructions for you to use this tool.
Step 1 Download and install Apeaksoft iPhone Data Recovery on your computer. Then connect your device to the computer via a USB cable.
In this step, you must set up your phone to trust your computer.
Step 2 Open this program, and choose iPhone Data Recovery on the interface.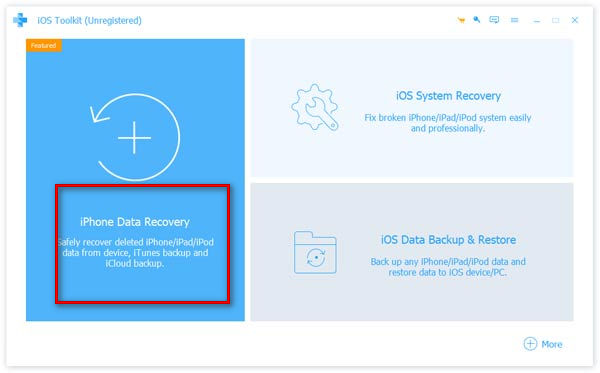 Step 3 Choose Recover from iOS Device. Then click Start Scan.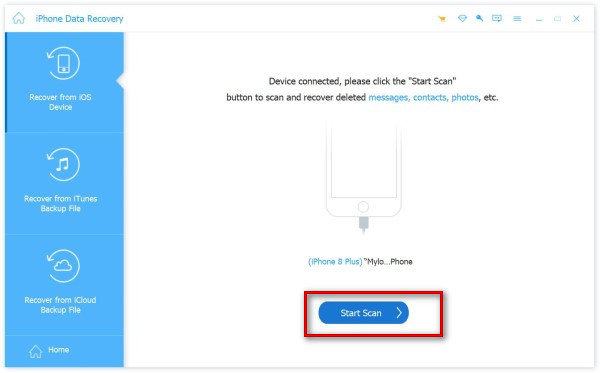 Step 4 Choose the files you need to restore in the left side menu. The deleted files will be marked as red. Select your target items, and click Recover.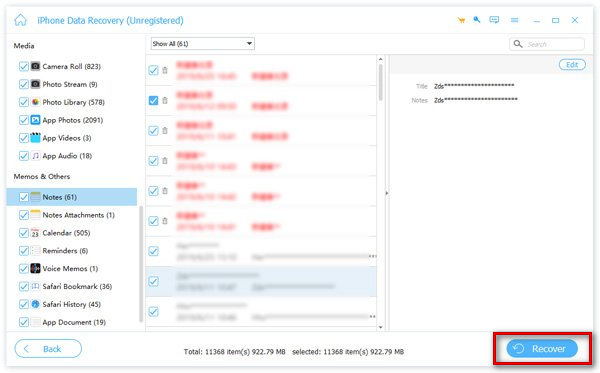 Part 3. Recover Deleted Videos on iPhone With Backup
If you have backed up your iPhone to some platforms, you can easily find the deleted files through these platforms. We will introduce you to recovering deleted videos on your iPhone using iTunes or iCloud. Follow along with our steps to explore it.
Way 1. Recover Deleted Videos from iTunes
iTunes is a very versatile software and also one of the most popular backup tools for Apple users. If you have ever set up a backup of your phone files to iTunes, you can try to use this method to recover your deleted videos.
Here are the detailed steps to operate this method.
Step 1 Connect your iPhone to your computer via a USB cable, and open iTunes.
Step 2 Find your iPhone from the menu on the left side of the page, and click the icon of it.
Step 3 Click the Restore Backup button.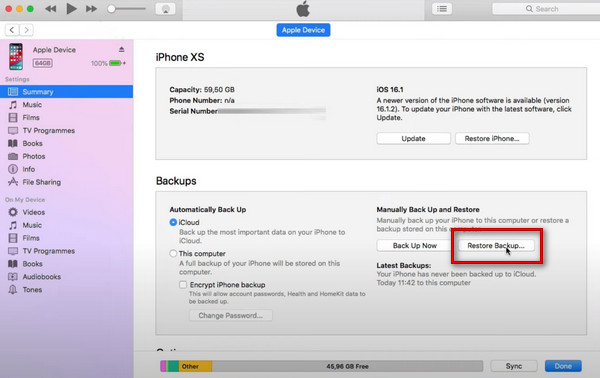 Step 4 Choose the files you need to recover, and click Restore.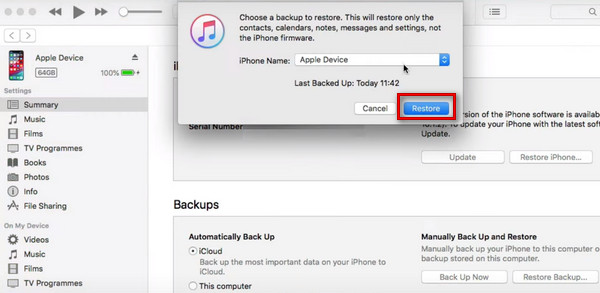 Way 2. Recover Deleted Videos from iCloud
iCloud is a powerful file backup and syncing feature with Apple devices. If you turn on iCloud to back up your files, you can restore your deleted videos on your iPhone by going to the iCloud website. This approach is also quite simple and basic.
Here is a detailed guide to each step.
Step 1 Enter icloud.com into your browsers.
Step 2 Log into your iCloud account, and select Photos from the interface.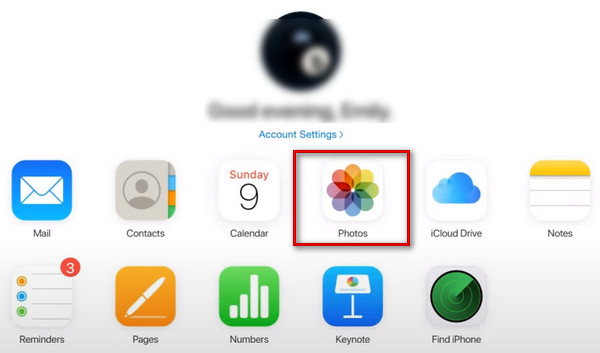 Step 3 Select Recently Deleted and choose the videos you want to recover. Then click Recover to restore deleted videos on your iPhone.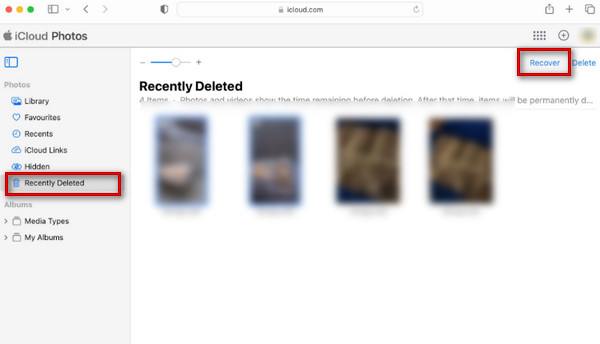 Tips: How to Avoid Accidentally Losing Videos on iPhone
We suggest you take steps to avoid this from happening again to avoid always struggling to recover mistakenly deleted files.
Categorize Your Files
You can sort your video or picture files in advance. Store them in separate folders with different names according to their contents, which can greatly reduce the chance of mistakenly deleting important contents when organizing your files.
Check Your Recycle Bin Regularly
After sorting and deleting files, you can periodically go to the Recycle Bin to check for any mistakenly deleted files among the recently deleted contents. If you find any, you can recover them before they are permanently deleted. Keeping this cycle within 30 days is best to prevent the system from automatically emptying the Recycle Bin before you check it.
Timely Backup
Backing up your iPhone promptly is the most reliable method. This way, you can retrieve important files on your iPhone that have been overlooked. You can do this through platforms like iTunes, iCloud, or third-party data backup programs.
Part 4. FAQs for Recovering Deleted Videos on iPhone
How do I recover permanently deleted videos from my iPhone?
If you have permanently deleted your videos from your device, it's a good idea to check if you have a backup of the files on iTunes, iCloud, or another platform. If there is no backup, you may have to use some third-party tools to help you recover the deleted videos. If you have such a need, Aiseesoft Data Recovery will be your best choice.
Can police recover deleted videos from iPhones?
If the deleted files on your phone are involved in some criminal case, or if you have committed a crime, the police may try to recover the deleted files from your device to use as evidence or clues. Also, police can use digital forensic technology skills to recover files.
Does iCloud save all videos?
If you apply the Optimize Storage feature on your device, your pictures and videos will be stored in iCloud in full resolution. You can store as many files as you want if your iCloud space is sufficient.
What happens to my videos if I run out of iCloud storage?
If you run out of iCloud storage space, your files, like photos and videos, will no longer be backed up. And you won't be able to use your iCloud email address to send and receive emails. So if you still want to use iCloud and its related features, you must purchase additional space through your Apple account.
How to recover videos from a broken iPhone?
If the device where you store your files is damaged, you can use a USB cable to connect it to your computer and operate it to recover them. Or you can also turn to some third-party video and photo recovery software and let them scan your device thoroughly to restore your data.
Conclusion
This article offers four practical methods to help you recover deleted videos on your iPhone. You can choose the one that suits you best according to your situation. We hope our content can make you feel helpful. We also welcome you to leave your suggestions and ideas.