Summary
Accidentally deleting important videos can be frustrating. Fortunately, some methods are available to recover deleted videos from computers and mobile devices. In this article, we will introduce 5 different ways to help you retrieve your precious memories or essential work videos.
Free Download
Free Download

Recover Deleted Videos
Part 1. How to Recover Deleted Videos from a Computer
In today's digital age, you store a vast amount of data on your computers, including videos, photos, and documents. However, you delete important videos or files accidentally. If you need to recover the lost or deleted videos from your computer, you're in the right place.
This part shows 3 ways to retrieve and bring your lost videos back to life. So, don't panic. You can first check the computer's Trash folder (Mac) and Recycle Bin (Windows). Or you can use advanced recovery software.
Recover Deleted Videos with Trash Folder [Mac]
When you delete a video on a Mac, it is usually moved to the Trash folder, where it remains until the folder is emptied. Follow the steps below to recover the video.
Step 1Click and open the Trash folder in the Dock or navigate to it in Finder.
Step 2Locate the deleted video, drag it out of the Trash, and onto your desktop directly.
Step 3Or you can right-click it and click Put Back to restore it to its original location.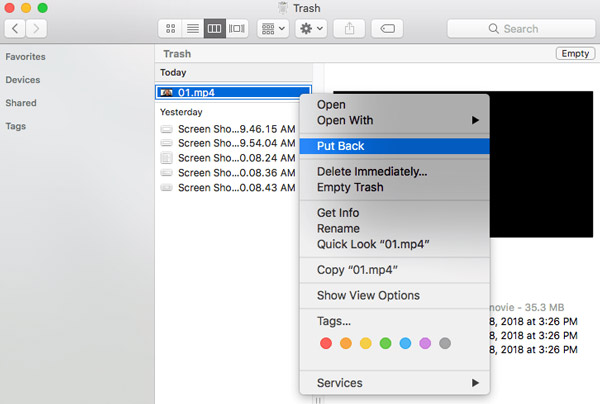 However, it's important to note that the Trash folder is limited and will automatically delete the oldest files when it becomes full. So, if you've deleted the video for several years ago, it may no longer be available in the Trash folder.
Recover Deleted Videos with Recycle Bin [Windows]
When you delete a video on a Windows computer, it's moved to the Recycle Bin instead of permanently deleted. Here are some steps to get back your deleted videos on a Windows computer.
Step 1Double-click Recycle Bin on the desktop to open it.
Step 2You can select the videos you want to recover first. Once selected, you can drag it out of the Recycle Bin and onto your desktop directly.
Step 3Meanwhile, you can right-click the deleted videos and click Restore to move them back to their original location.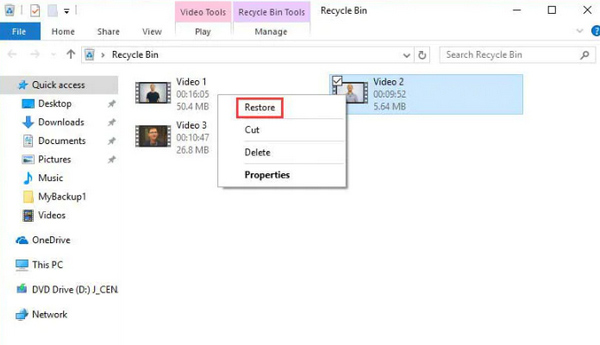 When the storage space of Windows computer is full, this Recycle Bin will not be able to save more deleted files. You need to empty some of the videos first. Note that these videos will be permanently deleted from the computer.
Recover Deleted Videos with Data Recovery Software [Windows & Mac]
If the deleted videos are moved from the Trash folder and Recycle Bin, which means it before being permanently erased from computers. So, you can consider using professional data recovery software if the deleted videos are not in temporary folders.
Apeaksoft Data Recovery is a powerful recovery tool that can solve data loss issues due to mistaken deletion, emptying recycle bin or Shift + Delete commands without backup. This data recovery tool can help you scan and recover deleted videos, images, emails, documents, etc., with fast speed. Moreover, it supports directly recovering the scanned data while scanning from Windows 11/10/8/7 or macOS. Follow the detailed steps to scan and recover your lost videos.
Step 1Free download and install the data recovery program on your desktop.
Step 2Open it to enter the main interface. Tick the box of Video and select the hard drive you need to recover from. Next, click the Scan button to start the quick scan.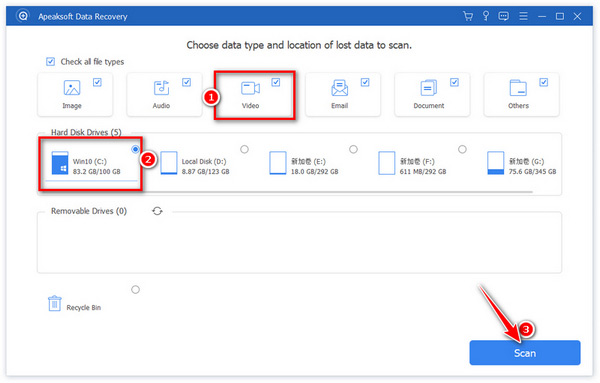 Step 3After that, if you fail to find the lost videos, you can try the Deep Scan option to find more videos in detail.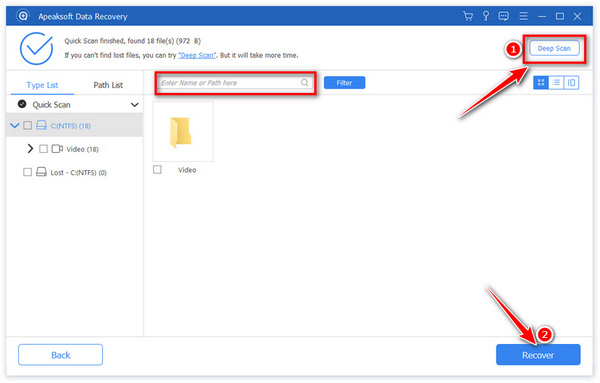 Step 4Now, you can view the videos sorted by type or path on the left panel. Click the Type list or Path list to look for the deleted videos. Or you can also enter the name or path next to Filter to find the videos.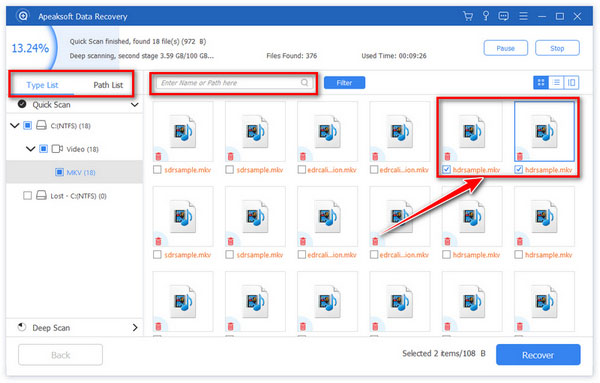 Step 5Select the videos and click Recover to retrieve the deleted videos to your computer. After recovering, you can easily set the save path and view the recovered videos.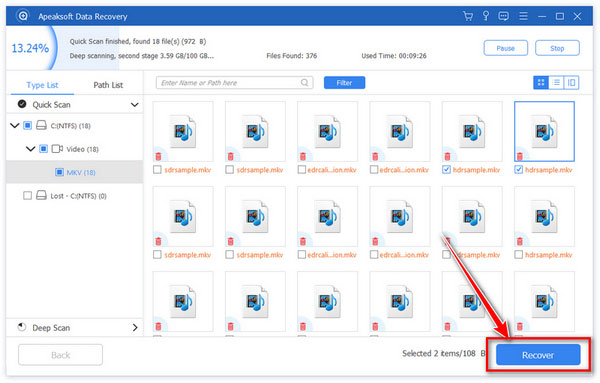 This reliable data recovery won't store any data when restoring the scanned files, so that you can rely on it.
Part 2. How to Restore Deleted Videos from iPhone
If you have accidentally deleted a video from your iPhone's Photos app, you may be able to recover it using the Recently Deleted feature. Here's how to get back deleted videos on your iPhone.
Step 1Open the Photos app on your iPhone.
Step 2Tap Albums at the bottom of the iPhone's screen. Scroll down to enter the Recently Deleted album.
Step 3Select the video you want to get back to and tap Recover. Then, tap Recover Video to confirm the process. After that, the recovered video will be restored to the Videos album or the album it was originally in.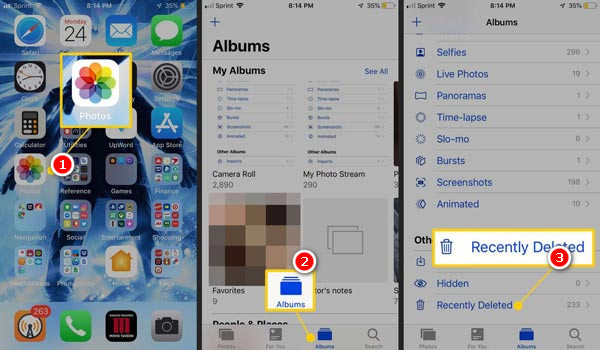 Note:
Restoring from a last backup may overwrite all recent data on your iPhone, so back up your device before attempting this method.
Apeaksoft iPhone Data Recovery
When you want to recover permanently deleted videos from your iPhone without backup, try a professional tool. iPhone Data Recovery can recover deleted data from iPhone, iTunes, and iCloud backups.
Part 3. How to Retrieve Deleted Videos from Android
If you've accidentally removed a video from your Android phone's gallery app, you can still recover it using the app's Trash or Bin folder. Follow the steps to do it.
Step 1Find and enter the Gallery app on your Android phone.
Step 2Locate the Trash or Bin folder where deleted videos are temporarily stored before being permanently deleted.
Step 3Find the deleted video you lost and select it. Next, tap Recover or Restore to get your lost video back.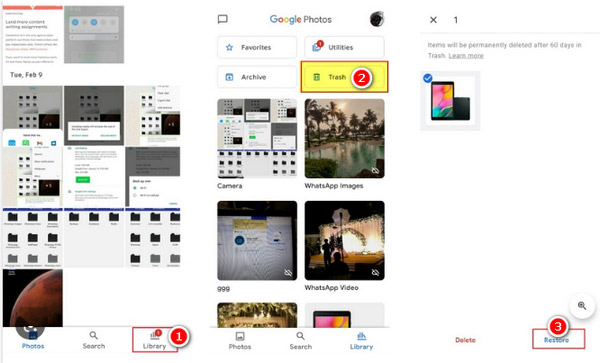 However, all deleted videos can be stored in the Recently Deleted folder within the Photos app for up to 30 days. If you have backed up the videos with iCloud or iTunes, you can also try to recover deleted videos on your iPhone.
Note:
You can only recover all deleted videos on Android from the Gallery app within 30 days.

Apeaksoft Android Data Recovery
Want to recover permanently deleted videos from Android? The powerful data recovery tool can retrieve and export lost videos and files from your Android phone.
Part 4. FAQs of Recovering Deleted Videos
How to recover deleted YouTube videos?
If you have backed the deleted YouTube videos with iTunes or cloud services before uploading, you can recover them from the backup. Or, you can use Internet Archive's WayBackMachine, contact YouTube help support team, and try some video recovery software, etc. After finding deleted YouTube videos, you can watch them on your devices.
How to recover deleted TikTok videos from Mobile phones?
If you need to see the deleted TikTok videos before uploading, you can find them in the Gallery or Photos app within 30 days. If you want to recover the deleted videos on TikTok directly, you can contact the help team.
Are deleted videos on iPhone gone forever?
No. You can find it on the Photos app if you remove it within 30 days. Or, you can recover it from a backup such as iCloud or iTunes. Besides, you can try some third-party tools to help you.
Conclusion
Recovering deleted videos can be straightforward if you act quickly and follow the appropriate steps. Remember, it's always a good idea to back up important files to avoid the need for data recovery. Cloud storage or external drives can help you securely store copies of your videos and other files. If you have other recovery issues, leave your comments here.