Many Kaspersky Antivirus users recently complain about losing files on their computers mainly because of virus attacks. Actually, many cases are reporting that antivirus applications like Kaspersky, Avast, Norton, etc. might delete reliable files by mistake. Considering the impact of this matter, we wrote this guide to explain some of the best solutions on how you can recover files deleted by Kaspersky Antivirus in no time.

Recover Files Deleted by Kaspersky Antivirus
Way 1. Restore Files from Quarantine
Usually, when Kaspersky Antivirus finds that a virus has got into your files, it removes the file from your system and makes it inaccessible to you. But you can still attempt to restore the original file from its backup copy. You can go to Quarantine and restore the file if you think it is deleted by Kaspersky by mistake.
To restore a file that has been deleted or disinfected by the antivirus:
1. Open the Kaspersky Virus Removal Tool on your computer.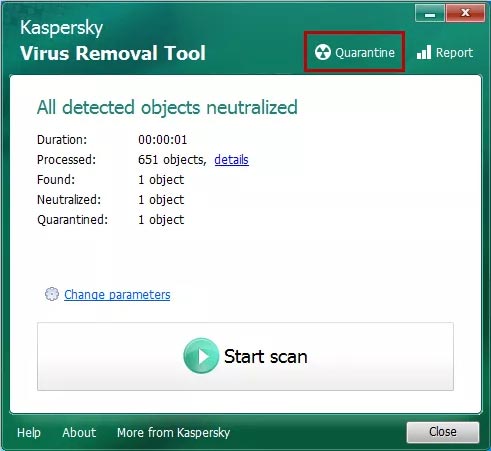 2. Hit on the Quarantine option to open the Quarantine window. Here, select the required file from the list and click the Restore button.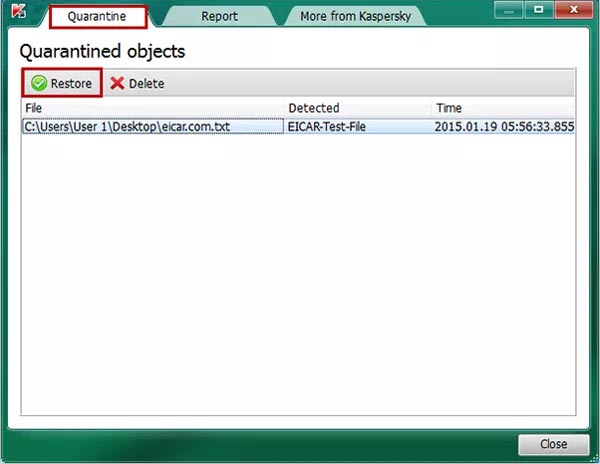 3. Then, you will see a warning window on your screen prompting that restoring the file poses a threat to the security of your computer. Make sure that you want to restore the file and then just click the Restore button to confirm the restore operation.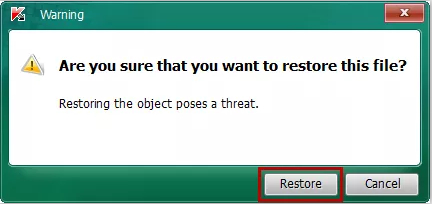 After that, the file is retrieved to its original location with its original name. If there is a file with the same name in the original location (this could happen if you are restoring a file that was copied before disinfection was attempted), a warning appears. You can choose to retrieve the file to a different path or change the name of the file. Just in case, we suggest you scan the file for viruses as soon as possible after restoring it.
Way 2. Recover Permanently Files Deleted by Kaspersky Antivirus
If you can't find the deleted files from the Quarantine, the file may be deleted permanently. On this occasion, you'll need professional data recovery software to recover Kaspersky deleted files.
Apeaksoft Data Recovery is the best data recovery software for Windows and Mac users. It is capable of recovering accidentally deleted files quarantined by the antivirus applications, such as Kaspersky, Avast, Norton, etc. On top of that, it supports retrieving lost or corrupted files from Windows, Mac, hard drive, SD card, camera, flash drive, and more. It can easily handle any data loss due to mistaken deletion, hard drive damage, virus attack, and more.
How to Use Data Recovery for File Recovery
Step 1
Download and install Apeaksoft Data Recovery on your computer, then launch it.
Step 2
Choose the file type that you want to recover and the directory from which you wish to restore the data. Then, hit on the Scan button to begin the procedure.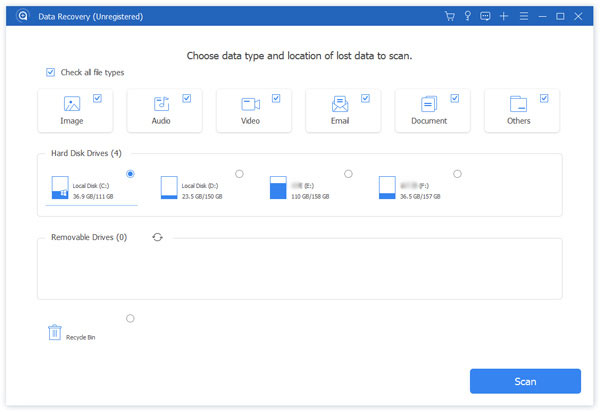 Step 3
Following the scanning, all the results of recoverable items will be listed on your screen. Select the desired files from the list and preview what you want t o recover. You can click Type List or Path list to find the deleted files. Or you can use the Filter option which provides a quick way to find your wanted files.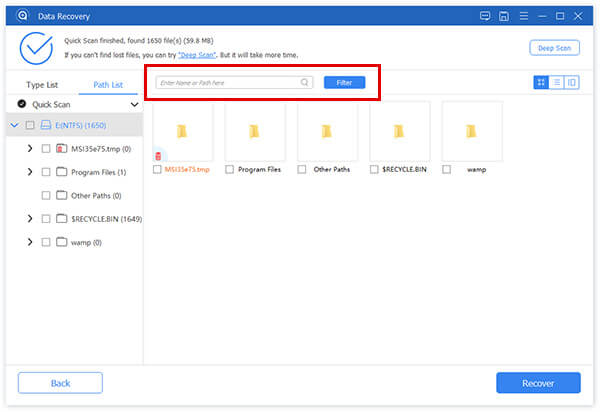 If you can't find the files deleted by the Antivirus, you can press on the Deep Scan button in the upper-right corner to scan deeply.
Step 4
Finally, hit on the Recover button to get your deleted files back. Wait for a while, and you will have your files back.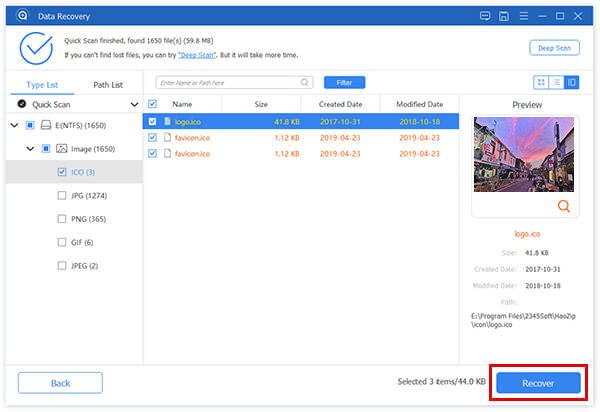 Related: DLL Files Recovery – How to Restore Accidentally Deleted DLL Files with Ease
FAQs of Recovering Files Deleted by Kaspersky Antivirus
Where does Kaspersky store quarantined files?
The default path is %SOYUZAPPDATA%\Quarantine\. The Quarantine folder is created on all workstations with Kaspersky Endpoint Agent in the %ALLUSERSPROFILE%\Kaspersky Lab\Endpoint Agent\4.0 folder.
How do I delete QB files?
Go to the Quarantine window, right-click a file, and select an action from the shortcut menu. Click the Delete all files button to clear the list.
How do I avoid files deleted by Kaspersky Antivirus?
You'd better keep your virus definitions and Antivirus product updated in latest version. Whenever insert any external media in your system, you must have to scan it before using it. And remember to backup your important file at regular intervals.
Conclusion
It is possible that you can find your deleted files in Quarantine, but if files are not found, it is advisable to use Apeaksoft Data Recovery to simply restore files deleted by Kaspersky Antivirus. And any file deleted by Norton, Avast or other antivirus programs can be restored with this powerful data recovery tool.