Steam, is the large game platform, which offers game installation and automatic updates from itself and third-party publishers. A pain that many game players suffer from Steam is to re-download a deleted game, especially the game size is up to GBs.

Recover Steam Game Files
To solve this problem, Steam created the backup feature and restore feature, which can backup the entire installation, so that the users can restore the Steam game files without re-downloading it again.
What if there is not Steam backup?
That's what we shall talk in this page, 2 ways to recover Steam game files with and without backup, including in-game voice, photos, videos, etc.
Part 1. How to Recover Deleted Steam Game Files Without Backup
Without any backup, how to recover the game files from Steam?
To get back the deleted or lost game installation, game soundtracks, anime, and films, the Steam content recovery software, Apeaksoft Data Recovery works.
It is the professional data recovery tool for Windows and Mac computer. All the content on computer like photos, videos, audio, email, documents, and other data can be scanned and recovered easily. It offers 2 scanning modes, quick scan and deep scan, so that the users can find back all the delete Steam files as soon as possible.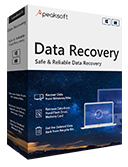 4,000,000+ Downloads
Recover deleted audio, video, photos, and other installation system files.
Offers 2 types of scanning, deep scan and quick scan.
Save scanning project and recover from SPF files.
Recover files from internal and external hard drives, SD card, and more disks.
Here's how to get started:
Step 1 Free download this Steam files recovery software on Windows or Mac computer. Launch it immediately after the successful installation.
Step 2 In the main interface, select the file types that you want to recover from Steam. Next, choose the directory from which you want Data Recovery to scan the files.
Now, click Scan, and Apeaksoft Data Recovery will begin a quick scan of the hard drive.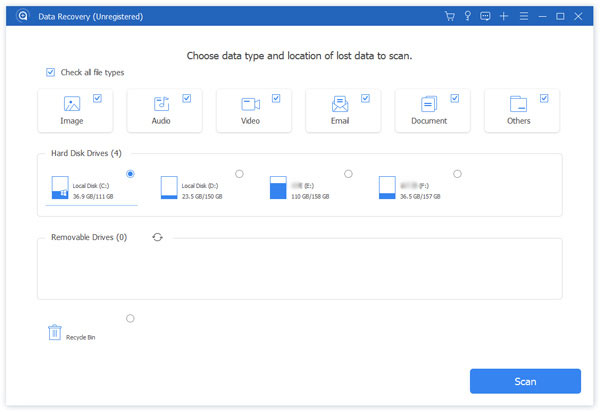 Step 3 On completing the scanning process, the result will display by Type List by default. You can click Path list to view the scanned files.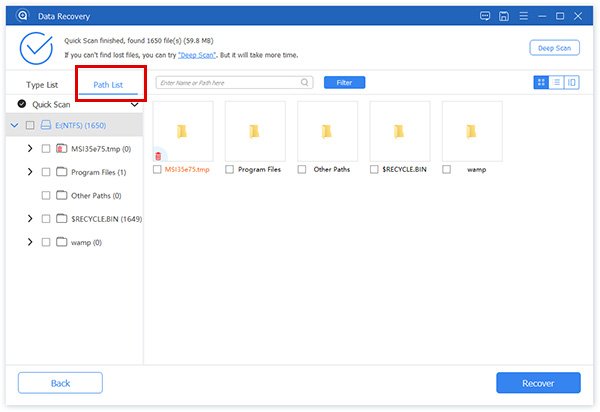 Step 4 Select the content you want to restore from Steam and click Recover to export the deleted Steam files on your computer.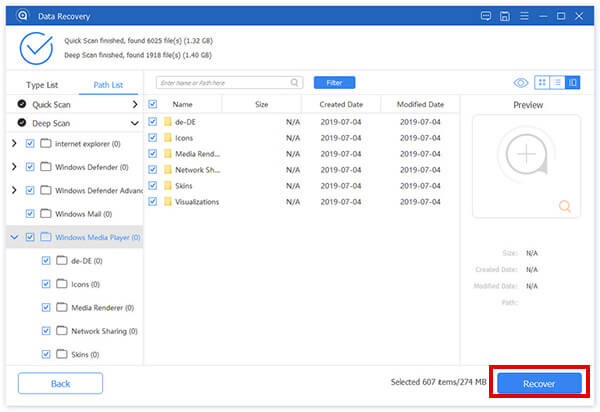 After restoring the backup, you can install the original game directly without re-downloading it again. Besides, the media files can be recovered like in-game soundtracks, films, and more.
Tips :
1. If you do not find the file you need to recover, just perform Deep Scan for a more in-depth scan.
2. The search feature in the scan result can filter the files to find the deleted Steam data quickly.
3. Deleted Steam files on Android phone can be found by scanning the SD card in this software or recovering Android phone directly via Android Data Recovery.
If you have a Steam backup file, it is another story to restore the deleted Steam files in the next part.
Part 2. How to Restore Steam Game Files from Backup
Steam has the built-in backup feature, which can backup Steam installation files, including custom content to the hard drive for restoring in the future.
If you have enabled the feature, it is pretty easy to restore the backup from Steam.
Step 1 Install Steam and log in to your Steam account.
Step 2 Open Steam and find Steam in the upper left corner.
Step 3 Select Backup and restore games... and to choose Restore a previous backup.
Step 4 Open the Steam game's backup file location to install the games.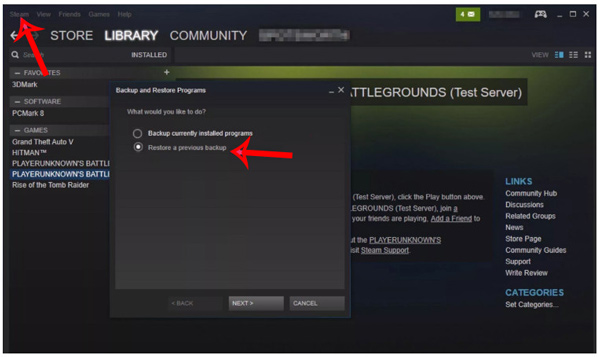 While restoring Steam backup file with the custom files, make sure all these files copied to the corresponding folders.
Tips :
1. If the path to the Steam installation contains special characters, such as C:\Instalação\Steam, the restore process may not complete successfully. You have to re-install Steam to a location without special characters.
2. The games from third-party installers or downloaders will not work with Steam's backup functionality.
3. To backup all the installation files including the custom files, make sure the copies of all custom files are in the path: C:\Program Files\Steam\SteamApps\common\\ :
Part 3

: Part 3. FAQs of Recovering Steam Game Files

Where does my Steam game save files?

By default, the location is as following:
On Windows: C:/Program Files (x86)/Steam/steamapps/common
On Mac: ~Library/Application Support/Steam/SteamApps/common
On Linux: ~/.local/share/Steam/steamapps/common

How do I restore a saved game in Steam?

Steam does not backup the saved games, custom multiplayer maps or configuration files. To restore a saved game in Steam, you can use Apeaksoft Data Recovery to scan and find back the saved games.

How to move Steam game from HDD to SDD?

Step 1. Head to Settings in Steam, select Downloads, find Steam Library Folders and click Add Library Folder in SDD.
Step 2. Create a new folder within it named steamapps. Then, create a folder in steamapps called common.
Step 3. Locate the game folder created in Steam backup originally, copy and paste into the new location in step 2.
Step 4. Open Steam, right-click on the game you're moving and select Delete Local Content to uninstall the game from its original location.
Step 5. Once the uninstallation is done, click the Install button find the Choose location dropdown to choose the Steam folder on your new hard drive.
Then Steam will detect the game file and you can play the game in a new drive as usual.
Conclusion
Steam can help you backup Steam game files and restore the backup for further use. However, if you forget to backup the game content, but accidentally deleted the games, you can use the third-party data recovery, Apeaksoft Data Recovery to restore the deleted game data.
Have you grasped all the solutions?
Do you get a method 3 to restore the deleted or lost Steam game files?
Let me know by leaving your comments.