Crash of Offices software and unexpected power-down of computer had happened on almost of computers, so, losing unsaved files you are writing is really awful and usual. Actually, recovering unsaved Excel/Word files is very easy. The next passage will introduce some Excel file recovery tools and their features and instruction.
Part 1. Best Excel File Recovery Tool to Recover Unsaved Excel File
Data Recvovery – Recover unsaved Excel file on Windows
Apeaksoft Data Recovery is the Windows users' helper to get the unsaved Excel file recovery.
It recovers unsaved Excel file in xlsx and xls.
It retrieves the video files in the formats of AVI, MOV, MP4, M4V, 3GP, 3G2, WMV, ASF, FLV, SWF, MPG, RM/RMVB, etc.
Audio files like AIF/AIFF, M4A, MP3, WAV, WMA, MID/MIDI, etc. can be found back.
It recovers all types of data from computer, recycle bin, hard/flash drive, memory card, etc. with ease.
It recovers images in JPG, TIFF/TIF, PNG, BMP, GIF, PSD, CRW, CR2, NEF, ORF, RAF, SR2, MRW, DCR, WMF, DNG, ERF, RAW, etc.
Documents like DOC/DOCX, PPT/PPTX, PDF, CWK, HTML/HTM, INDD, EPS, etc. are recoverable.
Email and other data like ZIP, RAR, SIT, and more are supported to get back.
Compatible with Windows 10/8.1/8/7/Vista/XP (SP2 or later).
Step 1. Free download, install and run this software on your computer.
In the main interface, you need to check the data types from Image, Audio, Video, Email, Document and others. Here, you should tick "Document".
In the hard disk drive, you also need to check it. Then click Scan to start the scanning process.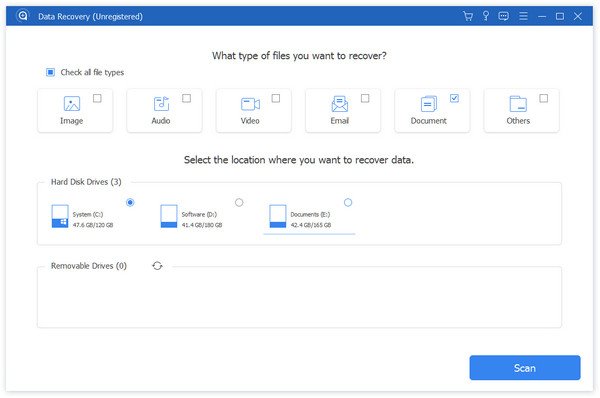 Step 2. After the scanning result is complete, you need to click the data type folder for further details.
After viewing the deleted Excel files in details, you could checkmark the exact Excel files that you want to restore, and click Recover to save the deleted data to your computer.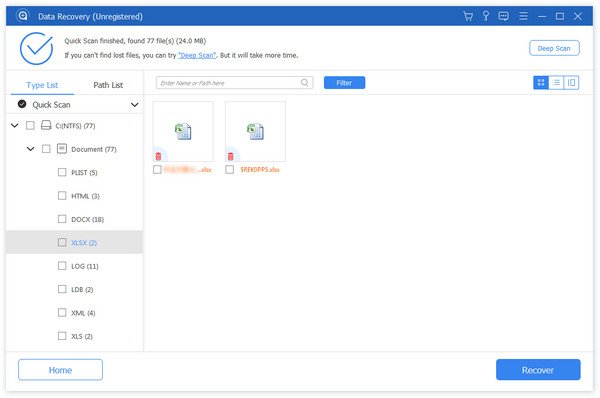 Disk Drill – Restore unsaved Excel data on Mac
Redoing all work unsaved will spend a lot of time and make you upset. In fact, recover Excel unsaved files is pretty simple. Disk Drill is powerful on date recovery. Disk Drill can recovery over 200 file types, including Excel, Word document, .exe, etc. Disk Drill can also recover Excel files on different devices and platform. It supports all major devices on the world. On the other hand, Disk Drill does not need any other expert skills. With only one click, your lost data will be recovered.
Except recovering Excel files, Disk Drill has more other free functions. Clean up the duplicate files, backup your personal date, recover Drive such as USB flash drive, analyze disk space, find out unused files and space hogs and free up your storage. What`s more, Disk Drill can protect your data with Recovery Vault or Guaranteed Recover, you can recover your data without payment.
If you want to recover unsaved Excel/Word files with Disk Drill, what you need to do is very simple.
Step 1. Download and Install Disk Drill
Download Disk Drill and install it on your computer. After installing, launch the app. You can download in Mac Store or official site: www.cleverfiles.com.
Step 2. More Theory
If you cannot find your files in specific location on disk, Disk Drill will work to scan the whole partition. Actually, Disk Drill will search files in Library/containers/com.microsoft.
[Word]/Date/Library/Preferences/AutoRecovery
Step 3. Proceed with Document Recovery
If you are in Disk Drill, select your system disk (it is called root disk, too) for recovery. Now click "Recover" button, follow the instructions and wait the progress going from 0 to completion, the time is based on the size of your disk.
Step 4. Preview Found Items
After scanning, the unsaved Excel flies we need to recover should be the list of found items with the form of temporary copies of your regular Excel documents. Unfortunately, most files will not retain the original names, so, you need to check these files one by one to find the right file. It might spend some time, just be patient.
Tips: With Disk Drill Vault, your disk will be protected. If the same thing happens again next time, you can find lost file on Recovery Vault. Recover unsaved Excel files will be easier than ever before.
Part 2. How to Recover Excel File with Excel Auto Save and Auto Recover
Just imagine, computer crash or unexpected power-down happens when you are writing some very important Excel files. Everything disappeared before you save the file. That is really frustrating, but please do not be upset about it, you can easily recover unsaved Excel file by Excel Auto Save and Auto Recover.
There are some different situations you might meet, Excel file was never saved by you or saved at least once. You can take different methods to recover unsaved Excel files on Office Excel. Actually, a good habit for saving data is really important, now and then, you can press "ctrl" + "s" keys to save the files you are typing. It can help you to avoid losing important Excel/Word documents.
How to Set Excel Auto Save & Auto Recover
Fortunately, Office Excel had automatically set up options to auto save and auto recover, if you are worry about it, you can check it and set up by yourself.
Step 1. Go to the "File" tab and click it, and then, click the "option" button.
Step 2. Click the "Save" option on the left-hand pane.
Step 3. Make sure that "Save Auto Recover information every X minutes" and "keep the last autosaved version if I close without saving" are checked. And then, click "OK" option.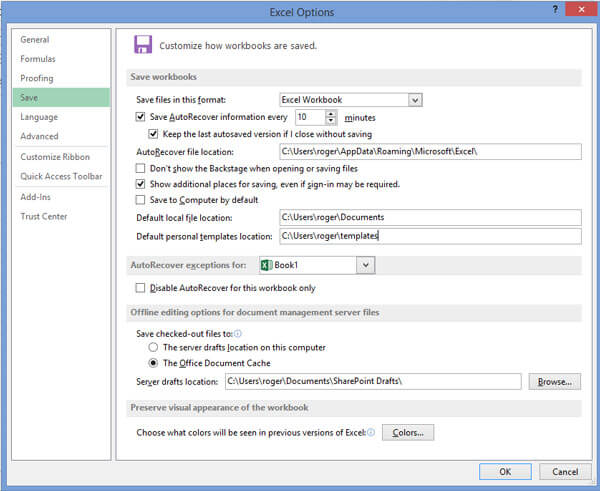 Never Saved
That is the worst condition of losing Excel, if your Excel file was never saved and you accidently click "Don`t Save" button before closing Office Excel. (or computer crash/unexpected power-down).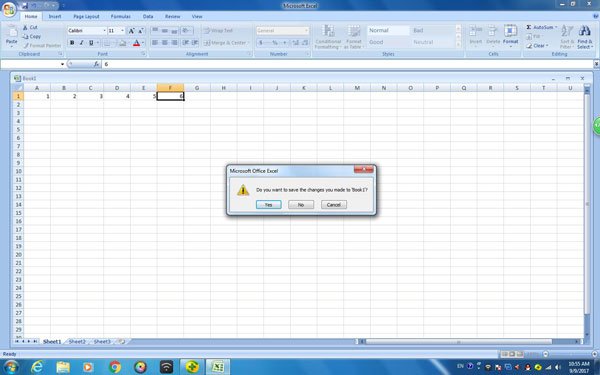 Tips: Office Excel tells you if a recent copy will be available.
Step 1. Open the office Excel, on the "File" tab, click the "info" button.
Step 2. Click "Manage Workbook", and then click "Recover Unsaved Workbooks"
Step 3. click last autosaved Excel file.
Saved at Least Once
if you had saved file at least once, recovering Excel file will be easier.
Step 1. Open your Office Excel, click "File" tab, and then click "Open" option on the list.
Step 2. Choose "Recent Workbooks" and scroll down to click "Recover Unsaved Workbooks" button. (Tips: you can also go to the Manage Workbooks to recover unsaved Excel file)
Step 3. Click the right file you want to recover and open, there will be a yellow bar on your worksheet to prompt you to save it. Click "Save As" option to save the file to somewhere you desire. You can also do it on the File list.

Summary
As you can see, recovering unsaved Excel file is really easy, no matter what method you choose, you can use assistant software like Data Recovery, Disk Drill, it can not only recovery lost dare but also can protect your date from any accident.
Of course, you can recover unsaved Excel file on Office Excel with its own function: Auto Save & Auto Recover, too. It needs no other assistant app. Besides, you can build up a new and good habit about workbooks, using some app or saving file now and then can make sure that your file will never gonna be lost.