When you update Chrome on computer, all the bookmarks may be gone.
How to restore Chrome bookmarks? According to recent data, Chrome is the most popular web browser around the world. Many people have Google Chrome on their computer, though they already have the pre-installed web browsers, like IE and Safari.
Find an awesome website? Many people will save it as a bookmark and access it directly next time. Bookmarks can be lost by mistake operation, update and other problems. In this tutorial, we are going to tell you how to recover deleted bookmarks Chrome.

Part 1

. Find and restore deleted Chrome history on PC

Chrome saves your bookmarks in a file ended with BAK. Find it; you can restore deleted Chrome bookmarks and browse histories.
On Windows PCs:
Step 1: Open an Explorer and go to "C:\User\[name]\AppData\Local\Google\Chrome\User Data\Default".
Step 2: Type bookmarks into the search bar and hit Enter key. You will get two files titled "Bookmarks" and "Bookmarks.bak". The bookmarks bak file contains the last browse histories.
Tip: If you do not see bookmarks bak file, go to the "View" tab on top ribbon and check the box of "File name extensions".
Step 3: Make sure your Chrome is closed, rename "Bookmarks file to Bookmarks.1 and rename the Bookmarks.bak to Bookmarks".
Step 4: Next, after that you can run Chrome, your bookmarks will be there.
Notice: In this method, you can find back your Chrome bookmarks. However, as for the Chrome extensions for screen recorder, screenshot tools, and other tools will go forever, unless you have a Google account to sync them.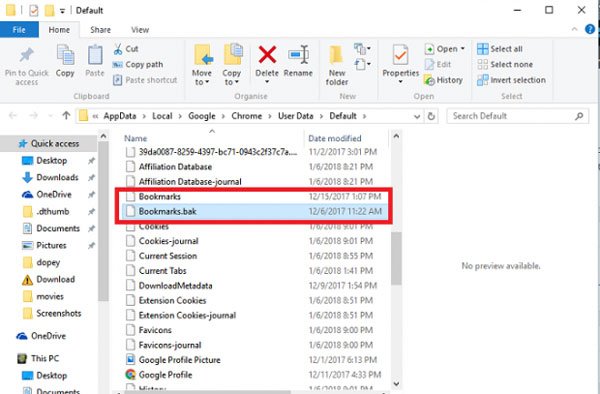 On Mac OS:
Step 1: Open Finder app, go to Macintosh HD > Users > [name] > Library > Application Support > Google > Chrome >Default. You will see the Bookmarks and Bookmarks.bak files.
Step 2: Copy and paste the two files to another location, delete the Bookmarks file and rename Bookmarks.bak to Bookmarks.
Step 3: Finally, reopen your Chrome and check if restore Chrome bookmarks successfully.
Part 2

. Find and restore deleted Chrome history on PC

If you sign in your Google account on your Chrome, your bookmarks go to Google History and you can recover bookmarks Chrome simply.

Step 1: Open Google Home page in your browser and make sure to sign in the Google account that you used to save your browse histories.

Step 2: Click on the "menu" button at upper right corner with a gear icon, and then you will see a variety of Google services.

Step 3: Hit my account and wait for the page to open, scroll down to the bottom and click on "Go To My Activity". The next page will show all your online activities within Chrome browser.

Now, you can find the websites, click on the links and bookmark them again.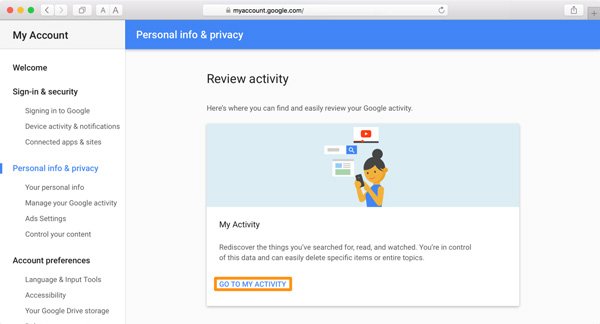 Recommend: Data Recovery to restore Chrome bookmarks
Apeaksoft Data Recovery is the best way to recover deleted bookmarks Chrome. Its key features include:
Easy to use. This bookmark recovery tool is able to get back deleted bookmarks from your computer in one click.
Bookmark recovery in various situations, such as mistake operation, accidental deletion, virus attack, software corrupt, or update failure.
Support a variety of data types and formats, including bookmark files.
Lossless recovery. With the best bookmark recovery application, you can restore deleted Chrome bookmarks in original status.
Preview for selectively recovery. After scanning, you can look at all lost files organized by categories and formats and recover Bookmarks. BAK separately.
Quicker, lighter and safer.
Moreover, Data Recovery is available to Windows 10/8.1/8/Vista/XP.
Download for Win
Download for Mac
How to recover deleted bookmarks on Chrome
Step 1. Launch Chrome bookmarks recovery
Free download and install the best Chrome bookmark recovery. Launch Date Recovery when you found important bookmarks disappeared from Google Chrome.
On the home interface, you will get two parts, data type and location. Firstly, locate to the data type area, and check the boxes on corresponding data types. To recover deleted bookmarks Chrome, select "Others". Then choose the location that saves the deleted bookmarks, for example "Local Disk C". After setting, you can click on the "Scan" button to trigger the scanning process.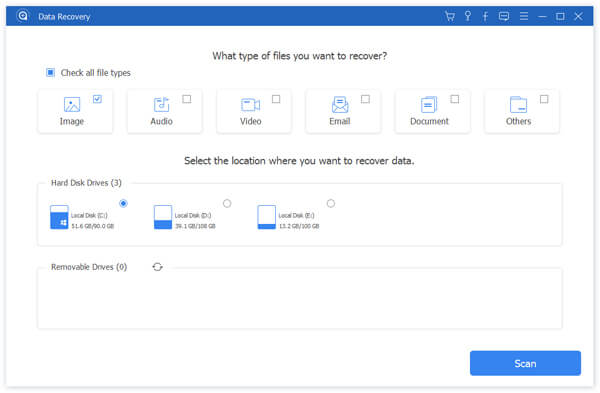 Step 2. Scan and find Chrome bookmarks
Preview bookmarks before recovery. When scanning is finished, go to the "Others" tab from left hand side, and then you can look at the bookmark file on right pane.
If there are too many files, input bookmarks into the box at top of the window and click on the "Filter" button to quickly locate it. Moreover, the Deep Scan function at upper right corner of the window is able to scan the hard drive deeply and get back more data.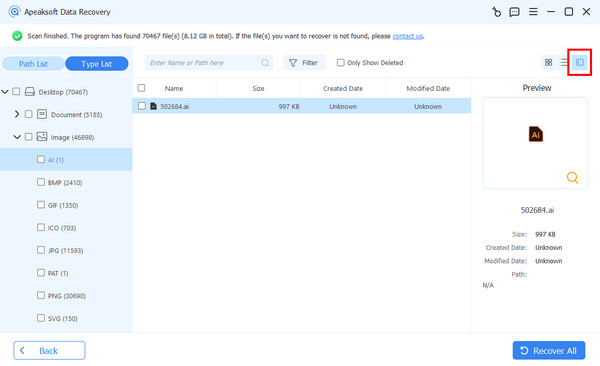 Step 3. Restore Chrome bookmarks
Make sure to select the files titled with Bookmarks and click on the "Recover" button. On the popup dialog, select a destination and start restoring bookmarks Chrome. When it is done, copy and paste the Bookmarks.BAK file to C:\User\[name]\AppData\Local\Google\Chrome\User Data\Default, and change its name to Bookmarks. Next, open your Chrome and check whether your bookmarks back.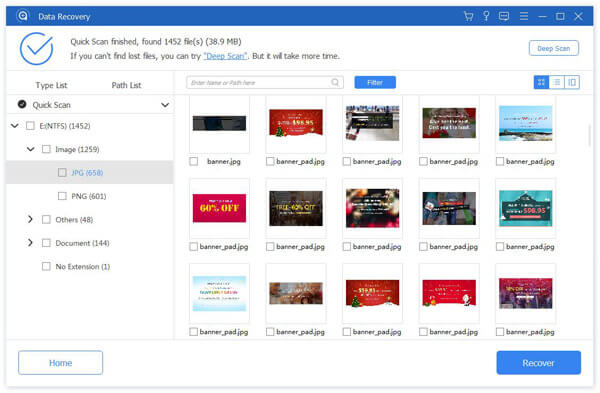 Part 3

. Restore chrome bookmarks with DNS Cache

Another way to restore bookmarks Chrome is DNS cache. It is well-known that all our activities on computer save as cache data. And DNS cache is dedicated for browsing activities in web browser. Of course, you can restore bookmarks via DNS cache.

Step 1. Hold Win + R to open Run dialog, input cmd into the box and press Enter key to start a command prompt window.

Step 2. Then type "ipconfig /dislaydns", you can click "Enter" key on your keyboard. Next, the websites that you accessed recently will show up and you can save them as bookmarks in Chrome.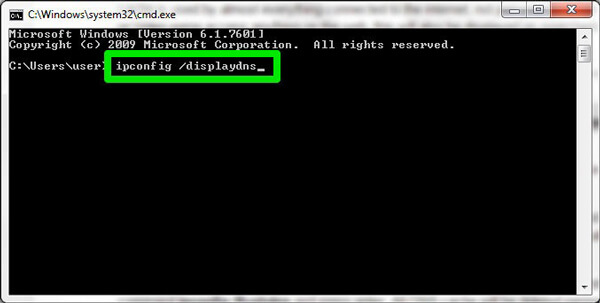 Don't Miss:
How to Transfer Bookmarks to Another Computer
Conclusion
Digital is changing our life and many people said that they cannot imagine living without internet. Internet users prefer to Chrome, partly because it has integrated many useful features and services, such as bookmark, Gmail, and more.
We can save the websites that we access repeatedly or want to revisit as bookmarks. Then we can find and open them directly via Chrome bookmarks. But many facts could lead to bookmarks loss, like update failure.
Luckily, there are multiple ways to restore Chrome bookmarks. We have shared the best methods in this tutorial. If the deleted bookmark is important, we suggest you to try Apeaksoft Data Recovery. It is easy to use and able to get back almost all bookmarks. Now, you can pick your favorite method and recover your bookmarks as soon as possible.