Samsung is one of most famous smartphone brands around the world. Since Samsung released Galaxy S9, the topic of Samsung contacts recovery becomes hot.
An accidental deletion on Samsung phone may get contacts loss easily. However, it becomes the pains to get back the contacts on Samsung.
Don't worry! Here we gather 3 ways of getting contacts recovery from Samsung, from phone directly, Samsung account and Google contacts.

1. Samsung contacts recovery from your phone directly without backup
Even though you have not backed up your phone, there are chances to do Samsung contacts recovery. Once you erased a contact, the space stored it will be marked empty and waited for new data. But the deleted contact is still there until overwritten by new data. Android Data Recovery uses advanced algorithm to analyze the memory card and recover lost contacts on Samsung phone.
How to get deleted contacts recovery from normal Samsung phone
Step 1. Connect Samsung phone to computer
Android Data Recovery has one version for Windows and Mac OS X/11 respectively. You can download and install the right version to your PC according to your operating system.
Use a USB cord to connect your Samsung phone to your computer, too. Launch the Samsung contacts recovery tool and wait for it to detect your phone.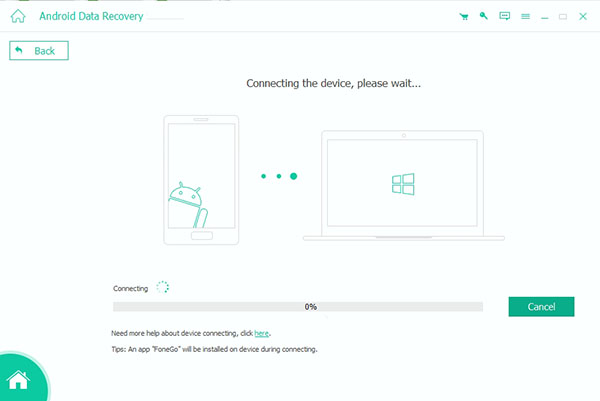 Step 2. Scan contacts on Samsung phone
Follow the onscreen instruction to turn on the USB debugging mode on your phone. When the connection is successful, contacts recovery software will take you to the detail screen. Here you can preview all contacts by ticking the "Contacts" option on left ribbon.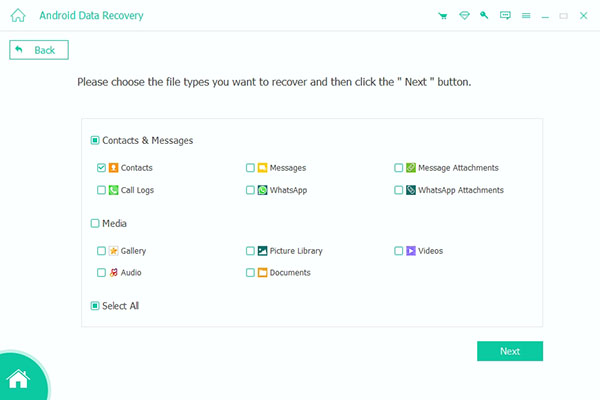 Step 3. Recover deleted Samsung contacts
Finally, click on the "Recover" button at bottom right corner to complete this process. Then you can view contacts on your computer as CSV, VCF or HTML.
Here the contacts marked as red coloe are the deleted contacts, while the black are the exising contacts on Samsung phone.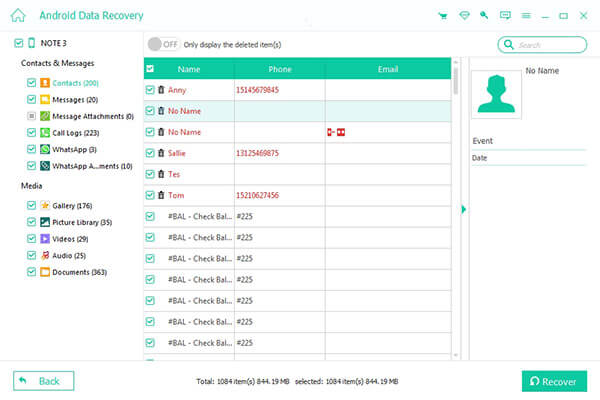 How to restore Samsung contacts from broken phone
If the Samsung phone is broken or damaged, the method above is not feasible. Fortunately, Android Data Recovery provides another mode to help you achieve Samsung contacts recovery from a broken phone.
Step 1. Connect Android phone to computer
Run Android Data Recovery and connect your Samsung phone to the software. Press the "Broken Android Data Extraction" tab to switch to this mode. And follow the onscreen guide to turn to recovery mode of your phone.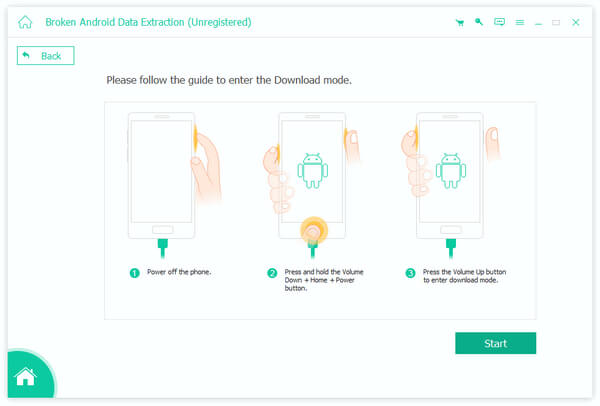 Step 2. Preview contacts for recovery
On the confirmation window, you should view the basic configurations about your phone and hit the "Confirm" button to open detail window. Then you can preview all contacts available to recover by choosing the Contacts option.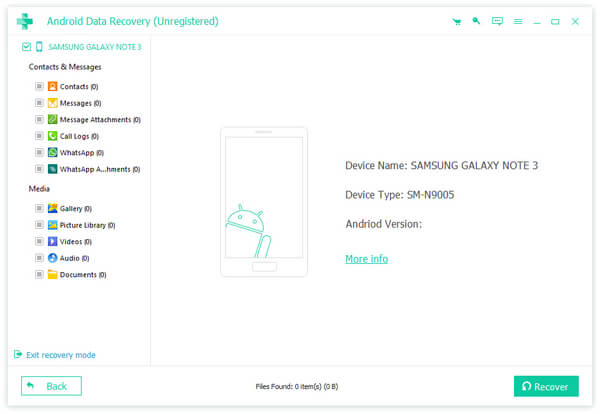 Step 3. Restore Samsung contacts
Select all Samsung contacts for recovery and click on the "Recover" button. Choose a location for the contacts and hit "Recover" again to restore Samsung contacts to your PC. Check this post to get 5 free Android data recovery tools.
2. Samsung contacts recovery via Samsung account
Samsung provides contacts sync service for latest Galaxy phone models. If you have set up Samsung account on your phone, you can get back lost contacts through Samsung backup. According to our testing, this way is feasible for Galaxy S7/S8/Note 8 with Android 6.0 or later.
Step 1. Open Samsung account
Connect your phone to a trustable Wi-Fi network or cellular data. Go to "Settings" > "Personalization" > "Accounts". Tap on the "Samsung Account" option on the list to open it.
Step 2. View contacts to restore
Scroll down and tap on the "Restore" option on the Samsung account screen. Then on the confirmation dialog, press OK to view all recoverable contacts in your Samsung account.
Step 3. Restore contacts to your phone
Select several contacts you'd like to restore and then tap on "Restore Now" to finish the Samsung contacts recovery process.
To recover contacts from Samsung account, there are three prerequisites. Firstly, you have to set up your Samsung account on your phone manually before accidentally delete contacts. Then, your phone must run as normal. Furthermore, a Wi-Fi network is necessary to restore contacts from Samsung account.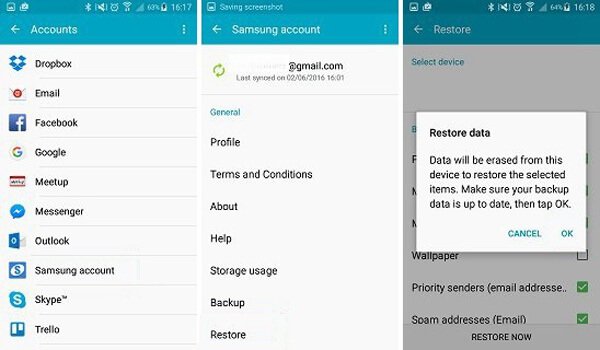 3. Samsung contacts recovery from Google Contacts
For Samsung phone users, Google account is another choice to back up a smartphone. Of course, if you have connected your Google account to your smartphone and bakup contacts to Gmail, you may get back lost contacts from Google Contacts service.
Step 1. Visit Google Contacts
You can visit contacts.google.com in any browser and log in your Google account directly. Or you can go to Google Contacts in your Gmail account by clicking on Contacts from the Gmail menu at upper left corner.
Step 2. Choose a restoration period
Open the restoration settings window by pressing the "Restore Contacts" option on left sidebar. Google Contacts offers four restoration periods for selection. And you can customize a period up to 30 days.
Step 3. Get back contacts
After setting restoration period, click on the "Restore" button on the pop-up window to complete Samsung contacts recovery immediately. Then you will discover that your lost contacts are back to your phone.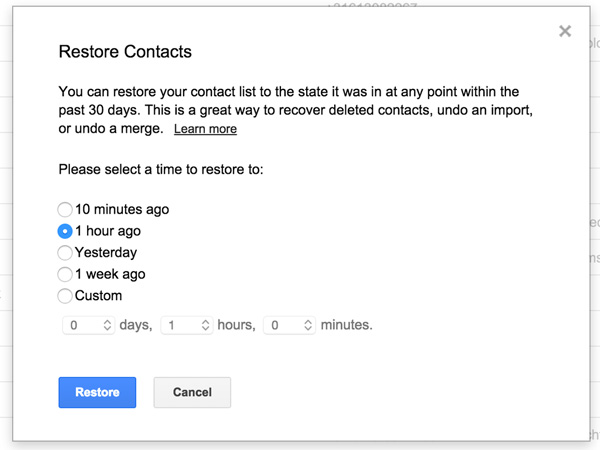 You may also want to know how to transfer contacts from Android to iPhone.