If you have a Toshiba HDD that worked fine previously, it suddenly corrupted and all your official documents on it were inaccessible. What can you do to recover files from a Toshiba hard drive?

Toshiba is a famous technology company producing diversity consumer electronics, including HDD hard drives.
In this tutorial, we are going to tell you how to do Toshiba HDD recovery in details.
Part 1

: Reasons for data loss on Toshiba hard drive

First of all, let's talk about what causes data loss and need Toshiba hard drive recovery.

1. Delete the files on your Toshiba hard drive by hitting Shift + Delete keys unintentionally. Or empty the Recycle Bin after delete files on Toshiba HDD.

2. Format the Toshiba hard drive by accident.

3. File system on the Toshiba HDD is corrupted or not supported by your machine.

4. Pull off Toshiba hard drive forcedly and improperly.

5. Sudden power surges while the hard drive is being used.

6. Virus, Trojan, ransomware and other malicious programs attack.

7. Hardware damage, such as the cable connects external hard drive and your computer is broken.
Part 2

: Common ways to make Toshiba HDD recovery

In this part, you can learn multiple common ways to do Toshiba HDD recovery quickly.
Way 1: Try Toshiba HDD recovery with another computer
Whether your internal or external Toshiba hard drive works abnormal, you can remove it from the first computer and plug it to another machine. Maybe there are just some conflicts between the Toshiba HDD and the original computer but not real problems.
Make sure that Toshiba hard drive is connected to the computer correctly, and check the cable is in good status.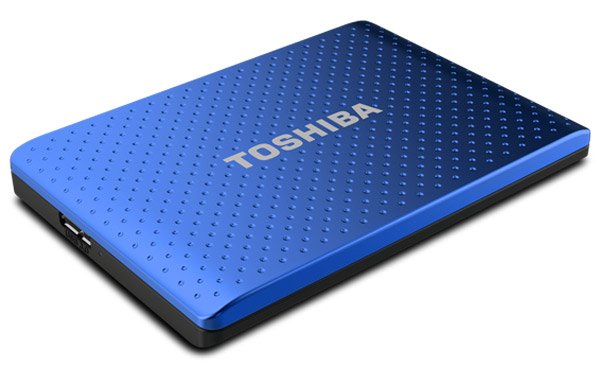 Way 2: Toshiba HDD recovery using Recovery CD
If you use the Toshiba HDD as internal storage, the built-in Recovery Media Creator feature is able to make Toshiba HDD recovery simply.
How to create Toshiba HDD Recovery CD
Step 1: Open the "Start" menu, go to "All Programs" > "My Toshiba folder" and click on "Recovery Media Creator".
On Windows XP, you can find the Recovery Disk Creator icon on your desktop or "Start" > "All Programs" > "Recovery Disk Creator".
Step 2: Insert a blank DVD or USB drive into your computer, select the corresponding format that you want to use for creating the recovery media.
Step 3: Click on "Create" button and follow the onscreen instructions to complete it.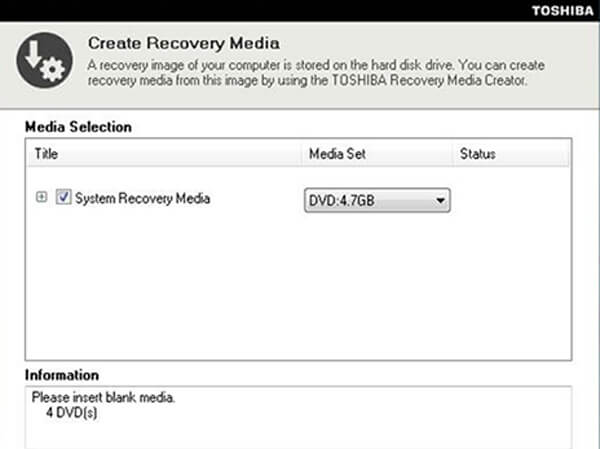 How to make Toshiba HDD recovery
Windows 10/8/8.1:
Step 1: Open the Charm Bar by clicking Win + C, head to "Settings" > "PC Settings" > "General", and select "Restart now" in "Advanced startup" section.
Step 2: When you see the Advanced startup screen after restart, select "Troubleshoot" > "Advanced options" > "System Restore" and finish the rest steps.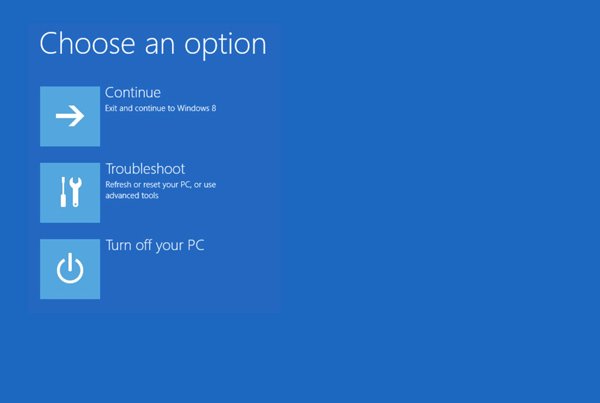 Windows 7/XP/Vista:
Step 1: Restart your computer and press F12 or F8 to boot into Advanced Boot Options screen. Select "Repair your computer" on the boot menu.
Step 2: Follow the onscreen guide and make sure to log in with administrative rights. Then select "Toshiba Recovery Wizard" on System Recovery Options dialog.
Step 3: Next, choose "Recovery of Factory Default Software", click "Next", then select "Recover to out-of-box state" and click "Next".
Step 4: Complete rest steps to click "Finish" to trigger Toshiba HDD recovery.
Now, your Toshiba HDD should work fine and your files are accessible.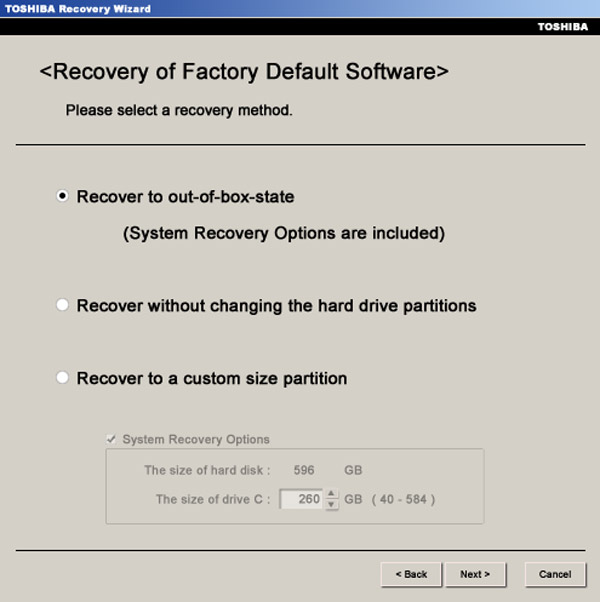 Way 3: Toshiba HDD recovery by formatting
If your Toshiba external hard drive or one hard disk is corrupted, format is an efficient way of Toshiba HDD recovery.
Step 1: Expand the "Start" menu, find and click on "Disk Management" to open it.
Step 2: When the hard drives show up, right click on the corrupted Toshiba hard drive and select "Format".
Step 3: There are several custom options on the popup dialog. Give the hard drive a new name in "Volume label" field and select a proper format in File "system" dropdown menu:
NTFS is default format on Windows operating system;
FAT32 is widely compatible with storage devices;
exFAT is supported by Windows and Mac.
Step 4: Check "Quick Format" and click "OK" to start Toshiba HDD recovery.
You'd better make a backup for the Toshiba hard drive first since formatting will delete all data on it.
If you are unfortunate to forget to backup hard drive data, then learn here to get data recovery from formatted drive.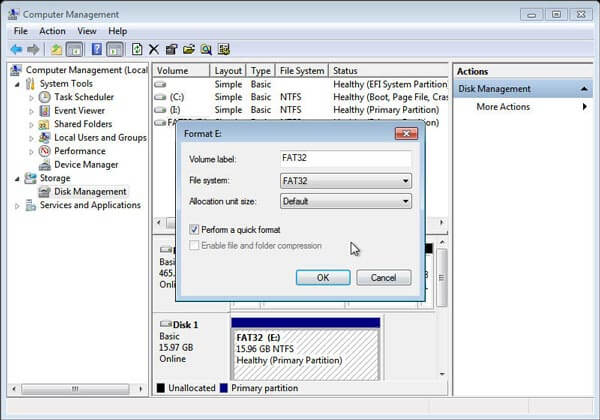 Part 3

: Best way to recover lost data on Toshiba hard drive

If you are looking for the best way to recover data from corrupted Toshiba HDD recovery, Apeaksoft Data Recovery is a good option. Its main features include:

1. Toshiba drive recovery in one click.

2. Recover data from RAM drive on your Toshiba computer.

3. Data recovery in a variety of situations, such as mistake operation, accidental deletion, virus attack, file system corruption, or hard drive format.

4. Support a variety of data types and formats, including all image, video, audio, document, email, archive and more formats.

5. Restore deleted files in original format and quality.

6. Preview for selectively Toshiba hard drive recovery.

7. Quicker, lighter and safer.

8. Available to Windows 10/8.1/8/Vista/XP and NTFS, FAT16, FAT32, exFAT, EXT, etc.
How to recover lost data on Toshiba hard drive
Step 1: Scan entire Toshiba hard drive to look for data
Make sure to connect your Toshiba hard drive to your computer. Download and install the best Toshiba hard drive recovery tool on your PC. Open it and select the data types that you want to recover, like "Document". Then move to location area and select your Toshiba HDD no matter it is local hard disk or external hard drive. Once click on Scan button, Toshiba Data Recovery will work automatically.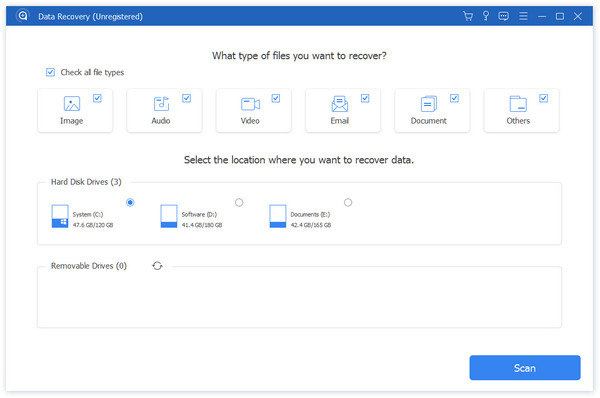 Step 2: Preview before Toshiba HDD recovery
When result window shows up, select a data type from left side and open the folders on right pane to look at lost data. The "Filter" feature at top ribbon could locate a single file quickly, and the "Deep Scan" button is able to recover more data from the Toshiba hard drive.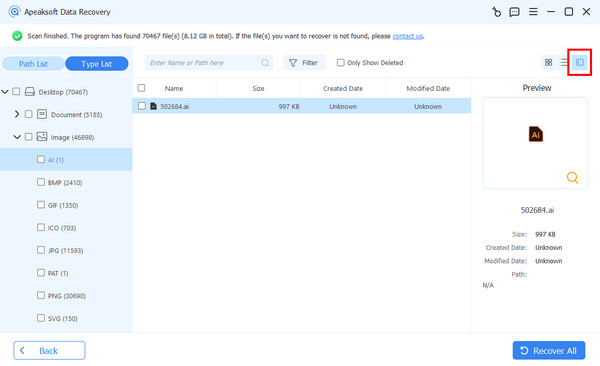 Step 3: Recover data from Toshiba hard drive in one click
Select all files that you'd like to get back from corrupted or damaged Toshiba hard drive. Finally, click on the "Recover" button to trigger the Toshiba hard drive recovery process.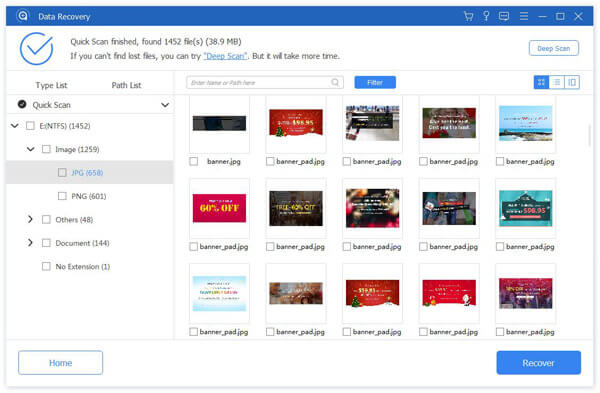 Conclusion
As a cost-effective choice, Toshiba HDD is popular around the world. It makes sense that many people search for how to make Toshiba hard drive recovery on social platforms and forums when considering so many people are using Toshiba HDD.
Based on our introduction above, you might understand how to repair Toshiba HDD without data loss.