Mobile game has become one of the major activities on mobile devices. According to a recent survey, Android users spend lots of leisure time on playing games. As well as almost all smartphone owners have at least one game app on their devices.
Game Killer No Root is an app to make your mobile game experience simpler. Many people have to root their Android device in order to hack mobile games. The process is pretty complicated and dangerous, especially for non-tech savvy.
Is there any way to modify mobile game files without rooting Android? Game Killer No Root is the answer you are looking for. In this post, you can get a complete guide of the powerful game hack app.
Part 1

: What is Game Killer Not Root APK

Briefly, Game Killer No Root is a mobile game hack app. In the past, Game Killer app required root access and hack your mobile games. Now, you can use the new version without rooting your device. With this game hack app, you can:

1. Download the full Game Killer No Root from official website completely free.

2. It works on a wider range of Android systems and works perfectly well on LollyPop/Marsh Mallow/KitKat.

3. Hack any offline mobile games and apps on non-rooted Android devices.

4. Get help from the help community of Game Killer APK at any time.

5. It is embedded and makes the process of game hack pretty simple.

6. According to the developer, it only takes a few seconds to hack games and save your money.

7. Modify paid games, upgrade your game level, and obtain coins without paying a penny.

In summary, Game Killer No Root APK allows you to get the most of your games free. You can use the additional resources to strengthen your role in the game. And all you want can be achieved without rooting your Android phone at all.
Part 2

: How to use Game Killer without Root

Unfortunately, you cannot install Game Killer No Root from your Google Play Store. Considering some people reported that installing APK is pretty complex, we will show you how to install and use this game hack APK in detail.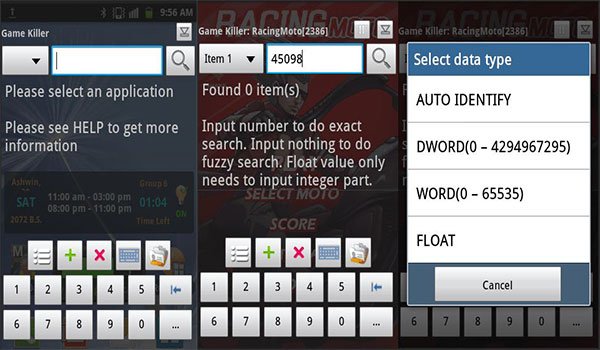 Step 1: Unlock your Android phone, connect it to a goo Wi-Fi network, go to Settings > Security and turn on the Unknown Sources option. This allows you to install APKs from the sources other than Google Play.
Step 2: Open your mobile browser and download Game Killer No Root APK from a reputable website or the official site. Bear in mind that fake sites may offer links to get programs similar to Game Killer plus virus or other malware. After download, tap the APK file and follow the onscreen instructions to install it on your device. You can find the installation file in your Download folder.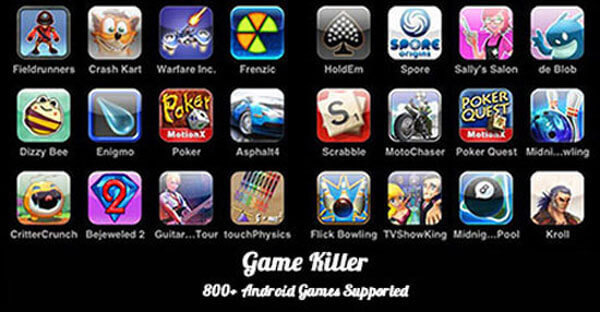 Step 3: Next, go to your App Tray and run Game Killer No Root app. For the first time to run it, you have to wait for a few seconds to load the tools completely. Then minimize the game hacker app and back to your home screen. At this time, you can see a small icon shows on the top of screen.
Step 4: Find the mobile game that you want to hack on your app tray and open it. Wait for the game to load completely and check the items you have. Then touch the small icon to summon the Game Killer app. It will recognize the game automatically.
Step 5: Input a value you want to get for the item in your game, such as coins. For example, type 500 and you will get 500 coins. Finally, tap on the search button with a magnifier mirror icon.
Step 6: Close Game Killer No Root app and reopen your game to see if the coin is increased successfully. Then you can repeat step 5 multiple times until you get the satisfied result.
Congratulations! You can enjoy your mobile games without any limitations.
Part 3

: Cons and Pros for Game Killer

As you can see Game Killer No Root APK is a powerful way to hack games on Android smartphone and tablet. But some people are still wondering if it is worth to use.

The common benefits of game hacker app include:

1. This APK is totally free to download and use without ads, spyware, virus and more.

2. And if you get it from official website, it is pretty safe.

3. It is able to hack a very long list of mobile games.

4. With Game Killer, you can get premium coins and add score without putting real money on the game.

5. This app does not require internet connection.

6. You can use it on any Android devices, including rooted or unrooted phone.

7. The workflow to get coins for free is very simple and anyone can handle it.

8. You can share the same features of game hack on non-rooted Android the same with rooted devices.

Of course, Game Killer No Root APK is not a perfect game hacker app and there is something you should know:

1. It only works on offline games and apps. The mobile games that need internet connection are not supportive.

2. This game hacker is available to Android 2.3 up to 6.0, so you cannot use it on latest Android systems.

3. It is not included in Google Play Store. And if you download the APK from an untrustworthy source, you have to take the risk of virus attack and other problems.
Conclusion
Even though we mainly talked about Game Killer No Root in this post, here we still introduce you with some great Android root apps, in case you want to root your Android and get more control of your device.
We shared one of the most popular game hacker apps for Android above, called Game Killer No Root. Unlike other game hacker apps, it does not ask you to root your device. So, everyone can use it to modify game score, coins and other items on Android smartphone or tablet.
If you are a mobile game player, Game Killer No Root is a must-have app. The only downside is that you cannot use it to hack or change online games. But this does not affect it to become a popular game hack app for Android mobile gamers.