"I rooted my Android phone, and then I found that my bank app is inaccessible, can I use the app on rooted phone continuously?"
Can people use security sensitive apps on rooted device? The answer is yes, all you need is to hide root.

The cost of rooting Android is that you lose access to certain apps, like payment, mobile wallet, bank and corporate security apps. Once detecting your device is rooted, they won't work anymore in order to protect your financial confidential data. In this tutorial, we will tell you multiple methods to hide root for keep using these apps.
Part 1

: How to hide root access with Magisk Manager

Magisk is currently the best alternative of SuperSU, created by XDA Developer. Similar to SuperSU, Magisk is able to grant or deny root permissions for specific apps. Moreover, it has the capacity to hide root and make certain apps to believe it is on a non-rooted device. You may also want to know if your Android phone is rooted.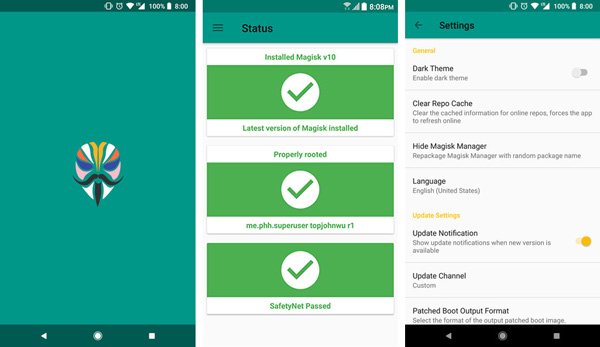 Step 1: Launch SuperSU, go to Settings tab and touch Full Unroot. When prompted, tap Yes. When asked if you want to restore the stock recovery image, choose No. After your device reboot, uninstall Xposted Framework as well if you have it. Make sure to remove other bloatware and disable Ad-block apps.
Step 2: Next, install Magisk on your device after it return to original status. Then open the Magisk Manager app and navigate to the Settings screen. Toggle on Magisk Hide, BusyBox and Systemless hosts. Go to Status section and tap SafetyNet check at bottom of the screen, then you will be presented SafetyNet Passed.
Step 3: Open the Settings app from your App Drawer and head to Apps > Google Play Store, tap on Force Stop, touch Storage and hit Clear Data. Now, open your Play Store, locate to Settings, you should see Certified under Device certification. It means you hide root on your device successfully.
If you want to download Xposed and other mods, go to the Download section in Magisk Manager.
Part 2

: How to hide root access with Root Cloak App

Root Cloak utilizes various methods to cheat apps or prevent them from detecting the fact that your device is root, so it is another approach to hide root on mobile devices. According to testing, Root Cloak works on a wide range of apps in Play Store, like AprivaPay.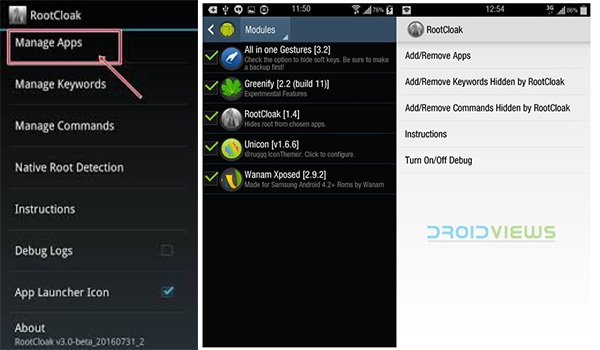 Step 1: Get your rooted device online, open your mobile browser and download Cydia Substrate from official website. It is not available in Play Store now. If your device is running Android 4.4 or later, download SELinux Mode Changer and set it to Permissive.
Step 2: Next, open your Play Store, search and install Root Cloak on your Android device. After that, restart your rooted device and then run Root Cloak app from your home screen.
Step 3: Now, select the apps that you want to hide root status for on the list. If the target app is not on the list, touch the Plus icon at upper right corner and add it. Then you can use any app on your rooted Android phone.
Root Cloak will not unroot your device; it just cheats the apps and avoids some apps to detect your device root status.
Part 3

: How to hide root access with Hide My Root App

Hide My Root is a simple way to control which apps on your device detect the root status and prevent others from getting such information. And this freeware is available in Google Play Store.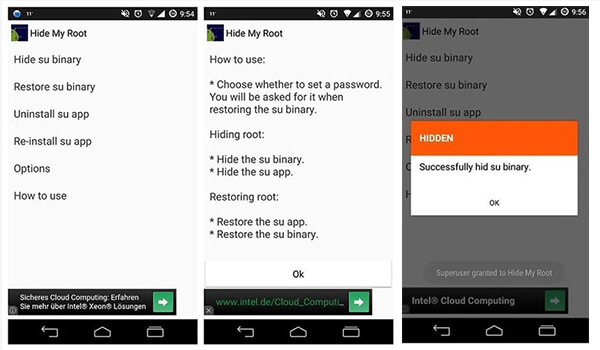 Step 1: Turn on your rooted smartphone or tablet, open your Google Play Store, search Hide My Root app and install it on your device. Bear in mind that downloading app from Play Store needs an internet connection. If prompted, tap ACCEPT on the popup dialog.
Step 2: Next, open the Hide My Root app from your home screen. When you first open the app, touch Accept to grant root access permission.
Step 3: There are more than one way to hide root. If you want to hide your root status for all apps, tap Hide su binary on the main interface, and you need to grant superuser access to complete it. And the Uninstall SU App option is able to temporarily remove the superuser privilege. You can tap Re-install SU App to get it back at any time.
Step 4: After hide root, you can use the apps that are inaccessible in rooted status.
Part 4

: How to hide root access with SuperSU

SUHide is the new feature released by SuperSU's developer. By default, SuperSU does not have the feature to hide root. But now the developer adds this feature for rooted users. And the SUHide lite is the GUI version..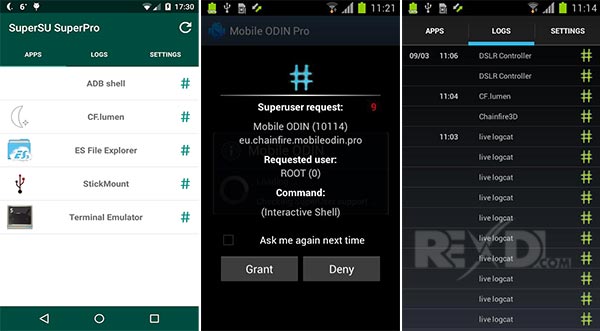 There are some prerequisites to use SUHide-lit to hide root status:
1. Firstly, make sure you have SuperSU in SBIN mode on your device.
2. Your device must run Android Marshmallow or Nougat.
3. Download SUHide-lit from internet.
Step 1: Boot your device into TWRP, then turn off your rooted phone and leave it in the state for a few seconds.
Then power your device back on by pressing Volume Up + Volume Down + Power buttons until enter fastboot mode.
Step 2: Select Install on the menu to start flashing the configure file, next you will be presented the internal storage folder tree. When it is done, you will be taken to an installer. Pick up Systemless SBIN as installation method and let SuperSU decide other options. Next, head to SuperSU zip folder and flash it as well.
Step 3: Reboot your device, shut down and boot into TWRP, tap Install, go to the SUHide zip file and flash it in SBIN mode. Now, open SUHide-lite, go to the Apps tab and change the mark next to each desired app to hide root status.
Part 5

: FAQs of hiding root access

1. What does it mean to hide your root access?

When some apps can't run on a rooted Android phone, you need to hide root from your iPhone for using that app.

2. How to hide root from apps?

You can use the above mentioned tools like Magisk to hide the root permission of your favorite apps.

3. How do I hide root from Pokémon?

To hide root from Pokémon, a highly secure application you can try is Magisk. Open Magisk Manager app on your Android phone, and tap the Menu button. Next, tap on settings and enable the Magisk Hide option. Return to Menu and tap on the Magisk Hide option. Select the Pokémon app to hide the fact that your phone is rooted.
Conclusion
Before rooting your Android phone and using the recommended apps to hide root access, you are suggested to backing up Android data.
It is true that you can enjoy a lot of benefits with root access privilege, such as install incompatible apps. But some apps are sensitive with cybersecurity. That may become inaccessible when they discover that your device is rooted. In this tutorial, we shared a solution, hide root. And there are several ways to achieve such task. All you need to do is pick up your favorite way and follow our step by step guides to hide root and use apps as you wish.