Android has become the most popular mobile operating system around the world, partly because it is open and flexible. But if only have the user permissions, you cannot enjoy all potentials of Android.

First, you will lose the warranty after rooting Android tablet/phone. That means you cannot enjoy the free technology support from your manufacturer. On the other hand, your phone is exposed to more security risks.
Every app that grants the root access privilege is able to collect all information and data on your device. More importantly, you have to perform the Android rooting process very carefully. Any improper operation may cause serious results, like destroy your data on the device, make the phone or tablet crashed, and more.
Therefore, we are going to concentrate on everything you should know about how to root an Android phone or tablet. Spending a few minutes to read the post, you can learn why root Android phone and multiple methods of how-to.
Part 1

: Why root Android phone/tablet

First of all, root is the process to gain root permissions. There are many reasons that people want to root their Android phones or tablets. The most common causes include:

1. Install more new apps. To get an app, you need an app store, such as Play Store. If you want to install some apps you can't find from Play Store, it may be blocked by your manufacturer or carrier. Once you rooted Android phone, you can install any app as you wish.

2. Free up space, boost performance and battery life. When you get a new Android phone and power it on, some apps are already on your device. Worse, these pre-installed apps are not removable, even though you do not use them at all. They eat your internal memory and slow down your phone. After rooted, you can get rid of them as simple as uninstall third party apps. Moreover, root permissions allow you to freeze apps and prevent them from running in background. That could enhance the performance and battery life.

3. Block ads in any app. Today, annoying ads has become a big problem on mobile devices. And the open Android system gives advertisers more opportunities. With a rooted Android phone, you can use the ad block technology as easy as on computer.

4. Customize home screen, layout, icons, etc. If you want to redesign your Android phone, rooting is almost the only way. After that, you can get theme and change any settings as you wish.

5. Hack mobile games. That is why many game players want to root Android phone/tablet. You are allowed to open, edit and change game files on a rooted Android.
Part 2

: What should you do before rooting Android phone/tablet

As mentioned above, it is a dangerous process to break root access restrictions, so you'd better make some preparations before rooting Android, like make a backup for your device. From this point, we recommend Apeaksoft Android Data Extraction to help you root Android device. Its key features include:

1. Easy to use. It has the capacity to extract data from Android devices and save the backup to your computer within a few minutes.

2. Lossless back up. All Android data will be backed up to computer in original status and quality.

3. Not interrupt existing data. When making backup for Android device, existing data on Android will not be damaged or interrupted.

4. Fix Android phone while backup. It is available to various situations, like system crashing or freezing, black screen, and more.

5. Higher compatibility. Another benefit is that Android Data Extraction works on all Android tablets and smartphones from Samsung, HTC, LG, Sony, MOTO, Google and other major manufacturers.

6. Support a wider range of data types, including contacts, messages, message attachments, videos, call logs, photos, music, and more.

All in all, it is the best option to back up your device before root your Android phone/tablet.
How to back up Android before root
Step 1: Connect your Android to the best backup tool
Android Data Extraction has two versions, one for Windows 10/8/8.1/7/XP and the other for Mac OS. Get the right version on your computer according to your operating system. Connect your Android device to your computer using the USB cable came with the device. Launch the best Android backup tool; it will discover your phone automatically. Hit the Start button on main interface to open the next window.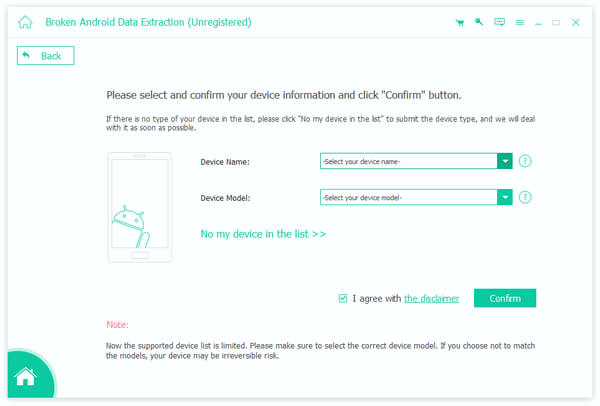 Step 2: Preview Android data before backup
Pick up your device name and device model from the dropdown menus on the confirmation window. Then click on Confirm button to go to the next window. Next, the backup tool will show you how to put your phone to download mode based on the detected information. After that, click on the Start button to download necessary firmware. When it is done, you will be taken to the preview window.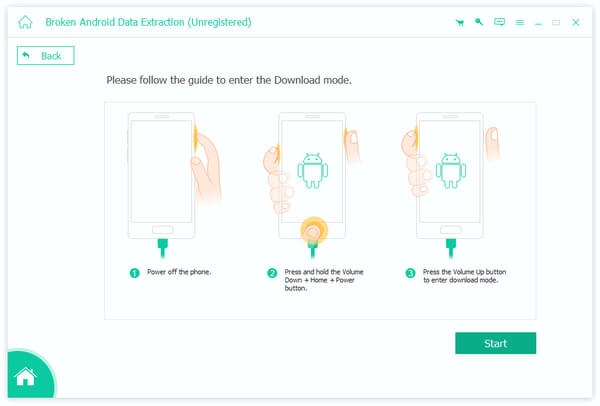 Step 3: Back up your data before rooting Android
On left navigation bar, you are presented data types, like Contacts, Messages, Call logs, Gallery, Videos, Audio, Documents, etc. Select one data type, such as Contacts, all contact names and phone numbers on your phone will pop up on right panel. Choose all contacts you want to back up by checking the boxes. Then go to other data types and do the same thing. Finally, click on the Recover button, drop a proper destination to save the data and start backing up before root Android.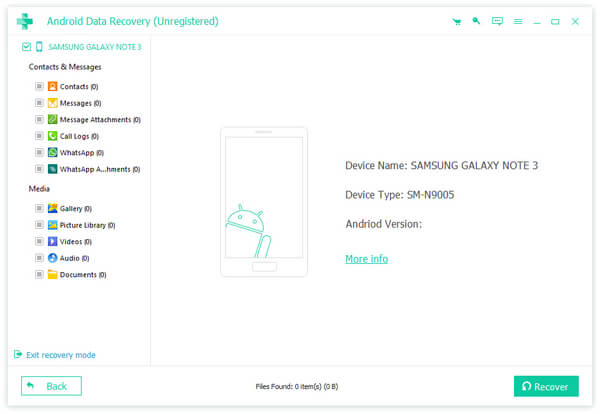 Note: According to our testing, Android Data Extraction is able to back up entire Android phone within a few seconds.
Part 3

: How to root Android on PC/Mac

In this part, we want to show you how to root Android with computer, like Windows PC and Mac computer.
How to root Android on Mac
It is not easy to root Android on Mac. Cydia Impactor is a simple tool for obtaining root access on oceans of Android devices from Samsung, HTC, Moto, Huawei, etc.
Step 1: Get your Android phone or tablet online, create a new folder on your desktop, download Cydia Impactor, and extract the file package into the new folder.
Step 2: Unlock your phone, head to Settings-> Developer options and enable USB Debugging mode. Connect your Android device to your Mac with a USB cable and run the Android rooting tool for Mac.
Step 3: Select # drop SuperSU su to /system/xbin/su from the dropdown list and click the Start button to initiate rooting Android on Mac.
Step 4: When it finishes, reboot your phone, download and install SuperSU to access root on your Android.
Android root on Mac gets a low possibility of success, so you should think twice. If Android system gets error after a root failure, just try Android system recovery mode to drag your Android phone to normal.

How to root Android on Windows PC
There are many choices to root Android with computer. CF Auto Root is one of the most successful methods.
Step 1: Turn on your Android phone, go to Settings-> About Phone and write down the Build Number. Next, download the package on your PC from the CF Auto Root website according to your build number.
Step 2: Boot your phone into download mode. The common button combination is Volume Down + Power buttons. It may be different on your device; you can find it in your manufacturer website. Then plug it to your computer with a USB cord.
Step 3: Run Odin, check Auto Reboot and F Reset Time. Click on the PDA button, navigate to the downloaded CF Auto Root file and open it. Hit Start button to trigger the Android rooting process.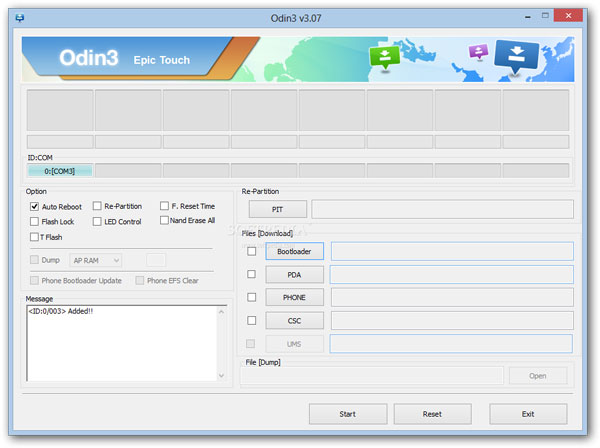 Part 4

: How to root Android without computer

For mobile-first, the best option is to root Android without computer. Here you can get three best ones. Firstly, open your Android device, head to Settings-> Security and enable Unknown Sources. This permits you to get the Android rooting APKs on your phone.
How to root latest Android devices with Kingo Root
Kingo Root is available to most Android devices running Android 4.4 and above.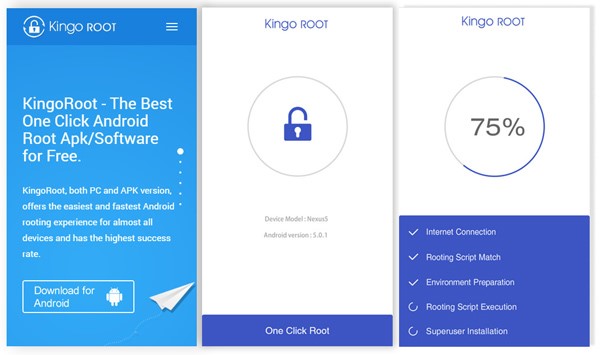 Step 1: Connect your phone or tablet a good Wi-Fi network. Run your mobile browser, go to the Kingo Root website and get the APK file on your phone.
Step 2: Run the APK file, you can find it in your Download folder. After install the APK, go to your home screen and open Kingo Root app.
Step 3: Next, tap on the Root button to start rooting Android without computer. A few minutes later when your phone reboot, download and install Root Checker to see the root status of your phone.
After rooted, you cannot uninstall Kingo Root app from your device. That is the biggest downside. If this Android rooting toolkit is failed on your phone, you can try other options.
How to root old Android devices with Universal Androot
Universal Androot is another popular way to root Android without PC APK. According to the developer, it works on Android 1.5 up to Android 7.0. It means that this Android root toolkit supports a wider range of Android devices.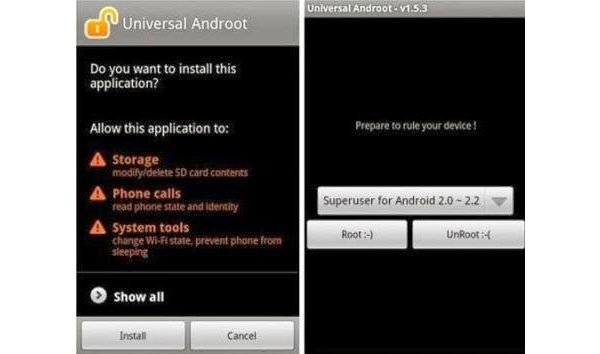 Step 1: Also, put your Android phone or tablet online, and go to the Universal Androot official website and download it for free.
Step 2: Run the APK file, tap on the Install button when prompted. This will get the app installed on your device.
Step 3: Open the app from your App Tray, touch and select Superuser or other method. If you are ready, tap on the Root button to trigger the process.
When rooting Android without PC APK is done, Universal Androot will install some necessary apps for rooted Android automatically. Now, you can enjoy root access privilege on your device.
How to root Android with Towelroot
Another Android rooting toolkit worth to try is Towelroot. It is a long-standing tool available to Android 4.4 and above. According to our research, Towelroot works well on most devices from major smartphone manufacturers.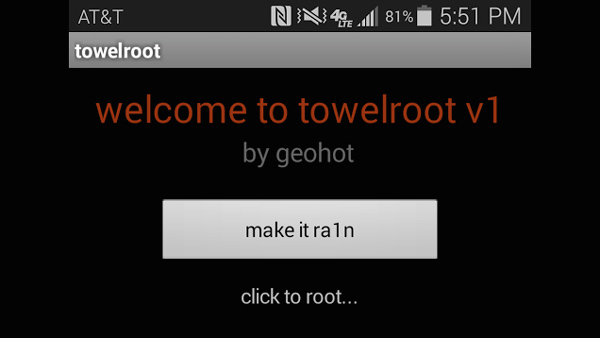 Step 1: Turn on Wi-Fi on your phone and enter your Wi-Fi network credential. Then go to Towelroot website and get the APK file. This tool is open source and free to download.
Step 2: Then open the APK file and follow the onscreen instructions to install it on your device.
Step 3: Start Towelroot app from your App Drawer, tap on the make it ra1n button to break the root access restraint immediately.
The developers release updates for Towelroot frequently, so you'd better to check the official website to see if your device is compatible. If you are using some antivirus app on your phone, you have to turn it off. Otherwise, it may treat Android rooting toolkit as a virus.
Conclusion
Considering that hundreds of millions of people use Android devices around the world. It makes sense that people cannot leave their mobile device since it almost does everything, from sending messages to keeping contact with people on social media, from recording important memos to tracking health. But if you want to entirely control your Android phone, you may need to root Android.
In this tutorial, we have talked about how to root Android with or without computer. Of course, people have various reasons to break the root access restriction, but we suggested you to back up your device with Apeaksoft Android Data Extraction. It is the best way to avoid data loss when rooting Android tablet or smartphone.
Then we shared five approaches to root Android devices on Mac, Windows or without computer. You can pick up the most appropriate method to obtain the root access privilege. We hope that our step by step guides and suggestions are useful to you. If you have more questions related to root Android, please leave a message below this post, we will reply it as soon as possible.