"I want to root my Android phone Galaxy Core Prime 360T and my friend recommended One Click Root APK. Is it worth to use and how to use it? I am not familiar with the rooting applications for Android phone. If there are some alternatives for this to root Android phone with easy process, I will be more appreciated if someone can give me some suggestion."

Today, more and more people decide to root their Android devices to get more control.
In the past, rooting Android is a professional job and only tech savvy can handle it. But now some utilities simplify the operations and allow everyone to gain root access of their handset within one click.
In this post, we are going to introduce one of the simple solutions to root Android phone, 1 Click Root, and the knowledge about how to root Android device.
Part 1

. Why should you root Android?

When you turn on your Android phone and sign in, you are a user and allowed to do certain things based on user permissions. The apps you installed on your phone, for example, are given a type of user ID.

Briefly, root is permission, which allows users to do anything, including access system files and edit them. As for the ordinary Android users, one click root should be very helpful.

When it comes to why should a people root Android phone, the reasons may be various for different people, here are the cons and pros for rooting Android phone you should know.

Pros

1. Get rid of pre-installed apps. Android is an open source operating system and manufacturers install some apps on their products before sale them on market. That is why some people only get 20GB storage available on their 64GB Android phone. Without root access right, you cannot remove these pre-installed apps from your phone.

2. Get more features. There are millions of apps in Google Play, but you cannot find the feature that you need. In such cases, you have to install APK files, but many of them are only available to rooted Android.

3. Customize your Android phone. After being rooted, you can use your Android phone as a Linux computer. All files become editable and changeable, so you can redesign your phone as you wish.

Cons

1. Security issues for Android phone. Google does not offer support for rooted Android phones. When you use the apps with sensitive data, such as Android pay and private information, your information will be leaked out.

2. Damage to smartphone to brick. When you search for some application online, you should make sure it is safe for you. The listed one-click root applications are the recommended one you can always trust.

3. Restrictions to Android operation systems. Since Android 5.0, system update for some smartphone will only work on un-rooted phones, such as Nexus and Pixel.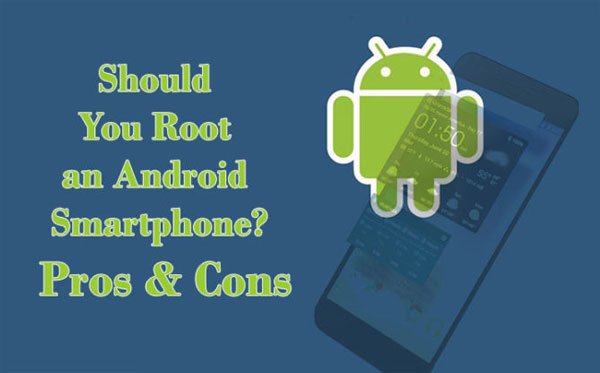 Part 2

. How to use One Click Root APK

One Click Root APK, similar to Kingo Root, should be a trustable Android application to fully access your device's full potential. The program supports most of the Android devices, which comes with extra fail-safes. Here are some listed features of the program you should know.

1. Access more applications, which is previously incompatible with your Android phone from both Google Play and other sources.

2. Custom ROMs completely change Android skin. What is more, you can also install the latest version of Android before others.

3. Get access to excellent features, such as PhotoSphere, slow motion video, and NFC mobile payments and more.

4. Preserve the life for battery. When you install extra applications after installing One Click Root APK, you can add more hours for the battery.

5. Free Wi-Fi tethering for Android phone. If you are still charged for Wi-Fi tethering, rooting lets you enable tethering while avoiding costly fees.

6. Guarantee your Android device will be protected throughout the rooting process.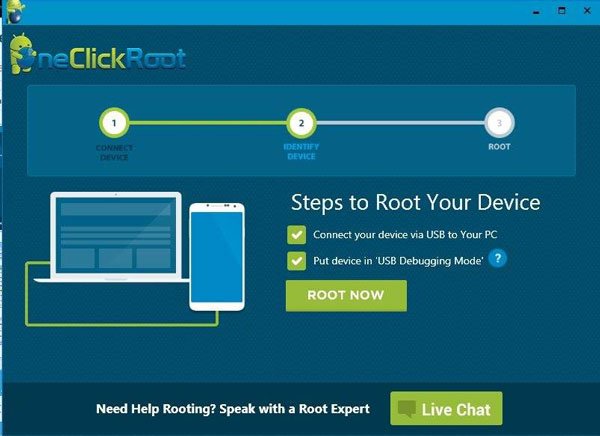 How to root Android with One Click Root APK
Before rooting Android phone with One Click Root APK, it is recommended to backup the files of Android phone first. Or else it should erase all the files of Android phone. You should also charge the device with at least 25% battery capacity. It requires a Windows and a good Internet connection. Now you can follow the process to root Android phone with the program.
Step 1: Allow installation of application from unknown apps for Android phone, you can turn on OEM unlocking in developer option. Go to "about phone" and click on "Build Number" until it is enabled.
Step 2: Open the Settings app from your App Tray of the Android phone, head to "Application" > "Development" and turn on the "USB Debugging" mode. And connect your Android phone to your PC using a USB cord.
Step 3: Access One Click Root website and get the simple tool to your Windows. Start it after installed, it should detect your Android phone. If not, it means your phone is not supported or you can try it again.
Step 4: Click on the "Root Now" button on the home interface to start rooting your Android phone. It may take a while to complete the process. Finally, your Android phone will reboot. Now you can do what you want on your phone.
Step 5: After you root the Android phone, you can install extra applications, such as SuperSu or Greenify to optimize the Android phone. You can also custom ROMs according to your requirement.
Note: If it is the first time you use the program, you might fail to root the Android phone. It is recommended to have another try to make sure the program works for you.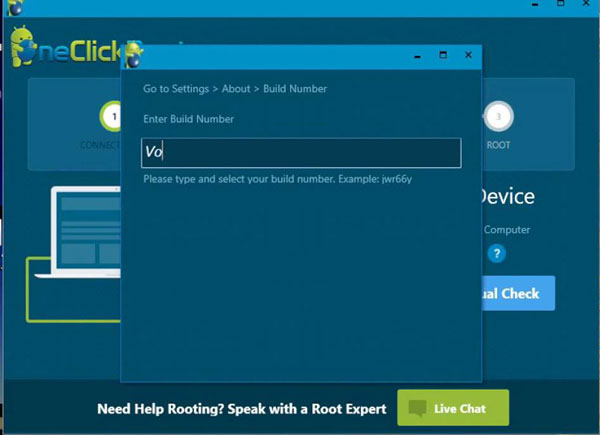 Part 3

. Best alternative to root android with one click

Of course, One Click Root is not the only way to gain root access on Android phone. In this part, you can get more options. Here are 4 more excellent options to root Android phone with one click. If you are looking for some alternative solutions for One Click Root APK, you can just take these programs into consideration.
iRoot
iRoot is one of the best One Click Root Android software for free refresh your Android device. Whether you need to boost device performance, uninstall preinstalled applications or custom ROM, it should be one of the best solution you need to take into consideration.
Pros
1. Offer two versions for rooting Android with or without PC.
2. Support one-click rooting Android devices.
3. Both PC and APK versions are free to use.
4. Work on over a hundred smartphone brands.
5. Multiple features to boost speed and optimize Android phone.
Cons
1. This One Click Root alternative is only available to latest Android systems.
2. Asking permission to install an app called "App Cool", it should be annoying.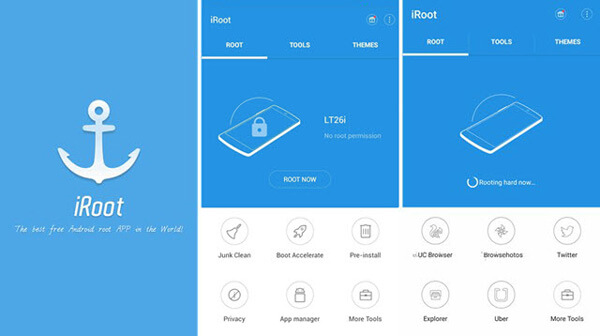 SRSRoot
As an alternative solution for One Click Root, SRSRoot also have FREE FRP bypass on rooted devices, Read and reset Gesture lock, Remove Sprint and Tmobile Simlock and many more cool features. It keeps adding more brands of Android phones to make it more powerful.
Pros
1. Root Android 1.5 up to Android 4.2 with a single click.
2. Integrate the Unroot function, which only requires one click.
3. Totally free of charge with the powerful features.
4. Extra functions to Wipe data, Reset gesture lock / FRP / Userlocks.
5. Offer the ADB toolbox and other features for the Android phone.
Cons
1. This One Click Root alternative is not compatible with the latest Android 7.
2. Error messages when rooting certain types of Android phones.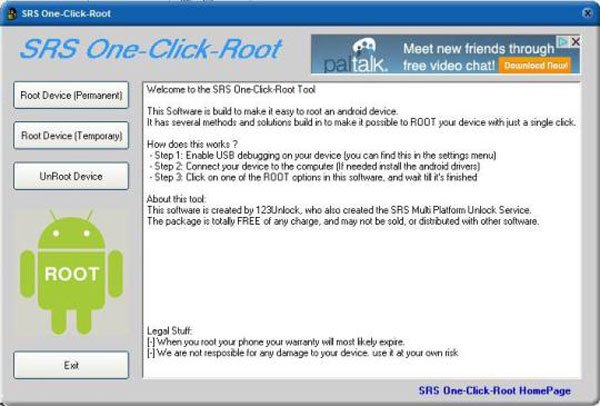 Kingroot
Kingroot is another One Click Root Android application, which has more than 100 thousand installation. It should be a powerful solution to optimize the Android phone and enjoy extra features. What is more, you can get a clear view for the supported Android phone types from the website.
Pros
1. Support rooting Android phone with and without PC.
2. Available to Android phone from Samsung, LG, HTC and other manufacturers.
3. Built-in an unroot function to get rid of rooted Android phone with ease.
4. Root Android N/M and earlier versions.
5. It has an easy to use process, which requires only one click of the blue button.
Cons
1. This One Click Root alternative downloads other apps on your phone while installing.
2. Does not work with Moto G, Nexus and more other Android phones.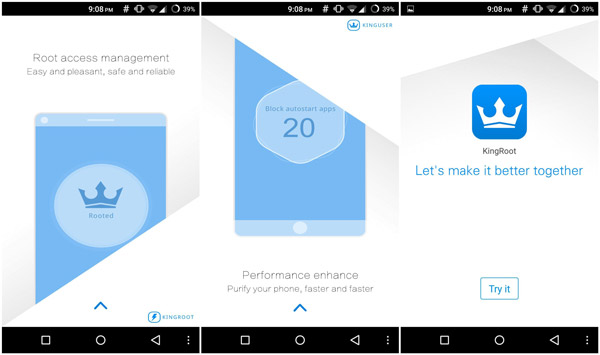 Part 4

. How to Retrieve Data for Android Root

Rooting Android is a dangerous job and any improper operation may lead to data loss and even bricked Android phone, even if you are using the One click root APK. At this time, you will need a professional data recovery tool for your Android phone, such as Apeaksoft Android Data Recovery. Its main features you should know.

1. Retrieve data from rooted or unrooted Android phone.

2. Preview and select certain data types to get them back from Android.

3. Keep original status and quality of the data while Android recovery.

4. Get back lost files from Android to computer without damaging existing data.

5. Work on all Android devices from Samsung, LG, HTC, Moto, Sony, Google and more.

6. Available to various situations, like accidental deletion, root or unroot failure using One Click Root, system crashing, etc.

7. Recover data from unrooted phone.
How to retrieve data for Android root
Step 1: Get the best Android recovery tool
Get Android Data Recovery installed on your Windows. There is another version for Mac computer. Launch the program from your desktop after installation, and connect your Android phone to the computer via a USB cable. The program is able to recognize your phone automatically.
You need to enable the USB Debugging mode on Android before connecting it to computer.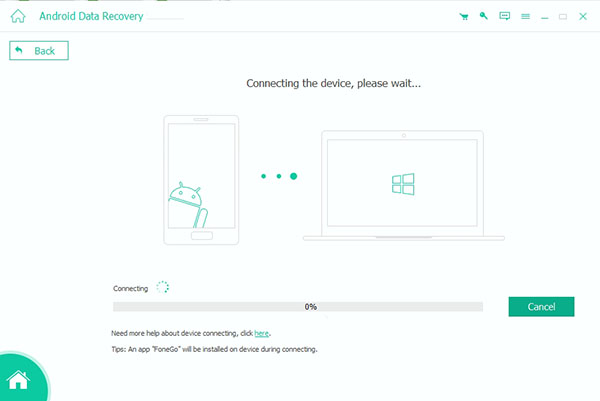 Step 2: Set up data types to get back
After connection is successful, you will be presented the data type window. Here you can select what data types you want to retrieve, like "Contacts", "Messages", "Photos", "Videos", and more. In order to retrieve the whole files from Android phone rooted by One Click Root, check the box next to "Select All". Then click on "Next" button to move on.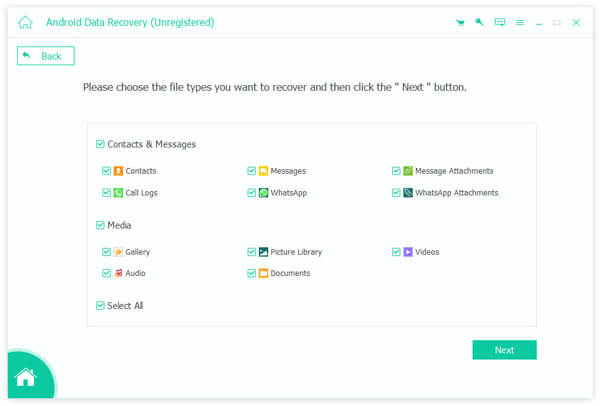 Step 3: Retrieve data for Android root
Finally, the detail window shows up and allows you to look at the files and data on your Android phone ordering by types. Make sure to select all data you want to get back and click on the "Recover" button to get what you want. After that you can check the retrieved files in your computer before syncing the files to Android phone.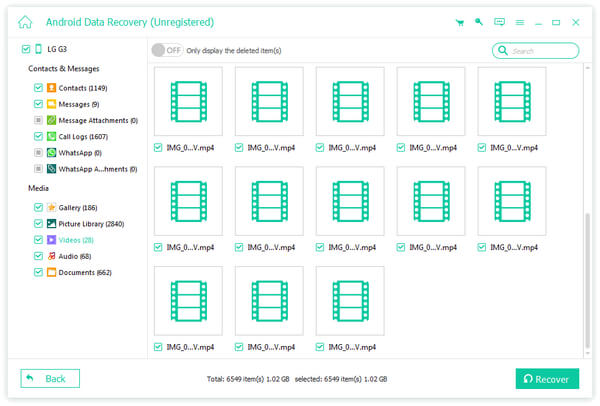 Conclusion
We use our Android phone every day to complete various tasks, from reading news to access social media, and from managing our health to record important moments. When you want to explore more features or optimize the Android phone, you can root with One Click Root. In order to get extended features, you might also take some risks to the Android phone. We have introduced One Click Root and the best alternatives to get a better Android phone.
On the other hand, we also shared the best way to retrieve data for Android root if you have not backed up the data of Android phone, Apeaksoft Android Data Recovery. Now, you can get start rooting Android devices without worrying about the data loss or other issues.
If you have any other queries about One Click Root or the alternative solutions, you can also share more detailed information in the article.