"I have a MOTO G, and recently it notifies lack of storage space frequently, my friend said that I can root it and remove the pre-installed apps to free up space, but how to root Moto G, any recommend is appreciated." It is true that you can enjoy super user permissions after rooting your device, but you have to take some risks at the same time. Considering that many people do not understand what rooting Moto is, we are going to focus on this topic and share some knowledge you need to know about rooting Moto E/G/X in this post.

Part 1

. Risks of rooting Moto E/G/X

Compared to the benefits of rooting Moto G/E/X, people may more care about what risks they have to take after rooting.

1. Give up the warranty. Manufacturers and carriers do not encourage customers to root their devices. And once you do it on your Moto phone, it means that you give up the warranty.

2. Expose your phone to more security risks. After rooting, you can install anything on your phone, like APKs not supporting by Google Play Store. But, ordinary people cannot distinguish whether the APK they use are safe or not, even though it is permitted to access your root.

3. Data loss. Some Moto rooting toolkit will wipe up all data on your phone while rooting Moto X/G/E.

4. Brick your phone. The process itself is sometimes kind of dangerous. If it failed, you might get nothing but a bricked phone.

5. Software update issues. Once break the root access restriction, you cannot get the regular updates from your manufacturer anymore.
Part 2

. Benefit to Root Moto E/G/X

Of course, you can do a lot of things after root Motorola xoom/E/G. The key benefits include:

1. Get special apps. Though Google Play contains millions of apps, people always find no one could meet their requirements. If you want to install any apps from internet, the only way is to root your phone.

2. Free up space and enhance performance of your phone. After rooted Moto E/G/X, you can move your apps to SD card or delete system apps as you wish.

3. Block ads on any apps. Root access privilege allows you to block the ads servers in any Android apps.

4. Hack mobile games. You can open and edit the game app files and change your level and score with damaging your game data.

5. Customize settings. Without root access restraint, you can change home screen, app tray, icons, theme and other settings freely.
Part 3

. Prepare before rooting Moto Phones

Now, you understand what you can do after root as well as what risks you are facing. To avoid data loss, we suggest you to make some preparations before rooting Moto X/E/G, such as back up your data with Apeaksoft Android Data Extraction, which offers many useful features, like:

1. Back up data from Moto phone to computer simply.

2. Fix various problems, like freezing, crash, and black screen while making backup.

3. Cover contacts, text messages, videos, photos, music, documents, app data, etc.

4. Support almost all Android devices, including Moto X/G/E.

5. Work well on Android O/N/M and earlier versions.

6. Keep all Android data on computer in original conditions.

7. Not damage current data on your phone while making backups.

In short, Android Data Extraction is a smart choice to back up your phone before rooting Moto G/X/E.
How back up Moto G/X/E before rooting Moto phone
Step 1: Get the best Moto backup tool on computer
Download and install Android Data Extraction on your Windows PC. There is another version for Mac computer. Plug your Moto phone to the computer with a USB cable. Run the backup tool; it will recognize your phone spontaneously.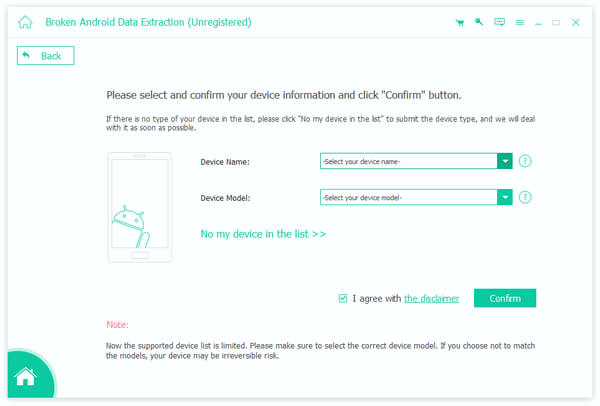 Step 2: Prepare for Moto backup
Click on Start button to open next window, select your phone name and model and hit Confirm to continue. Next, put your phone into download model according to the onscreen instructions. Once hit Start, you will go to the detail window.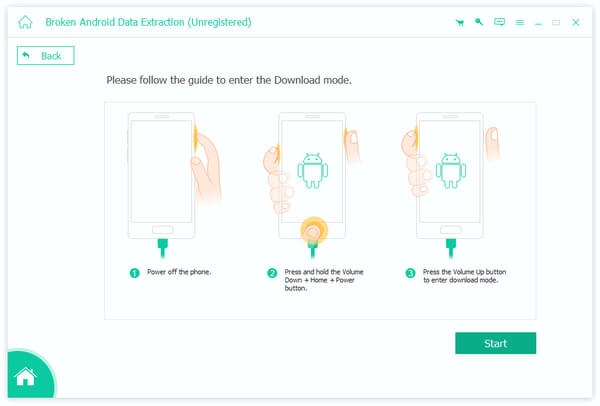 Step 3: Back up data before root Moto G/X/E
Choose a data type from left navigation bar, like Videos, look at the video files on right panel, and select the videos you want to backup. Do the same thing for other data types. Finally, click Recover button to initiate backup Moto.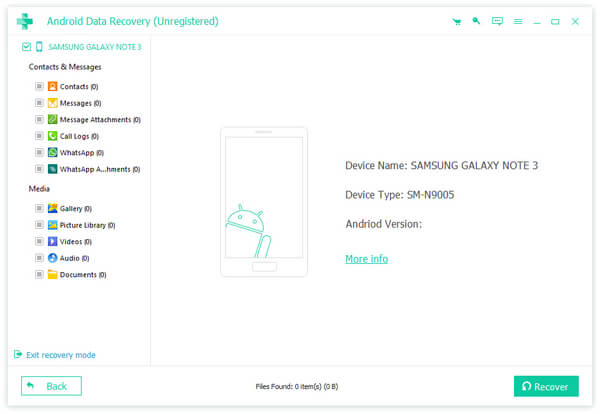 Reading more: Recover Deleted Files Android Unrooted.
Part 4

. How to root Moto phones

After back up data on Moto phone, you can feel free to root Moto X/G/E following the guides below.
How to root Moto X/G/E with a computer
Generally speaking, the PC version of Moto rooting tool is usually more stable and supports a wider range of devices. We use OneClickRoot as the example to show you to workflow.
Step 1: Open the Settings app from your phone, and enable the USB Debugging mode in Developer option. Cannot find Developer option? Tap on Build number in Settings-> About Phone for 7 times.
Step 2: Connect the Moto phone to your computer via a USB cord. Launch OneClickRoot after installed it on your PC. It could discover your phone automatically. If not, it means your device is not supported.
Step 3: Click on the Root Now button to trigger the Moto rooting process immediately. It takes a few minutes. And you phone will reboot automatically after rooted.
How to root Moto X/G/E without computer
Not have a computer or mobile first? Some Moto rooting APKs could help you to root Moto E/G/X without computer, such as Kingo Root.
Step 1: Connect your Moto phone to a Wi-Fi network, run your mobile browser, access Kingo Root website and get the APK file.
Step 2: Head to Settings-> Security and turn on Unknown sources. Install the APK and then launch it.
Step 3: Tap One Click Root on the home interface. Then you will be presented the process of Moto rooting. When get the success message, your phone is rooted successfully.
Learn more: Root with One Click Root.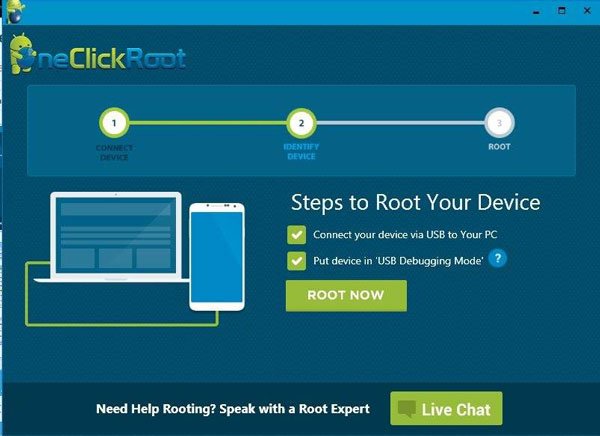 Conclusion
We talked about how to root Moto E/G/X without data loss. Before that, we suggest you to read the risks and benefits carefully. If you are sure, we shared how-to with or without PC. You can follow our step by step guides to simplify the process. On the other hand, to avoid data loss, you should use Apeaksoft Android Data Extraction to back up your Moto phone before performing Moto rooting.