There are many ways to root Android and get the root access privilege, such as Android SDK, Super Root APK, and more. It cannot be denied that rooting Android has many benefits, like completely control apps, save battery power, free up space, and more. But if you choose the wrong tool, you will get nothing but lose all your data on your phone. In this post, we are going to introduce a method to root Android phone for beginners and non-tech savvy. If you have never rooted your Android phone before or not sure how to go through the process without bricking your device, Super Root APK is what you need.

Part 1

. What is Super Root APK

Rooting opens Android phone to a flurry of customization, but it is extremely difficult to perform Android rooting right. With Super Root APK, you only need a few clicks to get what you want. It is basically a desktop client of Root Master, a simple mobile app. This means you need a PC when rooting your Android using Super Root APK.

Generally speaking, Android is an open and flexible operating system. But manufacturers pre-install various apps on their products and lock these services with root permissions. When you purchase a new phone and start it up, then you may discover that there is something already on your device and you cannot get rid of them since you only have user permissions. The only way to uninstall these system apps.

Reading more: Root with One Click Root.
Part 2

. What Super Root Apk does for your Android

Before start rooting your Android device, let's learn what Super Root APK can do first.

1. It is free of charge for life. You can download and use this tool for free and there is no charge option no matter install, use or update it.

2. The one-click rooting function makes users to enjoy rooting process in a simple way.

3. No users reported that Super Root APK damages or leaks their data while rooting Android devices.

4. The developers release updates frequently to fix bugs and problems quickly.

5. The latest version is available in English, Russian, and Portuguese.

6. You can use Super Root APK on most Android devices from HTC, Sony, Nexus, and other manufacturers.

7. Now, it works well on Android 1.5 to Android 5.0.

The best thing is that Super Root APK inspects the hardware, model and all the necessary permissions to root your Android device.

Lear more about Root with King Root.
Part 3

. How to use Super Root APK for Android phone

If you are sure you want to root your phone with Super Root APK, you have to prepare:

1. A PC running Windows 8/7/XP or Vista since it is a desktop program.

2. A USB cable.

3. A good Wi-Fi network.

4. And your phone of course.

Step 1: Access the official website, download Super Root APK on your PC, and install it using the installation file. Next, connect the Android phone that you want to root to the computer using the USB cable.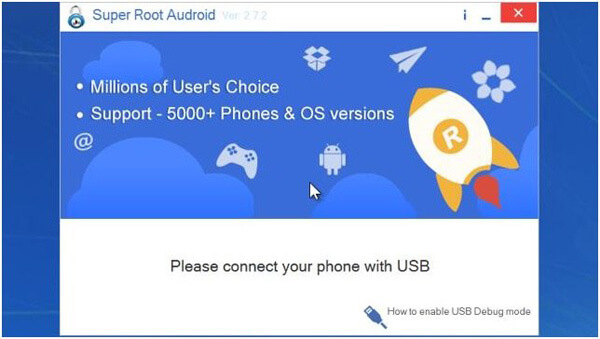 Step 2: Super Root APK should detect your phone automatically. If not, disconnect the phone and try to use another USB cable to connect the phone and computer. The program will get information of your phone after connection is successful.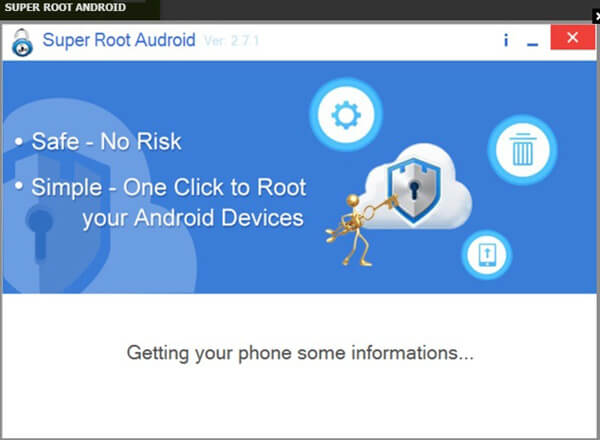 Step 3: When prompted whether to root the Android phone, click on the ROOT button to start rooting your phone. It may take a while to complete the entire process. During the process, make sure to keep your device connecting with the PC.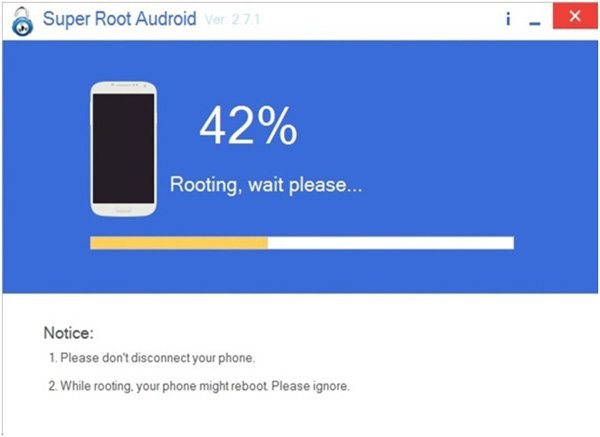 Step 4: Wait for the process to finish; your phone will reboot automatically. Congratulations! Now, you get a rooted Android device.
What you can do after rooted Android with Super Root APK:
1. Remove pre-installed or system apps from your phone to free up storage space.
2. Enhance the performance of your smartphone especially when executing multitasks.
3. Improve the battery life.
4. Customize the apps on your phone, like move apps to SD card or hack game apps.
Click here to learn more about Root Android with Kingo Root.
Recommend: Android Data Extraction
But, Super Root APK is not a perfect program and any wrong step may damage data on your phone, or even cause system crashing. That is why we recommend Apeaksoft Android Data Extraction. Its key features include:
1. It has the capacity to recover data from Android tablets and smartphones with a single click.
2. If your phone is frozen, crashed, locked or black screen when using Super Root APK, Android Data Extraction is able to fix the problem first.
3. The data that you can recover with Android Data Extraction includes contacts, messages, photos, call history, videos, music, documents, app data, and other items.
4. It could extract data from broken or crashed Android phone and save it to computer in original status and quality.
5. Another benefit is that this Android fix and recovery tool supports a wider range of devices, including the devices running Android O and earlier from Samsung, LG, Sony, MOTO, HTC, Google, Huawei, Xiaomi and other major manufacturers.
6. If you just need to recover data from your phone but not fix Android, this program does not need an internet connection.
7. Android Data Extraction offers two versions, one for Windows 10/8/8.1/7/XP and the other for Mac OS.
All in all, it is the best option when you root Android phone with Super Root APK but lead to data loss.
Conclusion
In this tutorial, we have shared one of the best Android rooting tools, Super Root APK. Some people decide to get rid of the root access restraint. Of course, rooting Android gives you more space to customize your phone, but it may bring some risks, such as vulnerable to virus attack, data loss due to wrong operation while rooting, and more. Though Super Root APK is very simple to use, it cannot overcome these risks too. So, we introduced a method to recover data and fix Android, Apeaksoft Android Data Extraction. It is an all-in-one solution. Now, you can feel free to root your phone with Super Root APK. We hope that our guides are helpful to you. And if you have more questions related to root Android, please leave a message below this post.